A Checklist of Classic San Diego Tiki Restaurants and Bars
Hawaiian, South Seas, Polynesian, Tahitian and tropics-themed restaurants and tiki bars from the San Diego area's past and present.
How many of these classic San Diego tiki joints do you know? Most are now just memories, but establishments with checkmarks (✔) are currently in business.
San Diego may not be the birthplace of tiki, but with its transient wartime Navy population and proximity to Tijuana, it became an incubator for the mid-century Polynesian craze…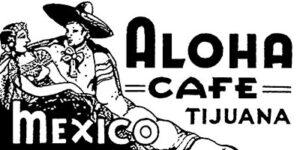 (1928-2011) The Aloha Cafe, Tijuana's first pre-tiki bar, was sporadically located on Avenida Revolución (then known as Main Street by Americanos) — for over eighty years! It changed hands, was burned down and rebuilt several times, but stood the test of time until a fire in 2011 finally shut down the place.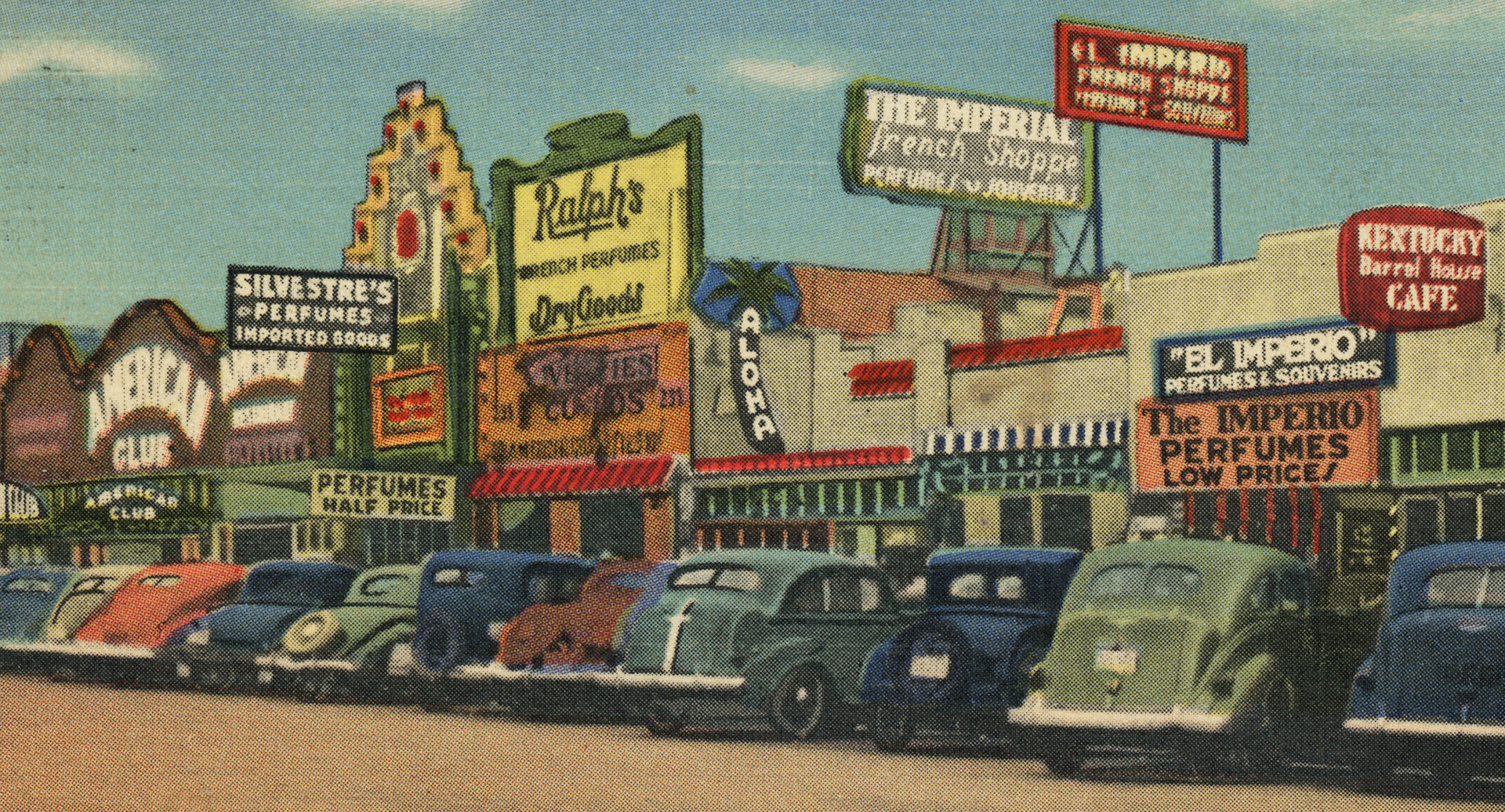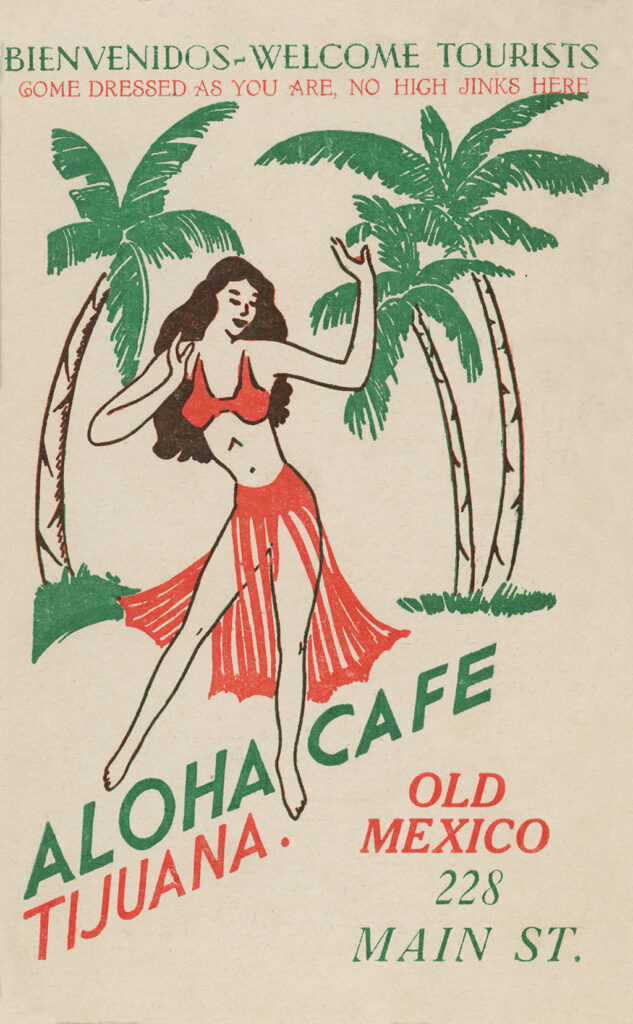 The bar was first opened as The Aloha Cafe during Prohibition 1928 by Fernando 'Frank' Blanco Cota. He'd previously lost The Anchor Cafe in a 1927 fire. Both catered to the US Navy crowd. Cota was born in Ensenada, Baja California, but attended school and lived above the border in San Diego. His place was connected with amateur boxing, promoting bouts between Tijuans and Americans held in the Aloha Cafe Arena.
Cota regularly advertised the liquor and dancing of his place to San Diegans, beckoning them to experience the racy Honolulu Trio and their 'latest hula thrills.' The only things pre-tiki, really, were some decorations, the name, and the hula. Everything else screamed Tijuana tequila bar. No rum there…
In November of 1938 half a block along Main Street burned down, including the Aloha Cafe. It was a devastating loss to Tijuana business, and left many out of a job. But cleanup started the next day. Frank Cota rebuilt and re-opened bar in the early months of 1939 with neighbor Francesco 'Frank' Maggiora. Together the Franki boasted their establishment was the 'liveliest nite spot in town,' open all night.
In the 1940s, The Aloha promoted tequila drinks a-plenty and live entertainment, with floor shows every half-hour by a cast of regular dancers. Traditional folkloric Mexican dancers. Duos from 'Old Mexico' Panchita and Don José, Delfina and Don Ramón. Exotic burlesque strip-tease. Fan dancers.
Many rock bands, including those of Carlos Santana and Javier Batíz played at The Aloha. It became a disco in the 1970s. And strip club in the 1980s (notorious, along with The Long Bar and Club Bambi).
Now boarded up and for sale, you can still see the neon sign on the building's facade today.
Zona Centro
Avenida Revolución 228
Tijuana, Baja California, México
Zona Centro
Avenida Revolución 869
Tijuana, Baja California, México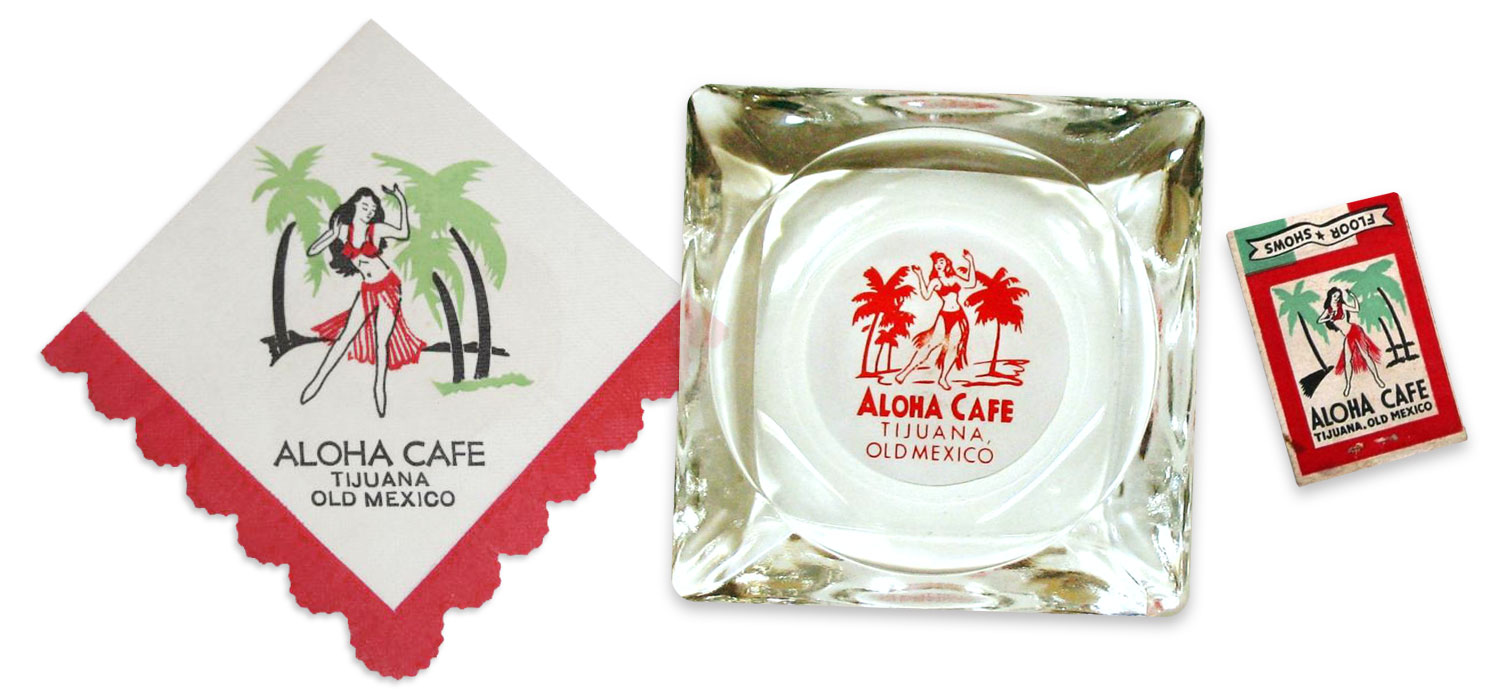 ---
(1934-c1936) The Aloha Cafe, San Diego, was a short-lived Hawaiian-themed cafe on corner of Oregon Street and El Cajon Blvd, founded by U.S. Navy veteran Thomas Bernard Jack. A return to naval service forced Jack to sell to partner Harold H Stafford, who sold the business a year later. The location then went on to host Haynes Streamliner, Sam Shen's Chateau Briand restaurant, 1520 A.D. dinner theatre, and today houses San Diego Chicken Pie Shop.
North Park
2633 El Cajon Blvd
San Diego, CA 92104
---
(1935-1946)
The Tropic Cafe
, arguably San Diego's first
pre-tiki
nightclub, was helmed by 'Skipper'
John S. Ewing
(1893-1974), and originally opened at 11th & Market. Ewing, who also went by the names 'James' and 'Baldy,' was a career navy man stationed in San Diego. He opened
The Tropic Cafe
to serve the large transient military population of San Diego. Business was so good, two years after opening he moved to a larger space in the old Gates Hotel building (1894), just across Third Avenue from the
U.S. Grant Hotel Coffee Shop
.
In 1939 he opened the Tropic Village room, with moonlit dining and dancing amidst a grove of coco palms, and music by Stone's Hawaiians. A freighter-shaped bar — the S.S. Tropic — served tropical rum drinks. Design and murals were by local artist Russell Dale Moffett (Mexican Village murals).
Jack Ewing returned to active duty during WWII. On his return, he sold both The Tropic Cafe and The Gay Nineties to 'well-connected' Sicilians. In 1946, The Tropic Cafe was re-opened as The Hula Hut by Frank and Liberante 'Leo' Matranga. Next door, brothers Joe and Gaspare Matranga opened the Cuckoo Club, and then the Aloha Club.
Ewing retired to Kernville California and decorated his hilltop home with an extensive collection of Edgar Leeteg velvet paintings. It was reported that Ewing's collection was lost when his home burned in 1962.
East Village
1122 Market Street
San Diego, CA 92102
Horton Plaza
1040 Third Avenue
San Diego, CA 92101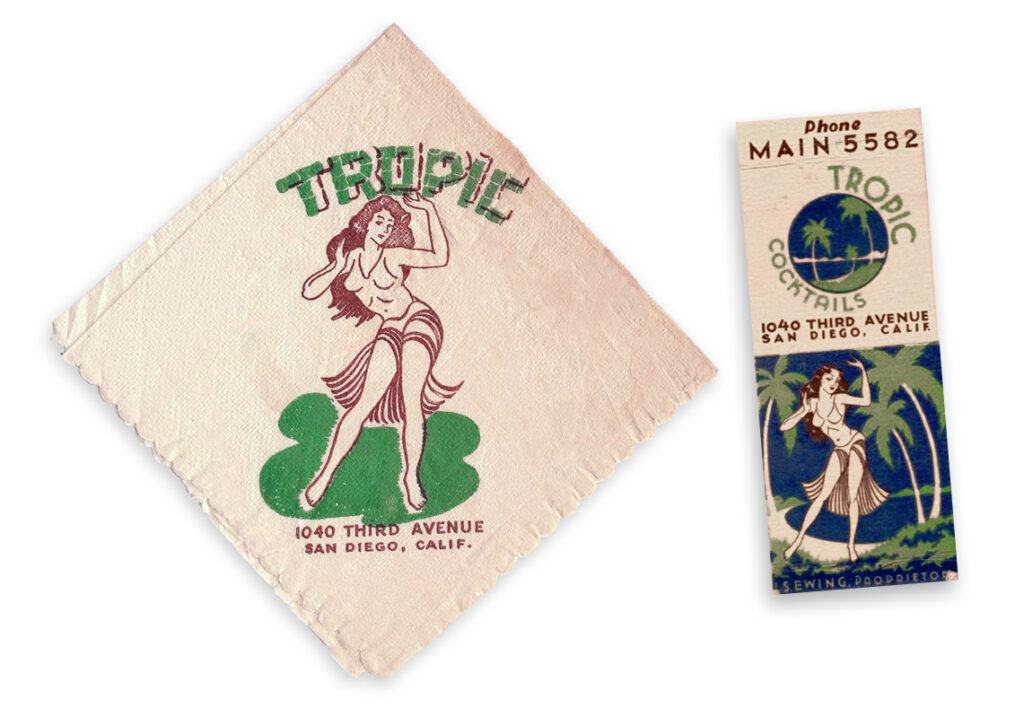 ---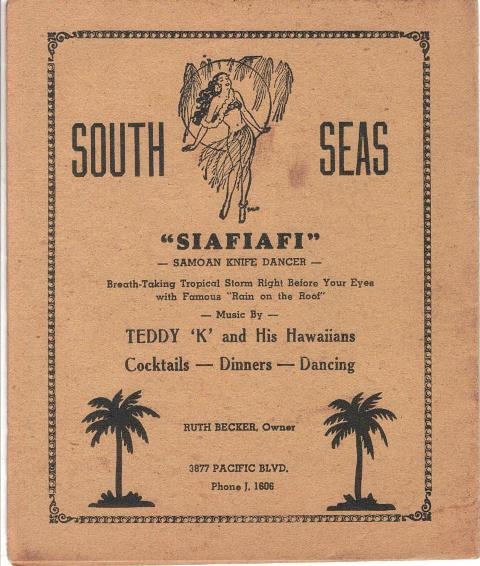 (1937-1977) South Seas Cafe, home of "rain on the roof" just like at Ray Haller's Seven Seas (1935) in Hollywood. Opened July 10, 1937 by Charles Thomas and Ruth W. Becker (1895-1982), the South Seas Cafe was located across from the San Diego Marine Corps Recruit Depot on Pacific Boulevard. The novelty of an indoor rainstorm with thunder and lightning drew in as many patrons as could fit in the Tahitian-inspired restaurant. And a collection of 'figural studies' by painter Edgar Leeteg certainly helped as well.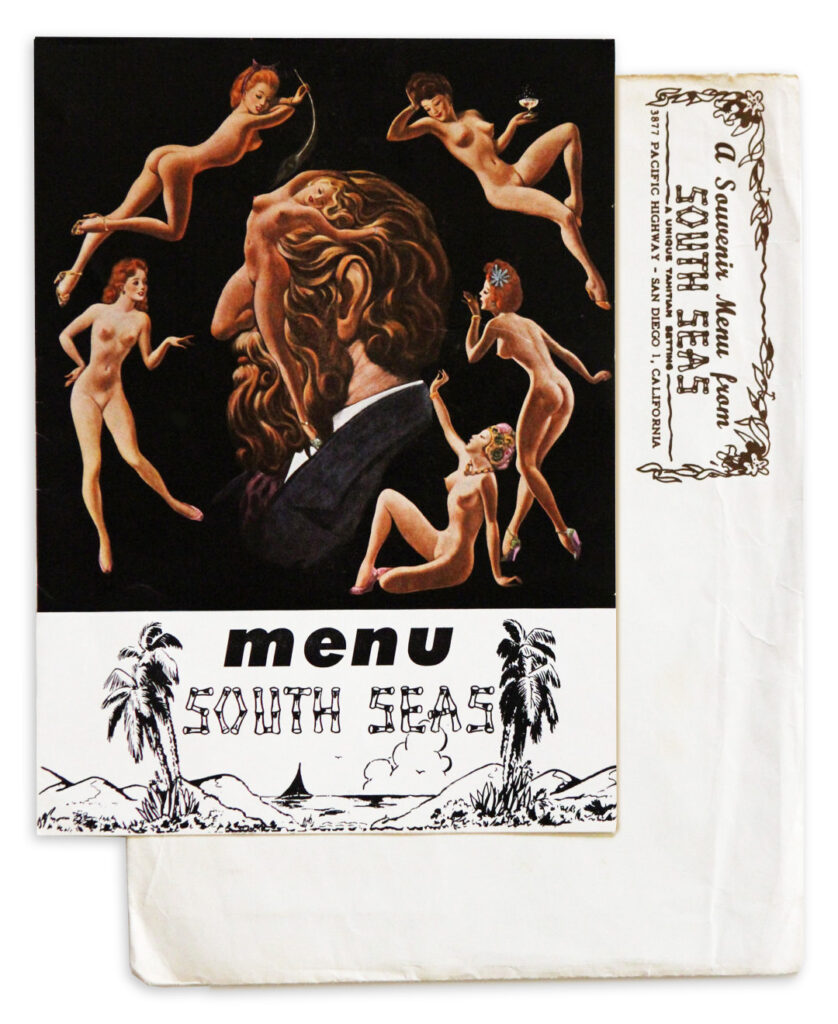 After a 10-year-run Becker sold to brothers Harold Vaughn Clark (Knickerbocker Hotel, Saratoga Grill, Monte Carlo Cafe), Wilber I. Clark (Desert Inn) and their brother-in-law Leonard Albert Barcom.
They prominently featured an 11-foot tall black velvet nudie by Morris Levine in the upstairs dining area.
Their 1951 menu advertised the 'intriguing South Seas specialties' Hilo Hattie and The Zombie at $1.50 each. Limit 2 to a customer. Other libations included the Pilikia, Shark's Tooth, Doctor Funk, Waikiki Special, Sea Island Comfort, Diamond Head, Samoan Delight, Planter's Punch, Singapore Sling, Rum Swizzle, and the South Sea Special.
After Clark retired and sold in 1968, the club went through a series of owners. The building is now part of the AMVETs thrift store properties.
Midway/Five Points
3877 Pacific Boulveard
[now, 3877 Pacific Highway]
San Diego, CA 92110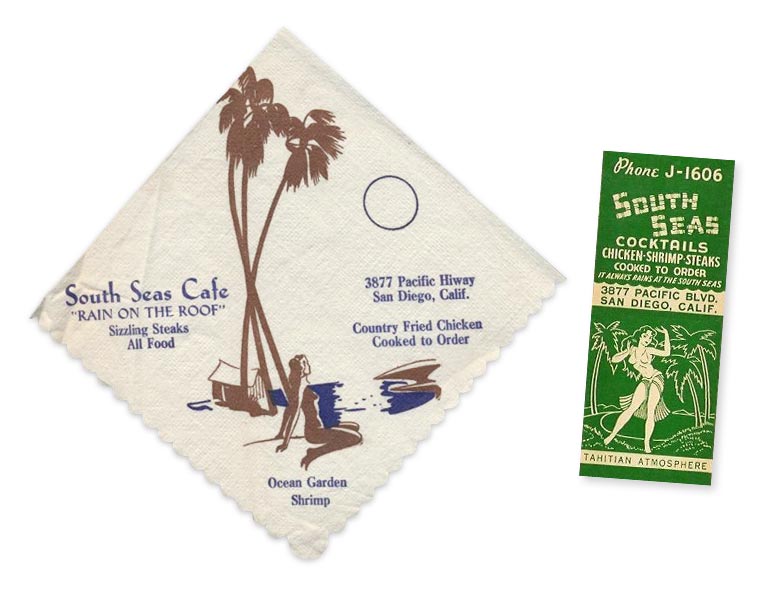 ---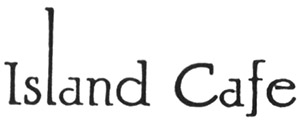 (1937-1943)
The Island Cafe
, Coronado's first tiki restaurant. A popular little cafe that was bought by
John Douglas Jacks
and remodeled in 1938 into a Hawaiian-themed restaurant and bar. The cafe was located on the island within eyesight of the Hotel del Coronado.
With the help of friends, the Jacks converted their cafe into a tropical oasis… using 'native spears, blades, swords and guns…' Coco palms. Bamboo. Indirect colored lights that softly changed every six minutes. Murals by local artist Russell Dale Moffett (murals in Sherman's, Paris Inn, Eddie's Cafe, Tropic Cafe, Mexican Village and Hillcrest Bowl).
The New Island Cafe formally opened Saturday June 28, 1938. They had a Hawaiian duo playing live music, and served up exotic okolehao (Hawaiian moonshine) and rum drinks!
"The front entry to the Island is through a bamboo and thatch doorway, flanked on each side by brightly decorated windows on which tropical plants are painted. The interior of the Island is typically South Seas in its fittings and provides a cool comfort to patrons which is immediately appreciated…

"From the booths along one side of the Cafe the lighted murals are particularly attractive, being arranged in such a manner that they give the illusion of island distances and panoramas.

"Special changing lights add to the interesting atmosphere of the Island, and the punkah fans overhead heighten the tropic feel of the cafe and assure an even, cool temperature…"
During the 1950s, The Island Cafe was a local center for jazz music. Then Mulvaney's for years, Cecil's, and now [2016], Costa Azul.
Coronado
1031 Orange Avenue
Coronado, CA 92118
---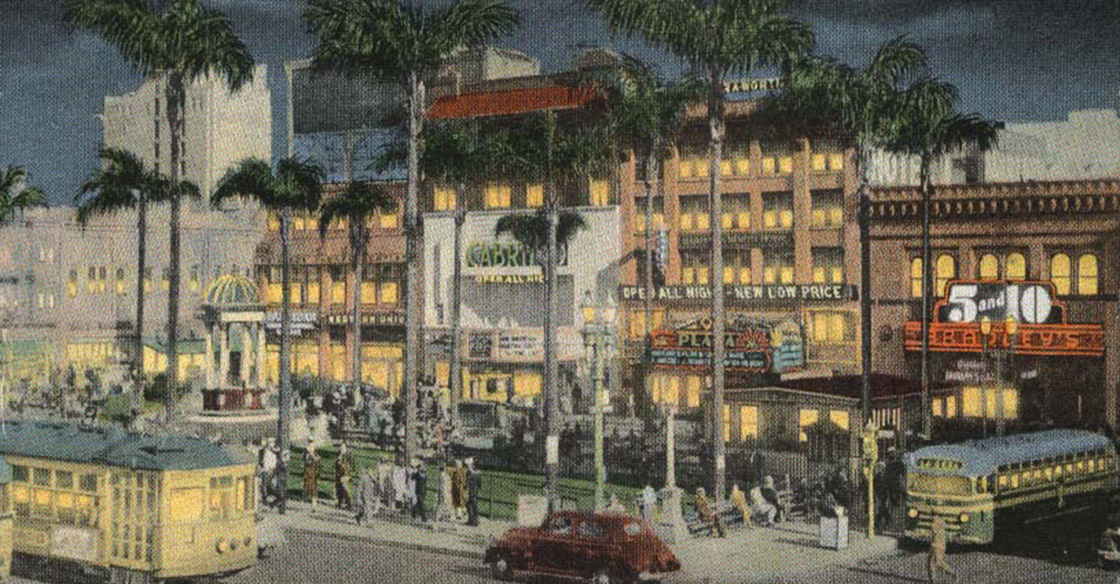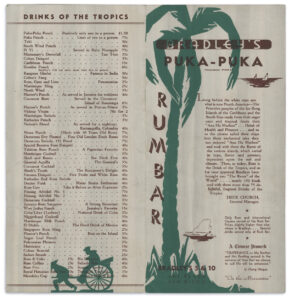 Bradley's Puka-Puka was a high-end rum bar located on the mezzanine level of Bradley's 5 & 10 (1938-1970) at Plaza and Third [Horton Plaza], San Diego. The main gimmick of Bradley's 'five and dime,' other than its amusing callback to inexpensive hardware stores, was that all drinks served on premises were priced at five or ten cents each! Beers and short pours, mixed drinks, bar food.
Bradley's Puka-Puka menu offered 150 varieties of rum — oh to try a Myer's Mona 1906 Jamaican — it was 30 years old back then! Thirty liquors… And then there were 75 'drinks of the tropics,' priced at 25¢ to $1.50… Demerara Dry Floated, El Diablo 'the devil drink of Mexico,' Pi Yi served in a baby pineapple, Zombie Punch, Vicious Virgin, Puka-Puka Punch (the most expensive, 'positively only one to a person') and many more. If you wanted a 'Skull and Bones' cocktail, looks like you had to ask general manager Heck Church first…
The original building was demolished, but rebuilt when Horton Plaza took over the downtown area in the 1980s. It is now known as the Bradley Building.
Horton Plaza
303 Plaza
San Diego, CA 92101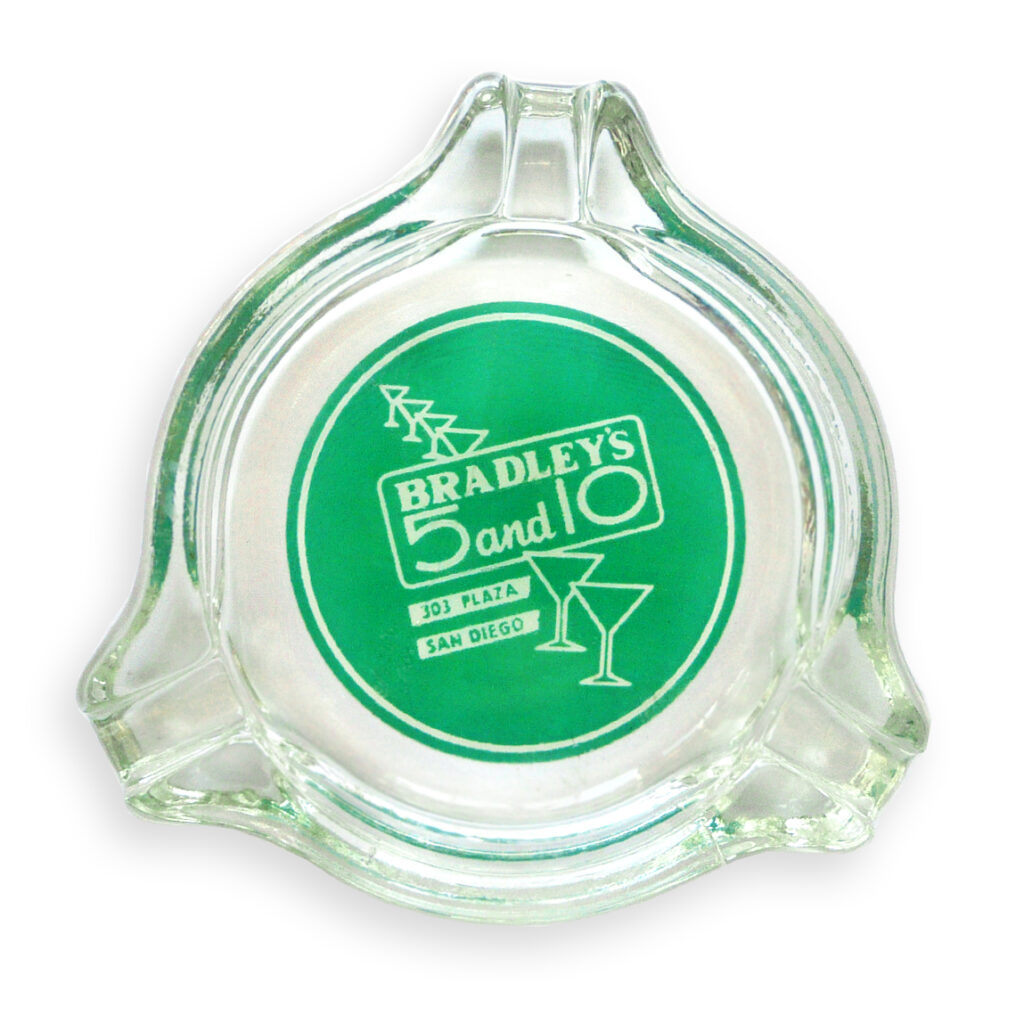 ---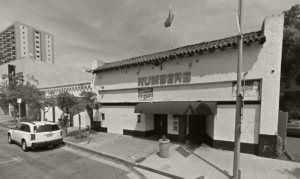 (1939-1974) Aloha Inn Cafe was a long-standing Hawaiian-themed bar and cafe located just across Park Blvd from the Egyptian Theatre. Mrs Lillian D Patty's Hillcrest institution started out serving beer, wine and mixed drinks in an intimate Hawaiian setting, and over the years went through several ownership changes and a move to the building next door. In 1965 owner Arthur L Canfield got so fed up with San Diego's go-go girl craze, he started up his own line of entertainment, the 'Gone-Gone Girls,' a dancing group whose members were 60 and older. The building went on to host Nick Moede's Numbers gay bar and nightclub for years, who carried on the the Aloha's tradition with go-go boys.
Hillcrest
3827 Park Blvd (1939-1966)
San Diego CA 92103
3811 Park Blvd (1967-c1974)
San Diego CA 92103
---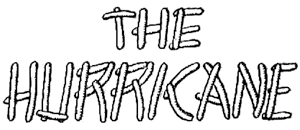 (1945-1960) The Hurricane was a tropical cocktail lounge in Hillcrest, operated by Samuel Morris Stutz (1890-1972). He and younger brothers Louis A Stutz (1892-1961) and Walter R Stutz (1903-1978) were owner/operators of San Diego's Palace (401 E Street), Orpheum, Rialto and Hillcrest (3825 Fifth Ave) theaters. By 1945, the Stutz family formed Walter R Stutz Enterprises, a limited partnership, which owned or operated Kokomo Cafe, Pirates' Cave, Cave Novelty Shop, Blue Room (dancing), Pacific Club Cafe, Third Avenue Sportland, and the Dunlac Hotel, including its mob-connected bars Gold Rail, Cuckoo Club and The Tropic Cafe.
That year, Sam Stutz riffed on the tropical South Seas theme from the
Tropic Cafe
, a tenant in their Dunlac Hotel building downtown.
Sam and Edward Bolander created their own place, The Hurricane, in the Hillcrest neighborhood of San Diego. Bolander was a beverage manager for Stutz Enterprises up until his unexpected death in December, after which, his widow Mildred Bolander stepped in as partner until about 1950.
Music by Stone's Royal Native Serenaders (just like at Tropic Cafe), or Maureen at the piano and Hammond Solovox! Steak dinners by chef Jean A Pelletier (Marlborough Dining Room). The finest of mixed drinks and liqueurs served with courtesy in a tropical atmosphere. Ask for their special 'The Hurricane,' or choose from their South Seas Cooler, Planters Punch, Bali-Bali, Emily's Zither and Polynesian Paradise tropical drinks.
Today the location hosts Saigon on Fifth restaurant.
Hillcrest
436 University Avenue
San Diego, CA 92103
---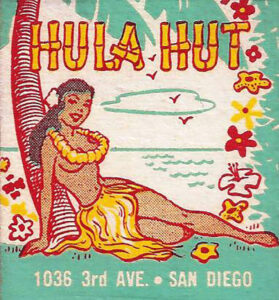 (1946-1965) The Hula Hut was a Hawaiian-themed bar in the very spot of The Tropic Cafe. (The Gates Hotel building had been renovated and renamed the Dunlac.) The bar was purchased by 'Big Frank' Matranga (The Java) and his brother Leo Matranga, members of the Los Angeles mob.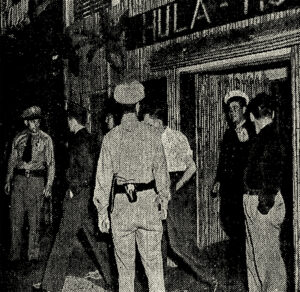 Not quite one year later, The Hula Hut was raided by police and 23 people were arrested for illegal gaming. The Matrangas had a dice game going in the bar. Law enforcement received a tip — someone overheard the woman running the game brag about taking in over $5000 a night.
So the police arrested everybody, including innocent bar patrons, and sorted it out later downtown.
That old downtown area – sailor's row — had been deteriorating for awhile, and business was slowing. Post-war San Diego did not have the same number of thirsty sailors it once did. Local officials wanted to redevelop the area into a new City Center. There was even a proposal by designer Al Goodman and others to tear out the old Horton fountain and modernize the entire Plaza.
Developers Conrad Arnholdt Smith and John Alessio (Agua Caliente Racetrack, Mister A's) bought up the block and built the 25-story Westgate Plaza Hotel. Where The Tropic Cafe and The Hula Hut once were, is now the Westgate Gourmet Shop.
Horton Plaza
1040 Third Avenue
San Diego, CA 92101
---
(1946-1951)
South Seas Room
, tropical nightclub in the San Diego branch of
Irwin Schuman's
famous Chain of
Chi-Chi Clubs
, across Fourth Avenue from the
Grant Grill.
The
Chi-Chi
supper club also housed The Circus Room cocktail lounge.
After dinner in the supper club, you could sip on a tropical drink while listening to Billy Carman play vibraharp with the Aristocrats in the South Seas Room. If you were lucky, you might even see some Hollywood types who were staying across the street at the U.S. Grant, or on their way back from the Caliente racetrack in Tijuana.
Schuman's chain grew from the original location in Palm Springs to Los Angeles, Long Beach, Catalina and Riverside. He sold to The Pig & Whistle Corporation, focusing on the development of the Riviera Hotel in Palm Springs.
Most of the Chi-Chi is gone but the location still hosts a restaurant, Urban India. At the north end is the old entrance to the South Seas Room, with part of its palm tree terrazzo floor still visible. And at the south end is the old entrance to the Circus Room, now a small market. Its facade still retains some red and white circus-themed tiles, a metal 'circus tent' awning, and a happy clown terrazzo floor.
Horton Plaza
1039-1041 Fourth Avenue
San Diego, California 92102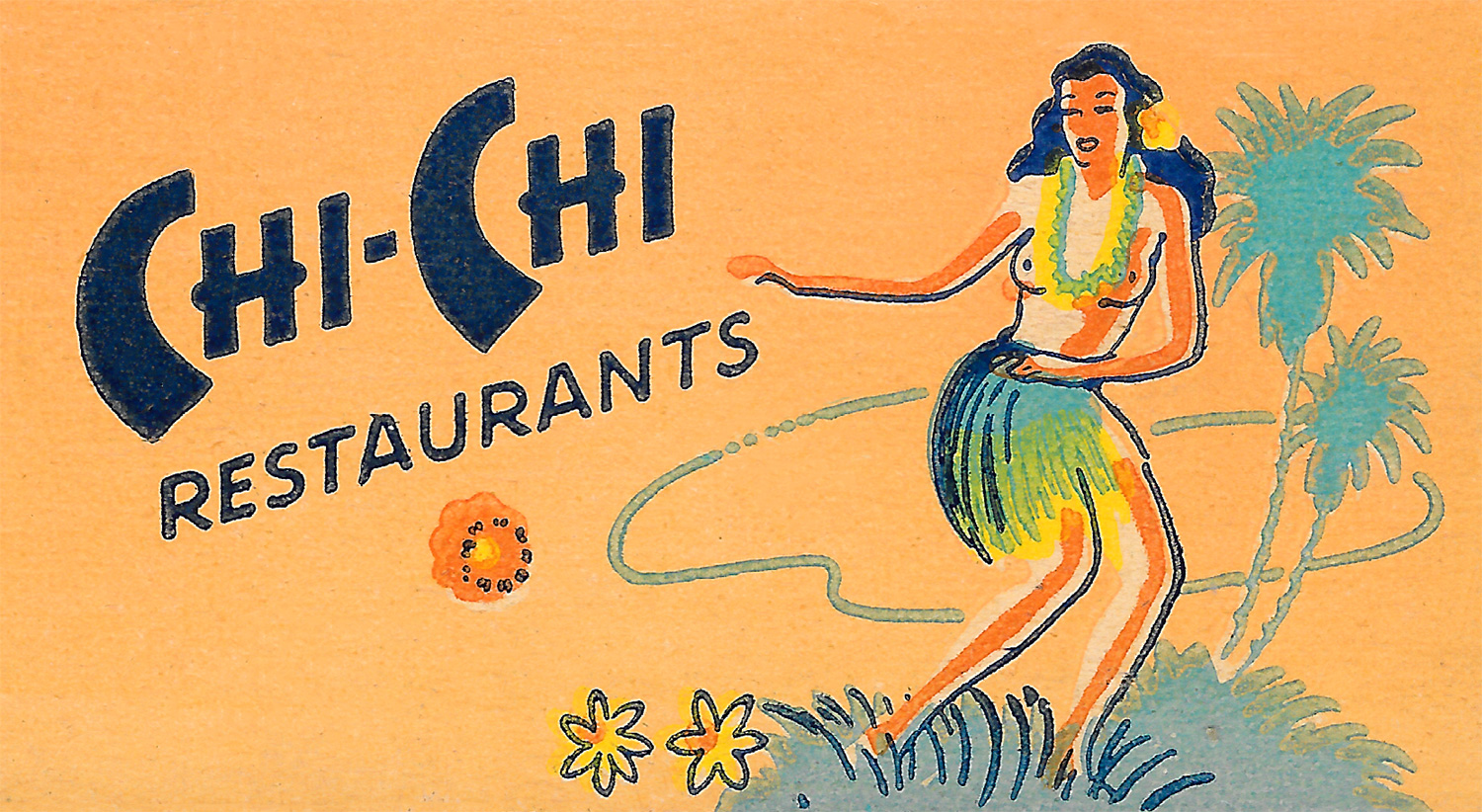 ---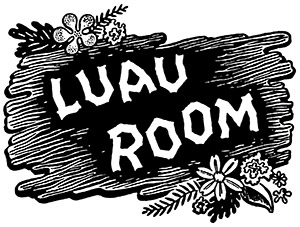 (1949-1969) Luau Room, tiki restaurant and bar was the Hotel del Coronado's grand entry into Polynesian Pop.
Amidst an island setting complete with palapas, soft lights, bamboo, murals and tropical plants, the restaurant was one of the first in the area to serve the classic combo of American-Chinese cuisine with exotic rum cocktails.
The Luau Room opened in the summer of 1949 in the hotel's Ocean Terrace mall, and immediately became popular with vacationists curious to experience the Hawaiian atmosphere, entertainment and exotic drinks.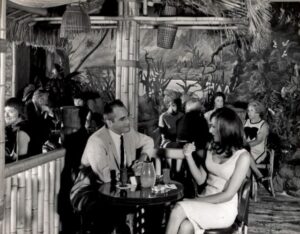 Dinner? The Luau Room advertised 'South Pacific food selections' — but really, riffs on American-Cantonese food. Replete with egg rolls, fried shrimp, egg drop soup, chicken chow mein, pork foo yung, pressed duck, spare ribs. The Chicken Luau curry special was baked and served in a whole coconut.
The Luau Room's cocktail list came complete with recipes for its tropical cocktails by head bartender Ebert William 'Bert' Chan (1916-1974). His Coronado Luau Special became the restaurant's signature drink, and can still be ordered at tiki bars today. Over the years, Chan's cocktail menus listed more than two dozen tropical drinks, including Amber Dream, Bachelor's Punch, Coronado Cooler, Doctor Funk, Flat-Top Punch, North Island Jet, Pango-Pango, Royal Hawaiian, White Lily, and the Zombie. And a separate menu insert for flaming drinks!
The Luau Room closed for good at the end of 1969. Hotel del Coronado manager Carlton Lichty (US Grant, Lubach's) opened in its place the Prince of Wales Grille in January 1970. Today [2016], the location hosts the seafood restaurant 1500 Ocean.
Coronado
Hotel del Coronado
1500 Orange Avenue
Coronado, CA 92118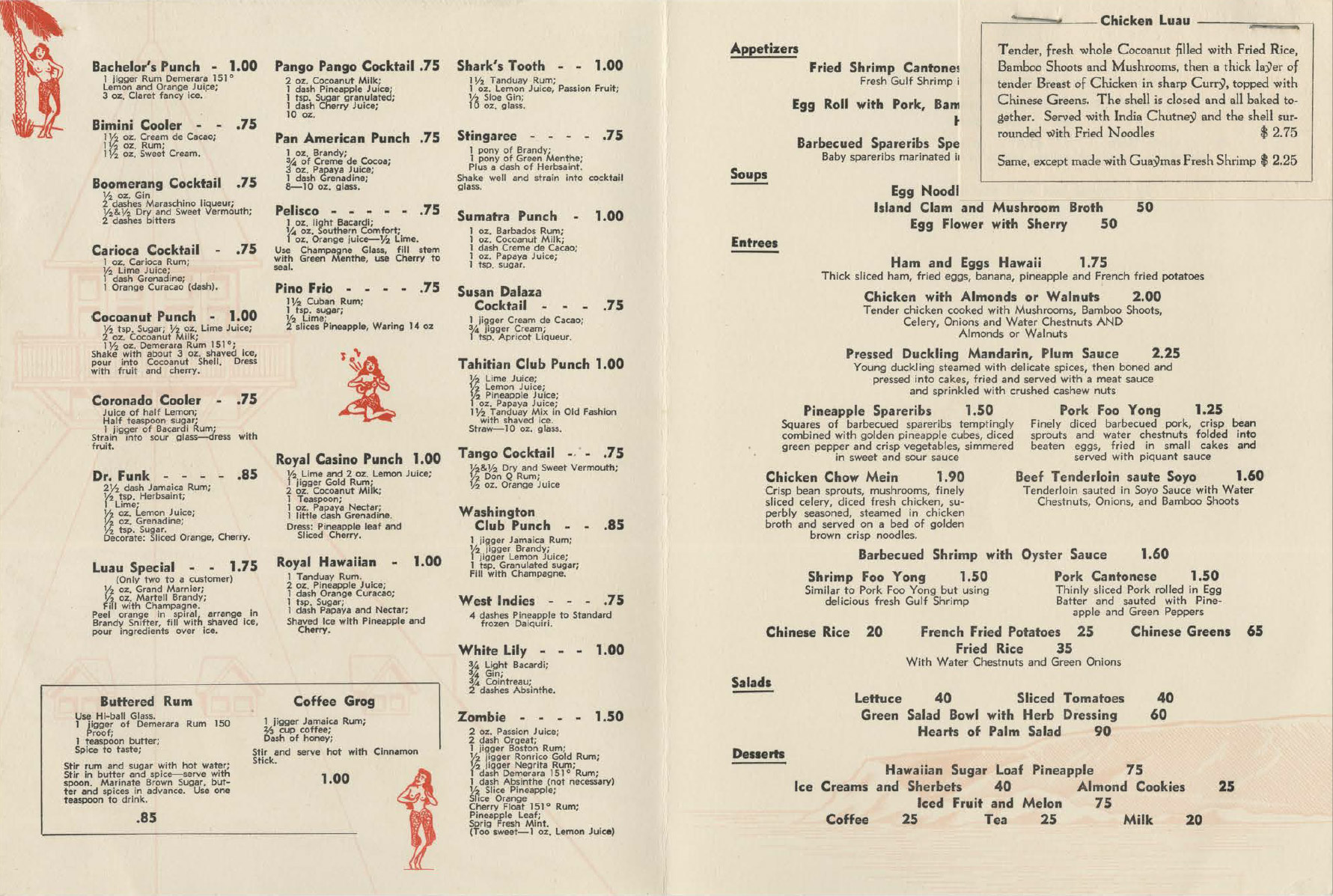 ---

(1949-2013)
Whaling Bar
, although not tropical tiki, La Valencia Hotel's nautical-themed bar
did serve
cocktails in coconut mugs! Has anyone seen one of
these elusive Whaling Bar mugs
?
The bar stood side-by-side with Cafe La Rue in the hotel, and was decorated with nautical antiques from whaling vessels from the 1880s, and murals by painter Wing Howard, who modeled them after old Currier & Ives lithographs.
Bartender Pat Torano worked there for years before opening up his own steakhouse (Torano's) in La Jolla in the 1950s. And later, Rey Arcibal became revered for his famed cocktail 'The Whaler' — a potent shake of brandy, creme de caçao, Kahlúa, triple sec, Bailey's and vanilla ice cream.
La Jolla
La Valencia Hotel
1132 Prospect Street
La Jolla, CA 92037
---
(1950-1965) The Aloha Club was a burlesque tiki bar on Third Avenue's sailor's row, under management of Gaspare 'Jasper' Matranga. Jasper hailed from Sicily, as did his brother and cousins. He was the enforcer for the Matranga family, allegedly a hitman in the Los Angeles mob. His family moved in and started taking over downtown bars in the late 1940s.
Along with their other clubs next door (The Cuckoo Club and Club Royal), The Aloha Club stayed open until 2am nightly. It featured music by Billy Jones and his Beachcombers, a five-piece combo, with sultry burlesque acts of Dorothy Eddy, Vivian Lee and Joy Damon 'in the flesh!'
And B-Girls galore – waitresses who mingled with the sailors, enticing them to gamble, buy more drinks, and God knows what else. The city passed an ordinance outlawing the practice, giving San Diego Vice one more excuse to raid the bars.
In 1954, Matranga was arrested for felony assault against one of his patrons. During an argument, he hit Alvero Gonsalves in the face with a bar glass. The fisherman required 21 stitches, and courageously pressed charges. Matranga spent a week in jail, after which a friendly judge saw the altercation as merely a misdemeanor, and let him off with a $1000 fine, giving Jasper permission to go back home to Sicily for 'a long-planned' vacation.
Horton Plaza
1048 Third Avenue
San Diego, CA 92101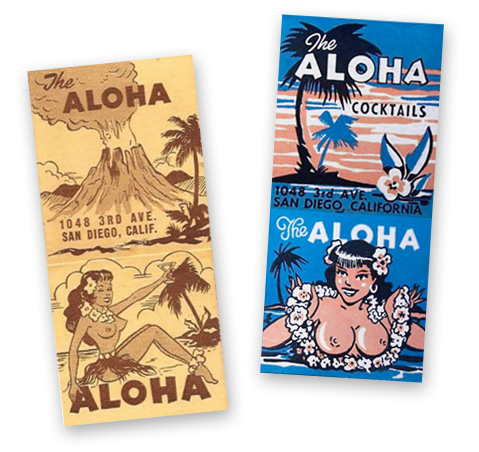 ---

(1951-c1965) The Java, with its exotic Pacific theme, was yet another Matranga bar designed to appeal to the military crowd. Located across the street from the Balboa Theatre, just south of Horton Plaza Park. Frank Matranga officially owned the troubled liquor license, under the name 'Francisco.'
In 1958, two brazen sailors robbed The Java at gunpoint. They locked Matranga and staff in a room, and attacked a waitress. The resulting news reports only increased their business.
The next year, The Java's license was suspended by the state Alcoholic Beverage Control Department in a city-wide sting targeting businesses linked with organized crime.
Local mobster Frank Bompensiero was on their radar. In all, half of San Diego's downtown bars lost their licenses, including many owned by Bompensiero, the Matrangas, and their relatives.
New owners John and Mary Martinico took over, and The Java survived into the mid-1960s. The location now houses an art gallery.
Horton Plaza
849 Fourth Avenue
San Diego, CA 92101
---
(1952-1970) The Tropics was another South Seas-themed beer bar run by the Matranga family (The Hula Hut, Aloha Club, The Java). The location at First and Market Streets was right across from the Spreckels Theatre, and had seen quite a history.
Following Caesar Cardini's lead, restaurateur Victor DeLu quit his businesses in Tijuana in 1935, then moved to San Diego. DeLu opened up a successful cafe in the spot. Over the years it's identity slowly evolved toward the tropical — Vic's Place, Vick's Cafe, Vic's Tropics, and finally Vic's Tropical Nuthouse (continuous vaudevillian clown shows). In 1952 Joseph, Gaspare and Frank Matranga bought the nuthouse and simplified the name to The Tropics.
The Matrangas were continually under the scrutiny of San Diego Vice. Employee turnover was so great, they had a standing classified ad for cocktail waitresses in the newspaper. Daily. And by 1965, they were advertising for go-go girls.
The building was razed and in it's place developer Conrad Arnholt Smith built his United States National Bank tower. The MTS Transit Store sits now where The Tropics once was.
Downtown
122 Broadway Street
San Diego, CA 92101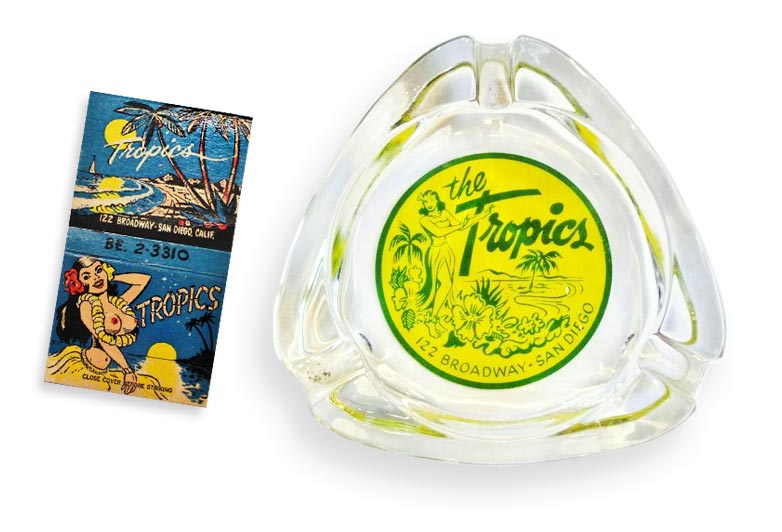 ---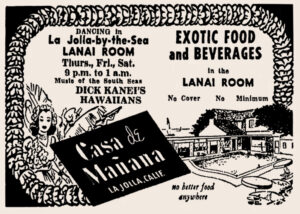 (1952-1953) The Lanai Room was a pre-tiki restaurant at the Casa de Mañana Hotel, La Jolla.
Casa de Mañana Hotel was designed by Edgar Ulrich (who also did the interiors for Original Caesar's Place in Tijuana) and built in 1924 as a luxury residential hotel in La Jolla, atop the cliffs overlooking the Pacific Ocean. Billed as 'La Jolla's only ocean front hotel,' it was the California resort to stay for the summer.
The hotel had it's regular dining room which served steak, lamb chops, shrimp, Welsh rarebit, spaghetti, their own 'famous Caesar salad,' and a few healthy choices — fresh California fruit salad, stuffed avocado, fresh vegetable plate. And a juice bar for their recuperating guests. The Lanai Room was the hotel's brief affair with Hawaiian pre-tiki, offering food, drinks, live music and dancing. It formally opened Friday night, January 18, 1952. The tropical setting had blossoming trees with birds in the branches, seahorses, starfish and 'artistic wood blocks in oil' by the wife of hotel manager Col. Henry R. Dutton.
It didn't last long. By April the next year, approval was granted for the property to transition from a hotel to a private retirement community. It is now an exclusive retirement community by Front Porch.
La Jolla
Casa de Mañana Hotel
849 Coast Boulevard
La Jolla, CA 92307
---

(1953-1998) The
Kona Kai Club
was a Polynesian-themed "boatel," intended from its inception to serve pleasure boat owners as a private club.
In 1952 San Diego Port director John Bates started work on developing a swampy old sandbar just beyond the San Diego Yacht Club's docks into a Polynesian paradise — Shelter Island. His old friend and fellow yacht-owner Conrad Arnholt Smith envisioned the Kona Kai Club as the premiere marina in San Diego.
'I just got sick every time a storm would hit and I would look at all the damage to the docks and boats,' he recounted. 'We needed another harbor to give our boats some shelter!'
Sand dredged from the bay's channels and marinas was built up, rip-rap added along its banks, and the old causeway extended to connect the new island to Byron Street. As it was public tidal lands property under the custodianship of the Port of San Diego, land on Shelter Island could not be sold to private concerns. But generous, long-term leases could be negotiated. C. Arnholt Smith was first in line, and had already begun pre-selling memberships.
If you had a boat, Kona Kai Club was the place to stay! It saw many rich and famous on a regular basis — Presidents John F. Kennedy and Richard Nixon, Tony Curtis and Janet Leigh, Jimmy Durante, Clark Gable, Arthur Godfrey, Connie Haines, Burt Lancaster, Jack Lemmon, Liberace, Gregory Peck, Danny Thomas, Dick Van Dyke, Lawrence Welk, Meredith Willson, and many more.
In 1953 the
Kon-Tiki Bar and Lounge
adjoined the main dining room. The bar sat centrally in a tall, open beamed room. Attached to a mast jutting up from its center was a sail, evoking
Thor Heyerdahl's
famous balsawood pae-pae raft, Kon-Tiki.
"Our Kon-Tiki Bar abounds with exotic, exciting beverages — pineapple and banana daiquiri, Kiki Huna cocktails, or the more prosaic refreshments from the corners of the globe. A cozy lounge is provided for pleasant rendezvous — canasta or bridge. Dance under the stars to the soft provocative rhythms of the Kona Kai band."
— Kona Kai advertising brochure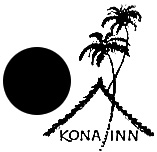 In 1959, the Kona Inn hotel and Voyager Restaurant were opened, adjoining the Kona Kai Club property.
Later that year, The Jack Wrather Organization acquired the Kona Kai property from Smith. Jack Wrather was the executive producer of televison show Lassie, and his Beverly Hills firm owned and operated the Disneyland Hotel.
In a letter to club members he reassured them that public guests were not allowed on Kona Kai Club grounds — unless they were club members themselves. And that members got first dibs on Kona Inn room reservations. Wrather expanded the marina, but in 1963 sold the club to the Alessio Corporation (Hotel del Coronado, Mister A's). They sold the Hotel del Coronado so they could purchase the Kona Kai…
John, Angelo and Dominic 'Bud' Alessio began some more upgrades. They hired designer-planner Al Goodman to oversee the improvements. The Alessios' house planner/designer had worked with the family for years on projects. Hotel del Coronado (Victorian remodel, 1960). Shelter Island Inn. Just the right guy to give the place a little modern Polynesian Pop!
They wanted to make the Kona Kai the 'shining jewel of San Diego.'
In 1964, the octagonal poolside
Tahitian Lounge
(with its Witco Mainlander out in front), the remodeled main dining room and
Beachcomber
snack bar were opened. A new lobby, gift shops, expanded lodgings, tennis, handball and volleyball courts were added. All while remaining opened for business. Their membership rose from 300 to over 2000.
The Voyager Restaurant overlooking the bay, was a swingin' place for music, dinner and drinks on Friday nights. Music by Dean Hawley and his Crew, Bill Green Orchestra.
BevMo be damned. Bud Alessio originated the 'two-for-one-penny-more' happy hour. Or at least, popularized the concept in San Diego. Years before as a student at Univerity of Arizona, he frequented a nightspot that employed the same two-fer gimmick — buy one drink get the second for just a penny more…
One day in 1969, over lunch in the U.S. National Bank cafeteria, the brothers Bill and Bernard Lipin bought the Kona Kai from the Alessios. Through the 1970s, they renovated, removed tiki details and added crystal chandeliers.
The The Kona Kai property went through a series of additional owners, renovations and changes until it was remodeled from 1995-1997 into it's present-day modern Mediterranean theme. In 1998 it became Shelter Pointe Hotel & Marina, and today it's known as Kona Kai Resort & Spa. There is one mai tai served at the poolside bar.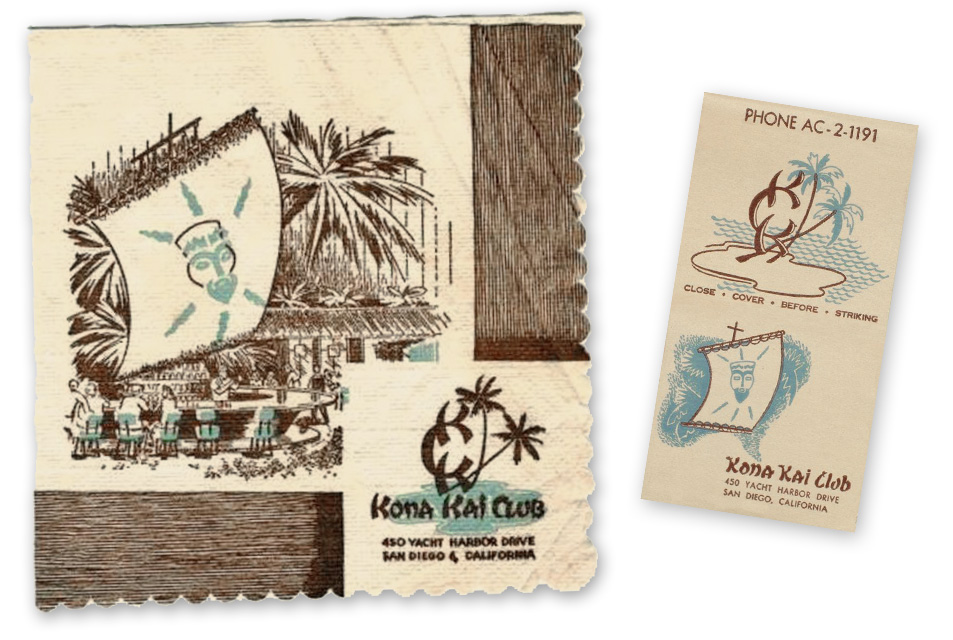 Kon-Tiki, Kona Kai Club
Shelter Island
450 Yacht Harbor Drive
San Diego, CA 92106
Tahitian Lounge, Kona Kai Club
Shelter Island
450 Yacht Harbor Drive
San Diego, CA 92106
The Voyager, Kona Inn
Shelter Island
1901 Shelter Island Drive
San Diego, CA 92106
---
(1953-1954)
Christian's Hut / The Hut
, before it was
Bali Hai,
it was
The Hut
…
Restaurateur Arthur 'Art' Gregg Wellington LaShelle owned the popular Christian's Hut in Balboa, Newport Beach. He'd based the tropical restaurant on the original Christian's Hut he opened on Catalina Island in 1934 for the cast and crew of MGM's Mutiny on Bounty, starring Charles Laughton and Clark Cable (as Fletcher Christian).
How was he so connected to Hollywood? He started out as an assistant cameraman for Paramount, and his older brother, Joseph Wellington LaShelle, was an Oscar-winning cinematographer (Laura, The Birds, I Was a Teenage Werewolf, The Apartment). Art lived on Catalina Island and managed the theatres there for the Santa Catalina Island Company. To finance the project Art rounded up a bunch of Hollywood investors including Fred MacMurray, John Wayne and Red Skelton, through childhood friend and Hollywood 'business manager to the stars' Bö Christian Roos.
In 1953 LaShelle received approval from the Port of San Diego to build another of his tiki restaurants on the newly developed Polynesian-themed Shelter Island. The circular Tahitian 'hut-shaped' building was designed by architect
Robert Benedict Brout
with
Raymond C. Frazier
and help from
Boyle Engineering
. LaShelle's corporation reportedly spent over $200,000 building the restaurant, under the direction of
Aline Hudson
from Hollywood. She used hand-hewn, local timbers from San Diego, and moved 'The Goof' down from the Newport location to decorate the roof.
Christian's Hut opened on August 13, 1953 but by the next month had dropped the 'Christian' in favor of simply The Hut. Edward N Martinez (Royal Hawaiian, The Tropics) was chef. Apparently the corporation spent more money than it took in, LaShelle and Hudson weren't paying their bills. Shelter Island Inc filed for protection in bankruptcy court, asking for more time to pay some 139 creditors. The debts and a controlling interest were snapped up by Los Angeles investor William Kirk. His accountant, Tom F. Ham Jr recommended it as a potential money-maker.
In 1954 The Hut was formally re-opened under new management with some upgrades — 'thick carpeting throughout, a kitchen upstairs for speedy service, and an enlarged topside dining room.' They had 400 reservations that night!
Shelter Island
1325 Yacht Harbor Drive
[now, 2230 Shelter Island Drive]
San Diego, CA 92106
---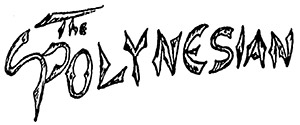 (1954-1974)
The Polynesian
tiki restaurant and bar was established by
Edward N Martinez
, ex-chef of
The Hut
, 'long noted for his intriguing Polynesian dishes that once were served at the Royal Hawaiian and The Tropics.'
'Eddy' Martinez started The Polynesian with a shoestring budget in a house in La Jolla, after The Hut was reorganized with new management and kitchen staff. His restaurant was located just two blocks south of La Valencia Hotel on Herschel Avenue. Its wooden signs had lettering made of rope, his logo was hand-drawn, and imagery for his ads was liberally borrowed from those of The Hut.
The interior was modestly decorated with bamboo, fishing nets, rattan furniture and tiki lamps.
Beside its tropical drinks, Cantonese food, charcoal-broiled and teriyaki steaks, The Polynesian was known for George, a 'great, tropical macaw, who has a cheery hello for every new arrival.'
Martinez sold the restaurant in 1956, and chef Mickey Chung ran the kitchen from about 1960. It remained in business until the mid-1970s, when Southern California National Bank developed the block. The location is now a parking lot.
La Jolla
7805 Herschel Avenue
La Jolla, CA 92037
---
(1954-
✔
)
Bali Ha'i
Polynesian-themed tiki restaurant and bar, formerly
The Hut,
was purchased by
Tom Francis Ham Jr
.
To manage Bali Hai, Ham hired Adolph Rempp, a celebrity on his own account (inventor of Adolph's Meat Tenderizer), who had managed Christian's Hut Balboa Island.
Always looking for the next big gig, Rempp sold his invention (and the name) to a couple of war vets on their return from active duty. For a mere $10,000. In several years, the partners were making millions. C'est la vie…
Chef Eyvind Oas (Rincon Springs, Del Mar Racetrack) served prime rib from their 'Chinese oven,' steaks, seafood, Polynesian shrimp, and chicken curry. Head bartender A.D. Allen (Admiral Kidd) lead the beverage program.
Tom Ham hired authentic Polynesian dancers and musicians for nightly floorshows, which became quite popular. They went on for years!
Today, Bali Hai serves Asian fusion cuisine. The crowd-favorite, coconut shrimp still graces the menu.
And the bar continues to serve a wide variety of tropical drinks. Their Bali Hai Mai Tai is infamously strong, containing no fruit juices.
The restaurant has been going strong ever since, long a favorite with both tourists and San Diego families.
Shelter Island
1325 Yacht Harbor Drive
[now, 2230 Shelter Island Drive]
San Diego, CA 92106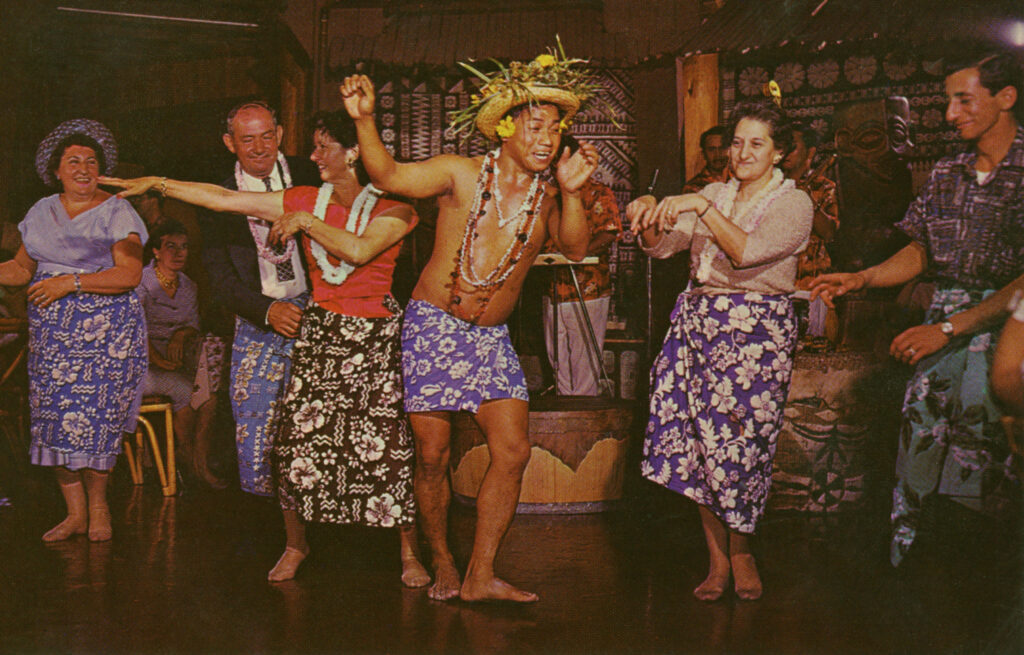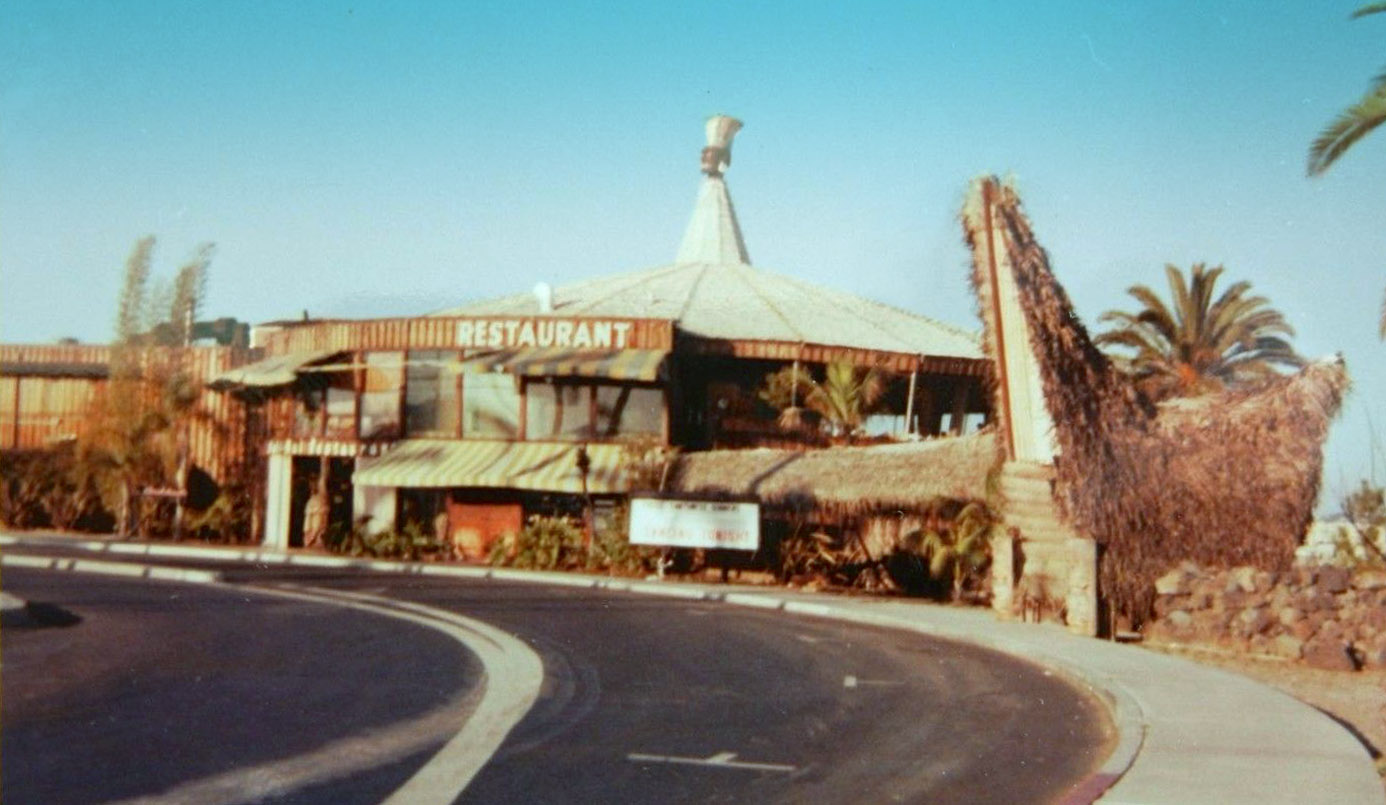 ---
(1958-
✔
)
Catamaran Resort Hotel & Spa
is a classic tiki resort hotel on Mission Bay in San Diego.
Opened by William and Anne Evans (Bahia Hotel, Bahia Belle) in 1958 as the Catamaran Motor Hotel, it featured the Kon-Tiki Room, then the Cannibal Bar and now Moray's Lounge. Originally built by the Scripps family as a Spanish Colonial style summer house, the buildings were rebuilt in a Hawaiian Colonial style to better fit in with the tropical grounds.
The Cannibal Bar at the Catamaran Hotel in Mission Beach was considered a standby for years, offered a variety of dance music from classic rock to reggae.
The Evans family imported traditional Pacific Island art to decorate the facility, including spears, personal jewelry, hand-woven rugs, and warrior shields from New Guinea and were made prior to World War II. A monumental Tapa cloth above the black koa wood front desk is made of Mulberry bark. It is from the New Hebrides Islands located off the coast of New Guinea. When this piece was commissioned, it was the largest one done since 1920 and took many different island families over a year to make.
Totem poles throughout the property were handcrafted in Bali specifically for the Catamaran.
Mission Beach
Catamaran Resort Hotel & Spa
3999 Mission Boulevard
San Diego, CA 92109
---
(1958-1964)
Menehune Max
was a short-lived tiki restaurant in Pacific Beach, on Thomas Street just off Mission Boulevard. "A gourmet's delight!" They served Cantonese, Polynesian and American food. By 1965 the place had been replaced with a
Giulio's Italian Restaurant
, and now houses
The Local Pacific Beach
.
Do YOU have any more info about this San Diego tiki restaurant? If so, contact us!
Pacific Beach
809 Thomas Street
San Diego, CA 92103
---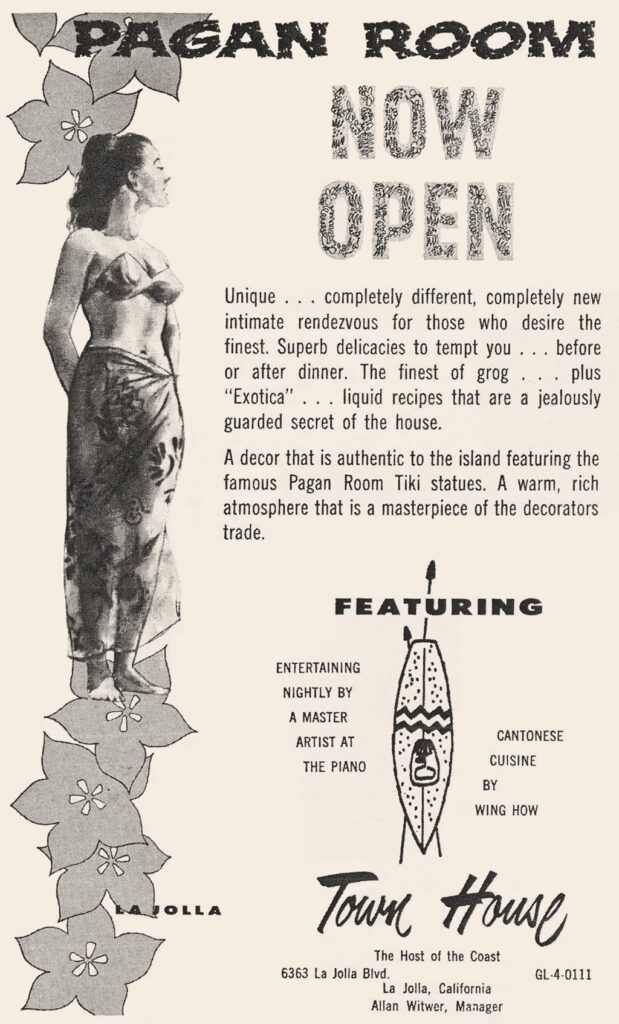 (1959-c1962) Pagan Room tiki restaurant and bar, in the La Jolla Town House Hotel near Birdrock and Windansea beaches.
The The La Jollan was intended as a 252-room luxury hotel, developed in 1952 by Larry Imig (Lafayette Hotel), Grandvell Schumaker and D.E. Evans. The hotel restaurant was first called Imig's Den.
Under the management of Allan Witwer, the hotel's name was changed to The Town House and the restaurant remodeled into the Pagan Room. Witwer and his wife hosted many cocktail parties for visitors summering in La Jolla, and the exotic restaurant was the perfect seaside venue…
The entrance was dominated by a large carved Pagan god, and doorways hung with Hilo beads. Murals were by Del Mar artist John Helland.
In cozy nooks with rattan furniture and lamps were served Cantonese food by chef Wing How. The piano bar served up exotic drinks to La Jolla socialites and beach-weary vacationists.
The Town House was sold in 1962 and converted into rental apartments. The property is now the La Jolla Villa Condominiums.
Bird Rock
La Jolla Town House Hotel
6363 La Jolla Boulevard
La Jolla, CA 92037
---
(1959-1965) The
Mai-Kai
, that almost was. After
Jack and Robert L. Thornton
created a Polynesian hit in Fort Lauderdale with their
Mai-Kai Restaurant,
they bought six acres in San Diego's booming Mission Valley resort area for another.
But after five years of attempting to re-zone their property just west of Bowlero Lanes (now, the Scottish Rite Center), Reed Thornton gave up and sold to Chrysler Corporation — for a profit of $100,000. Not that long ago, there was still a Hummer dealership on the property.
Can you imagine if San Diego had its own Mai-Kai Restaurant since the 1960s?
Mission Valley
1461 Camino del Rio South
San Diego, CA 92108
---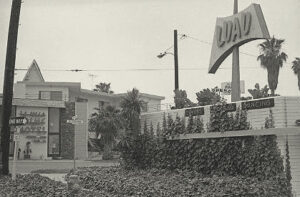 (1960-1966) The Luau, a carbon copy of Stephen Crane's Los Angeles original. One writer described it as 'one of those well-appointed but unfortunate restaurants that could never get off the ground.'
It was reported that the two owners spent a fortune for fixtures and served good food…
Yale Kahn bought the restaurant after they went out of business and sublet it to Mister Lucky's Smorgette for awhile. Then it became The Connoisseur, and ultimately Su Casa Mexican restaurant.
La Jolla
6738 La Jolla Boulevard
La Jolla, CA 92037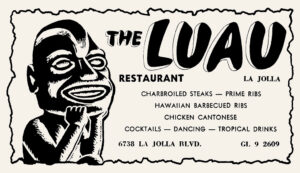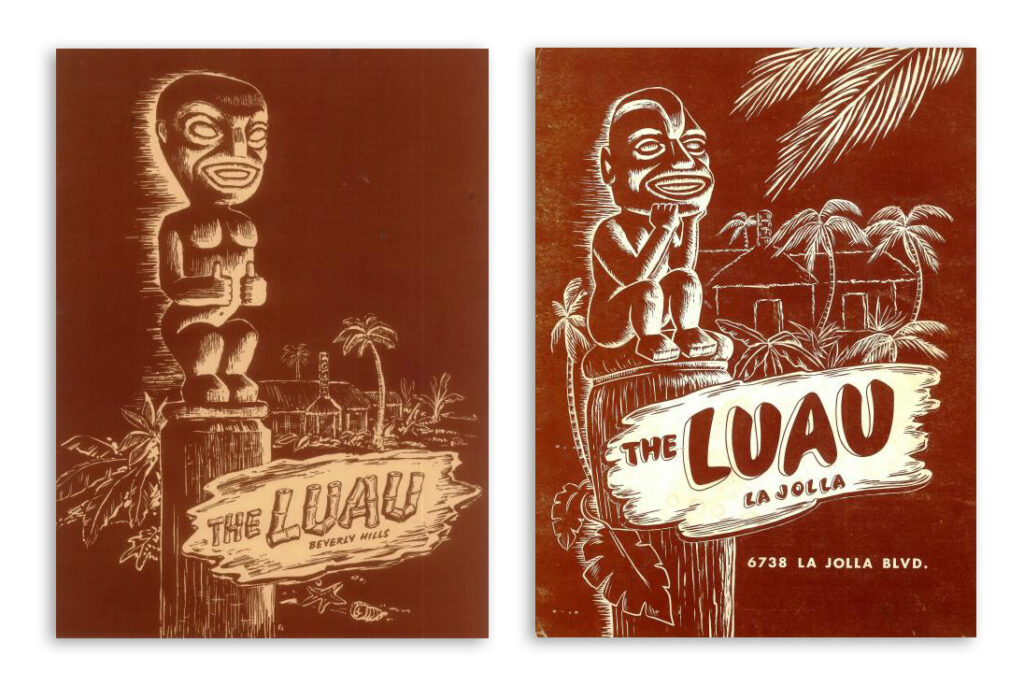 ---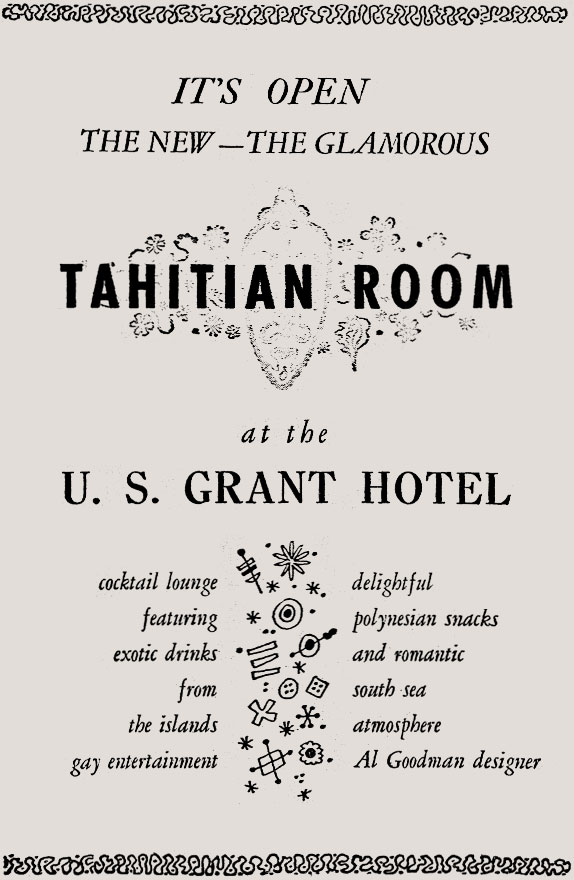 (1960-1970) Tahitian Room, the U.S. Grant Hotel's remodeled Rendezvous Lounge.
For a brief period in San Diego, Al Goodman was the favorite 'wunderkind' designer about town, receiving commissions from many hoteliers and restaurateurs. He did so many projects for them, you could almost say he was the in-house designer for C. Arnholt Smith and the Alessio Corporation.
He'd been a television set designer in Los Angeles (Mickey Rooney Show, Rosemary Clooney Show, Crossroads) for a decade before setting up shop San Diego. Today he's probably best known for his work on Space Patrol (1950-1955) – he designed the Terra V, Mark 2 spaceship.
He had a way with olde-timey, cathouse chic. At one point, he was even signed to design Mister A's restaurant for John Alessio. That project ultimately went to Walter Broderick and Sarah Chase.
The Tahitian Room lasted until 1970 when the U.S. Grant's northern annex building was torn down and replaced with a larger parking structure that still stands in its place.
Horton Plaza
U.S. Grant Hotel
1052 Fourth Avenue
San Diego, CA 92101
---
(1961-1962) The Tiki Room, Clayton H Davies and wife Phylis' small tiki bar on the border of Pacific Beach and La Jolla.
Do YOU have any more info about this San Diego tiki bar? If so, contact us!
---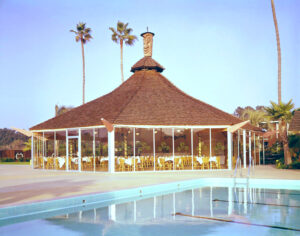 (1961-now) The Tiki Hut, (aka Tiki Pavilion, Tiki Room) is an event space built on the grounds of Charles H. Brown's Town and Country Hotel. The octagonal shake-covered building was designed by Hendrick and Mock (Islands Restaurant, Hanalei Hotel) as part of a 1962 expansion project that brought 80 more rooms to the hotel complex.
The pavilion was topped with a William Westenhaver Witco Mainlander carving named "Riki Tiki," who still graces the pool area.
Mission Valley
Town and Country Hotel
500 Hotel Circle North 
San Diego, CA 92108
---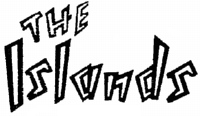 (1964-✔) The Islands restaurant is located in the former Hanalei Hotel (now Crowne Plaza Hotel), along with Islands Sushi and Pupu Bar. Originally called The Islands Restaurant and Dragon Room.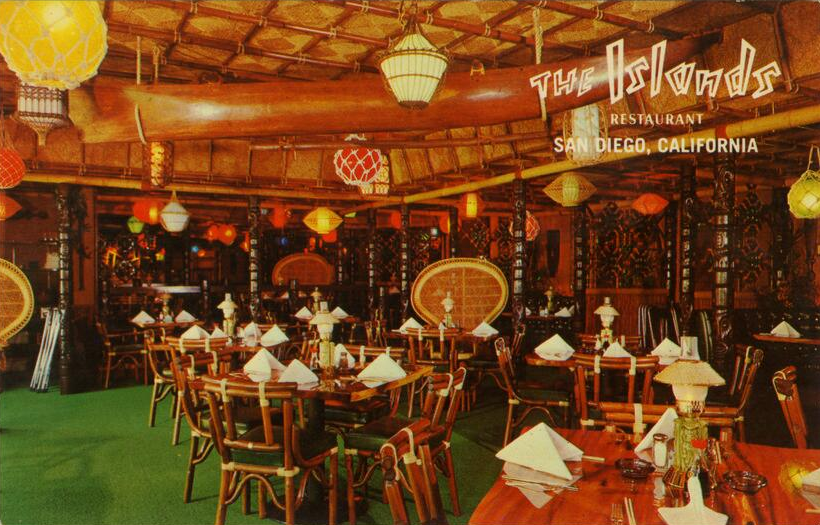 The Islands
was a Polynesian-themed tiki restaurant, featuring bamboo, tikis, Polynesian masks and artifacts, carved railings throughout, large glass float lights, and water features. Some of the tikis here were salvaged from Steve Crane's
Luau
in Beverly Hills.
When the property transitioned from the Red Lion to the Crowne Plaza Hotel in 2006, the entire hotel — including the iconic restaurant and bar — suffered an extensive renovation. Most exterior tiki decorations were removed and the entry was stuccoed. The semi-private dining area The Dragon Room was converted to a coffee shop (its ornately carved doors remain), and most of the interior water features removed. The restaurant was streamlined, enlarged, and new windows added. Other carvings were relocated throughout the property.
Mission Valley
Hanalei Hotel [now, Crowne Plaza San Diego]
2270 Hotel Circle North
San Diego, CA 92108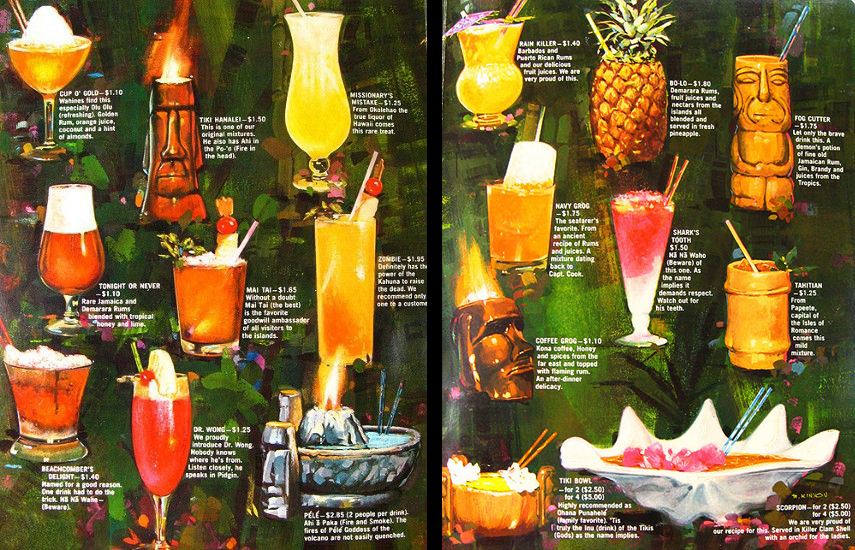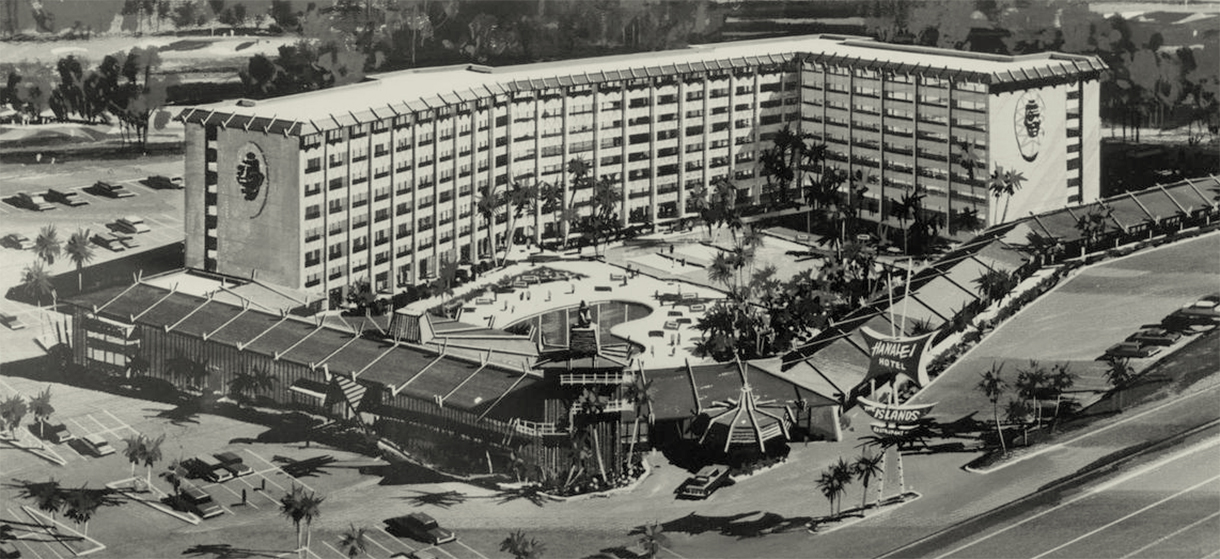 ---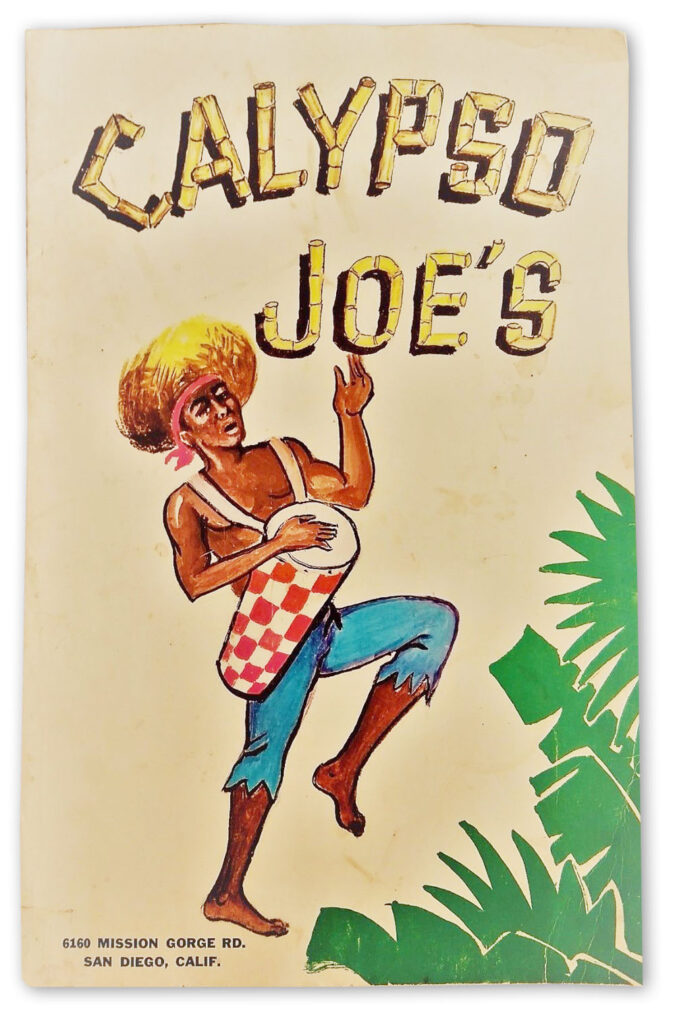 (1966-1967) Calypso Joe's was a short-lived Jamaican island-themed nightclub and restaurant located on Mission Gorge Road just north of Interstate 8 freeway. It was one of several go-go bars and stripclubs owned by 'nightclub king' Morty Zlotoff in the 1960s.
"The Caribbean, the Calypso, and all its fun!"
Morty had the Prospector's Club with topless cocktails and hula-hoop performers, the Booby Trap go-go cocktail lounge, and the Black Widow cocktail lounge ('thru our portals pass the most beautiful go-go dancers in San Diego').
In an expansion effort, Morty bought the bankrupt Stars of the 7 Nations restaurant in Grantville and turned it into a Jamaican nightclub with tropical murals by Tijuana artist Eduardo Varga (not to be confused with Alberto Varga).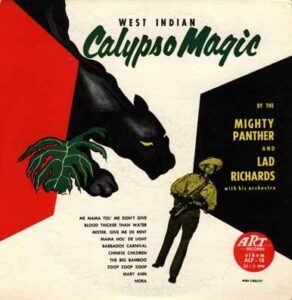 Calypso music and entertainment was provided by Trinidadian musician Mighty Panther and his Calypso Carnival. Caribbean buffet. Calypso Joe's extensive, but badly illustrated, cocktail menu featured 35 exotic rum drinks!
As 'Calypso Joe' said on their menu, "Complete informality is the order of the day. No one will be admitted to my place who is not in the mood for a care-free, fun-filled evening — just like in the Islands. Coats and ties are out – bright sport shirts and slacks for men. Women wear Mu-Mus or prints — no girdles…"
Calypso Joe's only lasted a year. Morty sold off his nightclubs to new owners with better management skills.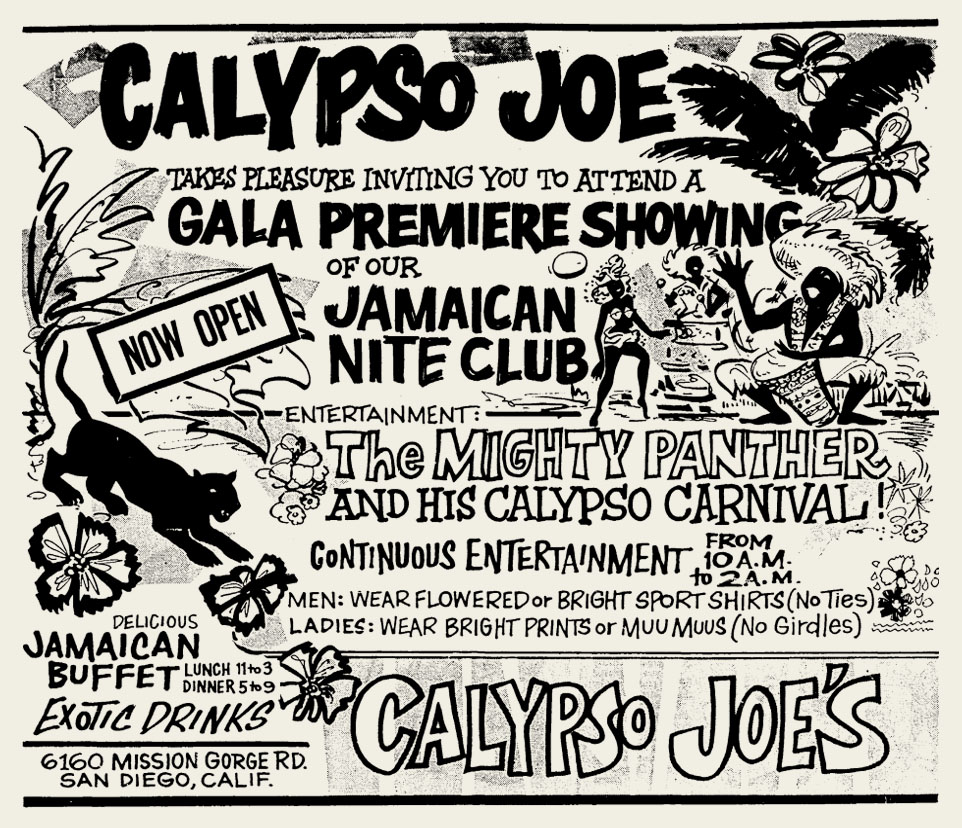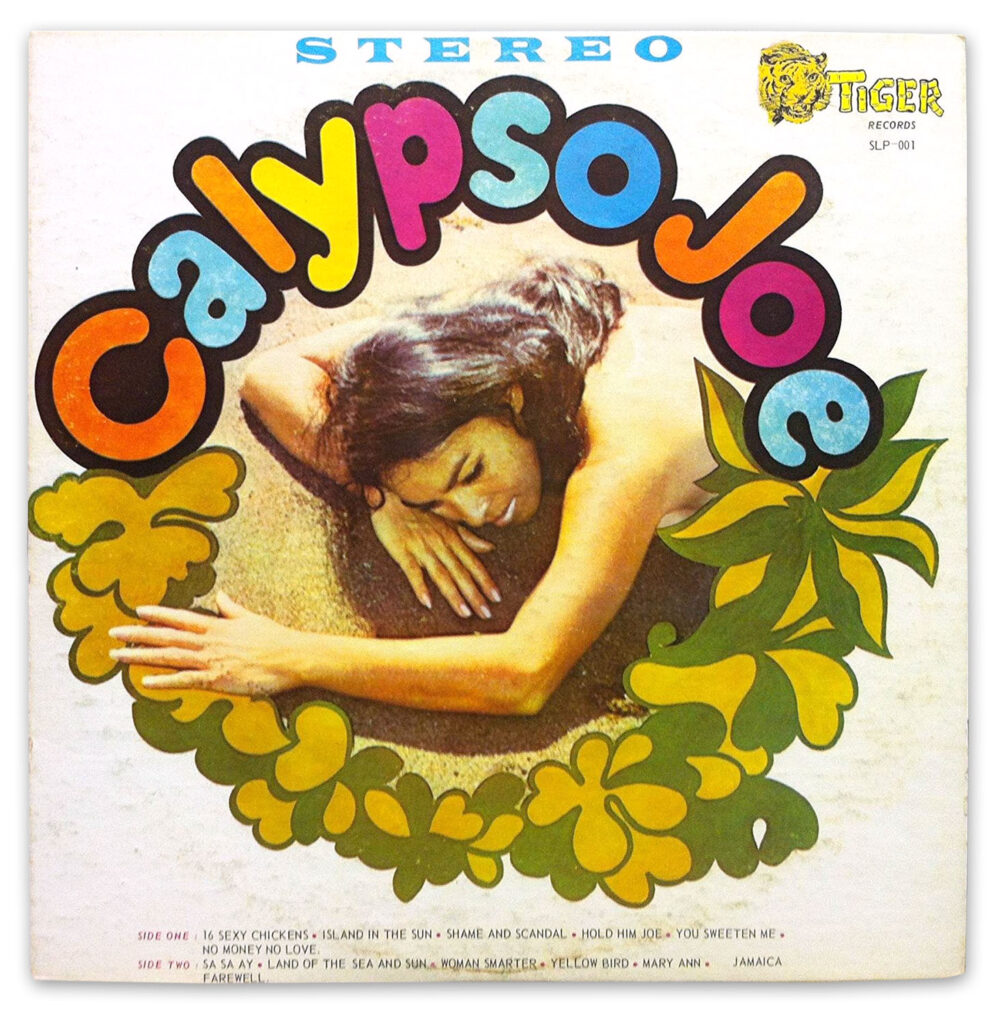 ---

(1965)
Tahiti Restaurant
on Shelter Island, was supposed to be a lease-required component of the
Half Moon Inn
.
Two years went by, and the Port of San Diego almost canceled their agreement with leaseholder William Elser. The required restaurant component was initially called Ports of Call, but changed to The Tahiti, when Stephen Crane, of Beverly Hills' The Luau fame, got involved. Crane even signed an agreement with Irvin Kahn's Half Moon Inn group, and worked with Richard Todd and Half Moon Inn architect Hudson Hiram Benedict on his version of the restaurant. By 1965 he was out and Elser brought in Los Angeles-based restauranteur Jean Bellon (Villa Frascati, Hollywood).
The Tahiti restaurant was designed by Los Angeles architectural firm Armet & Davis, with Glenn W Lundberg, for new operators Jean Bellon and Maurice Chatelain. The Port of San Diego eventually allowed the French restaurant L'Escale to go into a new $500,000 Tahitian-themed building instead. Chef Maurice Galle stated on his menu 'the essence of culinary art is time — we ask your kind indulgence.' Tableside preparations flamed with cognac were de rigueur.
But the only things tiki about the restaurant were possibly their Long Island Duckling Tahiti — and the building. Rum drinks? No, but a great French wine list…
"A meal without wine is like a beautiful woman without a smile," L'Escale menu.
The popular Humphrey's seafood restaurant now graces the location.
Shelter Island
2241 Shelter Island Drive
San Diego, CA 92106
---
(1968-c1974) Loma Luau was restaurateur Wilton Morton Polk's (Do-Do Hut, Pacific Beach) American-Chinese takeout restaurant in Point Loma, with food by Chong Lee, longtime chef from Sheng Haw Low.
Point Loma
1276 Rosecrans Blvd
San Diego
---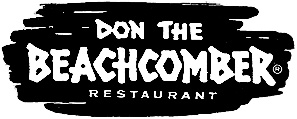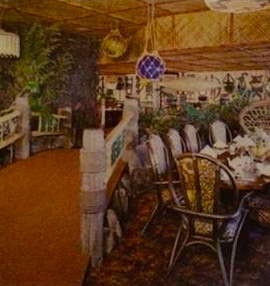 Yes! Albeit short-lived, there was a Don the Beachcomber (1970-1973) in Sheraton Inn – San Diego Airport, now called the Bay Tower at Sheraton San Diego Hotel and Marina.
Stephen Crane, yet again, almost had a restaurant in San Diego. Sheraton nearly struck a deal with Crane to open another of his Kon-Tiki restaurants in the Sheraton. Didn't happen. But King Y. Wong did open Don the Beachcomber on June 16, 1970 in the newly-built Sheraton Inn on Harbor Island. The restaurant served Cantonese and Polynesian cuisine in their South Seas atmosphere. And of course, exotic rum drinks like only the Beachcomber could provide…
Harbor Island
Sheraton Inn – Airport
[Bay Tower at Sheraton San Diego Hotel and Marina]
1590 Harbor Island Drive
San Diego, CA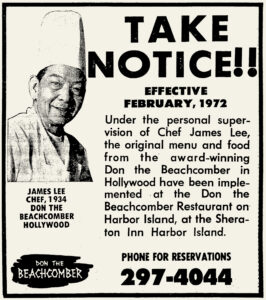 ---
(1970) The Tiki, a bar at Madison and Second Streets in El Cajon, now on the spot is the Blarney Stone Pub. Anyone remember this place?
El Cajon
388 North Second Street
El Cajon, CA 92120
---
(1971-c1985)
The Tapa Room
was North Park's own cozy little tiki joint, where you could sidle up to the bar on stools made of old telephone poles. The bar was named for the tapa cloth and tikis covering its walls.
After tours as Senior Chief SONAR Tech in Korea and Vietnam aboard the USS Finch, US Navy veteran Earl James Tauch (1934-2011) and wife Tasuko Kajihara (1933-2001) settled in San Diego, opening The Tapa Room in 1971. In the mid-eighties, they sold and retired to the Modesto area.
The spot now hosts the San Diego Eagle (leather encouraged, 'uniforms, rubber or latex always welcome'), one of the Eagle chain of gay leather/biker bars. Around the east corner of the tiled mid-century building are North Park's old stand-by Lucky's for breakfast, and The Girl Can't Help It vintage shop.
North Park
3040 North Park Way
San Diego, CA 92104
---

(1978-1983)
Tiki Hut Polynesian Restaurants
was a small chain of fast-casual Polynesian restaurants founded by franchise attorney
Robert Purvin Jr
and partners in San Diego County.
The restaurants served 'Hawaiian fast food' – their versions of won-tons called 'tikis,' and small teriyaki skewers. Twelve varieties of tikis were offered in beef/pork, chicken, shrimp, vegetarian, cheese, ham & cheese, and even blueberry, cherry or peach for dessert!
Park West
Tiki Hut No. 1 (1978)
2468 Fifth Avenue
San Diego, CA 92101
National City
Tiki Hut No. 2 (1981)
2333 Highland Avenue
National City, CA 91950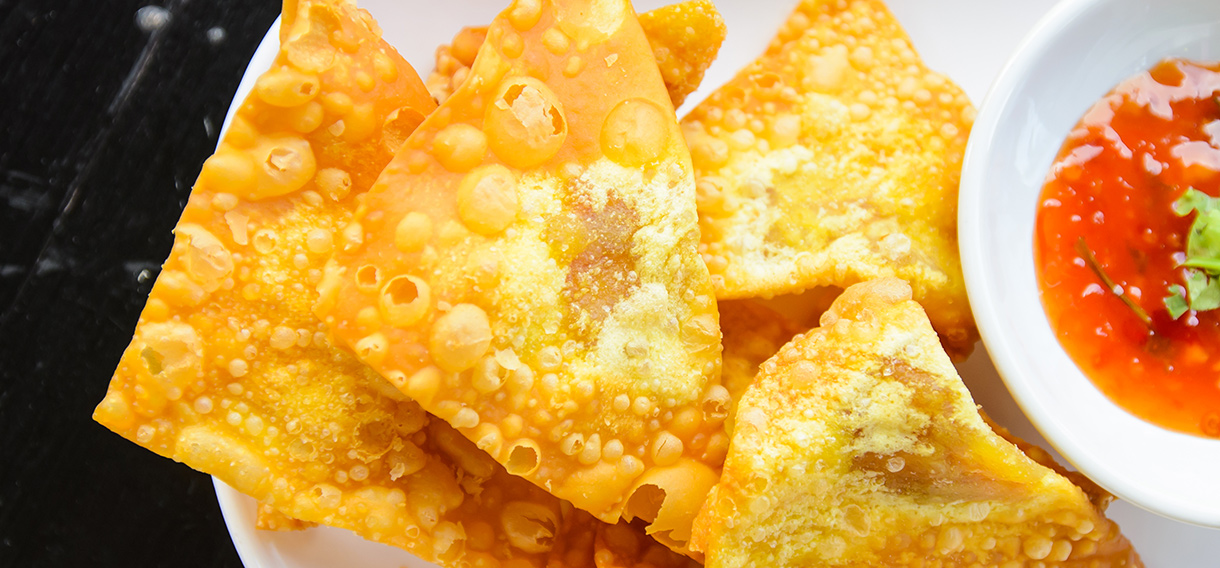 ---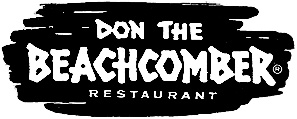 Another
Don the Beachcomber
(1980-1983) opened in the former
Barefoot Bar
location at
Jack H. Skirball's
Vacation Village, Mission Bay beachfront resort.
"Opened as Vacation Village at the height of the Cold War in June 1962, the Barefoot Bar was built beneath a pile of sand and could double as a bomb shelter. The joke was you could get bombed at the bar but not bombed from the sky."
Vacation Village was developed by
Jack Harold Skirball
(
Bowlero
bowling alleys), contractor
Robert Golden,
architect
Elbridge 'Ted' Spencer
(Ahwahnee Hotel in Yosemite) and his wife
Jeanette Dryer Spencer
as interior designer.
'A lush South Seas atmosphere complete with wicker furniture, hanging baskets of plants, and bayside view is the setting' newspaperman Alan Page wrote. They served Polynesian cuisine, the requisite Zombie, Fog Cutter, Scorpion and Mai Tai. Cantonese food. Crab Rangoon. Waitresses wore floral miniskirts and hostesses halter-tops. A favorite of many for Sunday brunch on the patio. Entertainment overlooking the bay.
But the reviews were terrible. 'Don the Beachcomber is charming enough from the outside, its rustic wooden building decorated with tikis, torches and appropriate foliage,' wrote Leslie James. 'But inside, it's full of sticky formica and sickly ferns. A few wicker chairs and ersatz rock gardens do not a Polynesian paradise make.'
Skirball sold the property in 1983 to P&O Enterprises, hotel and cruise ship operators (The Love Boat). Vacation Village is now called Paradise Point Resort & Spa. The Barefoot Bar returned and is back in the spot of the Beachcomber.
West Mission Bay
Vacation Village [now, Paradise Point]
1404 West Vacation Road
San Diego, CA 92109
---
(1980-2013) The Tiki House, a Pacific Beach beer bar which had several tikis flanking the entrance, and a collection of masks decorating the bamboo bar's apron. 'Tiki' Dave Miller's place is today known as the last live rock 'n roll dive bar in PB, consistently hosting bands like Superunloader, Joey Harris and the Mentals, The Nards, MacAnannys, Deep in the Shed, Psychic Vacuum, 30 Second President, Geezer, and more. Miller closed the Tiki House after 39 years in business, his landlord raised the rent over 30% in one jump.
Pacific Beach
1152 Garnet Avenue
San Diego, CA 92109
---
Polynesian Princess (1984-199?) opened in the former Don the Beachcomber (Barefoot Bar) location, after P&O Corporation bought Vacation Village. The property was renamed San Diego Princess Resort and heavily marketed as a vacation destination by the cruise ship operator. Unfortunately, the Polynesian Princess' food and drink suffered from the mediocrity so prevalent in corporate chain restaurants of the time.
San Diego Princess Resort is now called Paradise Point Resort & Spa. The Barefoot Bar returned and is back in the spot of the unpopular Polynesian Princess.
West Mission Bay
Vacation Village [now, Paradise Point]
1404 West Vacation Road
San Diego, CA 92109
---


(2004-2010)
Mister Tiki Mai Tai Lounge
was a new tiki bar and restaurant conceived by the Cohn Restaurant Group (
Corvette Diner, Coasterra, Island Prime, C-Level, Indigo Grill,
among others) in the Gaslamp Quarter of San Diego. The group had also invested in
Spa Tiki
, a multi-story Polynesian-themed day spa on Harbor Drive.
Mister Tiki was a trendy, midcentury-modern take on Polynesian Pop, with carved artwork of Bosko Hrnjak featured heavily throughout the interior. They offered sushi, pu pu platters, and tropical cocktails. Famous for their Mondo Martiki, and of course, mai tais.
The restaurant eventually suffered from a lackluster following — tikiphiles a bit too weary of corporate theme restaurants and young Gaslamp barcrowds looking for Coyote Ugly sportsbars. Mister Tiki opened in 2004 before the tiki resurgence, and closed in early 2010. The Cohns retained the lease and re-imagined the space with partner SDCM Restaurant Group (Vin de Syrah, Kettner Exchange, The Grass Skirt) as the Analog Bar.
Gaslamp Quarter
801 Fifth Avenue
San Diego, CA 92101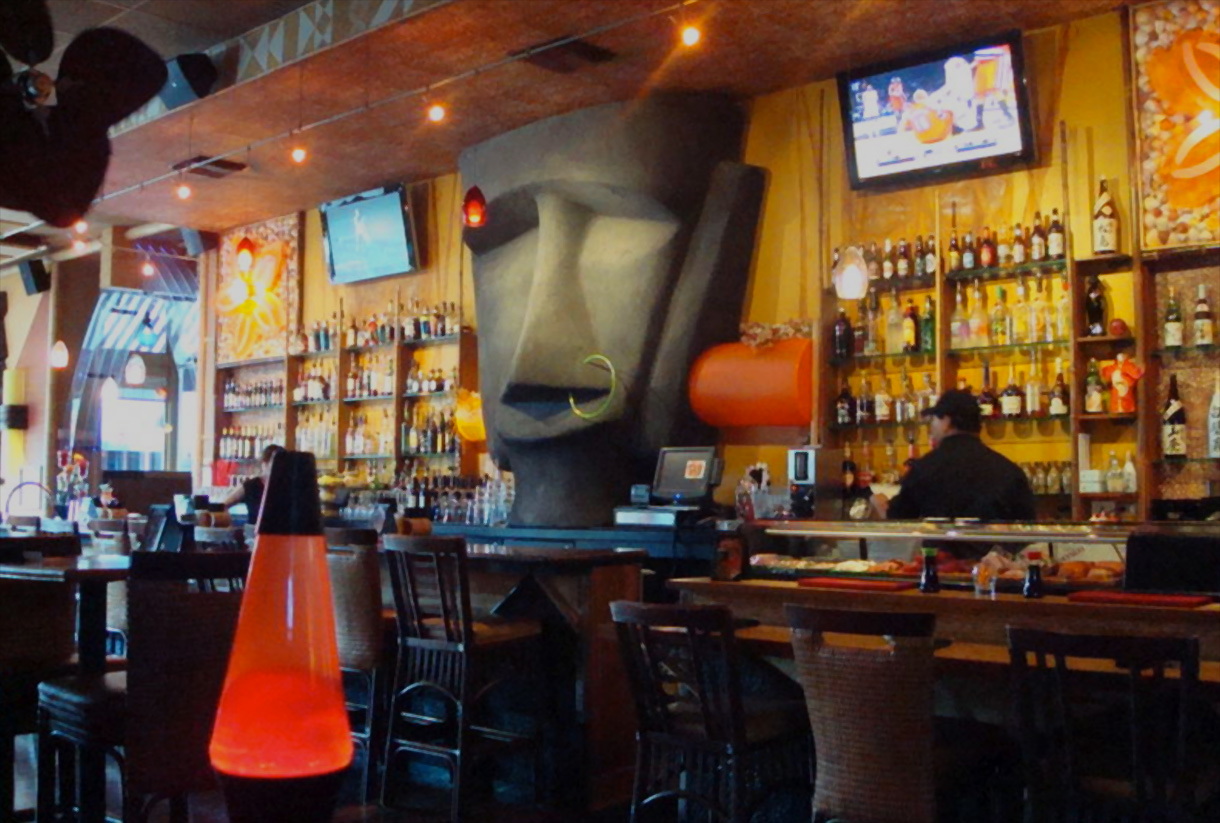 ---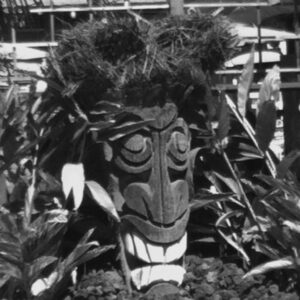 (2006-✔) The High Dive Bar and Grill, Ingrid Alvarez Cherney's tiki dive bar. In 2015 beverage manager Ryan Andrews (Coin-Op, Craft & Commerce) revamped their tiki cocktail menu with spirits from Ballast Point Distillery, including the High-Tai, a frozen Island Mai Tai, the Balboa, Southwestern Sling and the Holy Diver.
The interior speaks to the sports bar, but with tiki touches here and there. Outside, there's Tiki Charlie, a vintage root ball Tiki sculpture by Tiki Dan. And did we mention their tiki mugs by Tiki Farm? Collect 'em all!
Bay Park
1801 Morena Boulevard
San Diego, CA 92110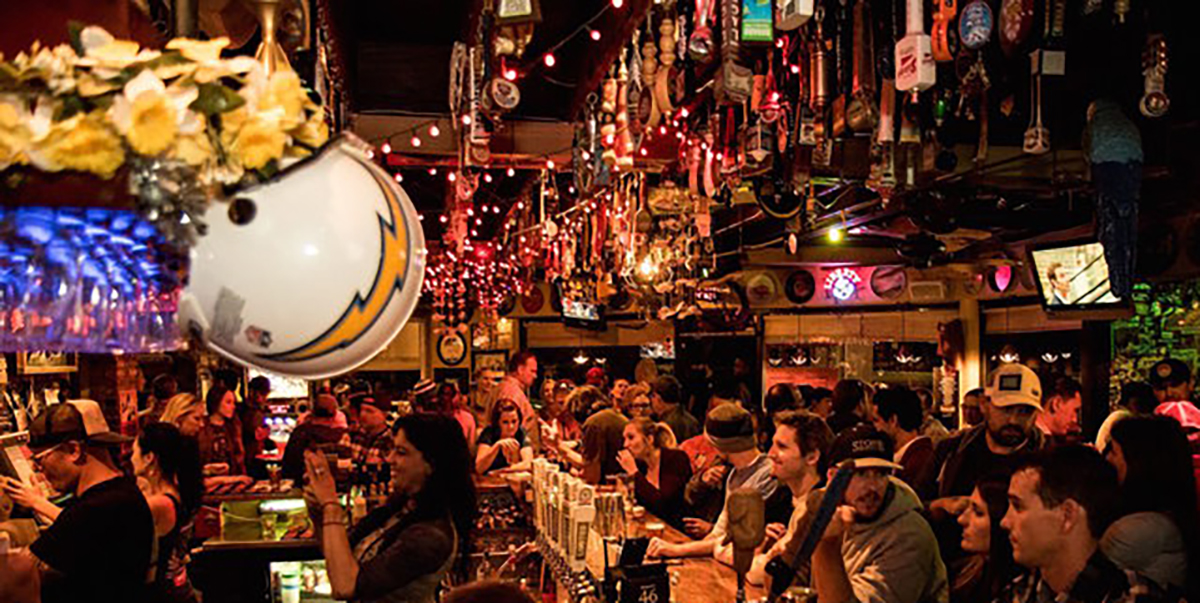 ---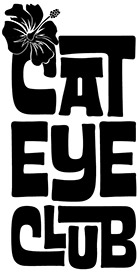 (2013-2018) Cat Eye Club, originally a mid-century 'Mad Men' style bar, was tiki-fied for about five years. The Cat-Eye Club was an intimate venue with great drinks and entertainment. Food came from the kitchen of attached Blind Burro Restaurant. Modern, local interpretations on classic tiki cocktails include Astro Chimp, Enchanted Youth, Cat Tai, Ghost of Black's Beach, Baja Pipeline, Belmont Park Mustache Ride, Cradle of Life, Tourmaline Typhoon, Baja Expedition, Victor's South Seas Grog, and the behemoth Goonies Never Say Die (serves 4-6).
Plus, if you can get one, their limited-edition Sophie the Cat mugs are fabulous. Closed in October 2018 to make room for a Blind Burro restaurant expansion.
Gaslamp Quarter
370 Seventh Avenue
San Diego, CA 92101
---
(2014-✔) Fairweather by Arsalun Tafazoli's Consortium Holdings (Polite Provisions, Rare Form, Ironside Oyster Bar), the outside deck bar with a view of Petco Park stadium. On the roof above Rare Form deli, it serves "drinks from sunny places," Polynesian-inspired cocktails, beverage program by Anthony Schmidt (Noble Experiment, Fairweather, False Idol).
Mezcal, rum and tequila reign supreme throughout Fairweather's 32-count cocktail lineup. Daiquiris, a Mai Tai, Piña Colada, Zombie, Painkiller, and Ti' Punch are among 16 familiar "Classic" throwbacks recreated from timeless recipes discovered in old cocktail journals by Schmidt, while 16 "Fairweather Signatures" offer unique riffs on the classics – the Oaxacan Dead (Schmidt's riff on the Zombie with Mezcal and rum), the Monkey's Junk (coconut, bananas and cacao rum) and Rum Row (an aged Old Fashioned with coconut bitters and banana liqueur).
Fairweather gladly serves any of their drinks frozen and also offers 12 beers on tap in addition to a handful of wines.
East Village
795 J Street
San Diego, CA 92101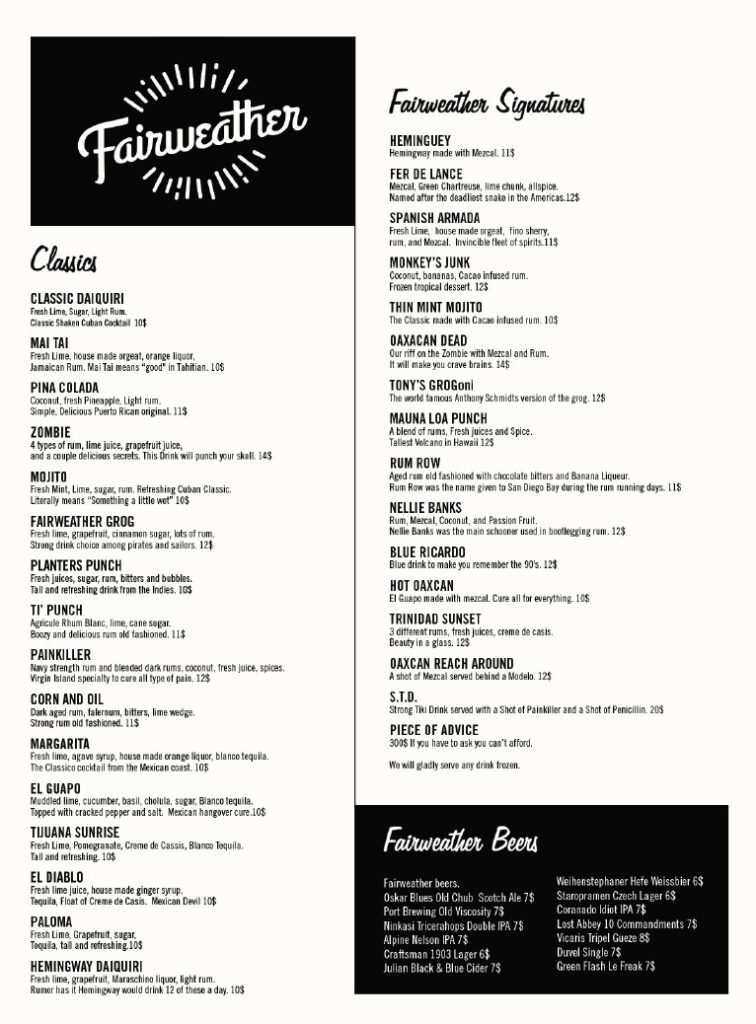 ---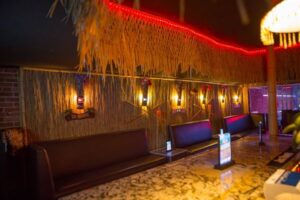 (2106-✔) Atomic Tiki Room, small tiki bar within the Atomic Gaslamp nightclub. Used for private parties up to 40 people, the bar is located upstairs overlooking the mainstage floor, and provides 'a relaxing vape hookah and bottle service lounge.'
Gaslamp Quarter
762 Fifth Avenue
San Diego, CA 92101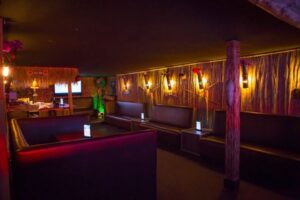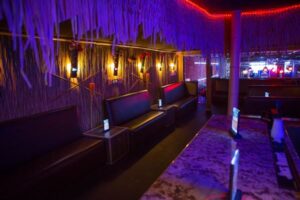 ---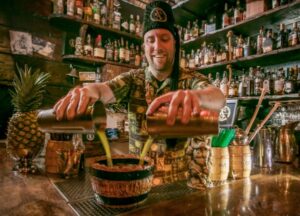 (2016-✔) False Idol by Martin Cate (Smuggler's Cove) and Anthony Schmidt (Nobel Experiment, Rare Form, Fairweather), the not-so-secret tikispeakeasy, in Consortium Holding's revamped Craft & Commerce.
The Polynesian-themed tiki bar is designed by Ignacio 'Notch' Gonzalez, with fixtures by Paul Basileand decorations by tiki artist Bosko Hrnjak.
Go through the walk-in refrigerator door next to the bar in Craft and Commerce, and you enter a world of skulls, flames, a waterfall grotto and tiki carvings galore. The ceiling is covered with colorful, lighted fishing floats. The bar is a glass-topped shrine displaying historical San Diego tiki objects, carvings, mugs and paraphernalia. The menu includes 38 drinks The standards – Mai Tai, Singapore Sling, Navy Grog, Tradewinds, and Zombie. Plus localized concoctions Shelter Island Sling, Coronado Luau Special and Hanalei Nights.
Little Italy
675 West Beech Street
San Diego, CA 92101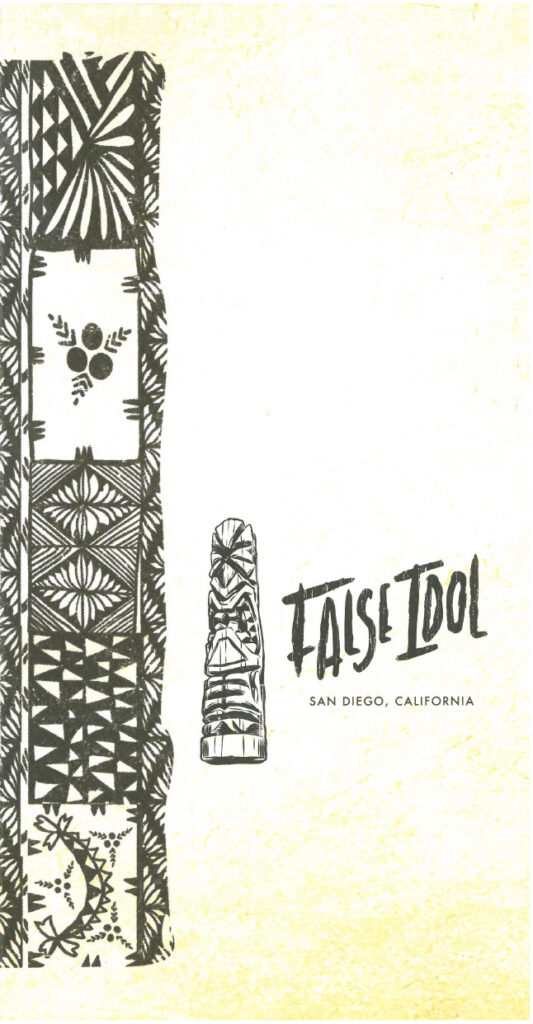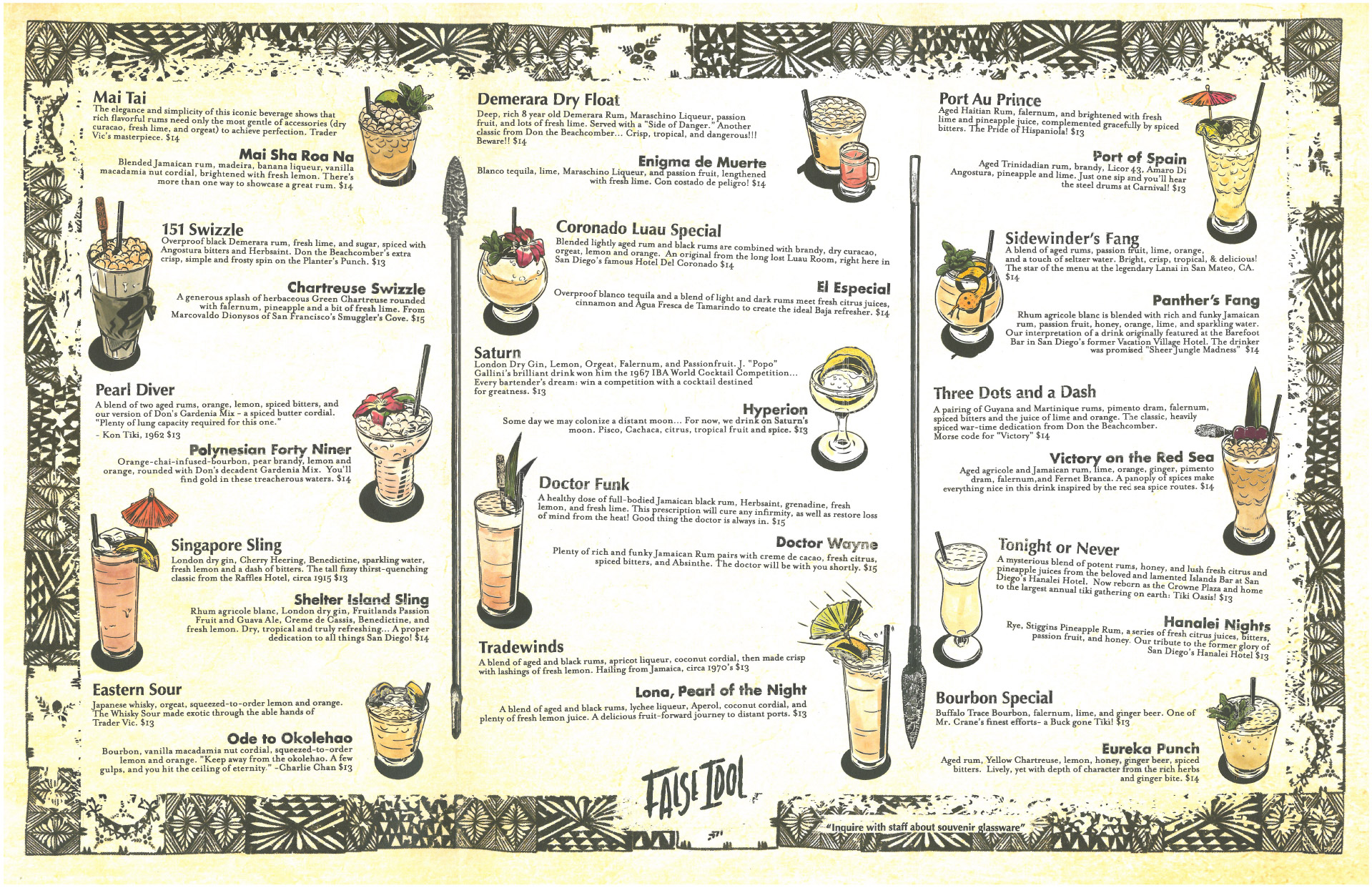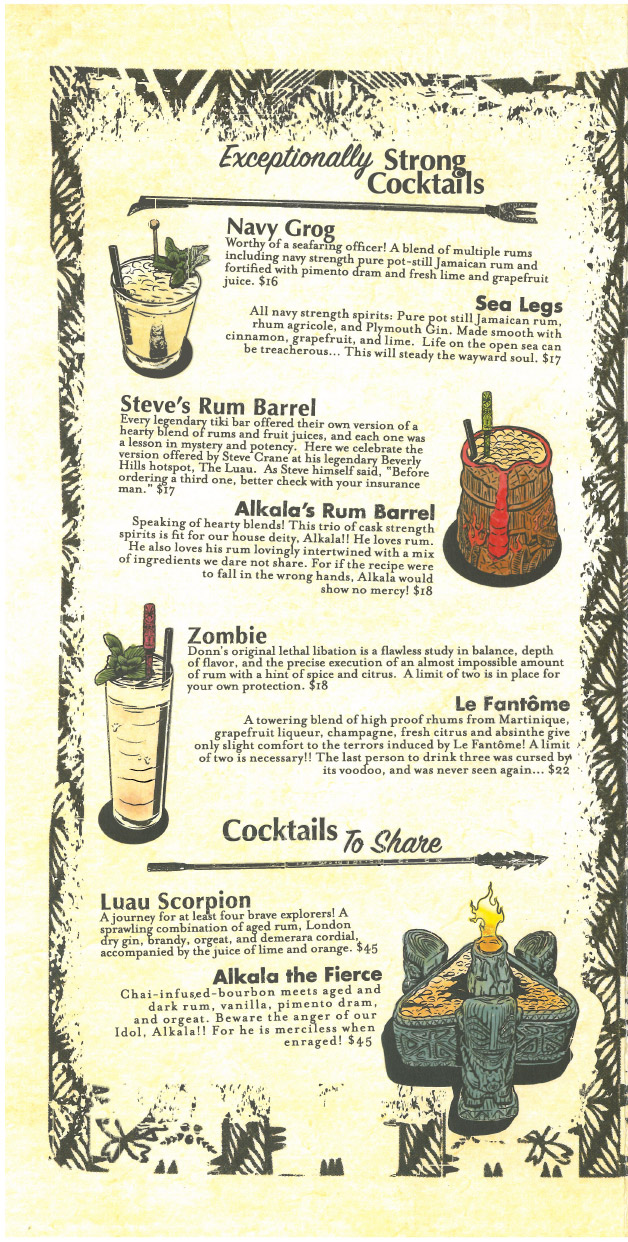 ---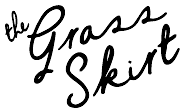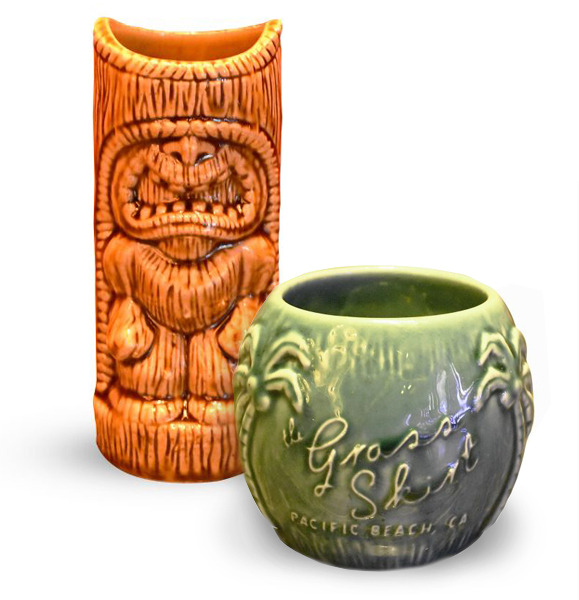 (2016-✔) The Grass Skirt, SDCM Restaurant Group's tikispeakeasy you enter from adjoining business Goodtime Poke's walking-refrigerator door. Partners Matthew Spencer and Tyler Charman (Firehouse, Kettner Exchange) created their tiki bar and restaurant as an homage to classic tiki lounges, but with a modern twist. It's a visual gem, with eclectic interiors by Davis-Ink, chef Brian Redzikowski's poke bowls and Asian fusion cuisine, and Steven Tuttle's fun tiki drinks. The also offer up some cool tiki mugs…
Pacific Beach
910 Grand Avenue
San Diego, CA 92109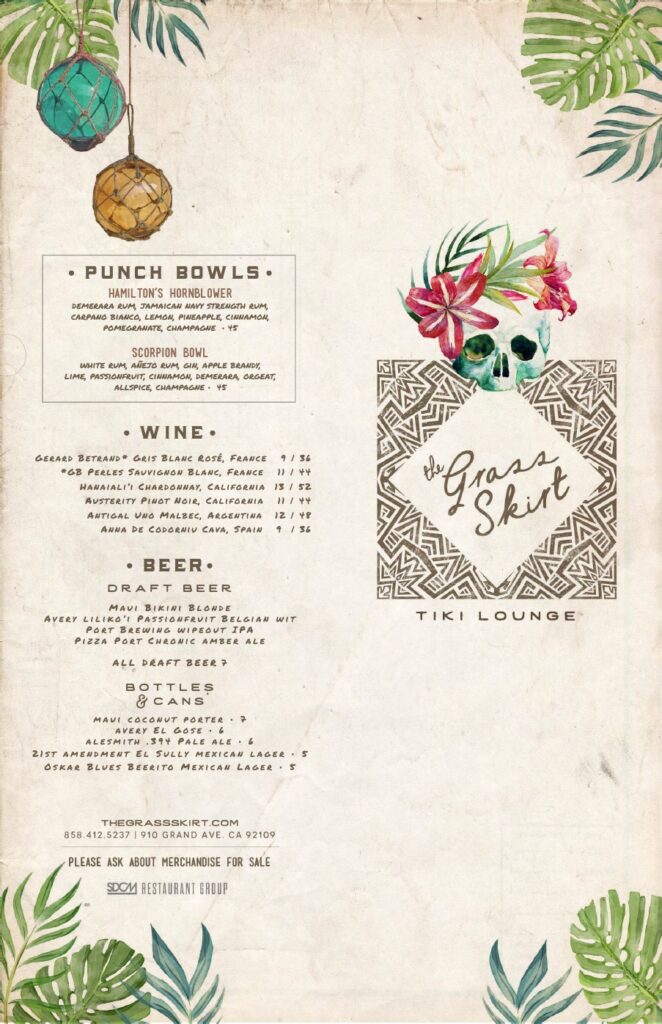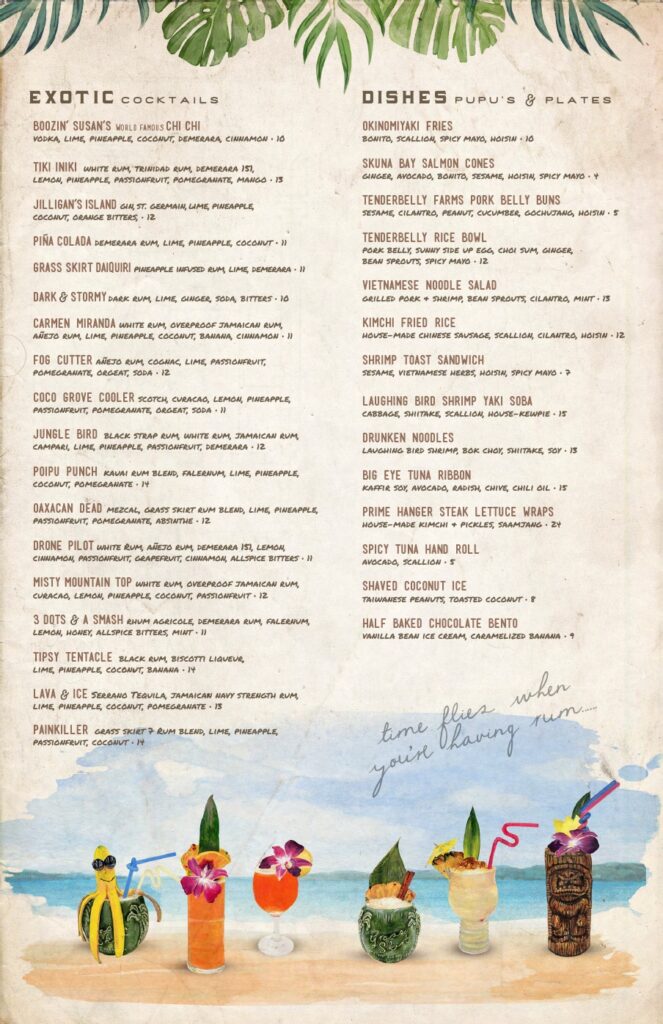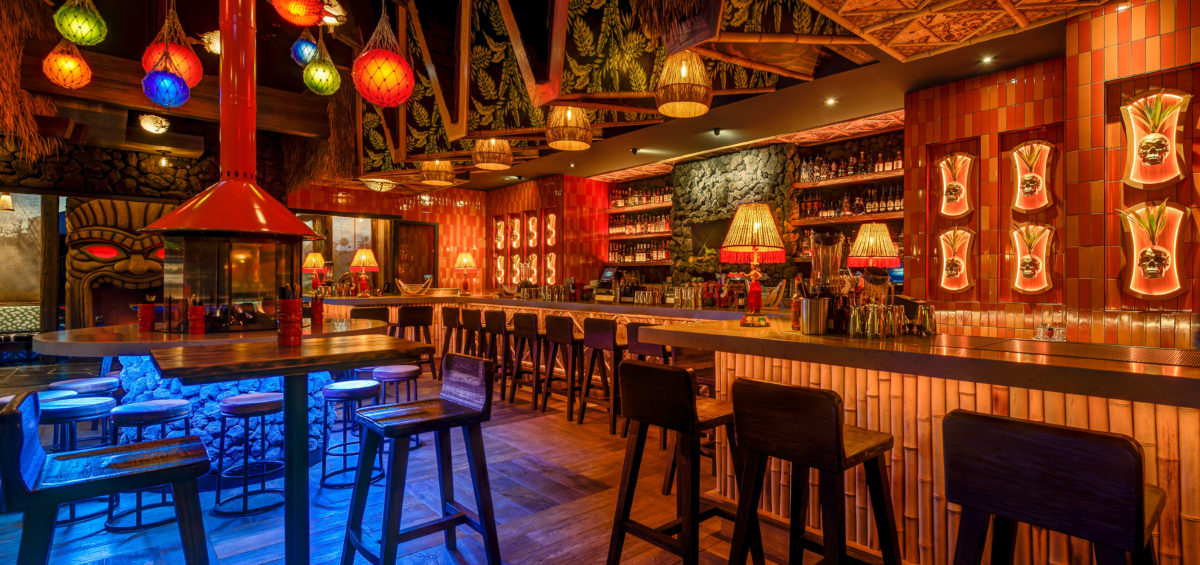 ---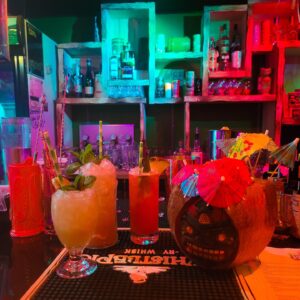 (2019-✔) Forbidden Cove is a colorful, blacklight tiki speakeasy hidden in the Kilowatt Brewing Kearny Mesa tasting room location. Being a component of the brewery's tasting room, Forbidden Cove's menu features beer-based tiki drinks, as well as those made with Kilowatt Brewing's hard seltzers and 'undistilled spirits' — seltzers with up to 18% ABV. Beer-based Jungle Birds, Zombies, Pain Killers, and 151 Swizzles.
Kearny Mesa
Kilowatt Brewing Kearny Mesa
7576 Clairemont Mesa Blvd.
San Diego, CA 92111
---
Notes
Citation: Martin S. Lindsay. 'Classic San Diego tiki.' Classic San Diego: tasty bites from the history of America's finest city. Web. < https://classicsandiego.com/tiki/>