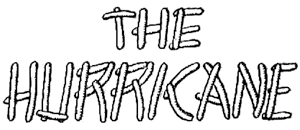 The Hurricane (1945-1960) was a tropical cocktail lounge in Hillcrest, operated by Samuel Morris Stutz (1890-1972). At an early age, Sam became a projectionist at his father Morris' Shell Theatre — with its rooftop Airdome Dance Hall — on South Broadway, Los Angeles. After service in the First World War he settled in San Diego, managing several motion picture theaters. He and younger brothers Louis A Stutz (1892-1961) and Walter R Stutz (1903-1978) were soon owner/operators of San Diego's Palace (401 E Street), Orpheum, Rialto and Hillcrest (3825 Fifth Ave) theaters. And by 1937 Walter was president of the San Diego County Federated Trades and Labor Council.
Entertainment – the Family Business
In 1939 the brothers were awarded amusement concessions on Treasure Island in San Francisco's Golden Gate International Exposition.
The very next year, Wayne Dailard's Pacific Square Ballroom opened in San Diego. Walter Stutz operated its liquor concession – the Pacific Club Cafe, adjacent to Pacific Square. The quick success of Pacific Square allowed the Stutz family to form Walter R Stutz Enterprises, a limited partnership, which owned or operated Kokomo Cafe, Pirates' Cave, Cave Novelty Shop, Blue Room (dancing), Pacific Club Cafe, Third Avenue Sportland, and the Dunlac Hotel, including its mob-connected bars Gold Rail, Cuckoo Club and The Tropic Cafe.
By 1945, the Stutz family bought Pacific Square outright from Daillard. 'Pacific Square Amusement Company' partners were all Stutz siblings – Louis Stutz, Sam Stutz, Lillian Stutz Hiestand, Bernice Stutz Gantert and Walter Stutz.
Walter Stutz bragged to reporters that he was the largest operator of liquor houses in San Diego at the time, and very hands-on with his businesses. Certainly appears so.
That year, Sam Stutz riffed on the tropical South Seas theme from the Tropic Cafe, a tenant in their Dunlac Hotel building downtown. Up in San Francisco, another tropical restaurant named the Tonga Room and Hurricane Bar had just opened. Hurricane bars had been popping up around the country since Charles Nordhoff and James Norman Hall wrote their deluge-named sequel to Mutiny on the Bounty. The Hurricane (1937) film starred Dorothy Lamour and Jon Hall (nephew of co-author James Hall).
Sam and Edward Bolander created their own place, The Hurricane, in the Hillcrest neighborhood of San Diego. Bolander was a beverage manager for Stutz Enterprises up until his unexpected death in December, after which, his widow Mildred Bolander stepped in as partner until about 1950.
Music by Stone's Royal Native Serenaders (just like at Tropic Cafe), or Maureen at the piano and Hammond Solovox! Steak dinners by chef Jean A Pelletier (Marlborough Dining Room). The finest of mixed drinks and liqueurs served with courtesy in a tropical atmosphere. Tiki drinks? Sure! Ask for their special 'The Hurricane,' or choose from their South Seas Cooler, Planters Punch, Bali-Bali, Emily's Zither and Polynesian Paradise tropical drinks.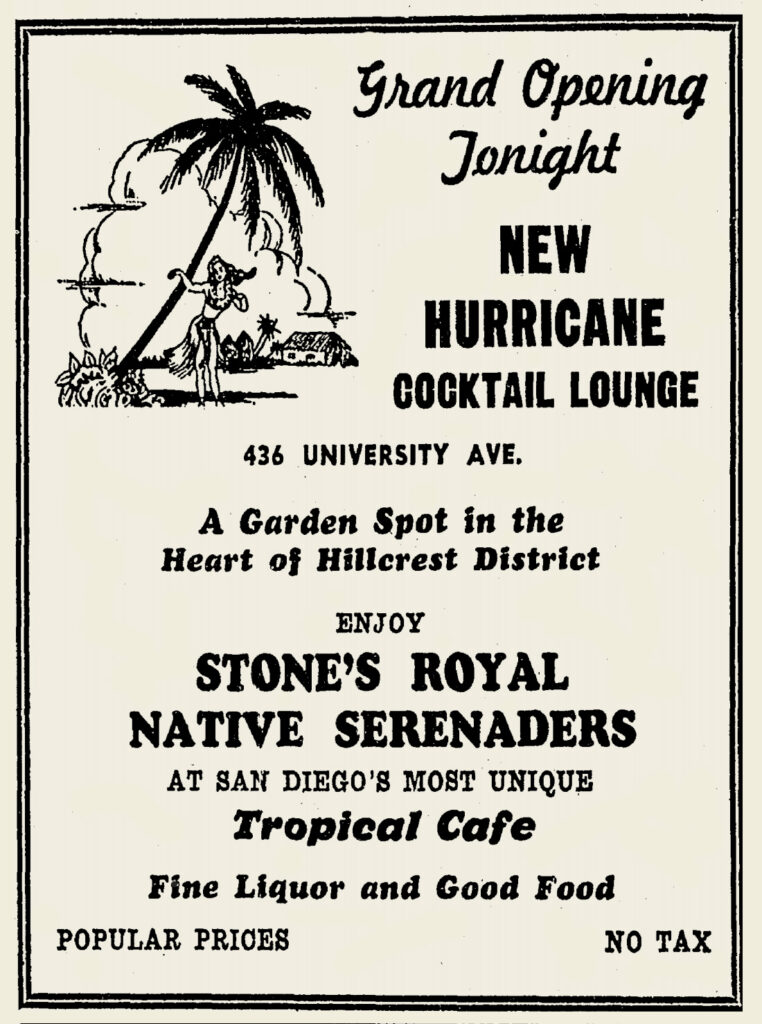 In the dark early morning hours of Friday 23, 1951, Pacific Square burned, causing over $100,000 in damage to the ballroom and KFMB radio station offices on the second floor. The Stutz family sold the property to the County of San Diego. It was refurbished, and served for decades as Public Welfare Department offices.
What to do with all that extra insurance money? Walter invested $1 million with sketchy partner Nate Rosenberg to develop the 250-room Desert Spa Hotel (next to the Desert Inn) in Las Vegas. Rosenberg had owned the Navy Club and was charged with arson after the financially-troubled bar mysteriously burned.
"A Garden Spot in the Heart of the Hillcrest"
In 1951, Sam Stutz remodeled and enlarged the bar into a dine-dance joint. Food. Tropical drinks. Modern dance floor. Live music by virtuoso Nelda Smith and her magic Violin, backed up by her all-girl band – Alice on drums and Hammond organ, Bonnie at the piano, and Princess Pat Kia, 'South Seas songstress.'
He held the club through about 1955, when he sold to owners of The Elbow Room, Paul and Helen Corder. From 1958 through 1960 the club was operated by Mrs Cary Bea. Today [2017] the location hosts Saigon on Fifth restaurant.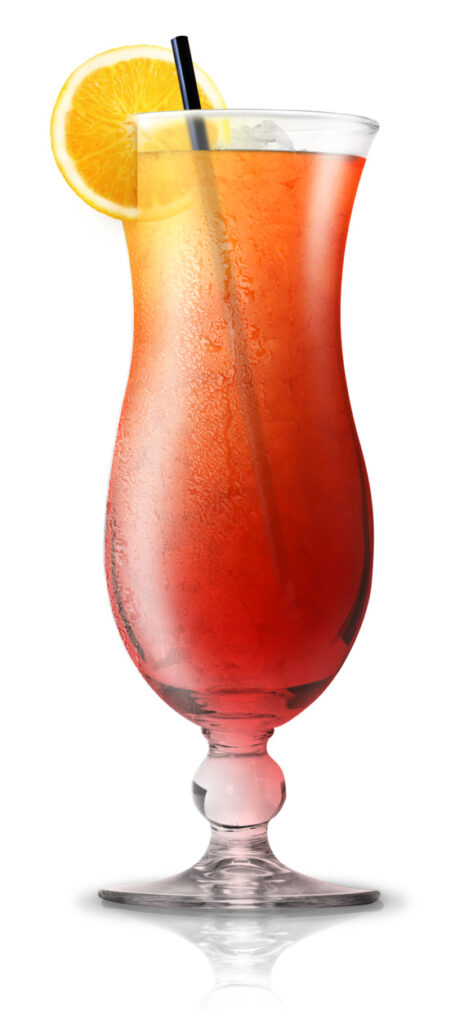 ---
Notes
Citation: Martin S. Lindsay. 'The Hurricane.' Classic San Diego: tasty bites from the history of America's finest city. Web. < https://classicsandiego.com/restaurants/the-hurricane/>
Revised 19 Nov 2017.
1945 RonRico Rum souvenir mailer art, Shane Bagnall collection. Thanks Shane!
"became a projectionist" and family history is from San Diego City directories; US Federal Census records; 'Broadway Theatres – Historic Los Angeles Theatres – Downtown,' web, accessed 02 Jun 2017: Historic Los Angeles Theatres.
"Walter was president of" San Diego Union.