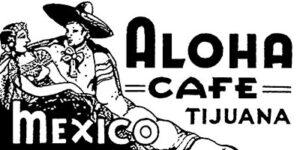 The Aloha Cafe (1928-2011) Tijuana's first pre-tiki bar, was sporadically located on Avenida Revolución (then known as Main Street by americanos) — for over eighty years! It changed hands, was burned down and rebuilt several times, but stood the test of time until a fire in 2011 finally shut down the place.
The bar was first opened as The Aloha Cafe during Prohibition in 1928 by Fernando 'Frank' Blanco Cota. He'd previously lost The Anchor Cafe in a 1927 fire. Both catered to the US Navy crowd. Cota was born in Ensenada, Baja California, but attended school and lived above the border in San Diego. His place was connected with amateur boxing, promoting bouts between Tijuanans and Americans held in the Aloha Cafe Arena.
The U.S. federal prohibition of alcohol ended in 1933, with California following suit on April 8. A mere two months later, 150 businesses in Tijuana had closed, including 60% of the bars.
As a result Cota regularly advertised the liquor and dancing of his place to San Diegans, beckoning them to experience the racy Honolulu Trio and their 'latest hula thrills.' The only things tiki, really, were some decorations, the name, and the hula. Everything else screamed Tijuana tequila bar. No rum there…
Large tropical murals by San Diego artist Russell Dale Moffett (Island Cafe, Sherman's, Paris Inn, Eddie's Cafe, Tropic Cafe, Mexican Village and Hillcrest Bowl murals) graced its walls for years.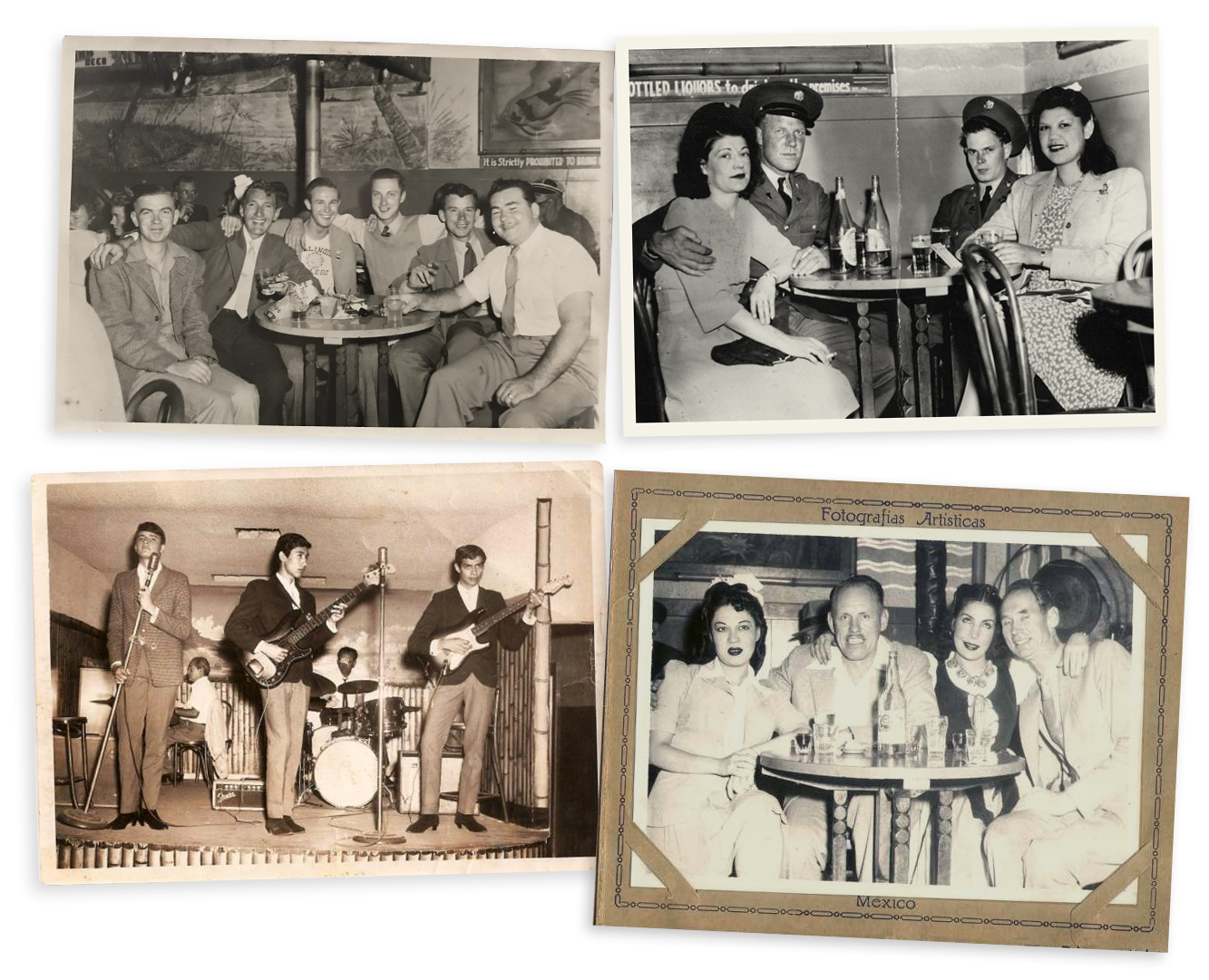 In November of 1938 half a block along Main Street burned down, including the Aloha Cafe. It was a devastating loss to Tijuana business, and left many out of a job. But cleanup started the next day. Frank Cota rebuilt and re-opened bar in the early months of 1939 with neighbor
Francesco 'Frank' Maggiora
. Together the Franki boasted their establishment was the 'liveliest nite spot in town,' open all night.
The Maggiora family came from the Refrancore wine country in Piedmont Italy. Angelo Della Maggiora and Giovanni 'John' Maggiora settled in San Diego, and for years operated a bar before the Volstead Act was passed. The oldest continually open bar in San Diego, it's called The Tivoli.
Angelo's son Paul Della Maggiora went into business with another Italian in Tijuana, Alessandro Cardini, forming the wildly successful Paul and Alex's restaurant. They were known for their fancy continental food and impressive wine cave. Their restaurant was at one point just across the street from The Aloha in Miguel Gonzalez's Hotel Comerciál. They later joined forces with Caesar Cardini to form his Original Caesar's Place hotel and restaurant.
After the prohibition of alcohol in America, many immigrant families that had for generations been winemakers in Italy migrated south of the border. The Maggioras, Cardinis, Cardinales and Mirabiles were part of a large group of Italian immigrants that settled in Tijuana, profiting from the big Dry Law surge in business.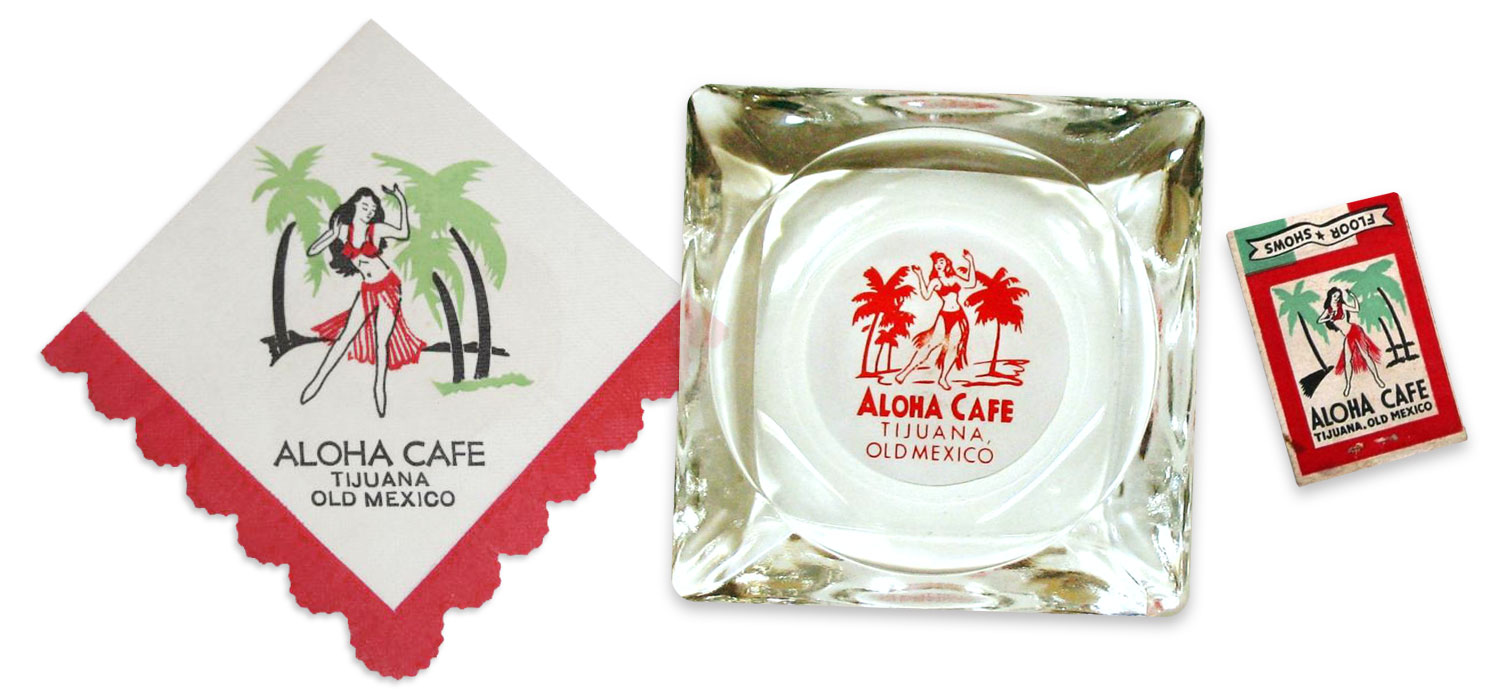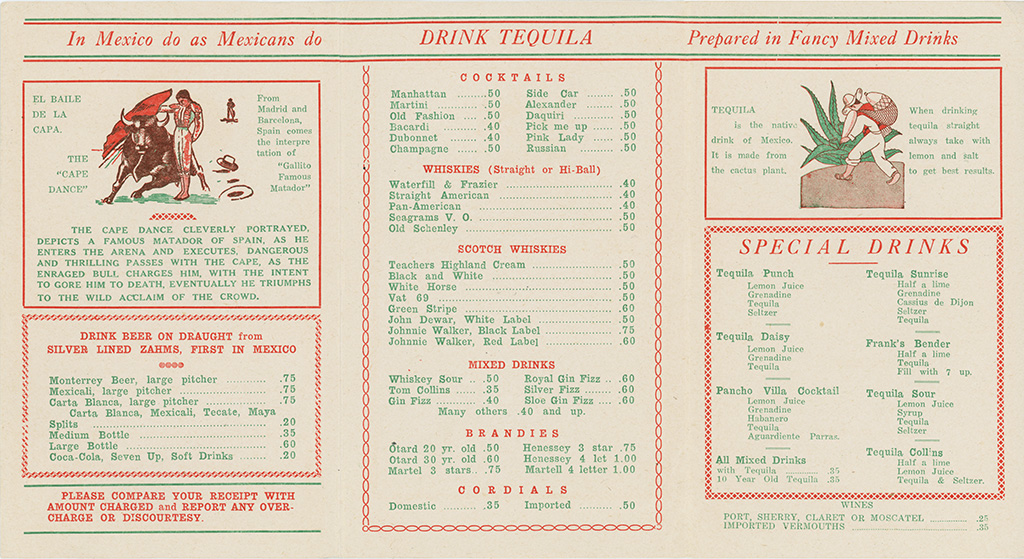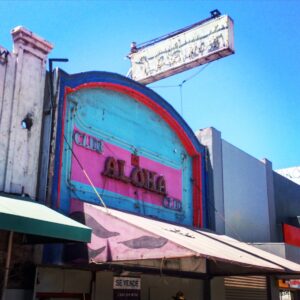 In the 1940s, The Aloha promoted tequila drinks a-plenty and live entertainment, with floor shows every half-hour by a cast of regular dancers.
Traditional folkloric Mexican dancers. Duos from 'Old Mexico' Panchita and Don José, Delfina and Don Ramón. Exotic burlesque strip-tease. Fan dancers.
Through the decades, The Aloha became a place of legend to the curious crossing the border for fun, dancing and booze. There was even a local story about the devil incarnate appearing on the dance floor.
Many rock bands, including those of Carlos Santana and Javier Batíz played at The Aloha. It became a disco in the 1970s. And strip club in the 1980s (notorious, along with The Long Bar and Club Bambi).
When the property owner was clearing out the building, Russell Dale Moffett's forgotten murals were found rolled up in the attic. Some have subsequently sold at auction for tens-of-thousands of dollars…
Now boarded up and for sale, you can still see the neon sign on the building's facade today.
Zona Centro
Avenida Revolución 228
Tijuana, Baja California, México
Zona Centro
Avenida Revolución 869
Tijuana, Baja California, México
---
Notes
Citation: Martin S. Lindsay. 'Aloha Cafe, Tijuana.' Classic San Diego: tasty bites from the history of America's finest city. Web. < https://classicsandiego.com/restaurants/aloha-cafe-tijuana/>
"1928" Rachel St John, Line in the sand: A history of the western U.S.-Mexico border, Princeton, New Jersey: Princeton University Press, 2011.
"finally shut down the place" Sandra Dibble, 'Aloha Bar burns down on Tijuana's Avenida Revolucion,' San Diego Union-Tribune, 23 Feb 2011.
"Cota regularly advertised" Various display ads, San Diego Union, San Diego Evening Tribune, 1931-19
"Carlos Santana" Dibble, ibid.
Portrait of Frank Maggiora is from U.S. border crossing documents, 1935. Souvenir photos, Arian Collins and Scott Schell collections. Cocktail napkin, ashtray and matchbook, Scott Schell collection. Photo of fire, 2011, courtesy of San Diego Union-Tribune.