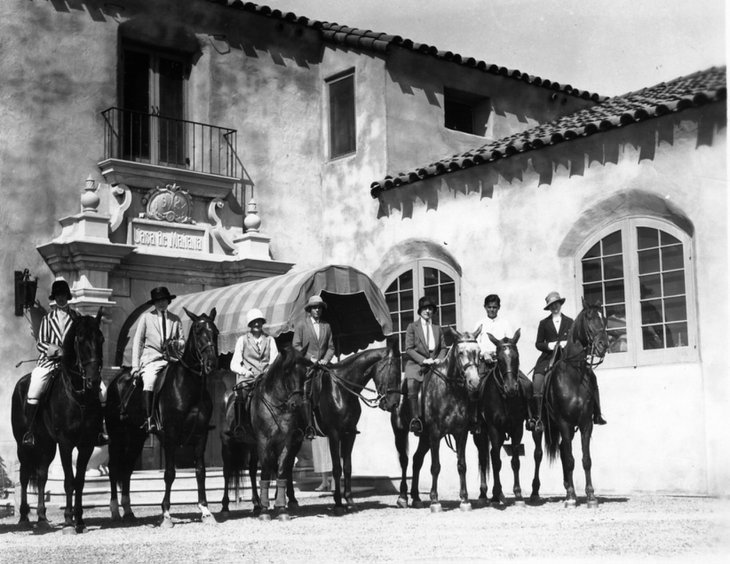 Lanai Room (1952-1953) was a tropical pre-tiki restaurant at the Casa de Mañana Hotel, in La Jolla.
Casa de Mañana Hotel was designed by Edgar Ulrich (who also did the interiors for Original Caesar's Place in Tijuana) and built in 1924 as a luxury residential hotel in La Jolla, atop the cliffs overlooking the Pacific Ocean. Billed as 'La Jolla's only ocean front hotel,' it was the California resort to stay for the summer.
The hotel had it's regular dining room which served steak, lamb chops, shrimp, Welsh rarebit, spaghetti, their own 'famous Caesar salad,' and a few healthy choices — fresh California fruit salad, stuffed avocado, fresh vegetable plate. And a juice bar for their recuperating guests. The Lanai Room, like many other restaurants at the time, served mainly American fare, but offered a few exotic dishes — Shrimp and Lobster Stew, Hawaiian Beef Sukiyaki with Steamed Rice — but had to have fruit Jello with whipped cream for dessert.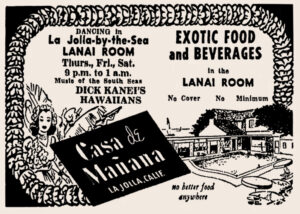 The Lanai Room was the hotel's brief affair with Hawaiian pre-tiki, offering food, drinks, live music and dancing. It formally opened Friday night, January 18, 1952. The tropical setting had blossoming trees with birds in the branches, seahorses, starfish and 'artistic wood blocks in oil' by the wife of hotel manager Col. Henry R. Dutton.
It didn't last long. By April the next year, approval was granted for the property to transition from a hotel to a private retirement community. It is now an exclusive retirement community by Front Porch.
La Jolla
Casa de Mañana Hotel
849 Coast Boulevard
La Jolla, CA 92307