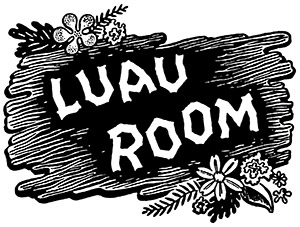 The Luau Room (1949-1969) tiki restaurant and bar was the Hotel del Coronado's grand entry into Polynesian Pop.
Amidst an island setting complete with palapas, soft lights, bamboo, murals, tropical plants and a waterfall, the restaurant was one of the first in the area to serve the classic combo of American-Chinese cuisine with exotic rum cocktails.
"Where you're sure to find a tiki that tickles your fancy among the fascinating curios…"
The only other tropical restaurant nearby was The Island Cafe, but by the 1950s had evolved into a jazz club. Previous San Diego pre-tiki places had relied more on standard steak-and-fried-shrimp menus. Not to worry. There were also the Circus Room and Ocean Terrace for less adventurous visitors to the trans-bay hotel. And in the evening, there was dancing to to the music of Vic Vincent and his Orchestra.
"Are you big, brave and strong? walk to the Luau Room on the Ocean Terrace of the Hotel del Coronado and have a Zombie. If you aren't the bravest kid in the block, you will be after one Zombie. Follow the Zombie or any other libation with the best Chinese food you have ever tasted…"
The Hotel del Coronado was built as a seaside vacation resort in 1888 on Coronado — a natural, sandy spit of an island in the bay — now considered by many as the crown jewel of San Diego.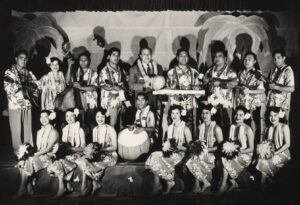 The Luau Room opened in the summer of 1949 in the hotel's Ocean Terrace mall, and immediately became popular with vacationists curious to experience the Hawaiian atmosphere, entertainment and exotic drinks —
Stay at the Hotel del Coronado. Check out the beach. The tennis courts. Buy a few Hawaiian shirts in the Ocean Terrace arcade. Go have dinner and drinks in the Luau Room.
Then head over to see Ray Kinney's Royal Hawaiian Revue (opened August 15, 1949 for a four-week run) in the Circus Room, get a 'ring-side' table. Prolific Decca recording star Ray Kinney and his group appeared at the Palomar Theater in Seattle just before their extended appearance at the Hotel Del. They became quite popular after performing "Sweet Leilani" in Bing Crosby's Waikiki Wedding (1937).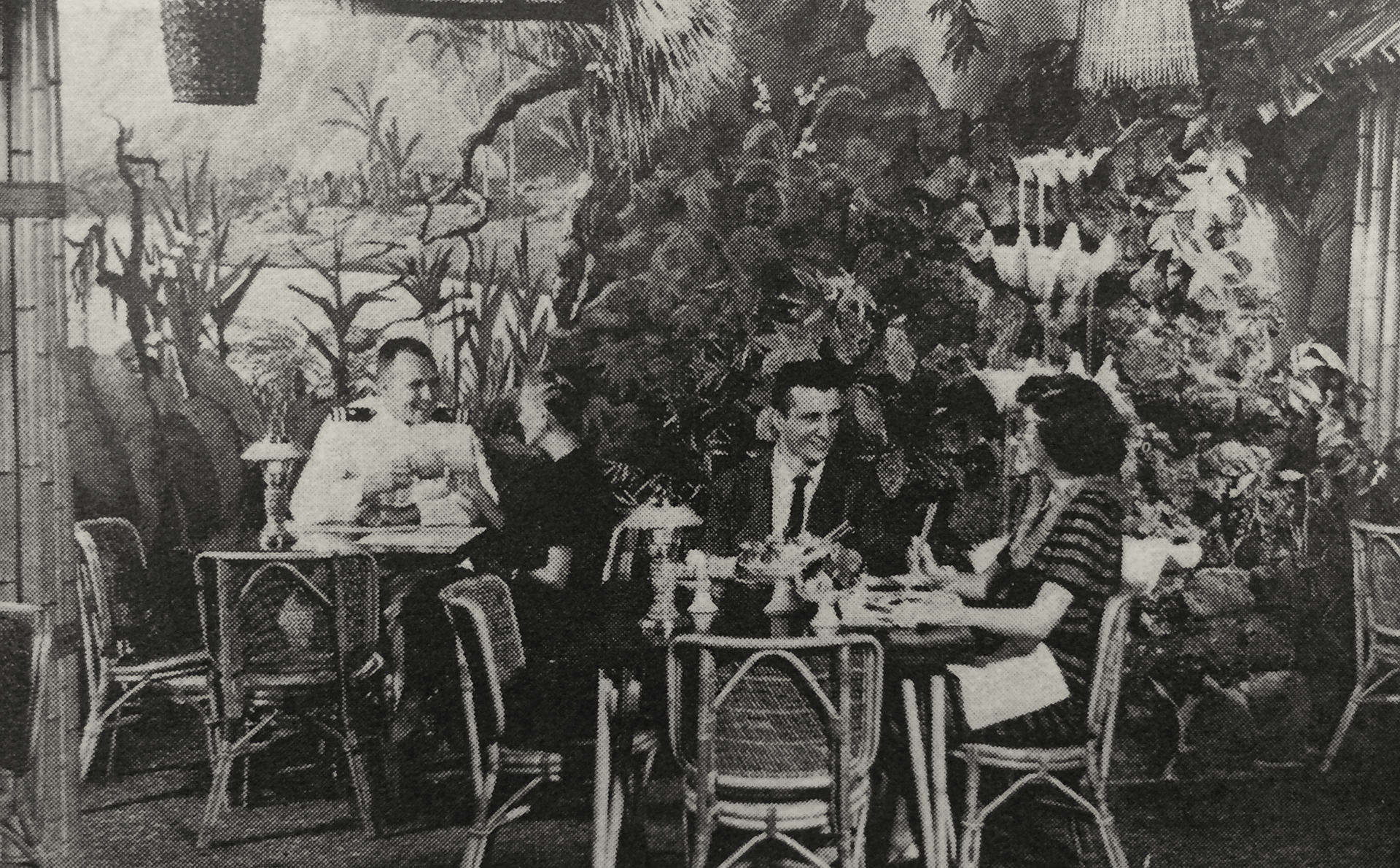 Dinner? The Luau Room advertised 'South Pacific food selections' — but really, riffs on American-Cantonese food. Replete with egg rolls, fried shrimp, egg drop soup, chicken chow mein, pork foo yung, pressed duck, spare ribs. The Chicken Luau curry special was baked and served in a whole coconut.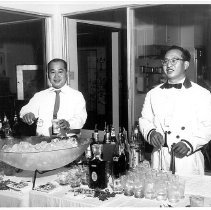 The Luau Room's cocktail list came complete with recipes for its tiki drinks, now attributed to head bartender Ebert William 'Bert' Chan (1916-1974).
Bert reportedly started his career at Trader Vic's in San Francisco before tending bar at the Hotel Del — the later position he held for over 18 years.
His Coronado Luau Special became the restaurant's signature drink, and can still be ordered at tiki bars today. Over the years, Chan's cocktail menus listed more than two dozen tiki drinks, including Amber Dream, Bachelor's Punch, Coronado Cooler, Doctor Funk, Flat-Top Punch, North Island Jet, Pango-Pango, Royal Hawaiian, White Lily, and the Zombie. And a separate menu insert for flaming drinks!
A Coronado newspaper wrote up the place a week after it opened, "and if none of these morsels are enough, there's always the gyrating hula dancer over the bar which represents about the closest thing to perpetual motion This Dept, has seen since they inaugurated the 8 a.m. coffee hour down at the Shamrock. If one wearies of watching the hula queen, there's also a whole roomful of strictly lovely South Seas atmosphere at its best set off with a quiet charm and grace, backed up by soft lights and warm music plus the same kind of silent, sandalized service which was so renown at the Hotel des Indies in Batavia, Java, before the war — and now so deftly transplanted to Hotel del Coronado's Luau Room overlooking the blue Pacific…"
The Luau Room closed for good at the end of 1969. Hotel del Coronado manager Carlton Lichty (US Grant, Lubach's) opened in its place the Prince of Wales Grille in January 1970. Today [2016], the location hosts the hotel's seafood restaurant 1500 Ocean.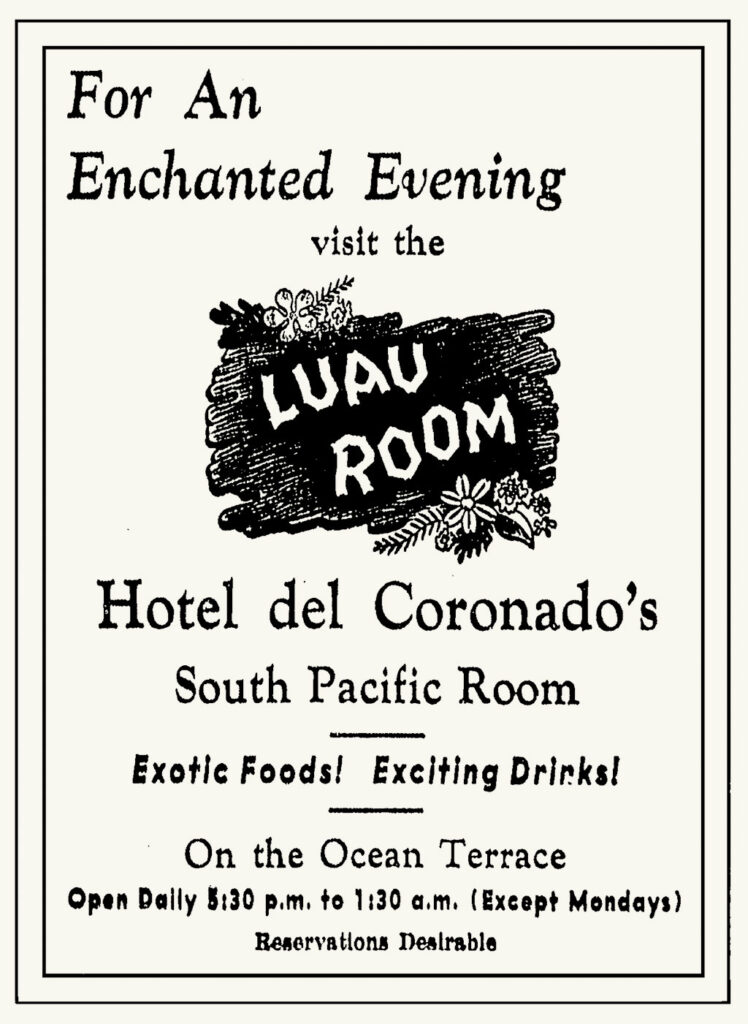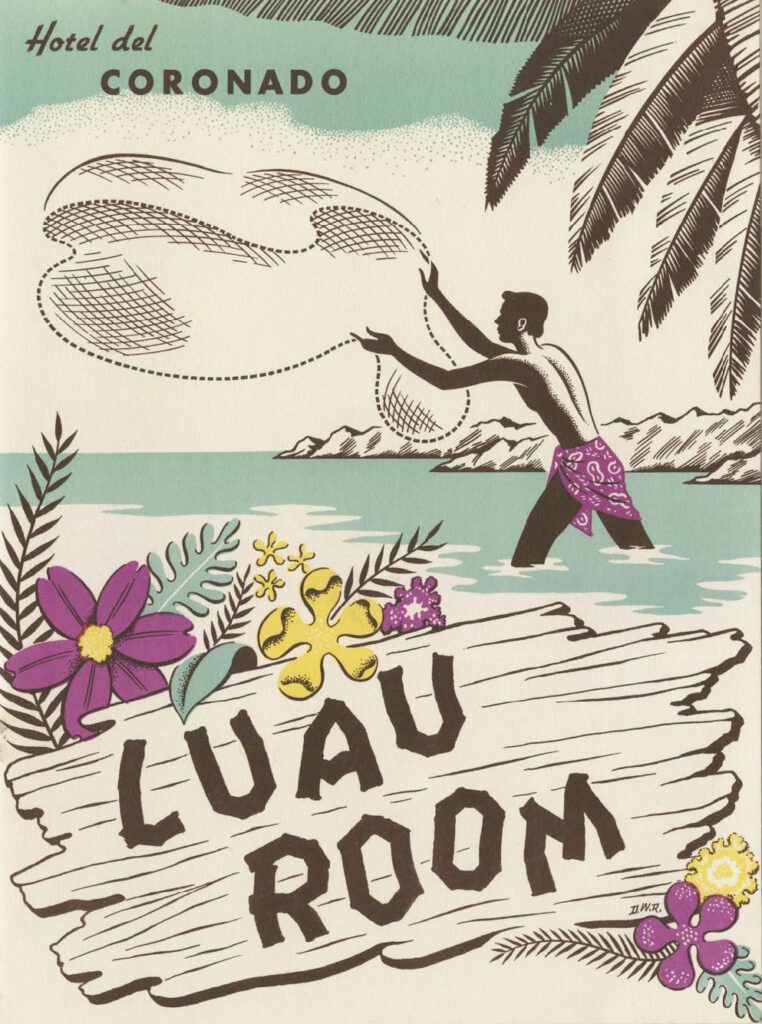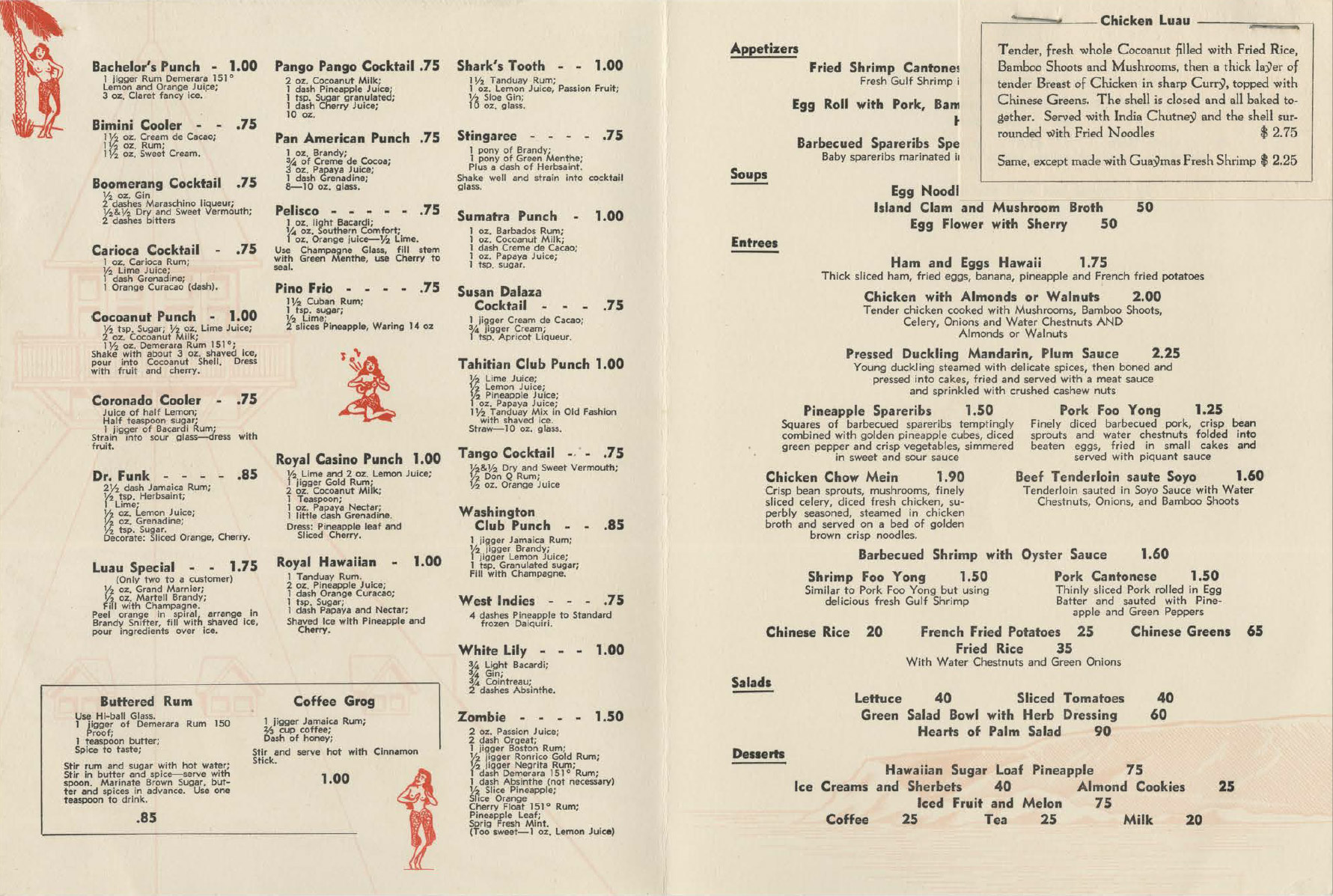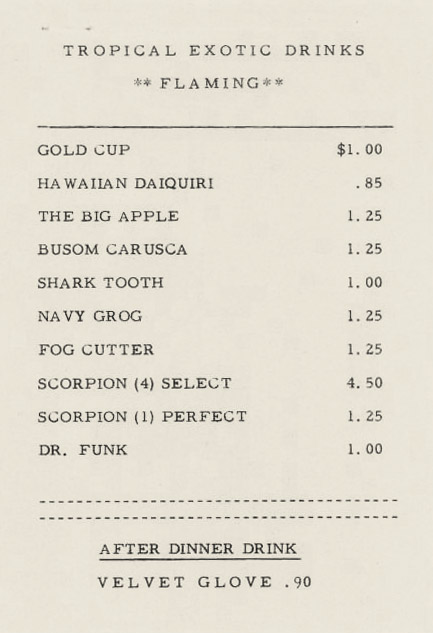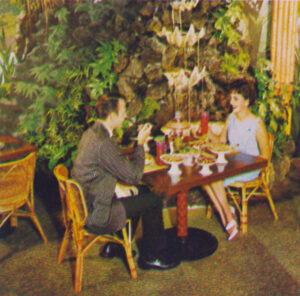 ---
Notes
Citation: Martin S. Lindsay. 'Luau Room.' Classic San Diego: tasty bites from the history of America's finest city. Web. < https://classicsandiego.com/restaurants/luau-room/>
Majority of information is from local newspapers San Diego Union, San Diego Evening Tribune, and Chula Vista Star. Further references are from articles and advertisements in Magazine San Diego, San Diego & Point Magazine, and San Diego Magazine ads, April, May and July 1950, January 1951.
"opened in the summer of 1949" comes from references in local newspapers and magazines. One article states the restaurant opened in 1940 ('118 years of dining at The Del,' San Diego Union, 21 Jun 2006), but there are no references or ads for it until 9 years later. 1940 probably comes from the catalog listing for a Luau Room menu in the Mandeville Special Collections at UC San Diego, which lists its creation date as '1940-1970.' The first ad shows up 29 Jul 1949 and first mention "In the exotic setting of the Luau Room, Hotel del Coronado's recently opened South Sea rendezvous…" is in San Diego Union, 1 Aug 1949. Writer Dick Watkins reviewed the week-old restaurant in 'Tales and tidings,' Coronado Journal-Compass, 4 Aug 1949. So, the opening was right around Friday night, 29 Jul 1949.
"No cover or minimum" Display advertisement, Magazine San Diego, March 1950.
"Ray Kinney's Royal Hawaiian Revue" is from 'Royal Hawaiian Revue opens at hotel on Monday,' Coronado Eagle and Journal, 11 Aug 1949; and 'Hawaiian revue trio,' San Diego Union, 16 Aug 1949.
"South Pacific food selections" Display advertisement, San Diego Magazine, May 1954.
"Ebert William 'Bert' Chan" comes from San Diego city directories, 1966, 1971; Social Security Death Index, 1935-2014; probate estate notice, Coronado Eagle and Journal, 12 Sep 1974.