Have you ever wondered what that circus-themed storefront downtown on Fourth Avenue was all about?
The Chi-Chi Club!
The Desert Grill was a Palm Springs restaurant established in 1933 by Jack Freeman. His business partner, Irwin Schuman, bought the place in 1941, hoping to make it a destination for visiting Hollywood elite. Schuman built it into a tropical-themed nightclub, renamed it the Chi-Chi Club — and it worked!
"He figured the stars were coming out to the desert regularly anyway, and they needed a place to party, a venue quite special and exclusively theirs, a rarified atmosphere that would snare the wannabes as well. Heck, on any given night, there were as many stars in the booths as on the stage. (Natalie Wood, Rock Hudson, Cary Grant, and gangster Sam Giancana were regulars.)"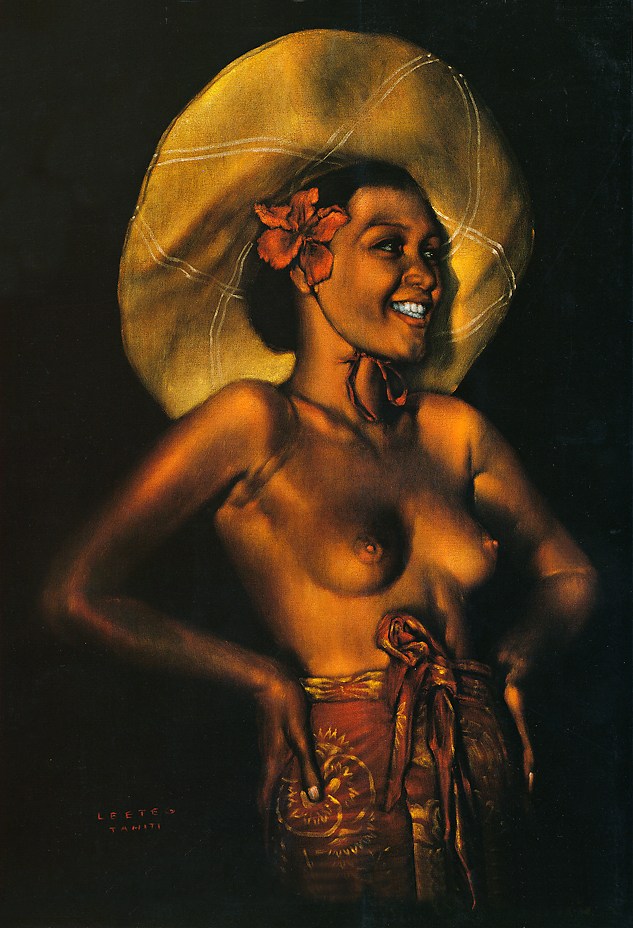 Schuman advertised the clubs with renderings of a topless Polynesian beauty, aptly nicknamed the 'Chi Chi Girl.' He'd seen a black velvet painting in Hawaii and figured why not use it on everything?
These types of paintings were showing up in many Polynesian restaurants throughout the country, a popular example was the Bob Brooks' 7 Seas in Los Angeles. Schuman, like many others, capitalized on the trend. Much to the misfortune of the original painting's artist Edward Leeteg — his unlicensed work appeared on everything from Chi-Chi menus and postcards to cocktail napkins and serviceware.
"I did not give Chi Chi permission to use my Hina Rapa to reproduce in any way," wrote Leeteg to his friend Barney Davis. "The least they could do would be to give me a credit line, but that is asking too much to expect from a Hollywood gin joint."
Brooks, on the other hand, purchased his paintings directly from Leeteg in Tahiti.
Schuman's concept grew into a chain of 'supper clubs' – one-stop destinations that offered multiple rooms of entertainment, food, live music and dancing.
Ultimately, there were seven locations throughout California, including Palm Springs, Catalina Island, Hollywood, Riverside, Belmont Shore in Long Beach, and San Diego. A couple other Chi-Chis popped up in San Francisco and Salt Lake City.
Let's Go Clubbing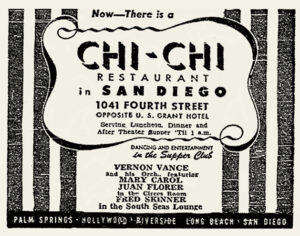 In 1946, Schuman and partner Nate Rosenberg bought Ye Golden Lion on Fourth Avenue from the heirs of Louis H. Provost and remodeled it into the Chi-Chi Club San Diego. Located just opposite from the U.S. Grant Grill and The Rendezvous on Fourth Avenue and a few doors south of The Savoy Cafe, the restaurant occupied the ground floor of the New Plaza Hotel building.
The Chi-Chi graciously offered post-war bar crowds its Supper Club restaurant with stage and dance floor, and two separate cocktail lounges – the South Seas Room and the Circus Room. Evening entertainment began at 7:30, and featured big band orchestras, dancers, magicians, ventriloquists and other assorted vaudeville acts. Small kickback trios appeared in the South Seas Room, with names like the Revellers, Townsmen, Topnotchers. Larger orchestras like those of Jay Eslick, Milton Donn, Dick Fiorito and Vernon Vance played for swingin' crowds in the Supper Club.
Without crawling from place-to-place downtown, you could have a champagne cocktail (75¢) in the Circus Room, go over to the Supper Club for a four-course dinner from chefs Gabriel 'Gabby' J.P. Anet or San Sheng (combination seafood cocktail, turtle soup, salad with Chi-Chi dressing, broiled New York steak, $3.00) or 'Special Combination Chinese Plate' (fried shrimp, egg foo yung, chop suey, chow mein, fried rice, $1.50), or sip on a tropical drink while listening to Billy Carman play vibraharp with the Aristocrats in the South Seas Room. If you were lucky, you might even see some Hollywood types who were staying at the U.S. Grant, or on their way back from the Caliente racetrack in Tijuana.
Seafood options included shrimp, lobster, halibut, Alaskan salmon, swordfish steaks, scallops, and the local favorite abalone. Like most in the mid-1940s, the restaurant had a hearts of lettuce salad with anchovy, but did not yet call it a Caesar. And you could always get the ubiquitous turkey dinner, complete with giblet gravy.
Again it seems, Schuman took popular ideas and made them his own. The Chi-Chi Club was new to San Diego, but in certain ways, seemed all too familiar. In 1946 San Diego, there were already the new Copacabana by John and Mary Blackett (Silver Castle fountains, Made-Rite BBQ), Len Barcom's South Seas Cafe (a Polynesian restaurant with Edward Leetag paintings and tiki decor) on Pacific Highway, the Circus Room restaurant at the Hotel del Coronado, and Petrone's Chee-Chee Club on Broadway (owned by Joe and James Petrone, who would later operate the Garden of Allah in Hillcrest).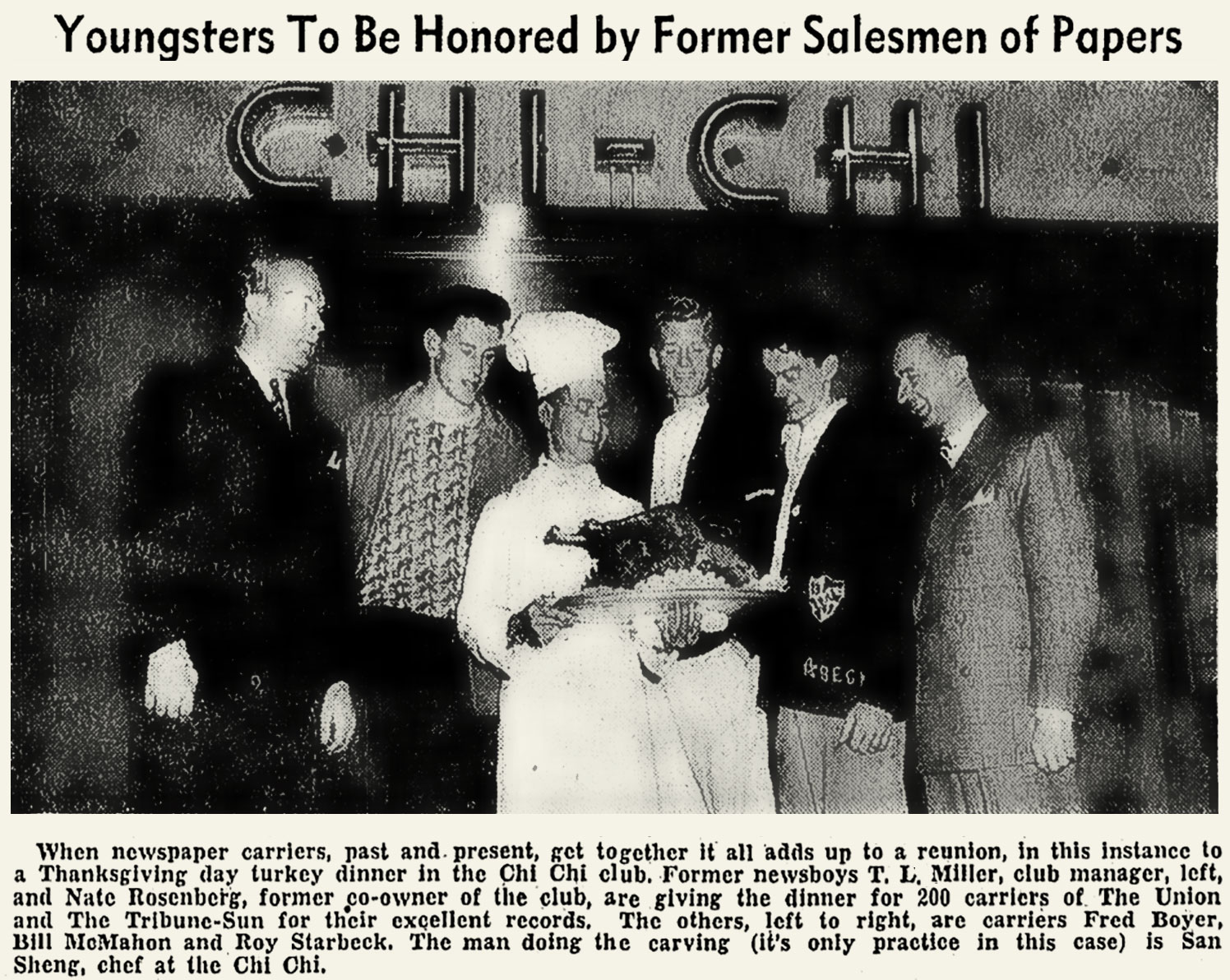 Late in 1946 Schuman sold his chain to the Pig'n Whistle Corporation, and instead focused on developing the Riviera Hotel in Palm Springs. The next year, the corporation was sued by the Petrone brothers in San Diego, who had established their Chee-Chee Club bar in 1941.
In addition to their own Pig'n Whistles, the corporation operated Melody Lane drive-ins and the Chi-Chi clubs, but began selling them off in the 1950s. The Chi-Chi Club San Diego they kept, and in 1952 was converted into a Pig'n Whistle restaurant, operating until 1960.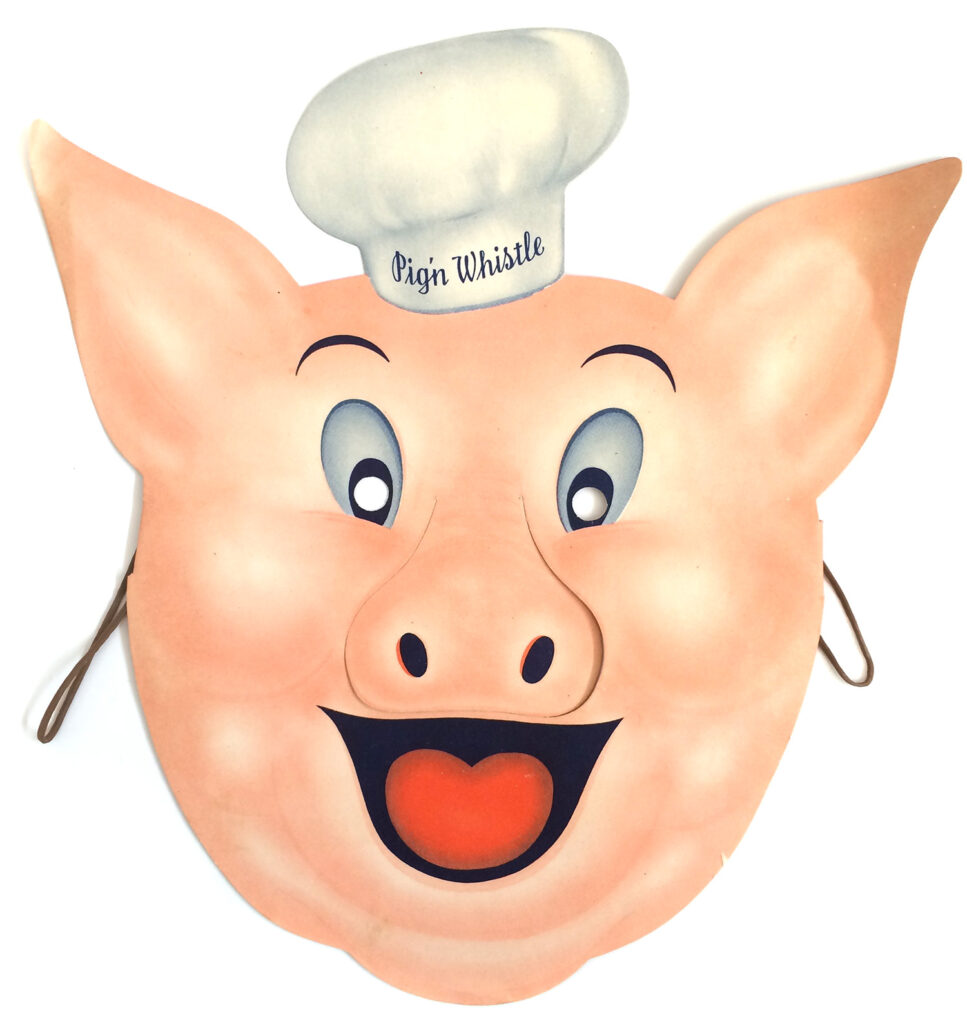 The Chi-Chi Club Today
Today [2016], most of the Chi-Chi is gone but the location still hosts a restaurant, Urban India. At the north end is the old entrance to the South Seas Room, with part of its palm tree terrazzo floor still visible. And at the south end is the old entrance to the Circus Room, now a small market. Its facade still retains some red and white circus-themed tiles, a metal 'circus tent' awning, and a happy clown terrazzo floor.
Recipe: Chi-Chi Club's Santiago Cocktail
1 oz rum
2 dashes grenadine
2 dashes lemon juice
Pour ingredients into a cocktail shaker filled with ice cubes. Shake vigorously until shaker is cold. Strain into a chilled champagne coupe. Garnish with a twist of citrus. [Modern interpretations of this cocktail use orange juice or lime juice with a sweetener such as simple syrup, rather than lemon.]
---
Notes
Citation: Martin S. Lindsay. 'Chi-Chi Club, San Diego.' Classic San Diego: tasty bites from the history of America's finest city. Web. <https://classicsandiego.com/restaurants/chi-chi-club-san-diego/>
"The Desert Grill" and general info about the Palm Springs location comes from Janice Kleinschmidt, 'Remembering the Chi Chi,' Palm Springs Life, Feb 2005; Howard Johns, 'In the Swing,' Palm Springs Life, Sep 2007; and Stewart Weiner, 'Chi Chi Chic!' Palm Springs Life, April 2015.
"Schuman advertised the club" and tiki references, John Turner, Leeteg of Tahiti, painting from the Villa Velour, San Francisco: Last Gasp, 1999; and Sven A. Kirsten, The book of tiki, Taschen, 2003.
"I did not give Chi Chi permission" and photo of Leeteg painting, from Turner.
"Schuman sold his chain" Pig'n Whistle bought locations in Palm Springs, Los Angeles, Riverside, Long Beach and San Diego. 'Pig and Whistle Corporation buys Chi Chi Cafe, landmark for 10 years,' Palm Springs Desert Sun, 8 Nov 1946.
"made them his own" The term 'chi-chi' is sometimes defined as originating from the French, meaning of imitative origin.
"sued by the Petrone brothers" Joe and Jack Petrone began operating their Chee-Chee Club on December 4, 1941. In 1947 they unsuccessfully brought suit against Pig'n Whistle Corporation for using a similar name and "seeking to profit by the good will" of their established business. 'Owners of Chee Chee would ban Chi Chi,' San Diego Union, 31 Jan 1947.