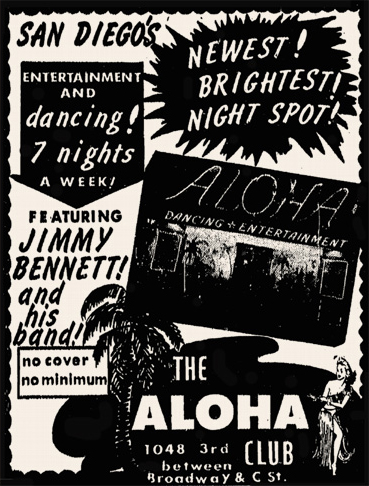 The Aloha Club, (1950-1965) was a burlesque tiki bar on Third Avenue's sailor's row, under management of Gaspare 'Jasper' Matranga. Jasper hailed from Sicily, as did his brother and cousins. He was the enforcer for the Matranga family, allegedly a hitman in the Los Angeles mob. His family moved in and started taking over downtown bars in the late 1940s.
Along with their other clubs next door on 'Neon Row' (The Cuckoo Club and Club Royal), The Aloha Club stayed open until 2am nightly. Large neon signs and tropical murals graced the exterior. It featured music by Billy Jones and his Beachcombers, a five-piece combo, with sultry burlesque acts of Dorothy Eddy, Vivian Lee and Joy Damon 'in the flesh!'
And B-Girls galore – waitresses who mingled with the sailors, enticing them to gamble, buy more drinks, and God knows what else. The city passed an ordinance outlawing the practice, giving San Diego Vice one more excuse to raid the bars. (There are still a few Korean hospitality bars left downtown if you look hard enough.)
In 1954, Matranga was arrested for felony assault against one of his patrons. During an argument, he hit Alvero Gonsalves in the face with a bar glass. The fisherman required 21 stitches, and courageously pressed charges. Matranga spent a week in jail, after which a friendly judge saw the altercation as merely a misdemeanor, and let him off with a $1000 fine, gaving Jasper permission to go back home to Sicily for 'a long-planned' vacation.
That was perfect timing, because the district attorney added the Matrangas to an ongoing investigation into state liquor license fraud.
Yes, off-Broadway San Diego was quite the place for entertainment, one way or another.
Tom Sheng's popular restaurant, Sheng Haw Low, was originally located on the second floor and rooftop garden patio above The Aloha Club. After the Matrangas were forced out, he leased the entire ground floor of the building. Sheng opened it up as his Aloha Room, serving exotic drinks in the tropical atmosphere leftover from the club. He even kept the big ALOHA neon on the building's facade. Smart thinking, as his was the biggest eating establishment closest to the newly built Centre City convention hall. Sheng Haw Low was the last holdout on the block before it was razed for the new Westgate Plaza Hotel.