Red Sails Inn
(1935-2016) was originally established by the Viery family at Fisherman's Wharf and G Streets. The Viery's nautical-themed seafood eatery was adorned with a red sail.
The Red Sails Inn
was recently bought out and is closing August 31 2016, to be replaced with a new seafood concept by the
Brigantine
organization in 2017.
Joseph Yjidy Viery (1886-1952) came to America from the Azores Islands off Portugal. To this self-described 'peasant lad' in 1908, the United States seemed like a 'fantastic dream.' He met and married Emily Dina Pereira, had three boys, and found employment in banking. Fluently speaking Spanish and Portuguese helped in his twenty-year career in Alameda County, California. But somehow, he lost everything, home, savings. In 1935 he found himself on the San Diego waterfront with $4 to his name.
"I was trying to get a job on a tuna boat, but I didn't get it," Viery recalled.
"I couldn't spend much for food, so I went into a hamburger stand down there on the waterfront. I guess it was fate that sent me there. Just as it was fate that brought me to San Diego."
The fleet had come in that day and the Portuguese man running the place couldn't keep up. His partner had walked out on him. Viery offered his services, and that day in 1935 they brought in $80! He had a job. In a few days the owner asked if Viery wanted to be his partner in the business.
"But I only have $4," replied Viery.
"That's all right. You give me your IOU for $290, and the place is yours!"
They had sailor witness the document. He borrowed $6 so he'd have enough change for the next day's business. His hamburger place made money and he saved. One thing led to another and Joe, his wife and son opened up The Red Sails Inn at the foot of G Street on Fisherman's Wharf.
The small wooden structure was decorated with nautical items he'd picked up or had been given by local fishermen, would provide him with their fresh catches daily. San Diego Sun reporter Max Miller was a regular, and his book I Cover the Waterfront is said to have been written at the eatery.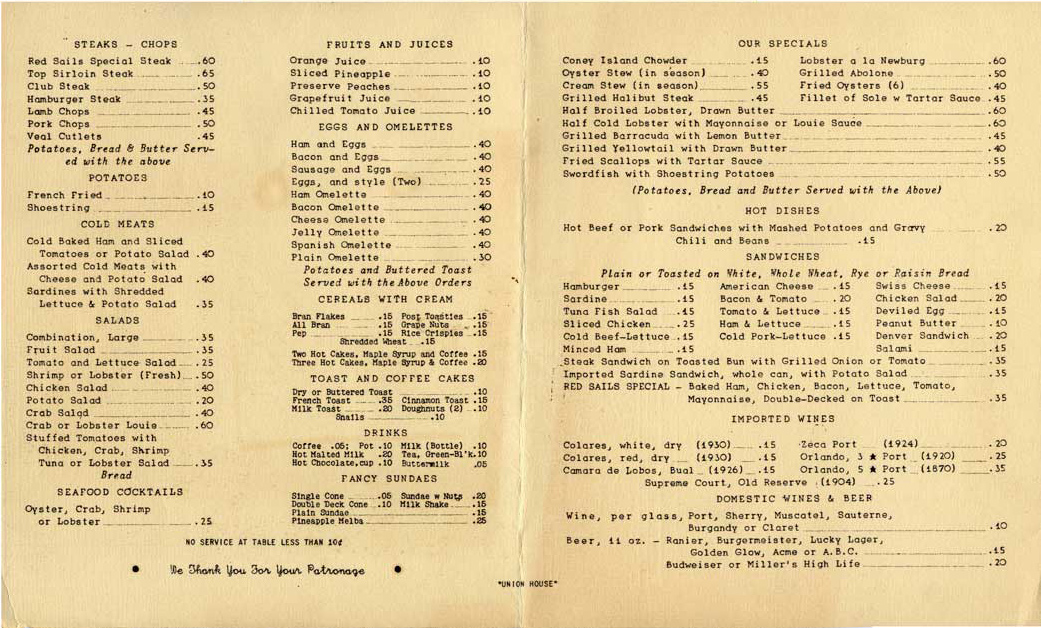 Dine Over the Water!

Several years later the bayfront Red Sails Inn expanded with a novel idea — put the dining room over the water. Its interior was fitted out like a yacht's dining saloon with porthole windows, long oars supporting the ceiling, and marine lamps with seashell reflectors. Joe's son did most of the decorating. Above the main entrance was a hardwood dugout canoe found by a tuna clipper's crew and presented to the restaurant.
It became known as 'the seafood center,' serving seven-course dinners. Viery reported that even visitors from New York were seeking out his restaurant. Menus, matches and postcards were emblazoned with bright graphics and promising an 'eating place that is really DIFFERENT.'
By 1940, Emily Viery operated the restaurant, and Joe spent his time at home in Mission Hills. He built a hillside stone garden in the backyard, with waterfalls and ponds. Driving along San Diego Avenue, you can still see Viery's garden's rock walls to the east.
It was taken over by the chef Gladfred Viery, Joe's son. Glad and his wife operated the eatery until they sold to John Krutzler. Glad then opened up his own place, Viery's Seafood Inn in Mission Beach.
New Blood


Restaurateur Johann 'John' George Krutzler (1892-1981) was a go-getter. The Austrian boy came to America when he was twelve, and served in the US Army for two years during the First World War. (Back then, it was a common practice for those seeking expedited naturalization to join the armed forces. In some cases, immigrants were naturalized on the same day they enlisted!) On his return, he married sweetheart Rosie Boehm and worked as a waiter in Chicago.
He and wife Rose operated the Palisades Restaurant and Cafe of the Nations concessions during San Diego's 1935-1936 California Pacific International Exposition. They were very popular with Balboa Park fair-goers. In 1936 the Krutzlers opened the Plymouth Inn at 4th and University with his chef Stanley Rambutis from the Palisades, 'where we satisfied over 500,000 patrons.' Rose died in 1937.
Still in San Diego, John opened Treasure Island's first dine-dance restaurant Continental Cafe at the San Francisco Fair in 1939. He competed with burlesque queen Sally Rand for the concession and won. His cafe featured Parisian shows 'as racy as the law allows.' He also operated a nightclub at Century of Progress exposition back in Chicago.
Around 1943 or so, he was back in San Diego and bought the Red Sails Inn from the Vierys. Krutzler began promoting it with his signature expo-king panache. He put his name on ads, 'John G. Krutzler, mgr. Formerly of San Diego Exposition.'
Like most World War II era menus, his show U.S. Government OPA-fixed prices, and disclaimers apologizing for shortages.
Krutzler was also a real estate agent, a profession he held for over forty years. In 1946, he sold the business to Eberhard Weerts and his sisters Adaline, Anna and Virginia.
Eberhard 'Eddie' Ferdinand Weerts (1903-1993) operated the Victory Fountain Grill, Topsy's, Zanzibar Drive-in, Red Sails Inn and the Brass Rail. In 1948 he closed Red Sails Inn and transferred three waitresses to the Brass Rail. In order to make room for the women, he fired three waiters, and set off a boycott and strike. The union ordered Brass Rail cooks to refuse all orders submitted by the usurping waitresses. They did! That was the end of the Red Sails Inn for nearly ten years.
As a teen growing up around Point Loma in San Diego, Jack Allen Davis (1922-2006) had a dream of owning his own restaurant — the Red Sails Inn. He quit high school and worked at his father's auto garage. To earn some extra cash, he rented small boats at the end of Qualtrough Street on Sandy Point. He built his dock from driftwood, complete with a small shack for oars and equipment. The area was called La Playa Cove before Shelter Island was built up.
"It was a little over two years until one day I was down there renting boats and a city car drove up. Mr John Bate, the new port director for San Diego harbor, came over and talked to me. He introduced himself and wondered who I was. I told him and he asked how long I had been there. I told him that I had been there for a couple of years and he said, 'Who are you paying rent to?' 'Oh, I don't pay any rent,' I said. 'You mean you are just squatting here?' he asked. I told him that my mother was a cousin of Joe Brennan, the prior port director and he told me to go down there and find a spot and see what I could do."

"'Well,' he said that, 'This was all illegal and we are going to have to do something about it. We have some new land coming up for lease over on the Byron Street mole and if you will come to my office and talk to me and show me what you would like to do, we can get you a good piece of legal land over there. If you wanted to lease it you would be legal to operate.'"
He rented a spot at the end of Byron Street mole and built up a quite boat rental and launching business. Across the street was a tuna cannery. This was before Shelter Island was developed and connected to Byron. Davis opened a little lunchstand he named Point Loma Cove. His patrons just called it 'Ulcer Gulch.'
Previous owner Eddie Weerts gave him the Red Sails name and Davis built his version of restaurant at its current location in 1957.
"Yeah, he just gave it to me. He said to get the papers that I needed to have him sign off and he said, 'I'll sign it, have them notarized and you can have it because I own the Brass Rail downtown now and it is a going concern. I don't want to get back on the waterfront and I don't intend to use that name. I'll be happy to give it to you.'"
The new Red Sails Inn opened for business on January 27, 1957. They served fresh seafood, beer and wine. The original restaurant had a small dining room, but lots of counter space service. They added a fish pond that was full of lobsters outside the windows of the dining room.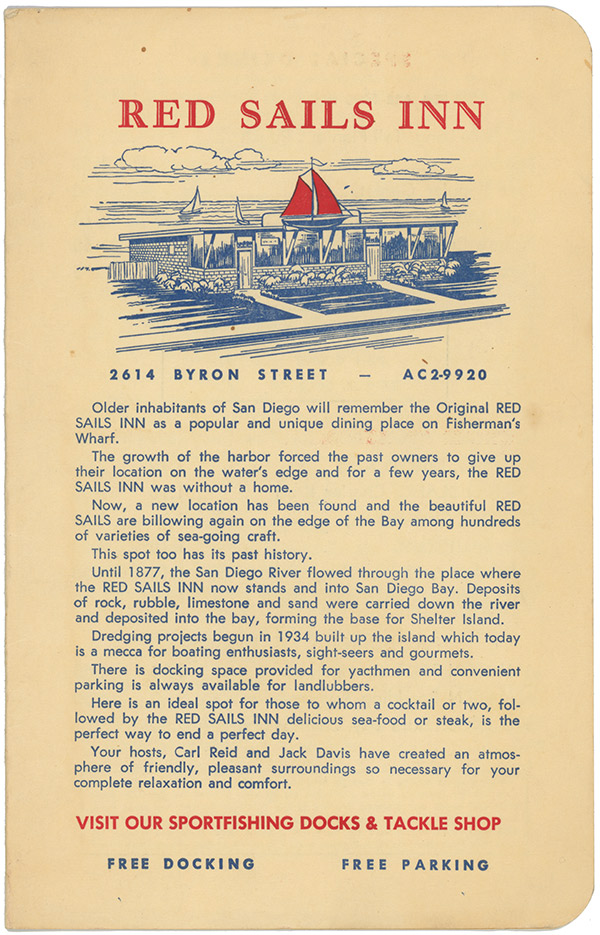 Davis sold a 60% interest to Carl Reid and established Carlsbad's Palomar Airport. He was big into aviation. As the airport business grew Davis sold his remaining interest to his bartender, Chuck Adams. The restaurant went through a few more owners, Grant Calloway, Rick Hill, and now Jack and Bill Dargitz.
The father-and-son team are proud to have maintained an eatery for over 25 years that has "appealed with the locals."
The Red Sails Inn closes August 31, 2016.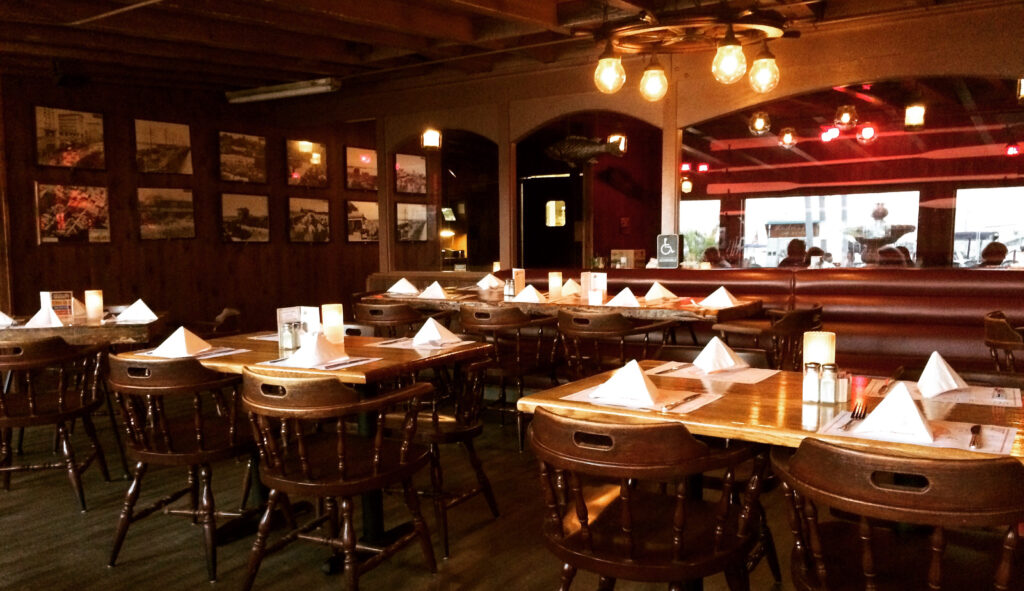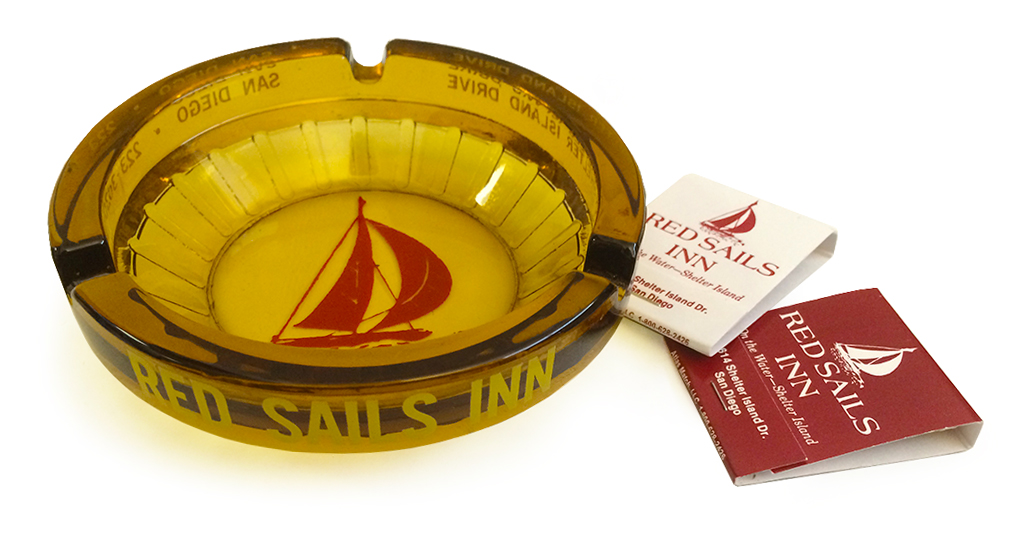 ---
Notes
Citation: Martin S. Lindsay. 'Red Sails Inn.' Classic San Diego: tasty bites from the history of America's finest city. Web. < https://classicsandiego.com/restaurants/red-sails-inn/>
"peasant lad," and "IOU" Naomi Baker, 'Design for thanks,' San Diego Union, 24 Dec 1939.
"visitors from New York" is from 'Addition finished at Red Sails Inn,' San Diego Union, 24 Sep 1937.
"Johann 'John' George Krutzler" details come from census records and city directories; U.S. Naturalization Record Indexes, 1791-1992; Cook County, Illinois, Marriages Index, 1871-1920; U.S. World War II Draft Registration Cards, 1942; U.S. Department of Veterans Affairs BIRLS Death File, 1850-2010.
Jack Davis quotes come from 'An interview with Jack Allen Davis,' transcript of an oral history conducted by Edward S. Bar, 2 Jun 1998, San Diego History Center Oral History Collection.