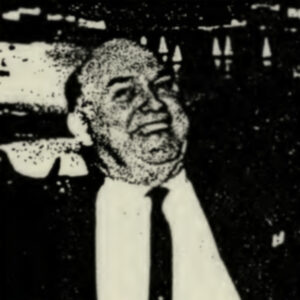 The Tropic Cafe (1935-1946), arguably San Diego's first pre-tiki nightclub, was helmed by 'Skipper' John S. Ewing (1893-1974), and originally opened at 11th & Market. Ewing, who also went by the names 'James' and 'Baldy,' was a career navy man stationed in San Diego since the 1920s. He opened The Tropic Cafe to serve the large transient military population of San Diego. Business was so good, two years after opening he moved to a larger space in the old Gates Hotel building (1894), just across Third Avenue from the U.S. Grant Hotel Coffee Shop.
In 1939 he opened the Tropic Village room, with moonlit dining and dancing amidst a grove of faux coco palms, and music by Stone's Hawaiians. A freighter-shaped bar — the S.S. Tropic — served tropical rum drinks. Design and murals were by local artist Russell Dale Moffett (Mexican Village murals).
'Where Good Fellows Get Together'
The ex-navy chief also ran the
The Gay Nineties
nightclub one block west on Second, in what was then known as the sailor's entertainment district.
No wonder he moved The Tropic Cafe here, Third Avenue was 'Neon Row.' Its bars, cafes, nightclubs and other mob-controlled businesses catered to the military man with a fresh paycheck looking for a good time.
Ewing returned to active duty during WWII, doing what he did best — getting things done. In late 1943, he went to China Lake to expedite the construction of the newly established Naval Ordnance Test Station. The NOTS was east of Pasadena and built to test the Cal Tech rocket program. Evidently, he was a "go-to" guy, well-known for circumventing bureaucratic red tape.
His wife remained in San Diego while he was away, managing The Gay Nineties. The Tropic Cafe, however, was in the middle of a real estate dust-up. City building inspectors wanted to condemn the four-story woodframe building as a firetrap. In court documents the hotel's operators blamed building owner Walter R. Stutz (Mission Beach Arcades, Pacific Ballroom, Pirates Cave) for putting officials 'up to it.' Inevitably the hotel closed, the top two floors were removed, and the building was renovated.
On his return, Ewing sold both
The Tropic Cafe
and
The Gay Nineties
to 'well-connected' Sicilians establishing themselves in Sailor's Row. In 1946,
The Tropic Cafe
was re-opened as
The Hula Hut
by
Frank and Liberante 'Leo' Matranga
. Next door, brothers
Joe and Gaspare Matranga
opened the
Cuckoo Club
, and then the
Aloha Club
.
Ewing moved to Ridgecrest, opened Ewing's Restaurant next to the China Lake NOTS until he retired to San Diego — and promptly had a massive stroke.
But he recovered. And couldn't keep still.
He and his family moved north to Kernville and built Ewing's on the Kern, a steakhouse that is still open and quite popular.
He decorated his hilltop home with an extensive collection of Edward Leeteg velvet paintings. It was reported that Ewing's collection was lost when his home burned in 1962.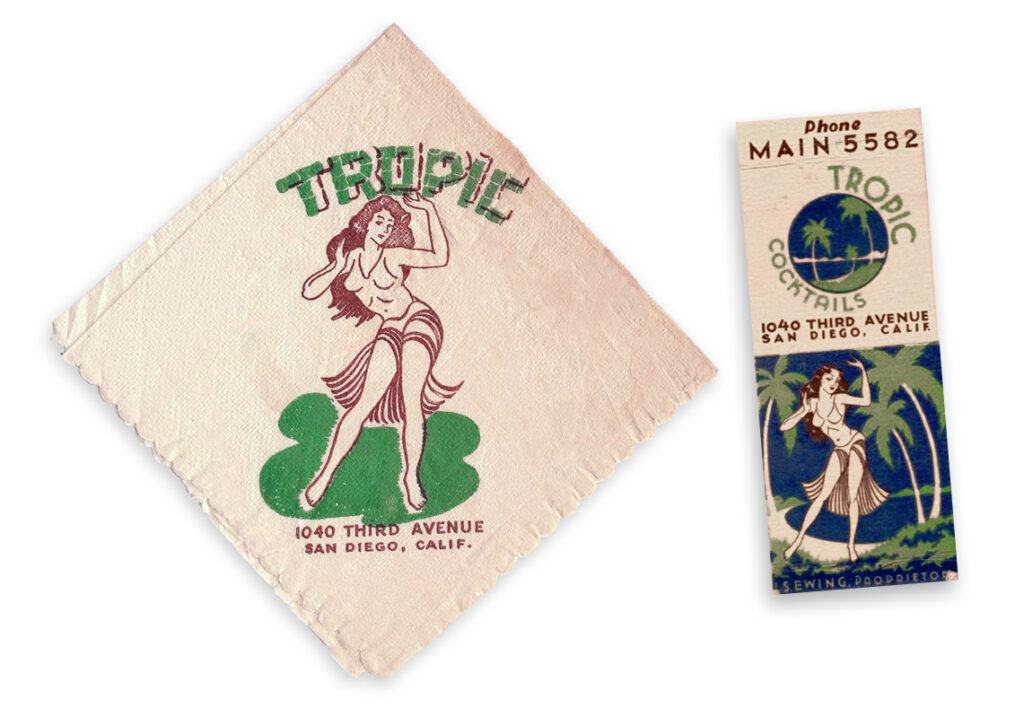 When he traveled back to San Diego, Ewing visited his old nightclubs. On the spot of the Gay Nineties stood a skyscraper, and Westgate Plaza Hotel was going up where The Tropic Cafe once stood. "These buildings," he said thoughtfully, "will be monuments to me long after I'm gone."
East Village
1122 Market Street
San Diego, CA 92102
Horton Plaza
1040 Third Avenue
San Diego, CA 92101