The Pagan Room (1959-1962) was a short-lived tiki restaurant and bar in the La Jolla Town House Hotel near Birdrock and Windansea beaches.
The The La Jollan was intended as a 252-room luxury hotel, developed in 1952 by Larry Imig (Lafayette Hotel), Grandvell Schumaker and D.E. Evans. The hotel restaurant was first called Imig's Den.
Local residents fought against a hotel being built in the neighborhood, and actively campaigned against any zoning changes. The development ended up being more of a residential hotel. Imig was frustrated at the pushback he received, from locals and the city. He was refused variances for traffic speeds, new stop signs, and installation of a large neon sign. The property almost went into foreclosure several years after it opened.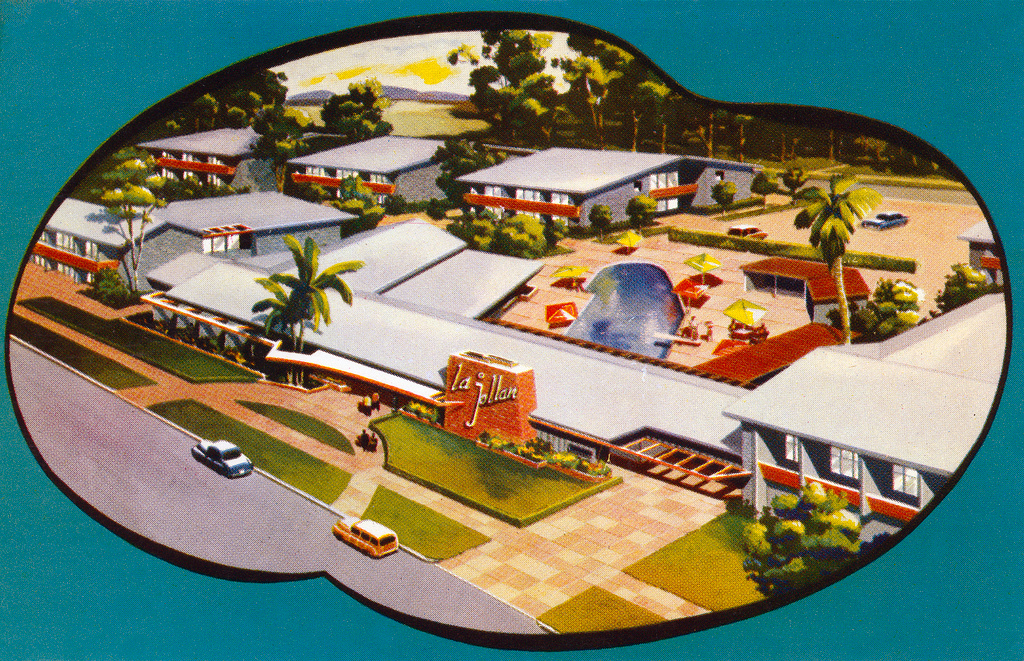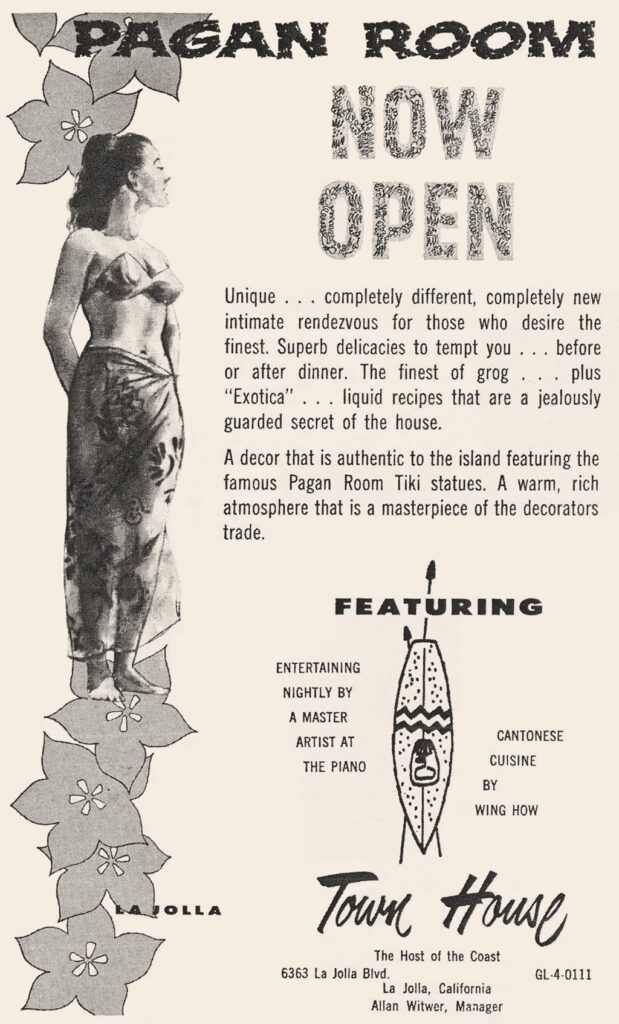 Under the management of Allan Witwer (Del Charro Hotel), the hotel's name was changed to The Town House and the restaurant remodeled into the Pagan Room. The Town House also had the Harlequin Bar and Down South Room under the direction of chef Bill Thomson, who, it was written, 'cooks in ten languages.'
Witwer and his wife hosted many cocktail parties for visitors summering in La Jolla, and the exotic restaurant was the perfect seaside venue…
The entrance was dominated by a large carved Pagan god, and doorways hung with Hilo beads. Murals were by Del Mar artist John Helland. In cozy nooks with rattan furniture and lamps was served Cantonese food by chef Wing How. The piano bar served up exotic drinks to La Jolla socialites and beach-weary vacationists.
Through his enterprising management, Witwer helped to reduce the hotel's debt by $250,000. But the new owners reportedly reneged on some promises, and he left to reopen the Cuyamaca club for C Arnholt Smith (Westgate Hotel). The Town House sold in 1962, and was converted into rental apartments. The property is now the La Jolla Villa Condominiums.
Bird Rock
Town House Hotel
6363 La Jolla Boulevard
La Jolla, CA 92037