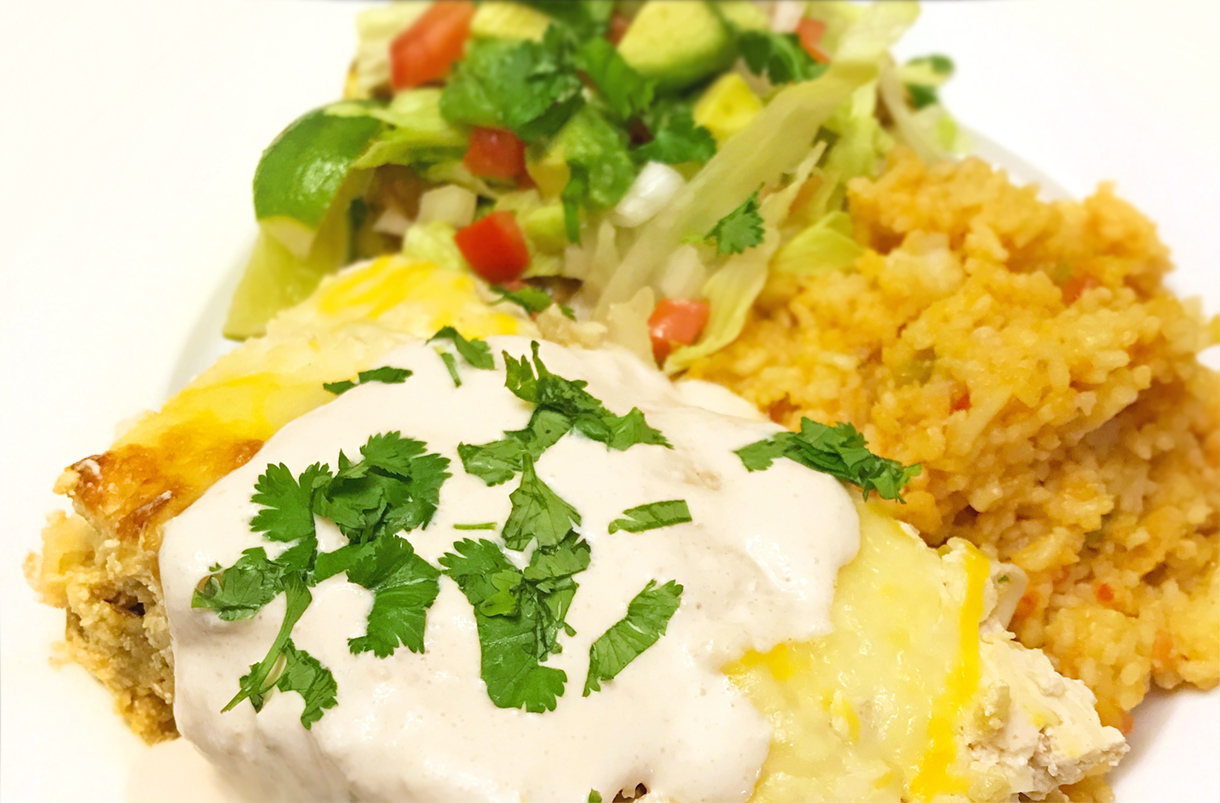 This is the family recipe for chicken enchiladas baked in a mild sour cream sauce, from Helen Hernandez of La Plaza, Mi Burro and Hernandez' Hideaway restaurants.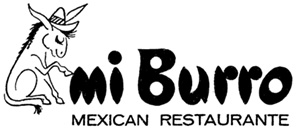 Sour Cream Chicken Enchiladas
La Plaza Mexican Restaurant, La Jolla
Recipe for sour cream chicken enchiladas from La Plaza and Mi Burro Mexican restaurants, La Jolla, and Hernandez' Hideaway Mexican Restaurant, Escondido, California. This is the original recipe provided by the Hernandez family, from Helen Hernandez' handwritten notes. It has been adapted and quantities adjusted for the modern home cook.
Sour Cream Mix
2 pints sour cream
3 whole cooked green chiles (canned Ortega brand, or fresh)
1/4 yellow onion
1 fresh tomato
3 cloves fresh garlic
Kosher salt, to taste
Optional: ground cumin, paprika and guajillo chiles, to taste
Roughly chop chiles, onion, tomato and garlic. Blend all together into a paste. If you want the sauce a little more spicy, add ground cumin, paprika and guajillo chiles to the blender. Whip into sour cream until smooth, then salt to taste.
(This also makes a very good dip.)
Chicken Enchiladas
1 whole fryer chicken deboned, cubed into bite-sized pieces
1 bell pepper, diced
1 small yellow onion, minced
2 cloves garlic, minced
2 tomatoes, diced
1 1/2 cup chicken broth
1 dozen or more fresh corn tortillas
Optional: Chile peppers of your choice, to taste
For the filling: Sauté diced bell peppers, onion, garlic and tomatoes in a little oil. Add cubed chicken and brown on all sides. Then add chicken broth (or ranchero sauce). Simmer for 20 minutes or until chicken is cooked through, tender, and isn't to watery. Remove from heat and let cool to room temp.
To assemble: Preheat oven to 350ºF. Dip a corn tortilla in sour cream mix, add spoonful of chicken filling, and roll up into a cylinder shape. Place enchiladas in a prepared 6″ x 9″ glass baking dish. Cover with the remaining sour cream mix. (Optionally, top with a little cotija cheese!)
Bake in oven for 20 minutes, until bubbly and slightly browned on top. Serve piping hot with Spanish rice and refried bean tostadas.
Makes about 16 enchiladas.
---
Notes
Citation: Martin S. Lindsay. 'Recipe: Sour Cream Chicken Enchiladas from La Plaza.' Classic San Diego: tasty bites from the history of America's finest city. Web. <https://classicsandiego.com/2017/11/recipe-sour-cream-chicken-enchiladas-from-la-plaza/>