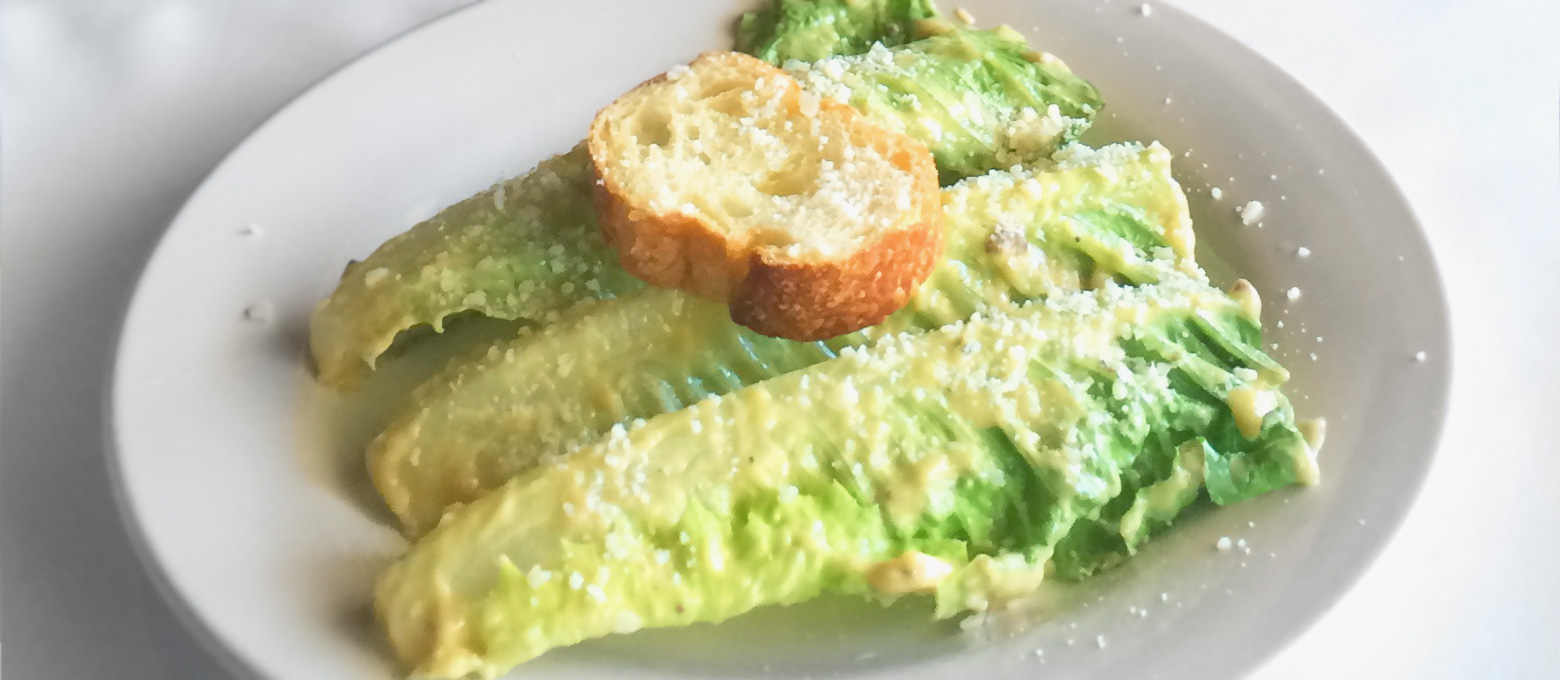 Many have claimed to, but who really originated Caesar's Salad? Here are 'the usual suspects' — Alex Cardini, Caesar Cardini, Jack Clapp, Peter Frigerio, Giacamo Junia,  Edmund Lowe, Paul Maggiora, Innocente Pedroli, Livio Santini, and Manny Wolfe.  This article focuses on Giacomo Junia.
Join me for 'A Tale of Two Caesars,' my talk on the origins of Caesar's Salad, presented by the Culinary Historians of San Diego, at 10:30am PST, Saturday, March 20, 2021. Learn about the restaurateurs Alex and Caesar Cardini, origins of Caesar's Salad in Tijuana,  Caesar Pastore, his San Diego restaurants, and famous 'Half and Half' Pasta.
True or false? In 1903, chef Giacomo Junia, an Italian immigrant, invented the Caesar Salad at his restaurant, New York Cafe, in Chicago.
False. The myth of Giacomo Junia comes from a cookbook by a guileful storyteller, lazy reporting, and aggregation of published errors.
Or does it? Well, lemme tell ya…
In 2003, Rosa Cardini's obituary briefly repeated the family story of her father Cesare Abelardo 'Caesar' Cardini's eponymous salad. As to its invention, most credit Caesar Cardini "with the classic version," wrote obituary columnist Mary Rourke, "but others say it was a Chicago-based chef, Giacomo Junia." Rosa Cardini's obituary from The Los Angeles Times was nationally syndicated throughout the world, the repetition in print thus lending veracity to a dubious claim. But who were the 'others' mentioned that said it was Giacomo Junia?
Let's work backward in time…
In 1991 appeared a Universal Press Syndicate story, 'Hail, Caesar Salad,' by  Waltrina Stovall. "Caesar Salad may or may not have been named for him," she equivocated. "Webster says it is, and that it was invented in Chicago in 1903 by Giacomo Junia, an Italian-American chef." Like many other writers, her nationally syndicated story repeated an error that had made its way into Webster's New World Dictionary and Thesaurus.  The acceptance of Junia's story within a trusted source such as Webster perpetuated the aggregation of false information. Frikkin Webster's.
In 1982, a Washington Times article called 'The Origin of the Caesar Salad' by David Pursglove named Giacomo Junia as the inventor of Caesar's Salad.  Pursglove was first to cite a humorous 1960 book by George Leonard Herter, Bull Cook and Authentic Historical Recipes and Practices. It is parody at its finest, and mostly all fiction. There are a few good recipes, but — the part about 'Dago Joe' Junia doesn't hold up at all under any scrutiny or research.
In 1960, the first edition of Bull Cook and Authentic Historical Recipes and Practices, Volume 2 was self-published by 'oddball know-it-all' George Leonard Herter (1911-1994), proprietor of Herter's outdoor sporting goods stores in Waseca, Minnesota.  He was the epitome of the opinionated, gun-toting American entrepreneur. Pretty loose with facts, but no worries, he was long on tall tales. His book Bull Cook was a loosely structured compilation of wild game recipes, fabricated culinary history, and brutal restaurant reviews.
The Virgin Mary favored creamed spinach. Charlemagne invented sauerbraten. Swedish muskrats are delicious. Johannes Kepler created liverwurst. Herter loved the food in New Orleans, but restaurants in Palm Springs? "None of them anything special." Tijuana? "A waste of time." And of Hollywood? Don't get him started…
"Television has at least done incalculable good in destroying this evil group. Hollywood created an era where prostitutes were made national heroines simply because they bedded well with some studio owners. Marriage was treated as a farce and divorce became a ticket for a whore to move from one house to another. Millions of dollars a year were paid to incompetent people posed as actors. These incompetents were publicized as national heroes by the studio monguls [sic]."
Herter authored more than several of these popular how-to titles, sold at his store and through his well-established mail-order business — including the book Living with a Bitch. Hope Mrs. Herter exacted retribution for that.
From his cookbook below is the sum of information found anywhere about the mysterious Giacomo Junia.
"This famous salad is an excellent example of how cooks in so-called famous restaurants can really foul up an excellent recipe from pure ignorance of cooking.
"Caesar salad was invented in about 1903 by Giacomo Junia, an Italian cook in Chicago, Illinois. Giacomo Junia was the cook in a small restaurant called The New York Cafe.  He catered to American tastes as spaghetti and pizza in those days were little eaten by anyone including Italians.  It is sometimes falsely stated that this salad was invented in Tijuana, Mexico, during the prohibition period and also in San Francisco.  Nothing could be further from the truth.  The only thing invented in Tijuana were the finest methods ever produced to clip tourists.
"Giacomo Junia called the salad Caesar Salad. He put a few pieces of Cos lettuce (romaine) in the salad to add a slightly bitter touch to it. Cos lettuce originated in Italy. Light green. dark green and red spotted varieties were described in Italy in 1623. It had been widely grown in Italy from about the time Christ was born. Cos lettuce was common in Italy during the Middle Ages. It was and is cooked as a vegetable and never eaten alone as a salad, as its taste is much too strong for a salad all by itself. A few pieces of Cos lettuce in Italy were occasionally added to other lettuce for salads. Cos lettuce was taken to France by Rabelais in 1537. At the end of the 16th century it still was rarely grown in France or Germany and when eaten, it was cooked as a vegetable and rarely used in salads.
"Giacomo called the salad Caesar Salad after Julius Caesar, the greatest Italian of all time.
"Giacomo was not an exceptional cook but just a fair one. One thing that he tried to make with no success was mayonnaise for salads and for serving with fish. No matter how hard he tried he just could not make mayonnaise. He finally took the mayonnaise basic ingredients because he thought that the taste of them should be good on salad even if used separately, added some French fried bread for his French customers and some bacon to please his German customers and Caesar Salad was born. Junia never thought that the salad would be popular and was more surprised than anyone when people began to ask for it. Many itinerant cooks learned how to make the salad and soon it was made all over North America and even in Europe. Junia left Chicago for San Francisco, California and shortly afterward died. Here is his original recipe which is unlike any of the fouled-up Caesar Salad recipes that are pawned off on people today as Caesar Salad."
There are no pre-1960 references to an Italian-American 'Giacomo Junia,' 'Jack Junia' or 'Joe Junia' in any newspaper databases, nor in 1900, 1903 or 1904 Chicago city directories, nor in the Federal censuses for 1910 and 1920. (Except for an Italian milkman named Giacomo Fuina born in 1899, and a Polish-American machinist named Joe Junia, born in 1902.) There are no references nor online genealogical family tree links for him either. There are no references or mentions of a 'New York Cafe' in Chicago or San Francisco city directories from 1903 through 1910.
And, bacon? Yes, the Junia-Herter 'original' version includes croutons, bacon, and wilted lettuce. This sounds suspiciously like the ubiquitous warm spinach salad of the 1960s and '70s. Many writers have briefly referenced the above 'history' without including the recipe below, which gives away Herter's game…
"Take some white fresh bread and cut it up into about quarter inch or slightly larger cubes. Take your French fryer filled with rendered beef suet and heat to the same hot temperature as for frying French fried potatoes. French fry the bread cubes until they are just barely brown. Watch them carefully so that you do not overfry them. Take about three dozen pieces of lettuce about two to two and one-half inches square and French fry them just until they become very limp. This does not take long. Watch them carefully.
"Take a large salad bowl. If you have leaf lettuce use it. If not, use two heads of head lettuce. Either leaf or head lettuce can be used to make this salad. Tear the lettuce up into small pieces. If you have Cos lettuce (romaine) tear up a cupful of pieces of it and add them to the other lettuce. This is not, however, at all necessary. Never use all Cos lettuce as many so-called Caesar salad recipes call for as Cos lettuce is not meant for complete salads. Never use olive oil to fry the bread pieces in. French fry them in rendered beef suet. Olive oil gives off a very objectionable odor and taste when used to fry such things as bread. Italians used olive oil in Italy mainly because at one time it was plentiful and cheap.
"Today in Italy there is far more corn and soybean oil used than olive oil. Do not try to fry bread cubes in a frying pan with butter. It does not work well unless you have at least one inch or more of butter in the pan. Fry four slices of bacon nice and crisp. Break them up into very small pieces and add them to the lettuce. Sprinkle the lettuce with one-fourth level teaspoon of dried mustard, one-fourth level teaspoon of black pepper and one-half teaspoon of salt. Add the juice of a garlic clove or one-fourth teaspoon of garlic powder. One-half cup of Swiss cheese grated upon the fine part of your grater. Never use Parmesan cheese as most cookbook recipes today specify in Caesar Salad. This Parmesan cheese idea in a Caesar Salad was the idea of cooks who knew nothing about cooking but wanted to show off with a fancy-named cheese in this salad. Grated Parmesan cheese is gritty. When used on spaghetti, it is warmed and partially melted and softened by the spaghetti and is excellent. Put on a cold salad it is gritty and without taste and spoils the whole salad. Parmesan cheese is not a salad cheese and never is used as one in Italy. Now add 6 tablespoons of bottled olive or salad oil and the juice of two lemons or four level tablespoons of lemon juice and one-half teaspoon of Worcestershire sauce.
"Break two raw eggs into the bowl and mix well with the other ingredients. You will be very surprised to see that the lemon juice completely dissolves the egg white, as well as the yolk and makes the whole egg into a smooth liquid with the ·consistency of water, with no albumen or raw egg feel, taste or smell at all. Put this dressing onto the salad proper and lightly mix it in well. Just before serving, add the fried bread or croutons and toss them into the salad lightly. You want to mix the croutons in last so that they will not be soggy. Take the French fried lettuce now that it is cool and place it on top of each individual salad. If you put the raw eggs on the salad without mixing the lemon juice and oil with them first, the salad is no good at all for man or beast.
"Caesar Salad never contains such things as anchovies, sardines or mixed vegetables. Caesar Salad is very good tasting. It is expensive to make but a real very different salad treat for a special occasion."
We can safely cross this origin story off the list. Giacomo Junia is a phantom. An ephemeral ghost. He and his recipe are made up. This fictive chef is born from the whimsical prevarications of an amusing storyteller.
"I don't want to be known and rarely tell people my right name. I never allow anyone to take my picture." — George Herter
---
Notes
Citation: Martin S. Lindsay. 'Caesar's Salad: The Myth of Giacomo Junia.' Classic San Diego: tasty bites from the history of America's finest city. Web. < https://classicsandiego.com/2021/01/caesars-salad-the-myth-of-giacomo-junia/ >
Sources: Arriving Passenger and Crew Lists, New York, 1820-1957; Chicago city directories, 1900, 1903, 1904; San Francisco city directories from 1903-1910; U.S. World War I Draft Registration Cards, 1917-1918; U.S. Federal censuses, 1910, 1920, 1930. George Leonard Herter, Bull cook and authentic historical recipes and practices, volume 2, 1960; David Pursglove, 'The Origin of the Caesar Salad.' Washington Times, 20 Oct 1982, pg 8-C; Waltrina Stovall/Universal Press Syndicate, "Hail, Caesar salad; When in Rome do as the Romaines do," Dallas Morning News (Dallas, Texas), 26 Jun 1991; Mary Rourke, "Rosa Maria Cardini, 75; Patented her father's Caesar Salad dressing," obituary, The Los Angeles Times (Los Angeles, California), 14 Sep 2003; Paul Collins, 'George Herter: The oddball know-it-all,' The New York Times (New York, New York), 5 Dec 2008; Curt Brown, 'Celebrating Waseca's outsized outdoorsman and bamboozler,' Star Tribune (Minneapolis, Minnesota), 23 Jul 2016.