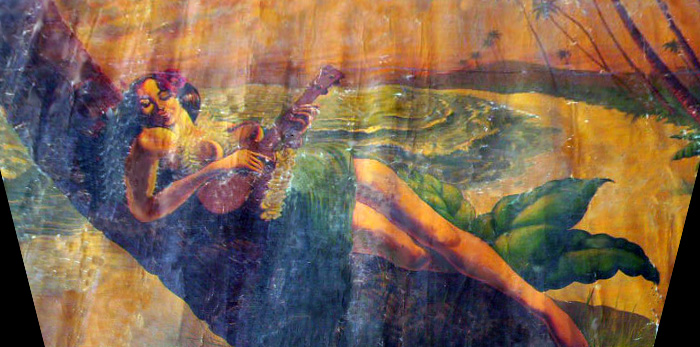 Russell Dale Moffett (1899-1984) was an American artist and muralist, active in the San Diego and Tijuana areas from the 1930s through the 1960s.
Russell Dale Moffett was born on September 23, 1899 to Robert and Myrtle Moffett. He grew up in and was educated in Connersville, Indiana. High school wasn't apparently for him though – he dropped out after ninth grade and soon joined the U.S. Navy.
While stationed at Indianapolis, he met and married Pearl Vivian Neimyer. The young couple lived in an apartment behind her parent's home. He was sent to France, and soon their marriage ended.
The tall, ruddy Scotsman worked with paint – in the 1920s he worked part-time as a house painter. At some point, he became an artist on his own accord, picking up commissions whenever he could.
In 1932 he married a dancer, Wilma Millicent Metlin, in Long Beach. She was a soloist with Dorothea Kanzler Concert Dancers. They settled in San Diego, where he was stationed in the navy on USS Saratoga.
By 1936, Moffett was divorced and still in San Diego. The next year he was an listed as an artist by profession, married to Dolores _____. Throughout the subsequent years, though, he's listed as living alone. Confirmed bachelor, or tortured artist in and out of work? On the 1940 Federal Census, he admitted that he'd only been employed for half the previous year.
His career as a commercial artist and muralist lasted into the 1970s when he retired. He died at the ripe old age of 85 on September 8, 1984 in San Diego.
Known mural work:
Aloha Cafe or Waikiki Club (Tropic and hula murals, late 1930s), Tijuana
Island Cafe (Tropic murals, 1938), Coronado
Tropic Cafe (Village Room murals, 1939), Downtown San Diego
Sherman's ("The Sultan's Fantasy", 1941), Downtown San Diego
Paris Inn, San Diego
Eddie's Cafe, Downtown San Diego?
Mexican Village Restaurant (Exterior and interior murals, c1949), Coronado
Hillcrest Bowl (Rip van Winkle murals, 1940s), Hillcrest
Mario's Italian Restaurant (Eight oil murals, 1966), National City