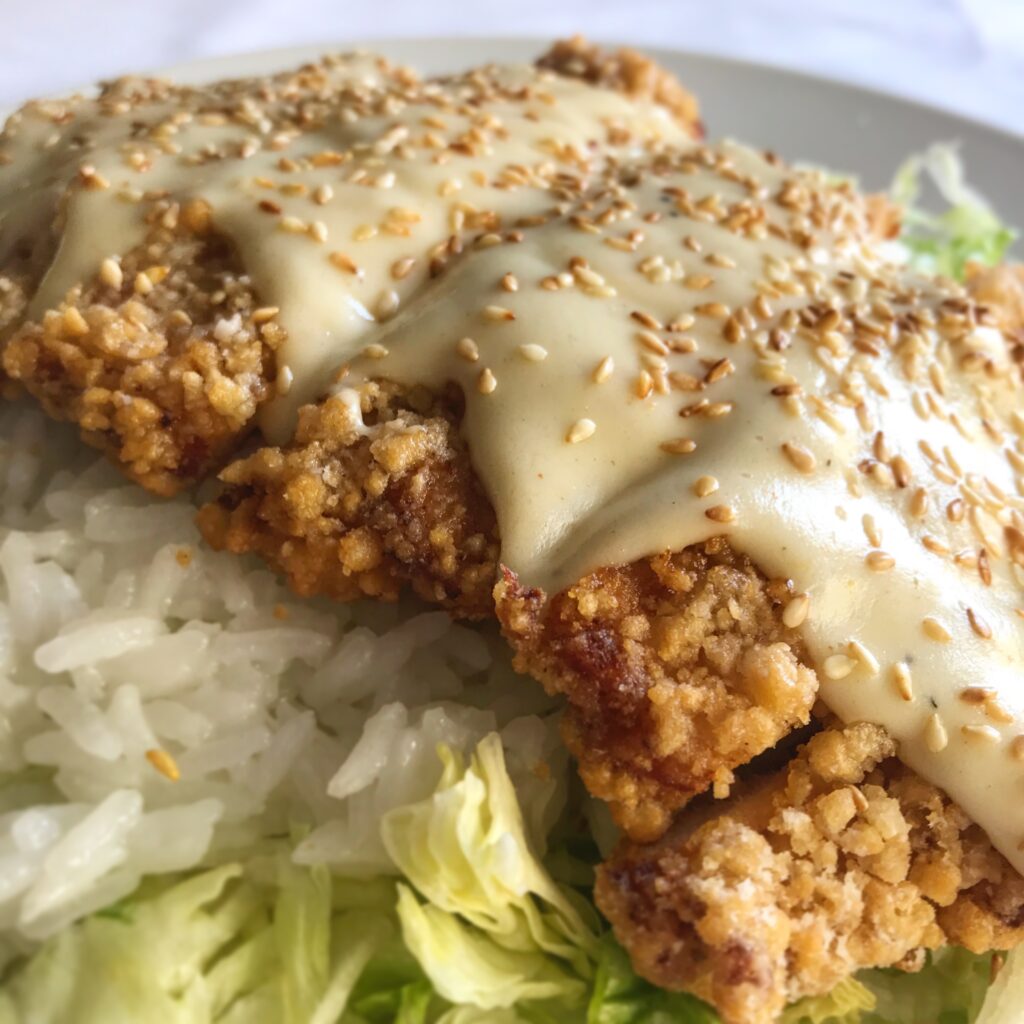 Chicken of the Gods

This is a classic entrée from Bali Hai's midcentury Cantonese menu, and to this day is remembered fondly by many San Diegans. Bali Hai Restaurant is an iconic Tiki Modern restaurant and bar on Shelter Island in San Diego, originally opened as Christian's Hut in 1953. The recipe below is based on restaurateur Tom Ham's original, and appeared in a local newspaper in 1982. It has been modernized and quantities have been adjusted for the home cook.
Marinade
1 cup dry sherry
1/4 cup soy sauce
1 teaspoon white pepper
4 boneless chicken breasts
1 egg, beaten
Water chestnut flour
Peanut oil

White Sauce (Velouté)
2 cups chicken stock
2 tablespoons butter
2 tablespoons flour
1 tablespoons cornstarch
1/2 pint heavy whipping cream
Kosher salt and white pepper, to taste
For Supreme Sauce
Add sliced mushrooms, sautéed butter

Jasmine Rice
1 cup jasmine rice
1 3/4 cups water
1 tablespoon butter or sesame oil
To Serve
1/2 head iceberg lettuce, shredded
2 tablespoons sesame seeds, toasted
Chicken.
Purchase thin or thinly sliced boneless chicken breasts. Pound to tenderize with a kitchen mallet and place in a shallow glass pan. Whisk together sherry, soy sauce and white pepper, and pour over chicken. Cover, refrigerate for at least 30 minutes – overnight is better.
Cream Sauce (Chicken Velouté). Make a white roux by melting butter in a pan and whisking in flour. Whisk on low heat for about 5-10 minutes, to cook out flour taste. You want a lightly-colored cream sauce, so be careful not to brown the flour. Slowly whisk in chicken stock and bring to a simmer. Shake cream and cornstarch together in a covered jar until throughly mixed. Whisk into stock until smooth. If needed, salt and pepper to taste.
For Supreme Sauce, sauté some sliced button or crimini mushrooms in butter, then add to cream sauce.
Jasmine Rice. Heat water and add rice, oil or butter. Bring to a boil, then reduce heat and simmer for 15 minutes, until rice has absorbed the liquid. Remove from heat and cover for another 15 minutes.
Toast sesame seeds in a pan or in oven until golden brown. Set aside. Thinly slice a half head of lettuce and set aside in a container.
Heat half-an-inch of peanut oil in a heavy pan. Beat an egg and pour into a flat container. Dip each chicken breast in egg, then dredge through water chestnut flour to coat evenly. Fry each breast, turning until crispy and lightly browned. Drain on paper towels.
To Serve. Lay out a bed of shredded lettuce on dinner plate, then a layer of rice. Slice each breast into strips, then fan out the cutlets over the rice. Top with cream sauce and sesame seeds. Enjoy!
---
Notes
Citation: Martin S. Lindsay. 'Recipe: Chicken of the Gods from Bali Hai.' Classic San Diego: tasty bites from the history of America's finest city. Web. <https://classicsandiego.com/2018/08/recipe-chicken-of-the-gods-from-bali-hai/>