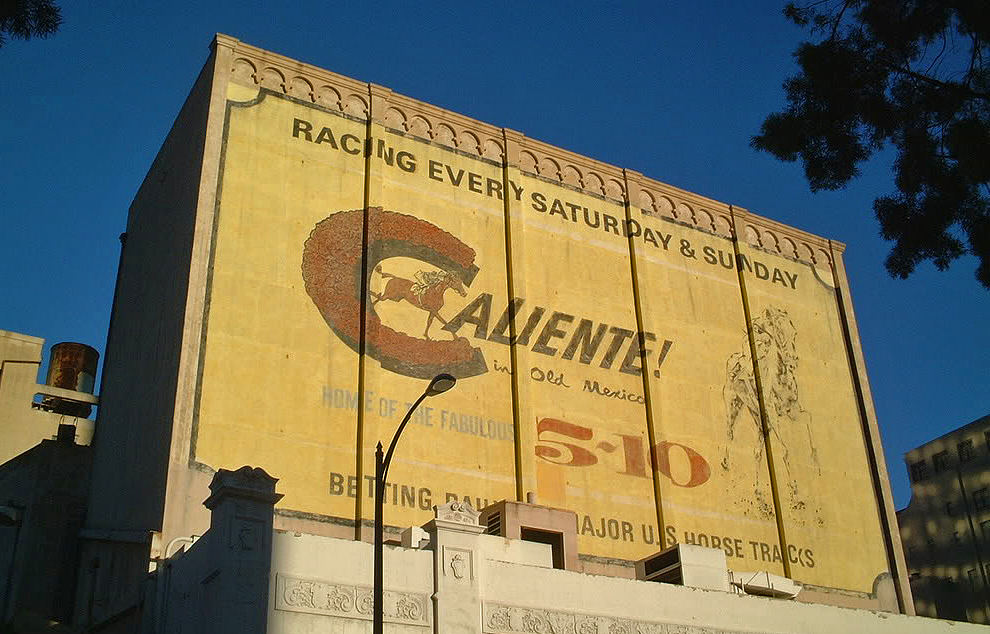 California Theatre building in downtown San Diego is now endangered. Sign the petition to save it.
What are today known as the California Theatre (or Agua Caliente) Murals are three advertisements painted on the California Theatre building in downtown San Diego.
Long-time local landmarks, they are sadly now endangered. Not only that. The entire California Theatre building (San Diego Historic landmark #291), for that matter, is being recommended for demolition.
What? How did this happen?
What about code enforcement? Usually, if an owner neglects their historically designated property, the City Attorney will notify them that they had better damn well do so. In the past, owners have been threatened with lawsuits by the San Diego City Attorney's office if they let their properties fall into demolition by neglect. Some have even sold to new preservation-minded owners to avoid the lawsuits.
After decades of neglect, the place has
deteriorated at a frightening pace
. Water damage from the collapsed roof is hastening the process. San Diego outsider, Sloan Partners LLC of Beverley Hills is the owner, and wants to replace the building with a 40-storey, 282-unit residential building. A troublingly flawed survey Sloan commissioned reflects this, and San Diego City staff agree that the 'painted wall signs' do not qualify for preservation, by any of the HRB's criteria.
The Spanish Colonial Revival building was designed by John Paxton Perrine, and was added to the list of San Diego's Register of Designated Historical Resources that same year. The once-grand dame of San Diego theatres was built in 1927, remodeled in the 1940s, retrofitted for earthquakes in the 1960s, restored in 1988, and vacant since 1990.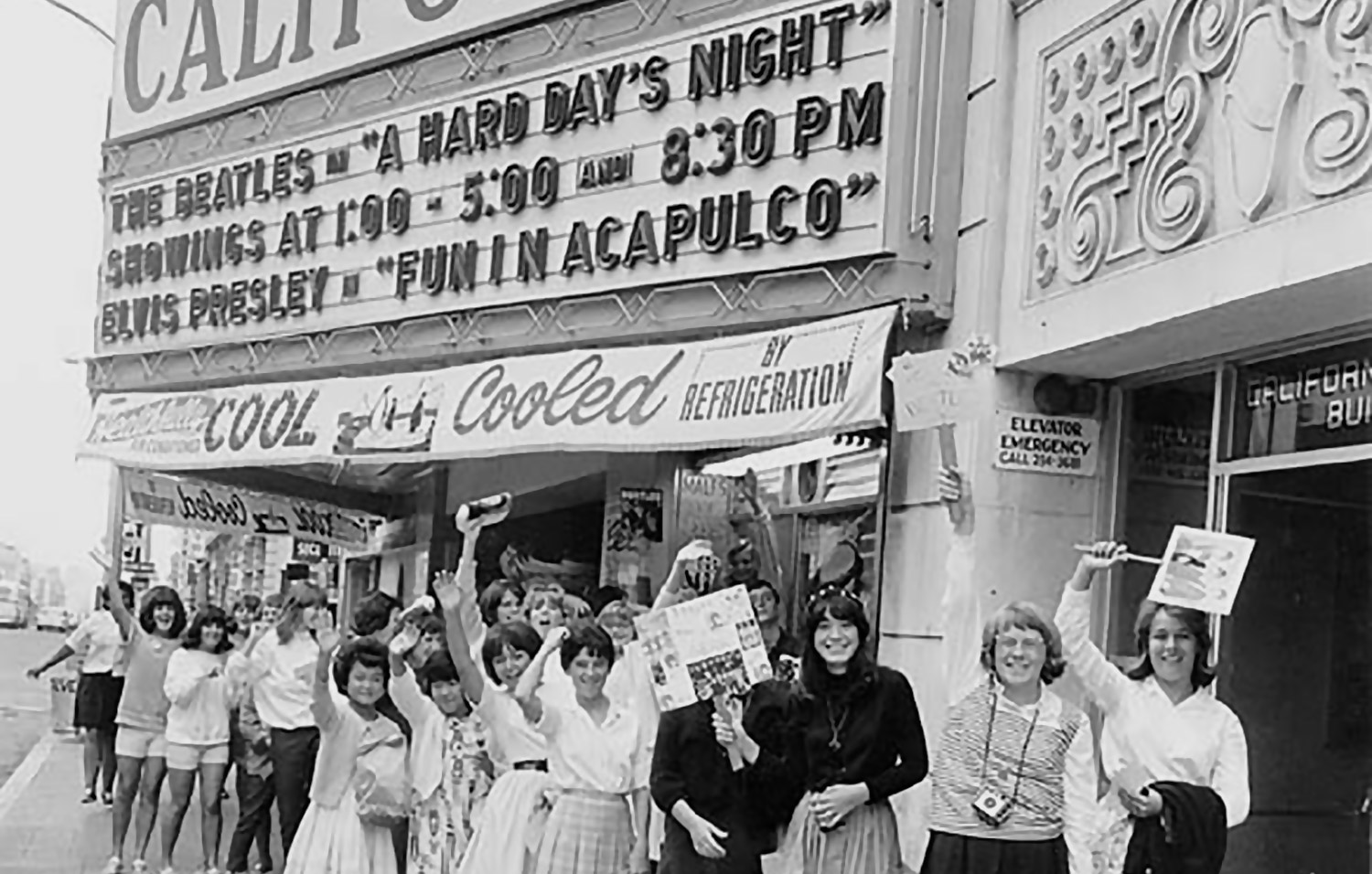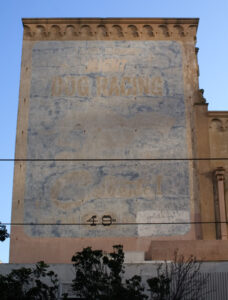 "Familiar to generations of San Diegans and Hollywood stars who easily crossed the border for racing, gambling and drinking during Prohibition and beyond," Save Our Heritage Organization says, "…all three murals have transcended their original use to become iconic public artworks representing a nostalgic time of cross-border culture and mutually beneficial economics."
The three murals include the Caliente horse racing advertisement — a 40′ x 80′ image of a horse and jockey charging toward the viewer alongside the slogan, "Caliente! in Old Mexico."
The second features Caliente greyhound dog racing. These both advertise Agua Caliente Racetrack (1927-1972) just across the border in Tijuana.
The third is a Swingin' Sixties design featuring the silhouette of a dancer with the text "Barbary Coast, San Diego's In Spot." It advertised Barbary Coast (1965-1976ish), located in the California Theatre building. Local restaurateur Yale Kahn (1917-1989) [Top's, Chuck Wagon, Gaslight Room, Algiers, Quad Room among others] borrowed the concept from legendary burlesque performer Carol Doda's San Francisco Condor Club, bringing the novelty of topless go-go dancers to San Diego. Yale was a younger brother of San Diego real estate developer Irvin J. Kahn (1916 – 1973) [Clairemont, University City, Rancho Peñasquitos]. The first location was on Pacific Highway at Laurel, replacing his Chuck Wagon restaurant. At the opening in October 1965, business was so brisk he had to turn away guests. Later, crowd favorite Tosha the Glo-Girl's go-go act included two boa constrictors. So Kahn opened a second location and bar featuring 29-cent beers in the California Theatre building. Regis Philbin, then working for KFMB, took his film crew to check it out. No wonder they called it the 'In Spot.' With the rise of feminism, the go-go girl was a thing of the past, and the place was sold to a massage parlor baron becoming a 'teen-age nightclub.'
So what can you do? The San Diego Historical Resources Board is meeting at 1pm on Thursday, April 28, 2016 in the North Terrace Rooms, City Concourse, 202 C Street, to determine the fate of the California Theatre and Murals.
Write to Kelly Stanco ([email protected] [email protected] )
Historical Resources Board ([email protected])
Mayor Faulconer ([email protected])
and your City Council member HERE
Next, please sign the Change.org petition and share it!
Then, plan to attend the HRB meeting. It begins at 1pm Thursday in the North Terrace Rooms, City Concourse, 202 C Street. A strong turnout in support of the three signs will have an impact.
California Theatre
1122 4th Avenue
San Diego, CA 92101