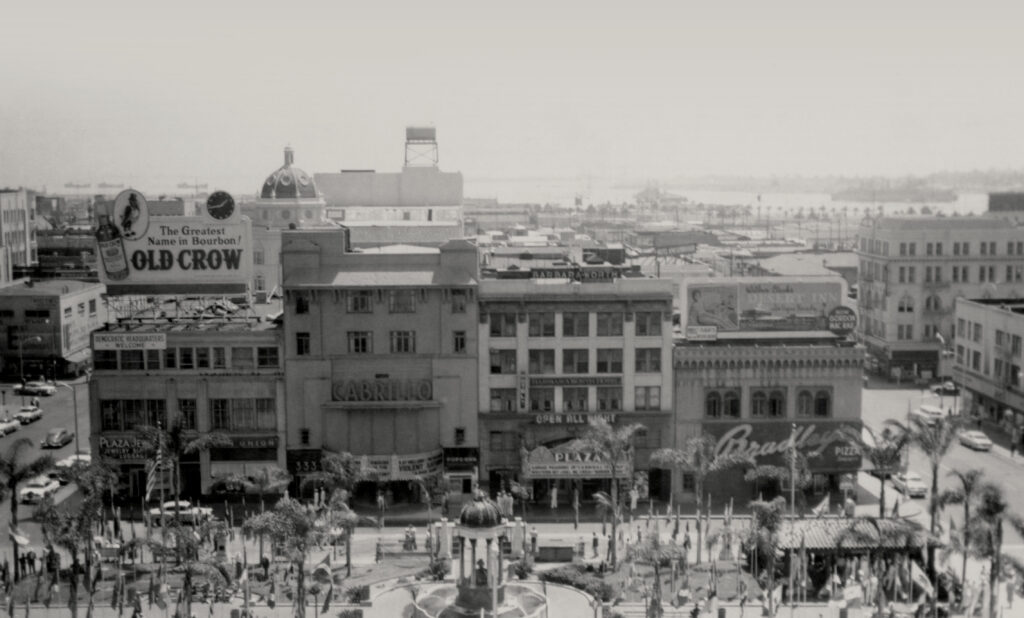 24 | Bradley's 5 & 10, Horton Plaza
A 1957 photo of Horton Plaza taken from the U.S. Grant Hotel in downtown San Diego. Seen on the south side are the Cabrillo and Plaza theatres, Barbara Worth Hotel and Bradley's Pizza. Behind, can be seen the dome of the Balboa Theatre, and Navy ships in the bay. Billboards advertise Old Crow bourbon and Wilbur Clark's Desert Inn, (Clark was proprietor of the South Seas).
Bradley's Pizza was known as Bradley's Five and Dime from 1938, and sported the festive Puka-Puka Rum Bar on its mezzanine level. They served 150 brands of imported rum and made more than few exotic tiki cocktails in their day…
---
Kickstarter project 21% funded, thank you! 24 days to go…
28 Days of Tiki is a countdown to the funding of my Kickstarter project, Ninety Years of Classic San Diego Tiki – The Book. It's a visual history and celebration of San Diego and Tijuana's Polynesian Pop culture, tiki restaurants, bars and cuisine.