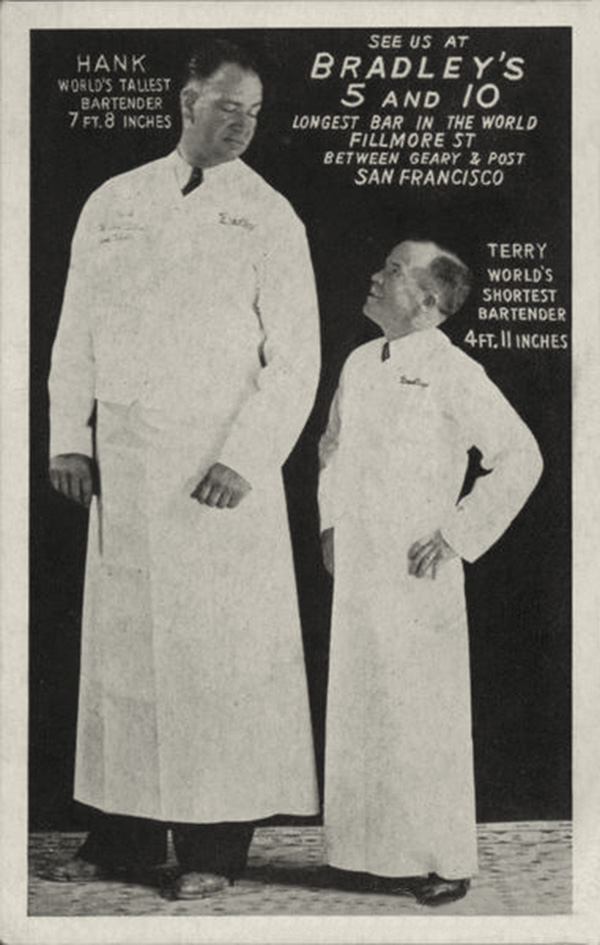 Bradley's Puka-Puka was a high-end rum bar located on the mezzanine level of Bradley's 5 & 10 (1938-1970) at Plaza and Third [Horton Plaza], San Diego. The main gimmick of Bradley's 'five and dime,' other than its amusing callback to inexpensive hardware stores, was that all drinks served on premises were priced at five or ten cents each! Beers and short pours, mixed drinks, bar food. The original building was demolished, but rebuilt when Horton Plaza took over the downtown area in the 1980s. It is now known as the Bradley Building.
In 1936 the building housed a swanky Art Deco nightclub built by Alex Cardini's (Alex and Paul's, Original Caesar's Place, Tijuana) ex-partner Paul Della Maggiora (Alex and Paul's, Paul's Duck Press) and owned by the Stylianos.
After the Stylianos went bankrupt, ex-deputy sheriff and band leader Matt J Howard made it his wildly popular dine-dance nightclub.
"From High Silk Hat to Working Cap, Bradley's is for Everybody"
Frank L Bradley (1880-1964) had successful 5 & 10s in San Francisco, Hollywood, and expanded down into San Diego, snapping up the property. The bar in San Francisco was said to be the longest in the world. Bradley's frontman, San Francisco hotelier Heck Church (Ambassador Hotel) quickly remodeled the nightclub, anticipating large summer crowds. It was written that the Bradley's chain had served 3 million thirsty folks in 1937!
Bradley's Puka-Puka menu offered 150 varieties of rum — oh to try a Myer's Mona 1906 Jamaican — it was 30 years old back then! Thirty liquors… And then there were 75 'drinks of the tropics,' priced at 25¢ to $1.50… Demerara Dry Floated, El Diablo 'the devil drink of Mexico,' Pi Yi served in a baby pineapple, Zombie Punch, Vicious Virgin, Puka-Puka Punch (the most expensive, 'positively only one to a person') and many more. If you wanted a 'Skull and Bones' cocktail, looks like you had to ask general manager Heck Church first…
In the 1950s, Bradley's was managed by Abraham J Kahn, who had run for years a string of bars throughout San Diego. Kahn was put on trial for tax evasion, gambling and bookmaking. When he violated probation, US District Court judge James Carter had a few things to say about the man. 'I think it might be very healthy for Mr Kahn to see the inside of a jail.' Abe's three sons became very successful as builders and restaurateurs — Irvin Kahn, Julius Kahn (Clairemont, University City, Rancho Peñasquitos, Mira Mesa) and Yale Kahn (Algiers, Bradley's, Top's, Roaring 20's, Chuck Wagon).
Eventually, Bradley's became a pizzeria, serving up quick pies to busy Plaza transit crowds and downtown workers.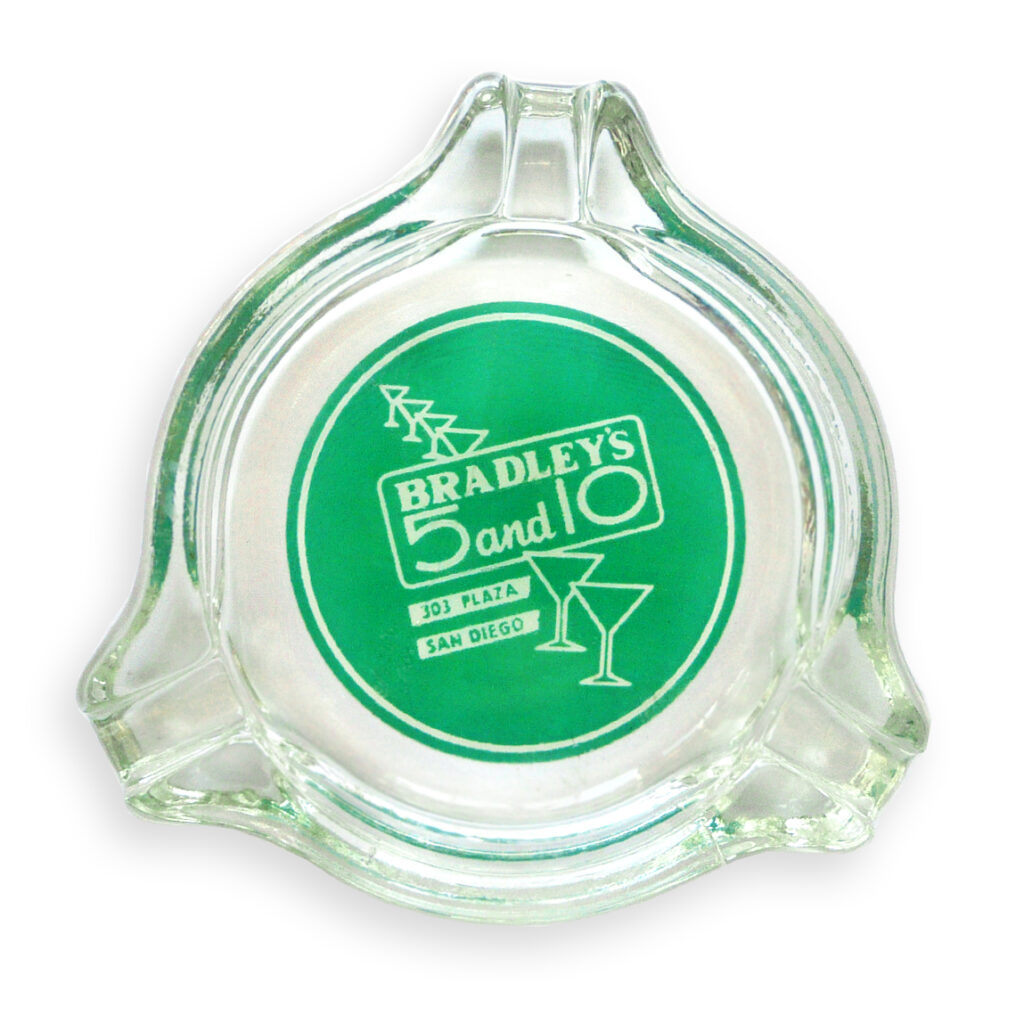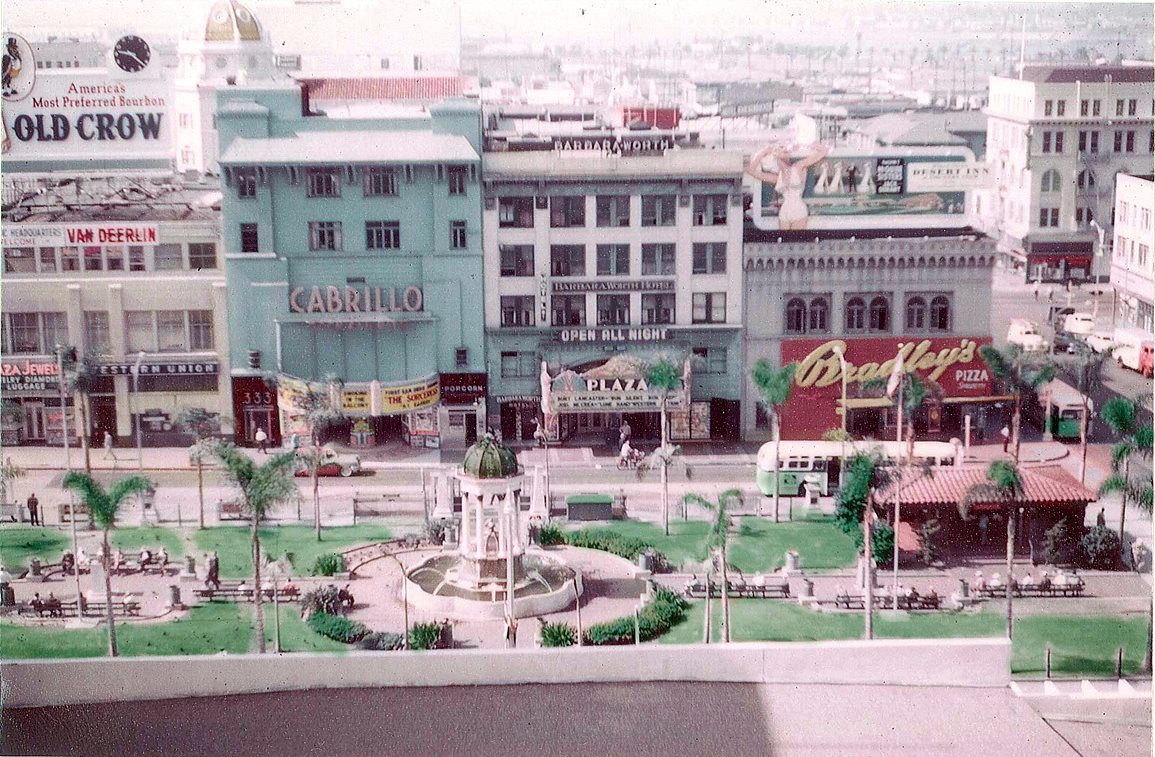 ---
Notes
Citation: Martin S. Lindsay. 'Bradley's Puka-Puka.' Classic San Diego: tasty bites from the history of America's finest city. Web. < https://classicsandiego.com/restaurants/bradleys-puka-puka-rum-bar/>
Thanks to Sven Kirsten for the heads up on this menu.
"Art Deco nightclub" comes from San Diego Union and San Diego Evening Tribune articles recounting the Cardinis, Stylianos and Matt Howard.
"Frank L Bradley" obituary, Fresno Bee, 27 Aug 1964.
"Abraham J Kahn" comes from newspaper accounts of Abe's probation hearing. Apparently, Kahn didn't want his picture taken on his walk of shame leaving the courthouse, so sons Yale and Julius tried to rough up photographers. One stuffed a $20 bill in a photog's pocket to 'keep his picture out of the paper.' It appeared the next morning, and Kahn (then 63) served 8 weekends in jail for violating his probation. Kahn started in produce, owned grocery stores, partnered in a pinball gaming company with Nate Rosenberg, held 12 liquor stores and eventually got into the restaurant industry. In 1950, he bought Top's Restaurant and son Yale made it into a springboard for many national entertainment acts.
San Diego Union, 12 Dec 1934, 12 Dec 1943, 16 May 1956, 15 Jan 1957, 7 Sep 1981.
Revised, 4 Aug 2017