The Tropics (1952-1970) was another South Seas-themed beer bar run by the mob-connected Matranga family (The Hula Hut, Aloha Club, The Java). The location at First and Market Streets was right across from the Spreckels Theatre, and had seen quite a history.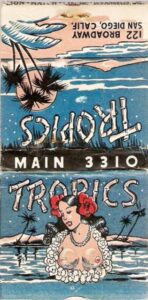 Following Caesar Cardini's lead, restaurateur Victor DeLu quit his businesses in Tijuana in 1935, then moved to San Diego. DeLu opened up the wildly successful Vick's Cafe in the spot.
Over the years it's identity slowly evolved toward the tropical — Vic's Place, Vick's Cafe, Vic's Tropics, and finally Vic's Tropical Nuthouse (continuous vaudevillian clown shows). In 1952 Joseph, Gaspare and Big Frank Matranga bought the nuthouse and simplified the name to The Tropics.
The Matrangas were continually under the scrutiny of San Diego Vice. Employee turnover was so great, they had a standing classified ad for cocktail waitresses in the newspaper. Daily. And by 1965, they were advertising for go-go girls.
The building was razed and in it's place developer Conrad Arnholt Smith built his United States National Bank tower. The MTS Transit Store sits now where The Tropics once was.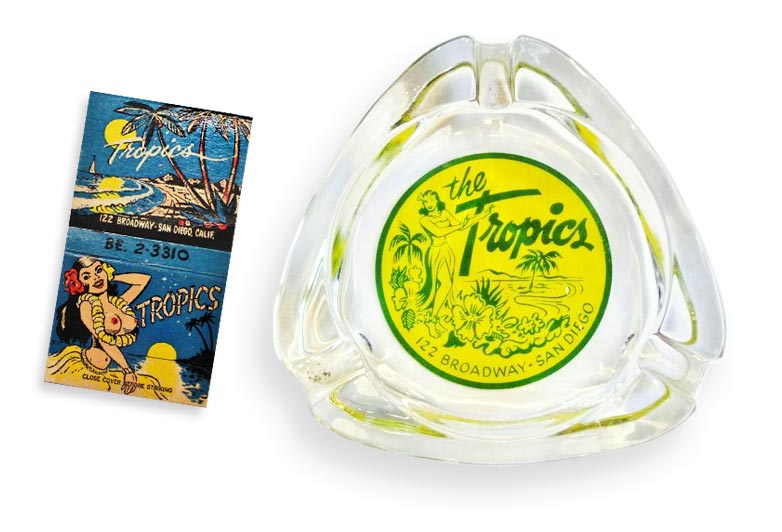 ---
Notes
Citation: Martin S. Lindsay. 'The Tropics.' Classic San Diego: tasty bites from the history of America's finest city. Web. < https://classicsandiego.com/restaurants/the-tropics/ >