The Chee-Chee Club is a landmark San Diego cafe and gay/dive bar established in 1941 by Joseph and James Petrone.
The two restaurateurs were sons of Italian immigrants Francesco and Rosaria Petrone, who came to the city from Washington in the early 1900s. Of their parents, only their father Frank spoke English. Their mother Rose raised six children. Frank worked various custodial jobs and was for years an elevator operator in the Spreckels Building downtown. During Prohibition the brothers worked as 'soda jerks' in fountain lunch counters.
When he learned to drive,
Joe Petrone
(1900-1964) became a cab driver for others (
Zone Cab
,
Smith Taxicab
) until he could start his own company,
Meter Cab
. Joe caught the eye of Maybelle Annette Anderson, they married and had a child. Rented. Scrimped. Saved. After awhile he started the Brownie Messenger Service in San Diego with Charles A Pratt, Sam McPherson and Joe Bruce. Think of it as a DoorDash or UberEats of its time, delivering food and newly-legal-again booze around town via motorcycle. Messenger caps, leather jackets, Harley-Davidson bikes, Marlon Brando in
The Wild One.
Petrone and Pratt then went big – they bought a fleet of four-door Pymouths from Mark Hanna. The Black and White Taxicab Company their new business was called. They had it for years…
Around 1936-1937 Joe Petrone and his partner Charles A Pratt bought the troubled
Plaza Fountain Lunch
at 244 Broadway. Its location on the main drag of Downtown San Diego had hosted several other restaurants including
Randel's Coffee Shop,
one of the first places to legally serve beer after the end of Prohibition. The little luncheonette was on the ground floor of the old Gates Hotel building, west of the
US Grant Hotel Coffee Shop
and Horton Plaza, at the corner of Third and Broadway. Just within eyesight of Horton Plaza's electric fountain.
Third Avenue was 'Neon Row,' the sailor's entertainment district. Its bars, cafes, nightclubs and other mob-controlled businesses catered to navy men — straight and gay — with a fresh paycheck looking for a good time. That year around the corner on Third, The Tropic Cafe pre-tiki nightclub was opened by Jack Ewing (Gay Nineties, Ewing's on the Kern). Down the street was Vick's Cafe, established by Victor Delu and brother-in-law James Marchetti. DeLu closed his Vick's Place in Tijuana, opened up the cafe in San Diego, and established Vick's Distributing Company with all his Tijuana stockpiles of vintage wines from Marchetti vineyards. Further down Broadway by Santa Fe Depot was El Padre Fountain Lunch, an art deco aluminum-clad affair operated by Johnnie Blackett (Silver Castle System, Made-Rite Barbecue, Copacabaña).
After a couple years Pratt was out and Joe brought in his brother James Petrone to run the business. The re-named Plaza Coffee Shop was successful and the Petrones expanded their business with a second restaurant (Petrone's) at 1240 Market, and a new nightclub and bar – the Chee-Chee Club.
'A Distinctively Different Atmosphere'
Petrone's Chee-Chee Club
had its grand opening party New Year's Eve 1941. They formally opened on January 3rd, offering 'famous filet steaks and fried chicken dinners' they'd come to be known for at
Petrone's
and the
Plaza Coffee Shop.
But now they had entertainment and hard alcohol to boot!
The Petrones took an old fireworks store on the ground floor of an apartment building and built it out as their club. Talk about 'distinctively different'— how would you like to live above a shop full of fireworks?
The Frances Apartment building was built by 'the man who made Broadway' Louis J Wilde, and fondly named for his wife.
The Chee-Chee Club is today [2017] located in the very same spot, next to Hodad's Burgers.
Sure they had some troubles. A robbery. Liquor license problems. But the worst?
They got a little sick and tired of all the hoopla surrounding Pig'n Whistle Corporation's acquisition of the Chi-Chi Club, a dine-dance club downtown. The corporation was promoting the hell out of their similarly named club in 1947. So the Petrones sued. "The Pig'n Whistle organization, while changing the spelling," reported a contemporary newspaper, "has not changed the pronunciation and is seeking to profit by the good will of the Broadway establishment."
No idea where that lawsuit ended up, but the Petrones' competitor later converted the Chi-Chi Club into a Pig'n Whistle restaurant.
By 1950, they weren't serving food and got nailed for it by the State Board of Equalization. Back then, a beer bar was not required to serve food. But if you had a hard liquor license, you had to serve food. Some enterprising owners such as Tony 'The Bomp' Bompensiero (Gold Rail) tried to get around the ordinance. He had a hotplate in the office to prepare food quickly if the authorities showed up.
At one time the Petrones had three restaurants open concurrently, and an office in the Spreckels Building. During the war, Joe Petrone even had interests in a tungsten mine near Tecate.
By 1945 Petrone was secretary/treasurer of the San Diego Tavern Owners Association, Johnnie Blackett was vice president. Both entrepreneurs catered to military clientele and their businesses soon became popular with San Diego's segregated minorities and growing gay community. At the time it was illegal for gay men to own businesses in San Diego. Many establishments would not serve African Americans, Asians nor Filipinos, boldly stating on their menus "we reserve the right to refuse service to anyone…"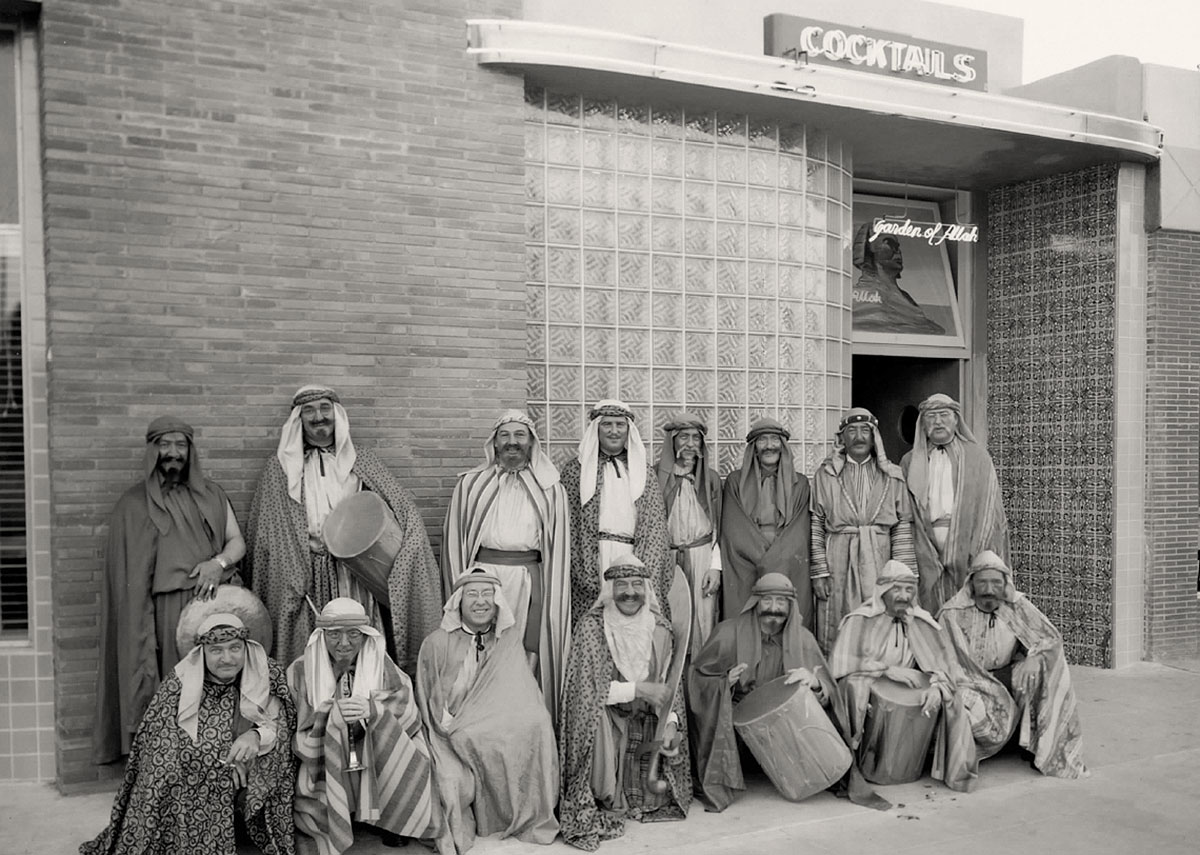 The Garden of Allah
After being discharged as an aviation Chief Electrician's Mate in 1955, Wilson A Pickney and his wife Margaret bought the vacant lot next door to their Egyptian Court Apartments in Hillcrest. The Pickneys built an exotic restaurant and adjoining cocktail lounge they originally called The Egyptian Dining Room, which fit in with the Egyptian Revival architecture along that strip of Park Boulevard. By 1946, the restaurant and bar were both called The Garden of Allah, a popular name at the time. The restaurant lasted about a decade before it was taken over by Jerifta's Pizza.
And guess who? Joe Petrone operated the Garden of Allah cocktail lounge — that is, until 4am on December 1, 1954. Smoldering cigarettes ignited a fire, destroying most of the business, the resident band's musical instruments, and the dry cleaner next door.
The Pickneys rebuilt, this time hiring architect Richard George Wheeler to redesign the building. Their new Mondrian-inspired restaurant rose up from the ashes as The Flame.
The Petrone brothers retired in the 1960s. After they sold, it was a go-go bar operated by Blanche and Ralph Heim, and later owned or managed by Samuel J. Streib, Fred Bertolino, William De Luca, Dick Sprowles, and the legendary Harvey Bodie.
From the 1970s through the 1980s the Chee-Chee grew popular with San Diego's growing gay community, some said 'infamous' for black leather shenanigans worthy of a Hunter S. Thompson story. Talk about fireworks…
Over the decades, the Chee-Chee Club has outlasted thousands of competitors. Today [2017] it's still owned by the Bodie family (Bodie's, Bottom's Up, Kensington Club, Mollie's, Wet Willie's) and known as a popular downtown dive bar. With an open-door policy and $3 well drinks, how can you argue?
---
Notes
Citation: Martin S. Lindsay. 'Chee-Chee Club.' Classic San Diego: tasty bites from the history of America's finest city. Web. < https://classicsandiego.com/restaurants/chee-chee-club/>
Before citing, check for updates. Please note this is a draft article and subject to change: revised 30 May 2017.
"sons of Italian immigrants" family history comes from US Federal Census and Naturalization records, funeral notices San Diego Tribune, 1929-1945.
"became a cab driver" San Diego City directories, 1938, 1940, 1941; 'Adds three Chevrolets to cab fleet,' San Diego Evening Tribune, 6 Apr 1929; and in 'Police prepare to seize cabs in insurance rule,' San Diego Union, 23 Jul 1932.
"Brownie Messenger Service" if from 'Use Firestones, Speedway gas,' San Diego Union, 17 Dec 1933; and 'Brownie messengers buy from Grant,' San Diego Evening Tribune, 20 Dec 1933.
"Black and White Taxicab Company" is from 'Local cab firm buys new fleet,' and 'Stamina of Plymouth proved in taxi service,' San Diego Union, 17 Oct 1937.
"bought the troubled" The Plaza Fountain luncheonette was established by two women entrepreneurs, Mrs E.M. May and Mrs L.A. Dailey.
"one of the first places to legally sell beer" is from Don Short, '58 Places listed where beer will be sold in San Diego,' San Diego Union, 5 Apr 1933.
"the man who made Broadway" banker Louis J Wilde came to San Diego in 1903. He was a real go-getter. Helped establish the first telephone company in San Diego. Built Pickwick Theatre and Richelieu Building. Reorganized Citizens Savings Bank, founded American National Bank, First National Bank of Escondido and was president of United States national Bank. Refinanced and completed stalled construction of the US Grant Hotel. While mayor, he was responsible for having D Street's name changed to Broadway, thus increasing the value of all his properties. Men of nineteen-fourteen. Chicago, Illinois: American Publishers' Association, 1915; and Clarence Alan McGrew. City of San Diego and San Diego County: The birthplace of California, vol 1. Chicago and New York: American Historical Society, 1922.
"an old fireworks store" In 1933, Choice Fireworks Company took the place of the Broadway School of Beauty at 929 Broadway, and was advertising up until the Petrones remodeled for their club. Newspaper display advertisements, 1933-1940; San Diego Union, 1941.
"formally opened on January 3rd" Building, plumbing and electrical permit notices, San Diego Union, Dec 1941; newspaper display advertisements, San Diego Union, 31 Dec 1941, 3 Jan 1942.
"the Petrones sued" is from 'Owners of Chee Chee would ban Chi Chi,' San Diego Union, 31 Jan 1947.
References to Petrone and Blackett's business connections, patronage of San Diego's gay community and the today-hard-to-believe "illegal for gay men to own" come from 'Strickler heads tavern owners,' San Diego Union, 19 Sep 1945; 'Dance with San Diego's dandies at the policemen's ball,' San Diego Union, 28 Nov 1945; San Diego citywide LGBTQ historic context statement, San Diego: City of San Diego Department of City Planning, 16 Aug 2016.
"got nailed for it" is from 'Liquor licenses taken from 6 proprietors,' San Diego Union, 15 Dec 1950.
"popular name at the time" A 1936 film popularized the name 'Garden of Allah,' as well as Maxfield Parrish's illustrations, and a hotel of the same name in Los Angeles. The Garden of Allah was Hollywood's most famous hotel during the 1930s and 1940s. Originally the 'Garden of Alla,' it was silent star Alla Nazimova's Spanish mansion. When her fortune waned, she added bungalows, a restaurant and bar, and opened it up as an exclusive hotel for Hollywood's elite. The place became notorious. Moira Finnie, 'The Garden of Allah: The Lotus-Eaters' Hideaway,' The Skein, web, accessed 22 Apr 2017.