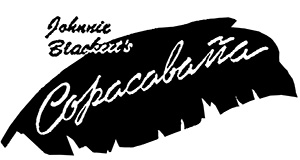 Johnnie Blackett's Copacabaña (1946-1957) was a tropical nightclub and restaurant in San Diego which became a popular meeting place for the post-war gay community, as did the original Brass Rail and Chee-Chee.
John Redmond Blackett
(1906-1969) was a very successful restaurateur in San Diego during the Great Depression. Johnnie and his father William made a killing with their chain of
Silver Castle
burger joints and soda fountains. They were opening up a new place every year, and at their peak had six locations throughout San Diego. Small pre-fab metal buildings, hamburgers 5¢ each, "buy 'em buy the bag." Never mind the fact that the Silver Castle System was a blatant copy of Ohio-based White Castle burgers.
By 1946, the Blacketts still had it made. They owned a fine house, operated three restaurants and drive-ins, Blackett's Van Lines, and were country club members. Johnnie's socialite wife Mabel owned a show horse Gentle Whispers and regularly competed in all the club shows. In fact, she got more press than he did.
As the years went by, he focused his operations on a block just south of the gothic San Diego High School (known by locals as the Grey Castle), near the intersection of Twelfth [now, Park Blvd] and C Streets. On the southeast corner, he reopened one of his old Silver Castles as a Maid-Rite Barbecue franchise and opened his Blackett's Drive-In.
But Johnnie must have wanted to step up his game from soda fountains, burger joints and drive-ins to more grownup ventures…
Just south of the corner of Twelfth and C Streets, Blackett built his Copacabaña night club. It formally opened Friday night, February 22, 1946. The Copa was billed as San Diego's 'glamour club,' with 'gorgeous' tropical murals hand-painted throughout by local San Diego artist and graphic designer Douglas Bliss Weaver. The menu featured a provocative sketch from his artwork, and steakhouse dinners by Chef Albert. Managing the club was Harold John Edward Reamo (whose daughter Suzanne would later become Miss San Diego, Mis California, and a Miss America runner-up). And opening up the club was José Mayol and his trio. Mayol was known as 'the Gay Ranchero' for serenading couples while strolling through the tables with his guitar.
Music and dancing livened up the place until 1am nightly by the likes of
Carmen Crisalli's Rhythm Band
and
Leo's Trio
— Jack Mayer on bass, Mert Cushman on piano and Leo Stroth on guitar. Special
siesta luncheon
and
midnight supper
menus were served by Chef Albert.
"Always delicious Cocktails, tempting and refreshing in the relaxing atmosphere of tropical murals."
Just over a year after the Copacabana opened, Mabel Blackett sued her husband for divorce. She got the house, the racehorse, Blackett's Van Lines and a healthy $33,000 settlement garnished from the businesses' registers. That was rough. The Copa closed and then reopened in 1948. Chef Albert was by then gone, and the place served 'Lupe's real Mexican food.' In 1949 the restaurant was shut down and padlocked by the Feds looking for back-taxes from Blackett.
In 1950, Blackett decided to cash out and liquidated most of his San Diego restaurant holdings. He sold the drive-in on the corner of Twelfth and C Streets to Oscar and Robert Peterson, who reopened it as one of their popular Oscar's Drive-Ins. In the 1970s the old building at 1065 Twelfth became Lee's Garden Restaurant, then in the 1980s Gen Lai Sen Restaurant serving classic American-Chinese food.
Next door at 1039 Twelfth was the Copa. Johnnie and his second wife Mary ran it until they sold about 1957. It became the Mario's Italian Village Restaurant and then the Tropicana Latin nightclub. They are both today demolished.
The Blacketts moved to Las Vegas where they operated Blackett's Self Service Drive-In until Johnnie's death in 1969.
---
Notes
Citation: Martin S. Lindsay. 'Johnnie Blackett's Copacabaña.' Classic San Diego: tasty bites from the history of America's finest city. Web. < https://classicsandiego.com/restaurants/johnnie-blacketts-copacabana/>
Majority of information is from local newspapers San Diego Union, San Diego Evening Tribune and Chula Vista Star. Further references are from court records, family histories and genealogical websites.