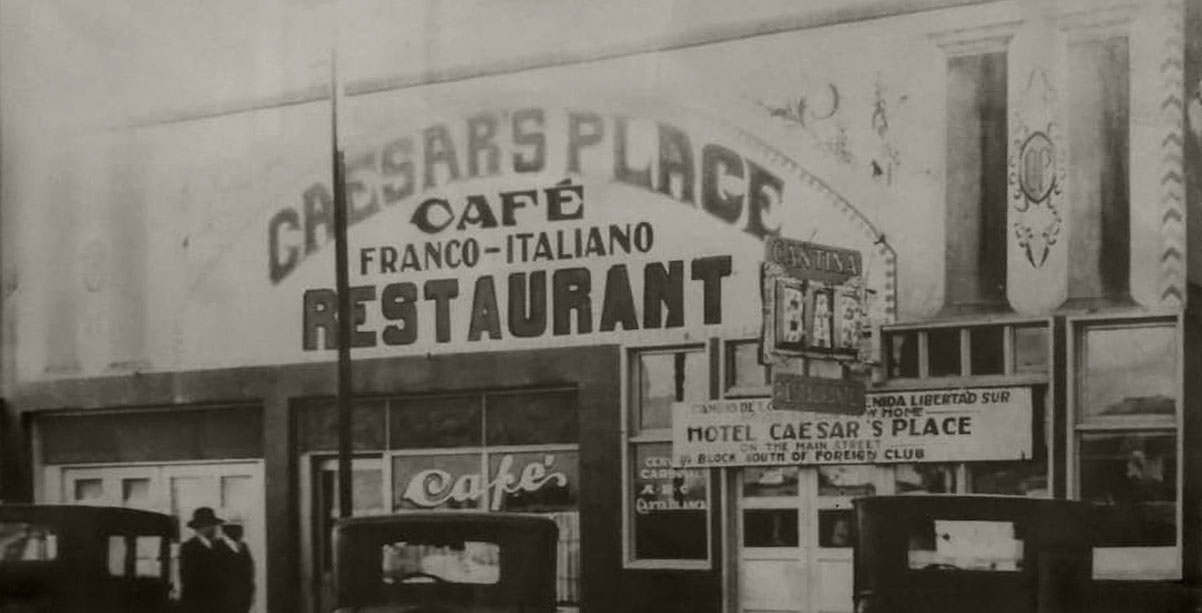 'Who Made the Salad?'
Many have heard the often-times conflicting story of the origins of Caesar's Salad. Was it Caesar Cardini, his brother Alex Cardini, their employees?
Depends on who you ask and where you live. To his dying day, Caesar said he invented it at his Caesar's Place in Tijuana. And to his dying day, Alex Cardini said he invented the salad at their first restaurant, Alex and Caesar's, and named it after Caesar. After many years in business together, the Cardinis went their separate ways, making clarification more difficult. In his later years, Alex offered a $1000-dollar reward if anyone could prove him wrong (albeit after Caesar died). Caesar's daughter Rosa took him up on the offer. It was a blood feud with Californians siding with Caesar and Texans siding with Alex. Never heard what happened. Caesar's Restaurant in Tijuana used to give both Caesar and Alex credit, now they include Livio Santini.
Tradition says Caesar invented the salad at his place in Tijuana on Independence Day weekend, 1924. (The 4th of July was a hot Friday night — the beginning of a big party weekend. There were rumors that the Mexican government was going to shut down all gambling and most of the businesses that weekend for Mexico's elections, but they made an exception for Tijuana. Business owners placed ads the whole week before assuring Californians that Tijuana would indeed be 'open for business' as usual.)
Chef Julia Child wrote of her remembrances of visiting Caesar's as a twelve-year-old and having the salad, she thought, in 1925-26. Others said it was invented in 1927. What's the real story?
While there are a few published contemporary interviews with Caesar and Alex Cardini, little original research has been undertaken other than that of Terry Greenfield in 1994. This article serves an attempt to piece together the actual stories of their lives and restaurants. Not based on accepted mythology and long-held assumptions, but based on original and contemporaneous sources.
There are some lapses in details and time periods for which no evidence has yet been found. This article is a work in progress, and as such, may be corrected and updated in the future. If you have any comments, corrections or further information, please contact me. Revised, 17 Jan 2018.
¡Salúd!
Martin S. Lindsay
San Diego, 2017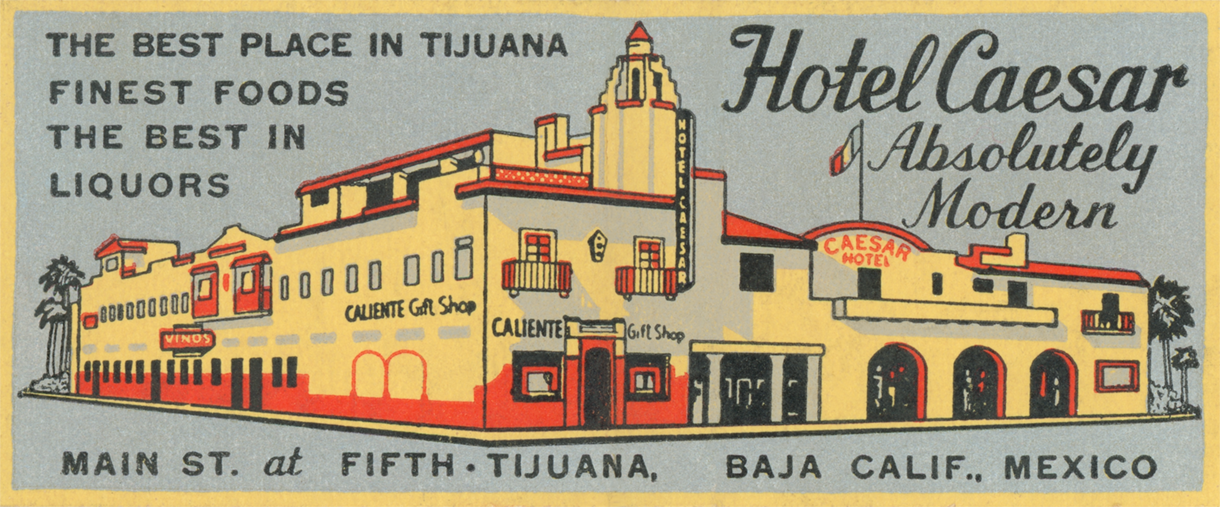 Caesar's Restaurant, Tijuana
Caesar's Restaurant (c1923-✔), Italian immigrant Cesare Cardini's restaurant in Hotel Caesar, Tijuana, now famous as a prohibition-era landmark and the traditional birthplace of Caesar's Salad.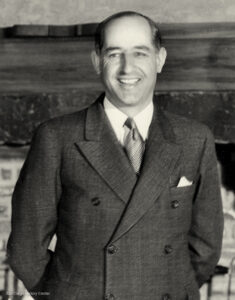 Abelardo Cesare 'Caesar' Cardini (1896-1956) was born in Baveno, in the Novara region of Piemonte, Italy. He was the second son of six children born to Giacomo Cardini and his second wife, Carolina Gandola — Rosina, Nereo, Carlotta, Cesare, Gaudenzio and Alessandro. Rosina was born when her mother was but eighteen. They had two older step-brothers Bonifacio and Aldo from another mother, Carlotta Lanza. Caesar's father was an ironsmith, brothers Nereo and Gaudenzio, stonecutters.
The Cardinis lived in the comune of Baveno, which lies on the western shore of Lago Maggiore in an area known for posh hotels, resorts, fancy sanitariums and its famous rose granite quarries on Monte Camoscio. The mountainous province of Novare borders on Switzerland, France and Lombardy. It was rich in game, fish, rice fields and vineyards.
From an early age Caesar, brothers Nereo 'Nero' Cardini (1890-1953), Gaudenzio Cardini (1898-196?) and Alessandro 'Alex' Cardini (1899-1974) worked in hotels, training in the bustling kitchens of Europe. Alex went into the restaurant business when he was 10. It was either that, or working in a Cardini relative's tin toy factory in neighboring Stresa.
Or serving up arsenical bubbly water at Stresa's sanitarium.
Or risking silicosis ('stonecutter's lung,' often diagnosed as 'pulmonary tuberculosis') in the dusty granite quarries…
The Windsor Hotel, Montreal
Before the 1912 summer hotel season began in earnest, Caesar escaped that future. He booked contract passage on the SS Corsican from Liverpool to Montreal with five other teenagers.
At the time, there were any number of ways to get to the American continent. One way was as a paid seasonal immigrant worker.
British ticket agents often employed runners to solicit prospects at steamship landings. Some agents had profitable relationships with hotels 'across the pond' – in exchange for booking seasonal workers, the ticket agent would get a finder's fee from the hotel. The hotel would pay passengers' travel expenses in exchange for their contractually binding work. When the SS Corsican landed on June 9, 1912, there were over 20 young men released by the Allán Line steamship company to the Windsor Hotel in the 'city of churches,' Montreal.
Windsor Hotel was established in 1875 as a luxury tourist hotel on Dominion Square by William Notman and a consortium of investors. Located just over the Canadian border, it catered to travelers and tourists from the United States. It was a big operation, requiring scores of employees to keep things running smoothly. The Windsor boasted over 750 rooms, two ballrooms, a concert hall, six restaurants including the Grill Room for men, the Ladies Cafe with their own entrance, and the Rose Room (called that for the color of its carpet and upholstery). In the lower level was the Wine Room, a men's bar with ornate vaulted-ceilings. It is easy to see how the 17-year-old Caesar must have dreamed of having his own resort hotel — with a fancy restaurant, bar, and entertainment — one that would come to fruition in less than twenty years.
After six months of hotel work, Caesar triumphantly returned home. The five dollars in his pockets had grown to $80.
A little more than six months later, he returned to America with brother Nero and friend Carlo Orlandi. They traveled to New York, via the RMS Olympic, sister ship to the Titanic, possibly to avoid Italy's compulsory military service or the current political unrest.
Caesar returned to work at the Windsor in Montreal. Nero traveled south to Barre, Vermont at the invitation of their father's brothers — Angelo and Antonio Cardini. The Cardini boys' uncles, like thousands of other Italian and Scottish migrants, had settled in Barre as quarry workers in its bustling granite sheds (factories). For several years Caesar worked his way across Canada – Montreal, Ottawa, Victoria — in various hotel jobs.
Nero worked for years with Carlo Orlandi in the quarries of Barre as a stonecutter. There he met and married Emma Masi in 1916. Caesar took time off from his job at the Hotel Victoria in Ottawa to come down for their Christmastime wedding. Nero moved away from the cold winters of Vermont to Santa Cruz, California. There, he bought a small hotel and rental cottages with Oseo Morandi near the Santa Cruz Casino and boardwalk — the Nereo Firenze Hotel. They advertised the finest Italian dinners in Santa Cruz and 'il gioco del bocchi,' games of bocchi ball. Carlo stayed in Barre, eventually succumbing to silicosis.
The Palace Hotel, San Francisco
By 1919, Caesar had entered the US from Seattle and was waiting tables in San Francisco. Ten years after San Francisco's great earthquake, William Ralston rebuilt his Palace Hotel sparing no expense. The 'New' Palace was the height of luxury. Lunch in the Grill Room was for men only. The grand hotel's main dining room, the 900-seat Palace Palm Court, sat in its middle where one could been seen, center stage. Tuxedo-clad waiters served an average of 2500 lunches daily. Afternoon tea was served from 3-5pm with live music, sometimes with dancing — tea dansant. Now known as the Garden Court, a Baby Gem Caesar salad sits on the lunch menu, in quiet homage to its namesake. Adjoining the Palm Court was the Rose Room, which added capacity for another 600 hungry souls.
"The cares of the world drop as a mantle from the shoulders of him who enters the Rose Room."
Cuisine and service were closely overseen, always top-notch, and advertised as so: 'Palace cuisine is a dynamo of luxurious well-being and contentment.' Surviving hotel records from this time show dozens of German and Italian men employed at the Palace as waiters, including Cardini, Hungarian-born William Brown (Brown's Restaurant) and fellow Novaresi Giuseppe 'Joe' Ferraris (Hotel Caesar's Place). There they started making future business connections and meeting the moneyed elite of San Francisco.
Another business connection Cardini may have made during this time is with Dr Emil Joseph Haweis (1859-1936). In 1927, the long-retired baker and caterer would open his seaside Beacon Inn restaurant and hotel in Cardiff-by-the-Sea. Located on the Coast Highway between Los Angeles and San Diego, it was a favorite stop for people traveling to and from Tijuana. For a short time after the old doc's death, Caesar Cardini ran the hotel and restaurant for his heirs.
Brown's Restaurant, Sacramento
"The Business Men's Rendezvous"
Caesar Cardini and William Brown left the Palace, and with funding from Brown's father-in-law Charles Blumberg, opened a restaurant of their own in Sacramento in December of 1919. Their new dine-dance eatery, Brown's Restaurant, took the place of the Orient Cafe chop suey joint at 714 K Street. It was in the center of the state capital's business district, a few blocks south of Sacramento City Hall. They catered to the businessmen's crowd, offering a merchant lunch (soup, fish or entrée, dessert or drink) for fifty cents.
'The men who conduct Brown's were formerly at the Palace Hotel in San Francisco,' went one ad, 'and they know how…'
Nightly dinners, with chicken on Sundays, were served with 'delightful jazz music' on Saturdays and Sundays. And what a present — city council granted their dance permit on Christmas Eve 1919. Just in time for Brown's $1.50 Christmas dinner. Notice no special salad, just the traditional fixings:
Assorted Hors d'Ouvres — Brown
Gumbo Creolo
Roast Turkey with Dressing
Cranberry Sauce
French Peas
Hearts of Lettuce, Thousand Island Dressing
Plum Pudding with Fruit Sauce
Demi Tasse
Music Until Midnight
December 1919 was a tough time for restaurants. A third wave of the Spanish Influenza pandemic was raging throughout the world, spread by the return of infected servicemen from the war. Municipalities suggested families avoid public places, shops and restaurants. It was a highly virulent flu. In two years it claimed the lives of over 40 million people worldwide. And 675,000 people in the United States — more than the combat deaths in the two World Wars, Korea and Vietnam combined.
With the coming enactment of Dry Laws, many restaurateurs hoped the government would still permit the sale of light wines and beers. But Sacramento bureaucrats hammered all businesses serving alcohol, with mass liquor license cancellations — 32 in one day. Brown's Restaurant closed after William Brown declared bankruptcy (owing some $7300 to creditors). He lost his liquor license and the partners were sued by their landlord. Over the years, Brown ran several other restaurants, and was back waiting tables at the Palace Hotel by 1940.
Caesar fled to Italy, where he may have had a chance to regroup and encourage family members about the opportunities in America. He returned to Montreal a short time later.
Paul Maggiora
Paul Peter Della Maggiora (1890-1965) was born in San Diego to hoteliers Angelo and Alma Della Maggiora. The family came from the Refrancore wine country in Piemonte, Italy. Angelo and his brother Giovanni 'John' Maggiora settled in San Diego and bought a boarding house on the corner of Sixth and Island from W.T. Walker. A restaurant-bar was on the ground floor, with living quarters above. They called it The Tuscan House. It is still in business today, now known as The Tivoli Bar.
Paul grew up in San Diego and worked in his father's infamous saloon. It had a colorful past being in the Stingeree District – an active brothel upstairs, retired Wyatt Earp hanging out. They had an Italian tenant named Joe Venturi, who made wine in the back house at 5051/2 Sixth.
The Tivoli Bar and Grill is the oldest bar in San Diego, followed by The Waterfront, which has the oldest continuous liquor license in town. The original wooden bar and back bar still grace the establishment.
Ye Alpine Tavern
"Take the Railway to the Clouds"
During the summer of 1910, Paul Maggiora lived and tended bar at the Mount Lowe Resort north of Pasadena. The resort was as one travel writer reported, 'a commodious hostelry perched up in the realm of cloudland.' It was quite popular, and one of the most-visited attractions in the Los Angeles area.
Guests rode the very steep Pacific Electric Railway to the summit, where Ye Alpine Tavern hotel, restaurant and rental cottages were located. The Tavern was a Swiss chalet-styled lodge built on granite foundation, surrounded by pine, spruce and black oak trees. It featured a dining room with-a-view that seated 200, and was the staycation place to visit for incredible views of the valley, hunting, hiking, tennis, and relaxation.
Maggiora embraced that Teddy Roosevelt strenuous lifestyle, and later would incorporate the hunting lodge motif in his restaurants, right down to offering wild game, pheasant, duck and venison dishes. When he went into business with Alex Cardini, one of their standards was wild duck a là presse, prepared a là minute tableside on a rolling cart.
All that remains of the resort today is the building's foundation, reached by hiking trails.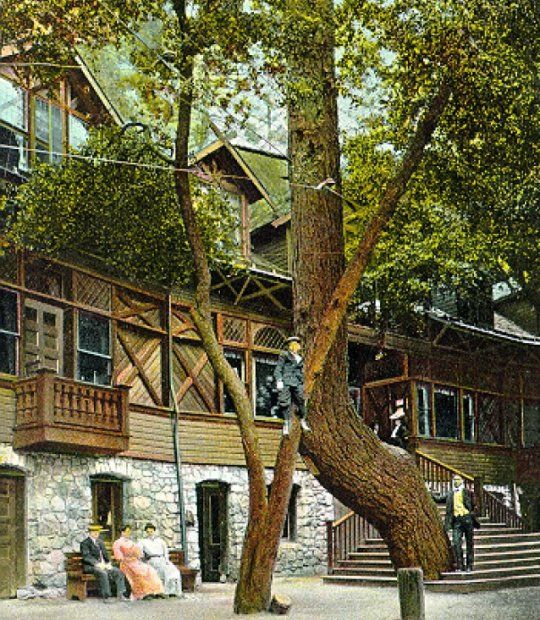 By 1917, Paul Maggiora had come down from the mountains to the cultural center of Los Angeles' Italian community, Venice of America. The area was established by Abbot Kinney as a re-creation of Venice, Italy, right down to its canals. Maggiora took a job as bartender for Caesar Menotti at Menotti's Buffet (now, Townhouse Bar). When Prohibition was enacted, Menotti converted the business to the Venice Grocery store, but moved the bar to the basement. He supplied his Del Monte Speakeasy, hotels and other establishments via tunnels from the Abbot Kinney pier, where he received shipments from Canada.
Maggiora moved back to San Diego, helping out with his family's business. He unsuccessfully tried the Menotti business plan and was prosecuted for the theft of 72 cases of whisky in San Diego. And in 1921, Paul Maggiora was arrested again for selling whiskey from his soft drink stand in San Diego. Time for a change…
Alex Cardini
In 1921 Alex Cardini was released from the Aviator 'Depo Alto' of the Italian Army. Alex was a decorated pilot during the Great War — his adventures in the Italian army air corps would later attract a military clientele to his restaurants. So much so, he named his Aviator's Salad in honor of air corps pilots from Rockwell Field, Coronado (now known as Naval Air Station North Island).
The political climate in Italy grew continually more unsteady. After riots, strikes and political upheaval, the rise in violent nationalism by organized fascist Blackshirts culminated in their March on Rome and the election of Benito Mussolini. His Partito Nazionale Fascista ('National Fascist Party') took control of the country.
Cardini left Italy — Alex didn't need no fascist groove thang.
He made several trips back and forth across the Atlantic as a waiter on the RMS Olympic, saving up his money. Alex's time aboard ironically mirrors that of Caesar's at the Palace Hotel… The large cruise ship had luxury dining rooms and a Palm Court restaurant of its own.
By 1921, Nero's wife Emma had fallen ill, as had many other residents of Barre. In hopes of recuperating she travelled to Gibraltar, France and Switzerland, taking their daughter Elvina. Records of them after this date have yet to be found. Nero stayed behind in Barre.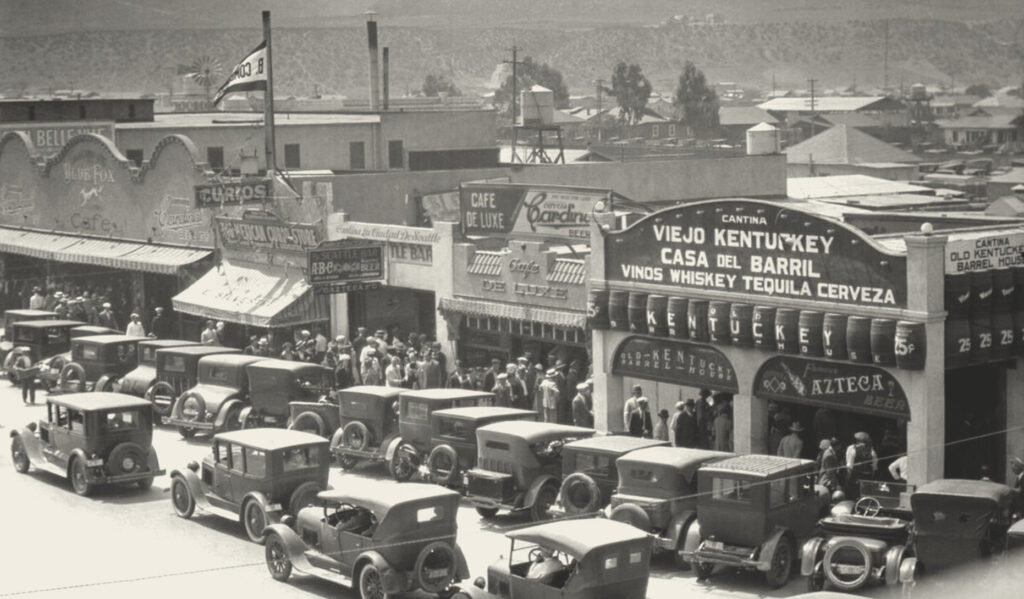 Tijuana, 1920-1933
The enactment of America's 'noble experiment,' the Volstead Act, criminalized the manufacture, buying, selling and consumption of alcohol. Italian winemakers who settled in the US were effectively forced out of business when Prohibition was enacted. Throughout the country vineyards, wineries, breweries, liquor stores and bars immediately went out of business. Vineyards were abandoned over the next 14 years with only a handful continuing to operate by producing sacramental wines. Restaurants and grapes died on the vine. A few savvy vintners like Marchetti shipped their wine south to Baja for storage or grapes for fermenting while they waited it out.
But Tijuana? Business there flourished. The opportunities were there for maximum profitability if an entrepreneur could secure a spot.
A sizable group of Italians converged on Tijuana for its unrestricted business, including the Cardini brothers, Cardinale brothers (Cardinale Beer), Maggiora family (Aloha Cafe, The Tivoli, San Diego), Mirabile brothers (Midnight Follies) and Pastore family (Baja vineyards, Pastore's, Caesar's, San Diego).
And millions of tourists followed, hoping to have a grand ol' time in Satan's playground.
Horse racing season started Thanksgiving 1921, and was expected to attract huge crowds through Spring. It was a big deal — Tijuana was the first to modernize horse racing 'with its first electric starting gates, the photo-finish camera, Sunday racing, large purses up to $100,000, the calling of races on a public-address system, and wetting the track by sprinkler car.'
Bull fights were in full swing. The bars, cantinas, restaurants and brothels were all hopping busy. But one night in December, a third of Tijuana's business district burned down to the ground. Business owners busied themselves the next day rebuilding. New 'amusement centers' popped up seemingly overnight.
Tijuana was a boom town rising again and again out of the ashes like a golden phoenix, reborn…
Alex and Paul and Johnnie and Caesar
After landing in New York, Alex Cardini made his way to San Diego, meeting Caesar sometime around 1922. In 1967 Alex recounted that he and his brother Caesar started up a small restaurant in Tijuana called Alex and Caesar's. Whether they banded together at first or opened their own places, we don't know. But there are newspaper advertisements from this time for the separate establishments of Caesar Cardini's Caesar's Place, Paul Maggiora's Fior d'Italia, Alex Cardini's Alex's Place (sometimes just called Alex Cafe), and Alex Cardini and Johnnie Montepagano's Alex John Bar. Too many cooks in the kitchen? The common threads in these short-lived partnerships were frequent Tijuana fires, and the Cardini brothers.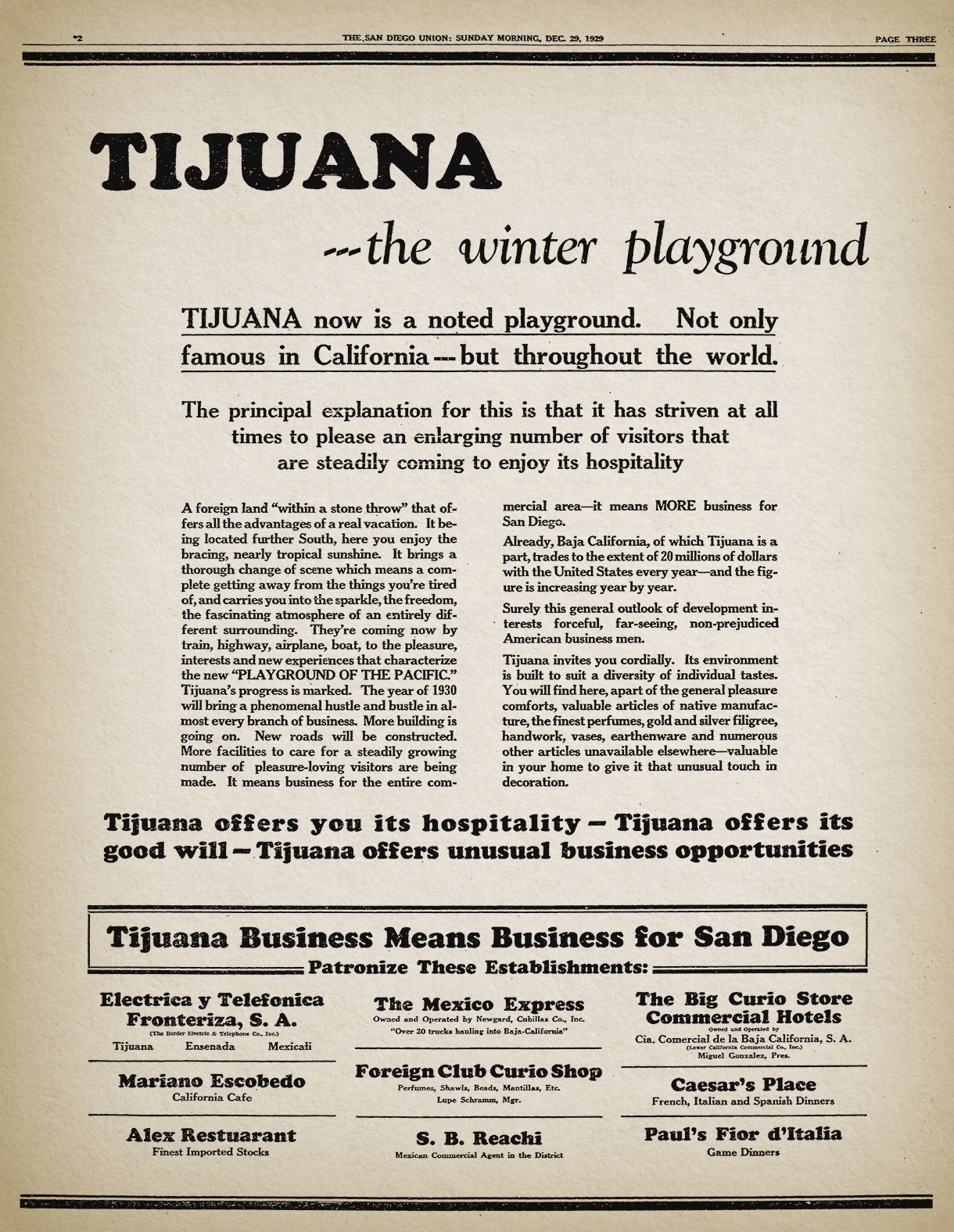 Caesar's Place
Cardini's restaurant, known as Caesar's Place, was behind The Foreign Club in Callejón del Travieso ('Alley of the Wicked'). He and maybe his brother Alex (if they were partners at the time) had this place from about 1923. Its is here, if you believe the Caesar version, where his salad was born on the busy Independence Day weekend in July 1924. Caesar's version of the story goes that some folks came in late and wanted to eat, so he whipped up the salad on the spot with some leftover cos lettuce (Romaine) usually used for soup. In classical French cooking, several cream soups call for lettuce — Créme Chiosy, Créme de Laitue. The classical French recipe Salade Niçoise uses anchovies. Hearts of Romaine salad was also very popular way into the 1950s. Alex's grand-daughter Carla Cardini's version of the story says that the two brothers had competing restaurants in Tijuana, but when Alex's burned down, he went to work at Caesar's, and there introduced the salad as the Aviators' Salad.
An Italian immigrant that was employed by Caesar, Livio Santini (1906-1995), claimed to have brought his mother Beatriz's salad recipe to the attention of the Cardinis. Santini was born in the comune of Dro, province of Trentino, Northern Italy and like the Cardinis, came to México for restaurant work. He may have worked at Caesar and Alex's first place around 1923-1927. The story circulated by Caesar's Restaurant today is that Santini was Caesar's chef and came up with the first Aviators' Salad in 1924 (at that time though, chances are Alex was the chef/partner). Some stories place Santini at Hotel Caesar and date the invention around 1930. In any event, 1928 Santini was listed as a partner in the California Restaurant and Bar in Tijuana. By 1936 he had his own place called Santini's Cafe with first wife Maria Marquez Santini. He also worked for the Hotel del Coronado.
Another northern Italian compatriot who either partnered or worked with Caesar at this time was Pietro 'Peter' Frigerio (1897-1971) who 20 years later claimed to have popularized Caesar's Salad in New York and Los Angeles. Frigerio was a waiter for years at a string of restaurants until he became captain at chef Henri Charpentier's in Los Angeles.
After that Caesar moved to Second Street where he kicked it up a notch with live music and entertainment until the Tijuana fire of 22 Sep 1926. His place was next door to the Monterrey Bar and Hotel Americano. The hotel was originally planned as a grand, four-story concrete and steel facility in 1924 by a Los Angeles syndicate known as the American Hotel Company. At the end of the diagonal entry road into Tijuana city proper, the developers even planned a rooftop beer garden. It didn't pan out as planned. They may have gone bankrupt, or the place burned. In either event, a scaled-down version of the American Hotel was built on the corner of Second and B Streets.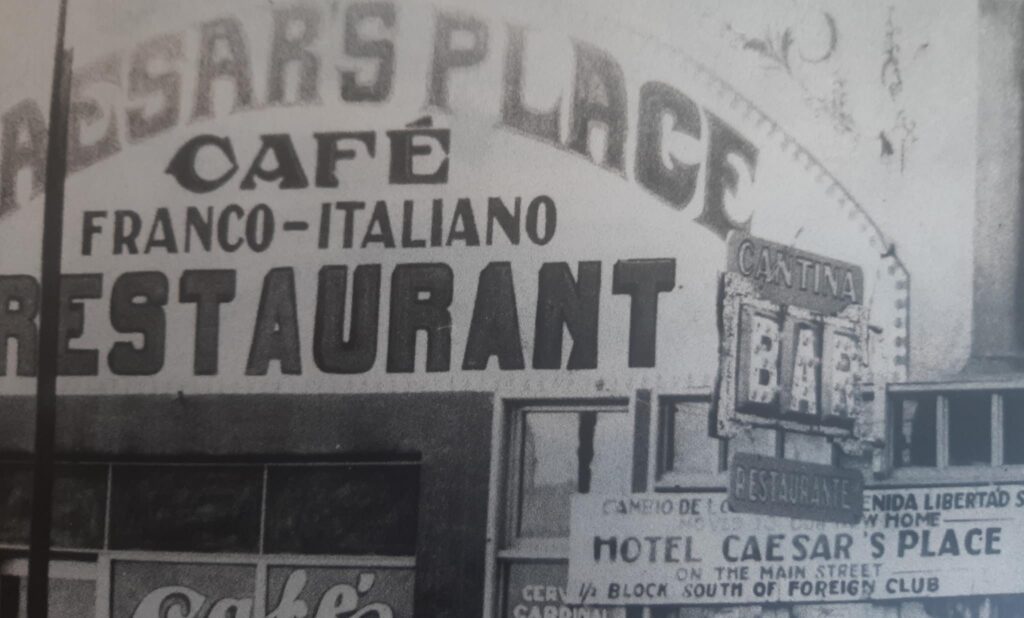 Coincidentally, this was also the time of a rash of marriages among the Italians. Caesar married in 1924. Alex Cardini, Paul Maggiora, and Peter Frigerio all married in 1925.
Pianist Wilber Lee Stump came from a musical family in San Diego. He and his siblings all played. His sister Camille D Stump was a musician at a fancy department store downtown. Wilbur's band Stump's Five performed at venues in San Diego and Tijuana. (Later, in San Francisco Wilbur would become known as the originator of the piano bar.) With all its bars and casinos, Tijuana was a very profitable market for musicians. Somewhere along the way, Caesar met Camille. In 1924, they married in Santa Ana. While his businesses were in Tijuana where gambling, drinking and dancing were not only allowed, but encouraged, the Cardinis maintained their homes over the border. First in San Diego, then later in Chula Vista near the San Diego Country Club.
Throughout Caesar's career as a restaurateur, Camille was the one who booked their musical acts and managed the restaurants. Businesses in San Diego were in her name, as Caesar had not been naturalized as an American citizen. Indeed, he waited until 1948 to file. Whatever shortcomings he may have had in business sense, the six-foot, blue-eyed Caesar made up for by playing the amicable host. Always impeccably dressed. Ready to take care of your every need. And, always promoting his place and himself.
In about 1925-26, a Pasadena realty investor named John McWilliams Jr visited Tijuana with his family where they dined at Caesar's Place. 'My parents, of course, ordered the salad,' their daughter remembered many years later in her cookbook, From Julia Child's Kitchen. 'Caesar himself rolled the big cart up to the table, tossed the romaine in a great wooden bowl, and I wish I could say I remembered his every move, but I don't. They only thing I see again clearly is the eggs. I can see him break 2 eggs over that romaine and roll them in, the greens going all creamy as the eggs flowed over them. Two eggs in a salad? Two one-minute coddled eggs? And garlic-flavored croutons, and grated Parmesan cheese? It was a sensation of a salad from coast to coast…'
When radio station AMB Tijuana began broadcasting in September 1926, Caesar was one of the first to participate in remote broadcasts — fifteen minutes live from the Caesar's Place orchestra. Others were Victor de Lu's Vick's Place, Paul Della Maggiora's Fior d'Italia, and Detroit mobster Anthony 'Papa Tony' Mirabile's Midnight Follies — all Italians who'd set up shop in Tijuana. Just a hop, skip and a step across the border…
Then the fire hit, and everyone had to rebuild again. Including the just-established radio station.
By 1927 Caesar helped develop the Domino Hotel next door his old place on Second Street [Calle Benito Juárez] with developer Maximo Giuseppi 'Max' Pozzo (1876-1929). Max was a well-known builder in the Tijuana/Mexicali/Ensenada area. Here Caesar's Place flourished until his future was once more cast in doubt by Pozzo's death in February 1929.
Hotel Comercial and Fior d'Italia
Miguel Gonzales of the Compania Comercial de la Baja California, SA ('Lower California Commercial Company') built the first of his Hotel Comercials in Ensenada. His father-in-law, San Diego business leader George Ibs, owned land in Tijuana's business district. Through his company, Miguel operated the family hotels, curio stores and bars (Mexicali Brewing Company, La Ballena long bar). His Big Curio Store built in 1887 was at one time the oldest building downtown — until it burned down.
Gonzales borrowed liberally from the success of San Francisco's famous Italian restaurant Fior d'Italia ('Flower of Italy') — he opened a restaurant of the same name in his new Ensenada hotel. Many like-minded Italians did the same, for example Carlo Pastore opened his version in San Diego. Fior d'Italia Ensenada was run by Italian Salvado Carlotti and Frenchman Eugenio T. Fabre, until they ended their tempestuous partnership with a deadly encounter at the Ben Hur bar in Tijuana.
Gonzales lost his Big Curio Store in the Tijuana fire of 22 Sep 1926 and quickly planned to build a new hotel on the northwest corner of Second and Main (now, Calle Benito Juárez and Avenida Revolución). It incorporated the curio store on street-level retail space. Hotel Comercial was first proposed and designed by Hanssen and Swearingen Architects of San Diego. It was to be a three-story, fire-proof cement and brick structure. Ultimately, only the bottom floor of their design would be built — as the Big Curio Store. The building still stands as an HSBC Bank.
In January of 1927 Miguel's wife Eliza Ibs Gonzales died from complications due to surgery. He dedicated the hotel building project to her memory. In the early morning of 29 July 1927, another fire raged through Tijuana and razed many businesses on Ibs-Gonzales land.
The hotel project was awarded to San Diego architect Frank M Stevenson (Hotel Comercial Ensenada, Colonial Hotel La Jolla). Stevenson was just finishing up a remodel on The Foreign Club, one block down the street. Hotel Comercial was built on the southeast corner mimicking the top floors of Hanssen and Swearingen's original design. He featured brickwork similar to the new Pickwick Hotel (now the Sofia) in San Diego. Talk about a busy intersection!
Gonzales wanted a restaurant on the ground floor of his new Comercial, just like at his Ensenada location. Preferably with less-murdery tenants. Paul Della Maggiora moved his Fior d'Italia to the new building and built up quite a clientele.
Paul and Alex's
When Alex Cardini came on as Paul Maggiora's partner, they became celebrities in their own right. Guests associated the place with its lively hosts and simply called the restaurant Paul and Alex's Place.
Its moody hunting lodge interiors were designed by La Jolla architect Edgar Vaughn Ullrich (Casa de Mañana Hotel, La Jolla). The restaurant centered around a large fireplace and dance floor, like Maggiora's previous gig at Ye Alpine Tavern. It had hewn wood beams, dark wood bar, rustic plastered walls. Lombardy coats of arms adorned the arches and booths. They served fine Piedmontese Italian food and wild game. And it had a famous wine cellar, extensive enough to 'bring scalding tears to the eyes of a crusader.' Live jazz band music. Their place was reviewed as 'the best among many good restaurants in town.'
Writer Edson Waite paid a visit and reported it was 'a charming place, mighty comfortable, homey and beautiful — a most difficult combination to achieve. I know of no other restaurant quite like it.'
Paul prepared his signature duck a la presse and crepes suzette from a rolling cart. It was his thing. He would later own a place in Los Angeles called Paul's Duck Press where you could bring in game from your hunting trips and he'd cook it for you in grand style…
'Possessed of a fine singing voice, Alex' it was written of Cardini while serving guests, 'might break out with a famous operatic aria, "Vesti La Guibba" from Pagliacci or "La Donna è Mobile" from Rigoletto…'
It became 'a gathering place for the great and near-great from all over the world…' effusively continued Waite in a contemporaneous review, 'statesmen, millionaire sportsmen, famous cowmen, old time sheriffs, mining men, oil men, writers, moving picture stars from Hollywood, opera singers and Broadway stage stars and men known all over for their standing in the law, in merchandising and manufacturing.' No wonder Paul and Alex's place attracted celebrities such as James Cagney, WC Fields, Clark Gable and Rudolph Valentino. Aviator Billy Mitchell. Dancers Eduardo and Rita Cansino (the latter would, in just a few years, be rebranded as Rita Hayworth.) It was the place at which to dine, dance and be seen. The restaurateurs were immersed in the local community — Alex promoted boxing events and Paul went flying and sheep hunting with Wallace Beery in the Baja mountains.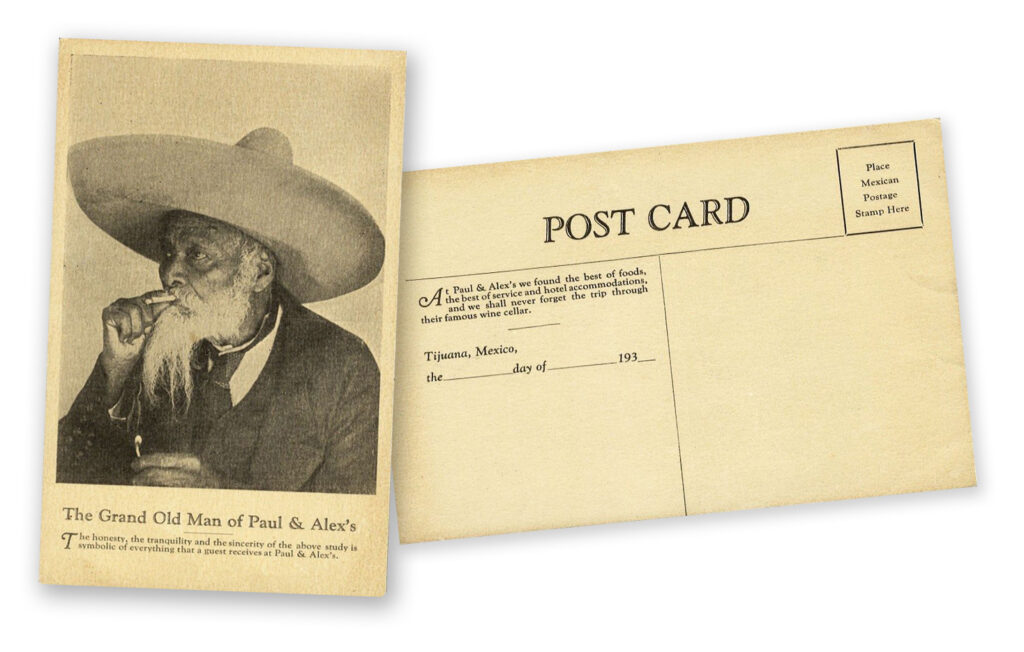 Hotel Caesar's Place
At 37 years old, Caesar was ready to open his own hotel — probably a dream he'd had since he was a kid in Canada. He'd been in the hospitality industry for over twenty years. 'He knew how…'
A safe hotel, fire-proof. Where Tijuana tourists could ignore the 6pm border closures and stay the night. It had to have a first-class restaurant like at the Palace Hotel, with the best of food, imported wines from the mother country, and entertainment. Caesar went into business with past co-worker Joe Ferraris and developer Clement Monaco.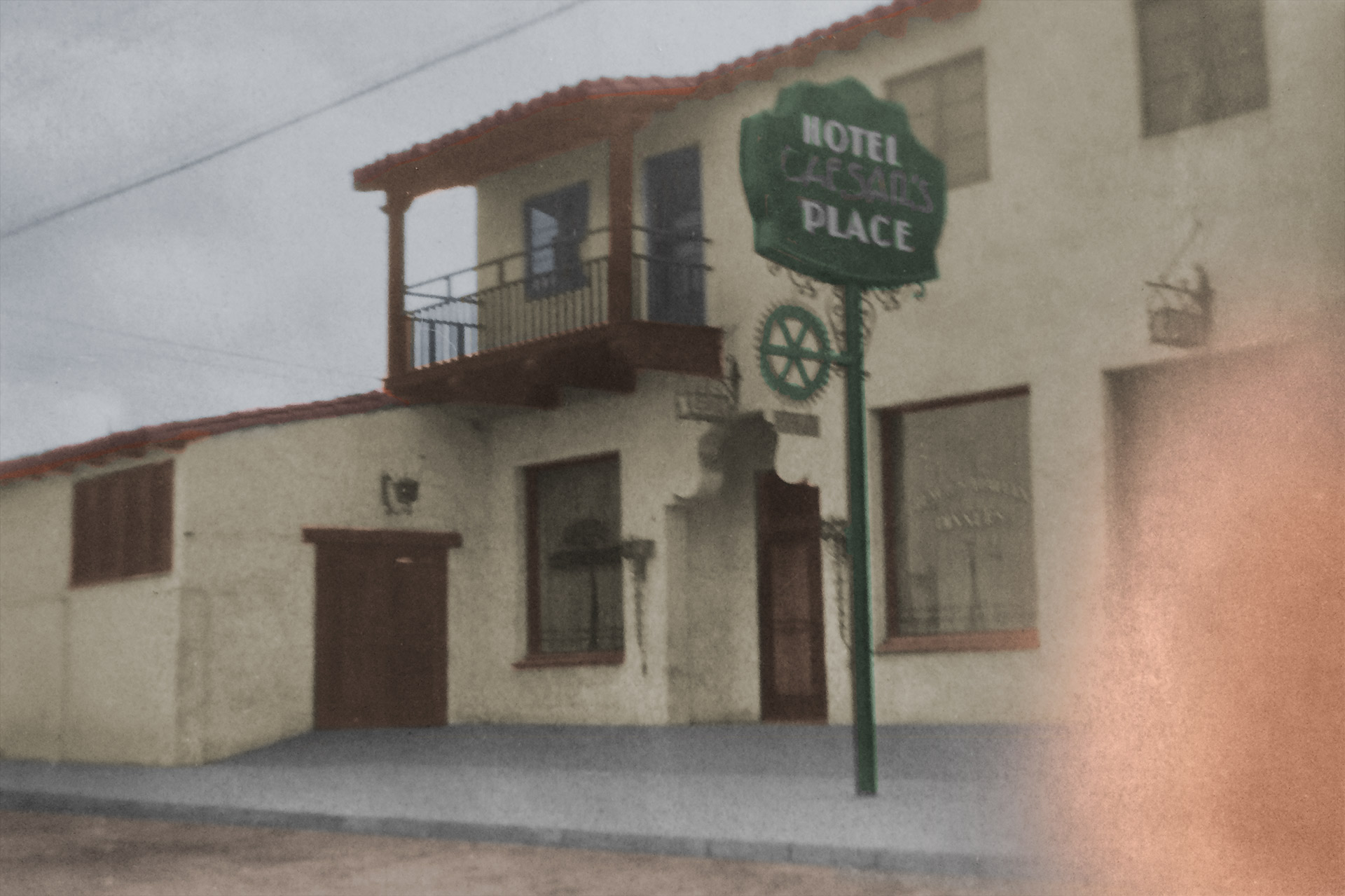 Caesar's was — and still is — primarily an Italian restaurant, more Continental than Mexican. While the Cardini brothers came from classic French cooking backgrounds in Europe and San Francisco, their food was influenced by their Piedmont roots and regional Mexican traditions. Alex cooked in Mexico for decades. Cuisine that favored strong flavors, garlic, cheeses, spices, seafood, wild game. Their's was the original Baja-Med.
In June 1933 Alex Cardini left the Paul and Alex's partnership to help his brother enlarge Hotel Caesar's Place. Paul Maggiora assumed management of the Hotel Comercial in addition to just the restaurant — it was for a short time known as the Fior d'Italia Hotel.
But by August, Maggiora relinquished the Fior d'Italia back to Miguel Gonzales, maitre d'hotel Jean Dulut and chef Angelo Serena. He went back home and started up a swanky dine-dance nightclub on the Plaza in San Diego with 'an Italian,' cooking enthusiast Genell Styliano. She was reported to be 'San Diego's first feminine dining-dancing maestro…'
By the 1940s, Paul Maggiora had opened his Paul's Duck Press on Olympic Blvd in Los Angeles. Like his old place, this new restaurant catered to wild game lovers and Hollywood stars. His specialty of the house was wild duck a la presse, but he served other continental fare such as abalone stuffed with crab meat, scallops and shrimp, venison marinated in red wine, and littleneck clam risotto, not to mention Romaine a la Paul – his version of Caesar's salad. After a time, he —like many — began taking credit for its invention.
Original Caesar's Place
Prior to the opening of San Diego's 1935 California Pacific International Exposition (and its eagerly anticipated crowd of tourists) Cardini split with Hotel Caesar's Place partners Joe Ferraris and Clement Monaco. Cardini then set up shop with his brothers Alex, Nero and Gaudenzio up the street in Hotel Comercial with his Original Caesar's Place. They remodeled the old Paul and Alex's, added murals by Mexican artists, even renamed the Comercial to Hotel Caesar.
Saturday nights were made for fights. Saturday 27 Oct 1934 was formal opening of the Cardini brothers' own Original Caesar's Place hotel and restaurant in the Hotel Comercial …and the formal opening for Club Styliano in San Diego, run by Alex's ex-partner Paul Maggiora.
Now there were two Caesar's in Tijuana, but the Cardinis' place next to Mexicali Beer's 'La Ballena' long bar, with its large welcoming signs, was the first tourists would encounter. Caesar was known for his nightly floorshows, and he took all the artists and acts with him to his new place. Entertainment all night in the Fiesta Dining Room, wine cellar, fine Italian and Mexican food, duck a la presse, wild game, and of course Caesar's tableside salad. Lunches for 75 cents included wine. One-dollar dinners included cocktails. They made a killing on booze in their giftshops, imported directly by Caesar. Nightly fiestas featured the music of Otilio Rivera's dance band, coloratura soprano Armandita Chirot, Mexico City Opera's tenor Jose de Arratia, baritone Jose Mercado, Carla Montel's fire dance, classic dancer June Brooks, Pierre White and many more. They staged performances of Giuseppi Verdi's opera Rigoletto, charging a dollar a head.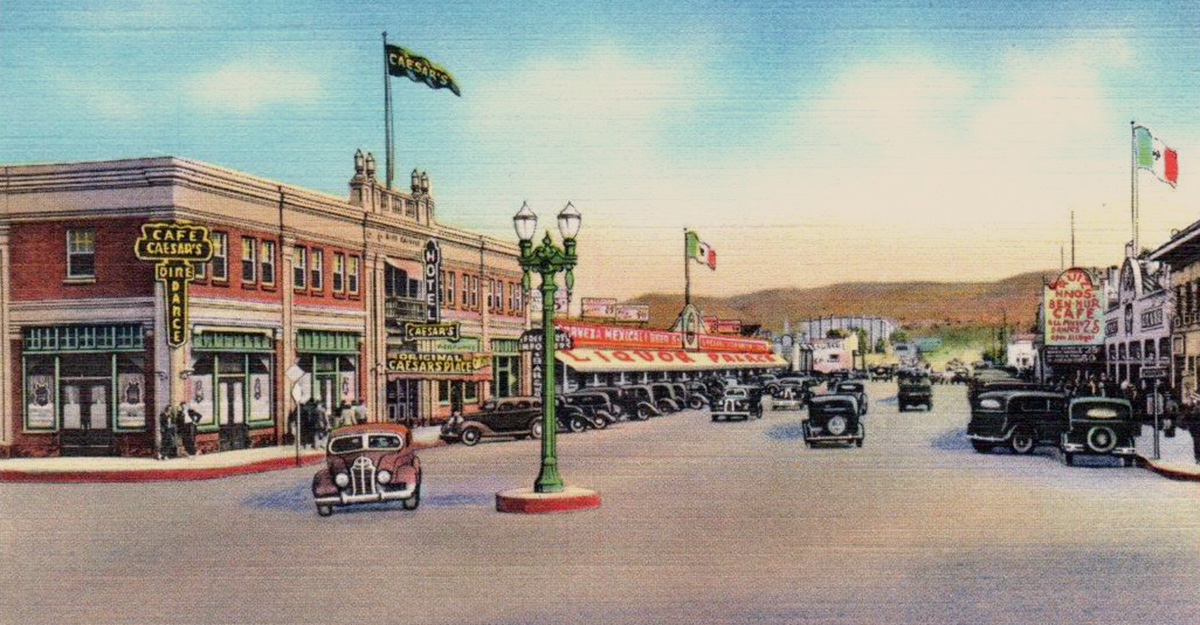 For twelve wild years down in the devil's playground, Caesar and Alex had flamboyantly catered to the whims of Hollywood royalty, sports stars, mobsters and politicians. In August of 1933, a friendship with Mexican President Abelardo Rodriguez enabled Alex to take an offer he couldn't refuse – establish and run foodservice program for Hotel Garci-Crespo (later, called Hotel Piñafiel) in Tehuacán.
Alex met with Rodriguez and toured the newly built health resort. He took the job, flew back to San Diego, arranged for furniture and decorations to be sent to the hotel, and even opened a sales and promotion office.
'Tehuacán is regal,' Alex boasted in the papers. 'It has been developed personally by President Rodriguez, who believes nowhere in the world can the magnificence of the 17-mile-square health and vista paradise be equalled. The curative waters flow through caves and grottos in an area that is replete with game and fish. The structural embellishments of both houses, pools, nine-hole golf course and the modern bungalows only await the installation of the furniture and drapery. I will return to Tehuacán soon, leaving unfinished business here in the hands of my brother, Caesar, who is the head of our Tijuana hotel and cafe.'
In 1935 Alex returned to work with Caesar, Nero and Gaudenzio in Tijuana. The reunion, however, was brief. The brothers had a falling out, most probably because of the Tehuacán project. Alex left the partnership for this new venture, where he would remain for fourteen years.
With the Mexican government outlawing gambling, the end of Prohibition, and newly legalized horseracing in the US, tourism came to a screeching halt in Tijuana. By 1936, Caesar quit his businesses in Tijuana, and naturally thought of Hollywood for his next venture. It never materialized. San Diego boosters convinced him to move back to San Diego and open Caesar Cardini Cafe at Front and B Streets downtown ('Lobster Thermidor as only Caesar knows how to prepare'). It lasted less than a year, and closed when the mob threatened his musicians and their families. His Caesar's restaurants in Tijuana continued on (using his name) under different ownership — Clement Monaco and Joe Ferraris ran newspaper ads reiterating that Hotel Caesar was still open for business.
After his San Diego cafe closed, Caesar immediately went into a succession of partnerships to run the popular Tavern Hacienda (with Gaudenzio Cardini) at University and 47th, and Beacon Inn in Cardiff. The Tavern Hacienda deal went sour when their landlord turned off the electricity for failure to pay rent.
In 1938, he opened up his large home in Chula Vista for private functions — Caesar Cardini Villa — serving 50¢ meals.
By the next year, Caesar had given up on San Diego and moved his family north to Los Angeles, becoming proprietor of a Montclair liquor import business and store. Camille managed the apartment complex adjoining their store. Gaudenzio Cardini joined them, waiting tables in L.A.
Nero Cardini stayed in San Diego. His family lived by a local cemetery on Imperial Avenue, where got a job at Southern California Granite as a stonecutter. The company was owned by Dan Rossi, whose family — like the Cardinis — hailed from nearby Stresa, Italy.
Caesar bottled an adapted recipe of his salad dressing (he added pear vinegar), and as recollected by his daughter Rosa, and sold it from the back of their station wagon at farmers markets.
Caesar ultimately ended up with his own gourmet store on La Cienega Blvd, Caesar Cardini Foods. Old patrons who remembered him from the 'salad days' visited Cardini. Some even brought empty bottles for refills of his dressing. When interviewed in 1952 by Aline Mosby, he sounded bitter about the fame his salad earned, and how many of his past partners and employees were taking credit for its invention.
'Pat Di Cicco says he invented it … Paul's Duck Press restaurant say they started it … some head waiter claims the same … everybody but me.' He never mentioned his brother Alex.
Caesar credited regular customer and screenwriter Manny Wolfe for popularizing the salad in Los Angeles. Wolfe made the salad at The House of Murphy restaurant for manager Pat Di Cicco, who claimed it as his own. Wolfe also took the recipe to Chasen's and the Brown Derby, who properly named it 'Caesar's Salad.' The Cardinis' ex-partner Paul Maggiora called it 'Romaine a la Paul' on his menus. Caesar's ex-partner Peter Frigerio, head waiter at Henri Charpentier's in Los Angeles, claimed he invented the salad. Ex-employee Livio Santini claimed he invented the salad and Caesar stole the recipe. In 1960, humorist George Leonard Herter dubiously named Italian-American chef Giacomo Junia as the originator in Chicago around 1903.
Caesar Cardini died in 1954. His daughter Rosa trademarked the name, and eventually grew the salad dressing business into a multi-million dollar concern. She heavily publicized Caesar's version of the story, which – through constant repetition in the press – become canon.
Her home-kitchen version of the salad was promoted after the commercialization of Caesar's bottled dressing – and used chopped lettuce. The salad served at Caesar's today is mixed in the bowl first, and whole romaine hearts tossed in last. Original descriptions tend to favor Alex's recipe, wherein lettuce is added first and dressing ingredients are drizzled over, then tossed. Details, details, I know…
After his stint in Tehuacán, Alex ran the restaurant at Hotel Palacio Tropical in Acapulco. In May of 1954, he returned to Tijuana to run the New Jai Alai Cafe in the Fronton Palacio. 'Featuring the finest French, Italian, Mexican and American Cuisine,' read the ads. And as always was included, his signature dish 'wild game in season.' In 1967, Alex was featured in a popular ad campaign when Braniff Airlines hired celebrity chef-ambassadors to overhaul their inflight foodservice program. Ever busy, he remained in México, ultimately running several continental restaurants of his own in Mexico City. His son Alex Cardini II continued on, as does today his grandson Alex Cesár Cardini III, at Restaurante New Orleans in Mexico City.
During the seventies and eighties, the restaurant was owned by the Miramontes family, Raoul Miramontes manager. It closed for several years during the 1990s.
Today, Caesar's Tijuana is run by Grupo Plascencia in the original Hotel Caesar. The old Hotel Comercial location for many years hosted The Tropics bar, and is now a pharmacy and shops.
Caesar's Place (c1923)
Near 2nd and B Streets
Callejón del Travieso
Tijuana, BC Mexico 22000
Caesar's Place (c1926-27)
Near Hotel Americano / Domino
8121 Calle Benito Juárez 2nda
Tijuana, BC, México 22000
Hotel Caesar's Place (c1927-1934)
1059 Avenida Revolución
Tijuana, BC, México 22000
Original Caesar's Place (1934-1936)
Hotel Comercial
804 Avenida Revolución
Tijuana, BC, México 22000
Caesar's Restaurant
Hotel Caesar (1934-✔)
1059 Avenida Revolución
Tijuana, BC, México 22000
Restaurante New Orleans
Alex Cardini III (1972-✔)
1655 Avenida Revolución
San Ángel, Mexico City, México 01000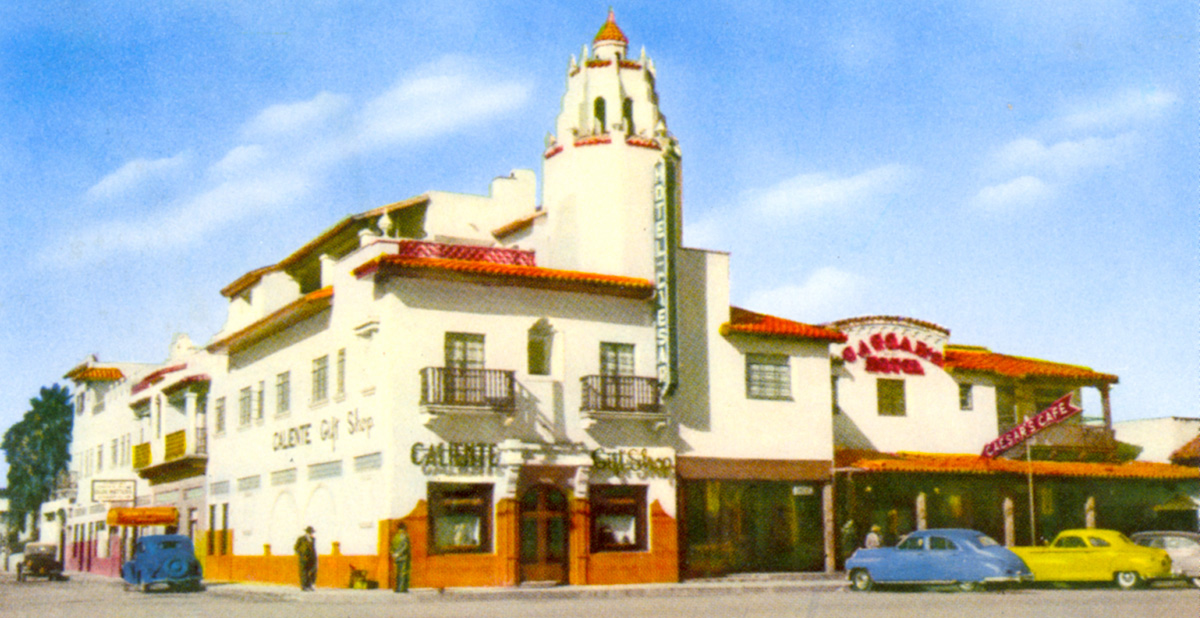 Notes
Citation: Martin S. Lindsay. 'Caesar's Restaurant, Tijuana.' Classic San Diego: tasty bites from the history of America's finest city. Web. < https://classicsandiego.com/restaurants/caesars-restaurant-tijuana/ >
Photos of Caesar Cardini, Paul Maggiora, Alex Cardini, interior of Tivoli Saloon, Hotel Caesar's Place and Paul and Alex's are from San Diego History Center, and used with permission.
"Alex and Caesar's" and "named it after Caesar" In Aline Mosby's syndicated 1952 interview with Caesar Cardini, she writes that Caesar invented the salad at his restaurant, Caesar's Place, in 1923. Aline Mosby, 'Caesar Salad originator claims his right,' San Luis Obispo Telegram-Tribune, 21 Jun 1952; 'Caesar says recipe stolen: Italian grocer claims he originated favorite salad,' Baton Rouge Sun Times, 26 Jun 1952. In later interviews after Caesar's death, Alex stated the salad was invented at the brothers' [first] restaurant, Alex and Caesar's. Alex's son Alex Jr relates the same story in a 1960 interview, stating the original was named the Aviator's Salad. 'Mexican chef refutes propaganda,' 1960; Carl Harris, 'Mexican eatery image of indignation,' Dallas Morning News, 16 Jun 1964; Annette Ashlock, 'Alex Cardini's Caesar Salad,' Chicago Tribune, 27 Oct 1967. This is likely more accurate than other stories. After arriving in Tijuana, the two brothers would have teamed up in their first joint-venture. Other than mentions in these interviews, solid evidence of Alex and Caesar's has yet to be found by this author. In 1964, San Diego journalist Frank Rhoades confirmed that Alex Cardini was the salad's inventor in several stories about his longtime friend. Frank Rhoades, daily column, San Diego Union, 26 May 1964, 27 May 1964, 28 May 1964.
"went their separate ways" comes from correspondence and telephone interviews with Alex Cesár Cardini III, Ciudad de México, México.
"$1000-dollar reward" comes from Annette Ashlock's 1967 interview with Alex Cardini, wherein she writes the salad was invented in 1927. Although the information was coming from Alex Cardini, other facts from the article have found to be accurate. Annette Ashlock, 'Alex Cardini's Caesar Salad,' Chicago Tribune, 27 Oct 1967.
"now they include Livio Santini" Menus at Caesar's Restaurante in Tijuana used to give credit to both Caesar and Alex, but recently local favorite Livio Santini was added.
"Terry Greenfield" The most comprehensive research so far undertaken is by Terry D Greenfield. In search of Caesar: The ultimate Caesar salad book. Alexander Books, 1996.
"Abelardo Cesare 'Caesar' Cardini" comes from his official birth record, in Baveno (Novara) Ufficio dello stato civile, Registri dello stati civile di Baveno (Novara), 1866-1899, Salt Lake City, Utah: Filmati dalla Genealogical Society of Utah, 1993, Register Book 1896, record number 10.
"Nereo Cardini" was recorded as 'Nerio' in his official birth record but as an adult he went by 'Nereo,' and to friends and family was 'Nero,' ibid, Register Book 1890, record number 12; Rossi family correspondence to the author, 5 Jan 2018.
"Gaudenzio Cardini" ibid, Register Book 1898, record number 10.
"Alessandro Cardini" ibid, Register Book 1899, record number 71.
"escaped that future with a friend" Cesare Cardini and Carlo Orlandi entries, RMS Olympic Passenger Manifest, 1 May 1913, page 51, lines 27-28; in Canadian Passenger Lists, 1865-1935 [database on-line], Provo, Utah: Ancestry, 2010.
"Barre, Vermont" for a full history of Barre, Vermont, see Bar Granite Association, 'Historical timeline,' web, barregranite.org.
"silicosis" Deaths in Barre due to 'pulmonary tuberculosis' skyrocketed in 1896, and increased every year thereafter. This was due to the invention and adoption of pneumatic drills and saws which permeated the air with silica dust. Stonecutter's Lung is now known as silicosis. It not only killed granite shed workers, but affected the health of their families, wives and children. Frederick Ludwig Hoffman, The problem of dust phthisis in the granite-stone industry, Washington, DC: US Government Printing Office, 1922.
"Spanish Influenza pandemic" Elizabeth Brainerd and Mark V Siegler, The Economic Effects of the 1918 Influenza Epidemic, Center for Economic Policy Research, 2003; Thomas A Garrett,Economic Effects of the 1918 Influenza Pandemic: Implications for a Modern-day Pandemic, Saint Louis, Missouri: Federal Reserve Bank of Saint Louis, 2007.
"New Palace Hotel" Bruce C Cooper. 'The Palace Hotel (New) 1909.' A brief history of the Palace Hotel of San Francisco. Web. < http://thepalacehotel.org/ >
"surviving hotel records" Brown, Cardini and Ferraris were indeed employed at the Palace Hotel, as discovered in 'Employee time sheets, Vol 15: 1919-1922,' Palace Hotel Records (BANC MSS 2006/103), Bancroft Library, UC Berkeley. Thanks for the digging, Alexandra!
"amusement centers" Under the thumbscrews of Prohibitionists and conservative news outlets, writers adopted euphemisms for anything untoward. House of prostitution and nightclubs offering gambling were 'amusement centers.' Bars were 'buffets.' Advertising of these things was forbidden — unless it was for a place over the border…
"Menotti's Buffet" comes from George Czarnecki, 'History of the Townhouse Bar,' Westland Traveler, 2011. westlandtraveler.com/ca/venice/townhouse/
"Possessed of a fine singing voice" is from Paul J Vanderwood, Juan Soldado: Rapist, Murderer, Martyr, Saint, Duke University Press, 2004.
"Paul and Alex's Place" ibid, Vanderwood.
"known for," "bring tears to," and "great and near-great" all come from an article by Edson R Waite, 'Did you ever stop and think,' Greenfield Daily Reporter, and Edinburg Daily Courier, 11 Jan 1932.
"maintained a home" Cardini's sprawling Spanish style home, designated Chula Vista historical site number 75, is now a private residence.
"Original Recipe" Joe Gandelman, 'Caesar salad – was its creation a lucky accident?' San Diego Union, 6 Dec 1986; Terry D Greenfield, In search of Caesar: The ultimate Caesar salad book, Alexander, NC: Alexander Books, 1995; "Rosa Cardini; Daughter of the inventor of Caesar Salad who popularised 'America's greatest contribution to world cuisine,'" London Daily Telegraph, 22 Sep 2003.
"Giacomo Junia" comes from lazy LA Times writing. For Rosa Cardini's 2003 obit, they looked it up in Webster's. Which got it from either a 1991 Dallas Morning News article by Waltrina Stovall, or from David Pursglove's 1982 Washington Times article called 'The Origin of the Caesar Salad.' In it he quotes a humorous 1960 book by George Leonard Herter, Bull Cook and Authentic Historical Recipes and Practices. It is parody at its finest! And mostly all fiction. There are a few good recipes, but — the part about 'Dago Joe' Junia doesn't hold up at all under any scrutiny or research. There are no pre-1982 references to an Italian-American 'Giacomo Junia,' 'Jack Junia' or 'Joe Junia' in any newspaper databases online, nor in the 1900, 1903 or 1904 Chicago City Directories, nor in the Federal censuses for 1910 & 1920. Except for one Polish-American machinist named Joe Junia born in 1902. There are no references nor online genealogical family tree links for him either. There are no references or mentions of a 'New York Cafe' in Chicago City Directories for 1903 or 1904. Compare that to the thousands of references for Caesar and Alex Cardini. And to top it off, Herter was also the author of the book Living with a Bitch.