In 1958, director Billy Wilder and crew came down from Hollywood to the Hotel del Coronado to shoot exteriors for his film Some Like It Hot. The comedy showcased the talents of Tony Curtis, Jack Lemmon, Marilyn Monroe, George Raft and Joe E. Brown.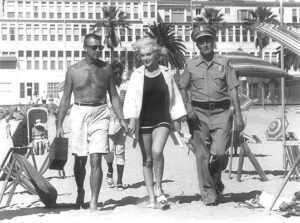 While filming, they all stayed in the grand old Victorian hotel, which proved to be 'the perfect backdrop' for the film's 1929 setting. Marilyn was visited by her husband Joe DiMaggio, who took care of the ailing star – she was depressed, late on set daily, pregnant at the time, and at one point had to be hospitalized.
The troubled production nevertheless drew crowds of onlookers, fans and autograph seekers.
Whomever it was to catch the stars while eating breakfast, they certainly scored with this menu from the hotel, signed by Marilyn Monroe, Joe E Brown, Tony Curtis and Janet Leigh.