Happy Days Are Here Again!
On the northeast side of the U.S. Grant in downtown San Diego, there is today a multi-level parking structure for hotel guests. Prior to 1970 on that spot, there was an smaller parking structure which also housed the U.S. Grant's
Rendezvous, the Wonder Bar.
Established by the hotel's then-owner, Baron Long, the Wonder Bar opened in 1933 just after the Cullen–Harrison Act was signed into law by President Roosevelt, legalizing beer and wine with a low alcohol content (3.2% by weight). He brought from the Caliente Casino old friend and Irish tenor Willie Nelson as manager. Colonel Nelson, as he was known, had been a vaudevillian performer, and was friends with many old entertainers and sports figures. He daily held court at the Grant, and bought to The Rendezvous a certain genteel authenticity and air of savoir-faire. He was a dandy, often changing outfits twice a day. It was rumored he owned more than a hundred suits. And since the confirmed bachelor lived upstairs in the Grant, a quick-change was easy-peasy!
The Rendezvous Wonder Bar opened 7 April 1933 with an authentic German Oompa band blaring out front and crowds waiting to get their fair share. It was one of the first in San Diego to legally serve 'giant' 12-ounce glasses of ice cold beer to the city's thirsty residents and travelers (at 10 cents each).
The prohibition of hard liquor was repealed on 5 December 1933, when the ratification of the Twenty-first Amendment repealed the Eighteenth Amendment.
Built at a cost of $10,000, the place catered to everyone. The cafe served seven-minute lunches for those in a hurry. The soda fountain served Fenn's ice cream. A counter for the men served beer. Tables and booths for the ladies. And buttermilk for the embittered temperance crowd.
Later, it became simply The New Rendezvous, a 24-hour cafe. The cocktail bar was moved to the back and partitioned off as The Rendezvous Room Lounge. They offered daily specials like corned beef and cabbage, pork chops 'dude ranch style,' stuffed bell peppers, turkey pies, stuffed halibut and chicken a la king. Hamburgers, cheeseburgers. Ice cream parfaits, banana splits and malts. Their chili con carne was pretty darned popular too. But their claim to fame was their Hamburger Size.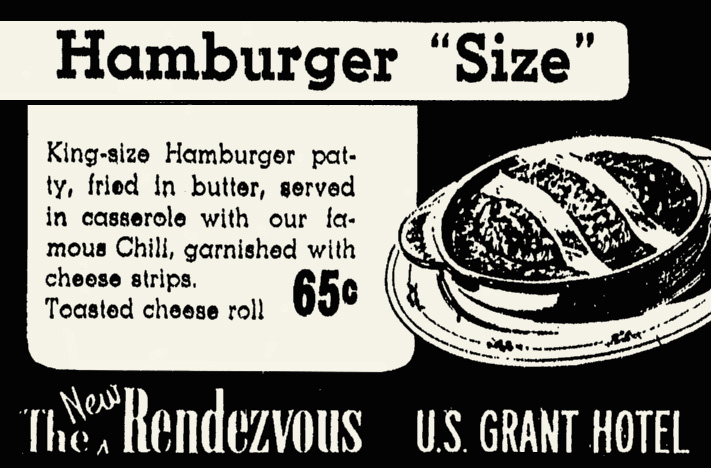 'Hamburger Size,' is a classic cafe recipe — large hamburger patty made with minced onions, grilled in butter, on a bed of the Grant's chili, topped with strips of melted cheddar, and served with a toasted cheese roll.
This dish originated at Thomas M. DeForest's Los Angeles restaurant Ptomaine Tommy's in the 1920s and is named after the size of the ladle he used. When ordering chili alone, you received 'chili size.' When ordering with a hamburger, you got a smaller ladle, 'hamburger size.' It soon became a popular comfort food served primarily in cafes throughout the country. Today the recipe has evolved to our familiar chili burger.
By late 1950s, the Grant was a little tired out and the restaurant not too profitable. In 1960, the hotel's owner M Bud Fisher hired designer Al Goodman to head up some much-needed remodeling projects for the US Grant. The Rendezvous had a 28-year run, but it was now time to change it up…
Tiki, Tiki, Tiki!
As part of a $1.5 million project, tired-old Rendezvous Room bar at the back of the building was transformed into The Tahitian Room, replete with 'authentic' Polynesian furnishings, a large Gaugin reproduction, and wooden 'South Seas' sculptures by San Diego artist Jim Casey. He also did work for Disneyland, Pacific Ocean Park and Aloha Jhoe's in Palm Springs. The remodel was designed to "catch the romantic ones in the 5 o'clock crowd."
"Exotic drinks, finger food, Oriental waitresses, and all that stuff…" reported newspaperman Frank Rhoades.
The Tahitian Room officially opened Monday, 8 Feb 1960, and for years served lunch, dinner, snacks and cocktails (with entertainment). The Rendezvous restaurant in front stayed in business until 1970, when both were closed. The building was replaced with a new parking structure.

The Rendezvous' Hamburger "Size"
Recipe for hamburger patty on chili with cheese, from The Rendevous Restaurant, U.S. Grant Hotel, San Diego, California, 1948.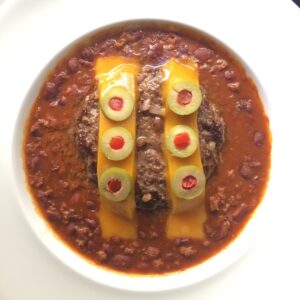 Hamburger Size
1/4 stick butter
1 lb ground beef
1/2 cup diced onion
1 can chili con carne
4 slices cheddar cheese
Directions
An easy one! Mix half of the diced onion with the ground beef, and form into two large patties. Salt and pepper to taste.
Heat up the chili in a medium saucepan.
Melt the butter in a hot skillet and fry the burgers. When done to your liking, remove and drain on paper towels.
Ladle the chili in two oven-safe bowls and top with the burgers. Put two slices cheese on top, and garnish with olive slices if you'd like. Heat in an oven or microwave until the cheese melts. (Optional: Top with the remaining diced onions.)
Makes 2 servings.