With its proximity to the crashing waves of the Pacific Ocean, The Marine Room restaurant has become a classic, well-loved landmark in San Diego County. Did you know its history starts way back in 1916?
It was established by Scotsman
Captain Peter McDowall Hannay
(1872-1943) as
The Spindrift Inn,
a four-bedroom roadside inn and restaurant overlooking Spindrift Beach, now La Jolla Shores. Hannay was a retired captain of the Scots Territorial Guard. He and his wife Margaret settled in 'La Jolla Vista,' establishing the Inn as a rendezvous for travelers, writers and stars visiting from Hollywood, and as a cultural and social center for locals. They were known for their chicken dinners and
very
local seafood — their lobster salad used
California spiny lobster
just 'a stone's throw' from the Inn!
In 1935, The Spindrift Inn was purchased by Frederick William Kellogg, who also bought the adjoining La Jolla Beach & Yacht Club – now the La Jolla Beach & Tennis Club.
Kellogg planned to change
The Spindrift Inn
into a restaurant, but died on a trans-Pacific cruise to Japan in 1940, before the remodel was completed. Instead, his son,
William Scripps "Bill" Kellogg,
resumed work and finally opened the restaurant under its new name, 'The Marine Room.' Its "soft" opening was on May 26, 1941, and preview dinners were held for La Jolla Beach and Tennis Club members, friends and family until the grand opening, May 29, 1941. The opening day menu featured
fresh lobster a la Newburg
in the shell for $1.35,
rainbow mountain trout sauté amandine
for $1.25, and martinis for 35 cents!
From 1940 until he retired in 1973, Bill Kellogg directed operations of La Jolla Beach & Tennis Club, the Sea Lodge Hotel, the Playa del Oro Apartments, the F. W. Kellogg Building, 20 championship tennis courts and The Marine Room restaurant. The properties are still held by the Kelloggs and run by fourth generation family members.
The Marine Room quickly became famous for pounding surf creating dramatic displays outside the original, single-pane windows. However, these windows were no match for the strong surf, so the room was boarded up during winter storms.
When the Spindrift Lounge was added in 1948, the original glass was replaced with thick tempered glass which much better withstood the ocean's constant assault. The restaurant was marketed as The New Marine Room.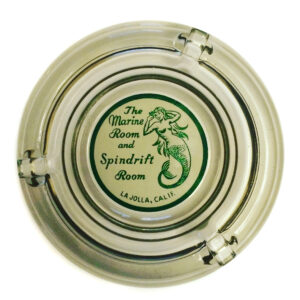 "The sparkling foam from crested waves, illuminated at night, dashes against plate glass windows with breath-taking effect."
"Cuisine of the 'New Marine Room' which is open for both luncheons and dinners, compares favorably with other world famous restaurants. A varied menu offers moderately priced full course dinners, or a la carte specialties designed to please the most exacting gourmet. Only the finest wines and liquors are served. No trip to La Jolla is complete without a visit to the 'New Marine Room.'"
A major series of storms hit San Diego during the El Niño conditions of 1982 and the waves broke their way in, flooding the The Marine Room. After a nine-month remodeling project the restaurant reopened.
Still operating today, The Marine Room is widely known for its wide ocean views, long heritage of fine dining, extensive wine selection, and of course, its famous high-tide brunches. Executive Chef Bernard Guillas, Chef de Cuisine Ron Oliver and their team have introduced a 'culinary renaissance featuring seasonal dishes mixed with the signature seafood bill-of-fare' for which the restaurant has become famous.
Recipe: Marine Room Lobster Bisque
Here is the recipe for Maine Lobster Bisque with Enoki Mushrooms and Apricot Brandy, by Executive Chef Bernard Guillas of The Marine Room, La Jolla, California. Chef Bernard's recipe calls for Maine lobster, but if not available you might use California spiny lobster. (Just don't let him catch you!) For more recipes by Chefs Bernard and Ron Oliver, see their cookbooks, Two Chefs, One Catch and Two Chefs, One Pan.
The Bisque
2 lobsters, 1 1/4 lbs each, steamed, chilled
1/4 cup olive oil
1/2 cup chopped celery
1/2 cup chopped white onion
1/2 cup chopped leek, white part only
2 tablespoons chopped garlic
1/4 cup apricot brandy
1 cup diced tomatoes
1/3 cup tomato paste
1/4 cup flour
1/2 cup white wine
4 sprigs fresh thyme
1 fresh bay leaf
1 quart vegetable stock
3/4 cup heavy cream
1 teaspoon lobster base
sea salt, to taste
pinch cayenne pepper
Remove shells from lobster. Cut tail meat into medallions. Reserve with claws. Coarsely chop lobster shells and head. Pour olive oil into large, heavy kettle. Brown celery, onion, and leek over high heat. Add lobster shells. Cook 5 minutes. Stirring constantly. Flambé with brandy. Add garlic, tomatoes, tomato paste, and flour. Cook 2 minutes mixing well. Add wine, thyme, bay leaf and vegetable stock. Stir. Bring to boil. Simmer at medium heat 45 minutes. Strain through fine sieve pressing on solids to attain maximum extraction and flavor. Return mixture to pot. Bring to boil. Add heavy cream. Cook 5 minutes. Season with sea salt and cayenne pepper to taste. Place soup in blender and process to smooth.
Presentation
1 tablespoon finely chopped chives
1 package enoki mushrooms
lobster medallions reserved from above
Place enoki mushrooms on base of soup plate. Pour in lobster bisque. Garnish with lobster medallions. Sprinkle with chives. Serves six.
Bon Appetit!
Executive Chef Bernard Guillas
Copyright 2003 by Bernard Guillas.
---
'a retired captain' "Peter McDowall Hannay," obituary, San Diego Union, 31 Aug 1943.
'lobster salad' "La Jolla Vista: the place of 'better homes'," San Diego Union, 1 Jan 1924.
'four-bedroom roadside inn' "About Us," The Marine Room, website, <http://www.marineroom.com/>.
'Kellogg directed operations' "William S. Kellogg, 88; Developer of Beach, Tennis Club," obituary, Los Angeles Times, 21 Oct 1985.
'until he retired' "About Us," La Jolla Beach & Tennis Club, website, <http://www.ljbtc.com/about/>.
'sparkling foam' and 'exacting gourmet' "The New Marine Room," advertising brochure, 1949.