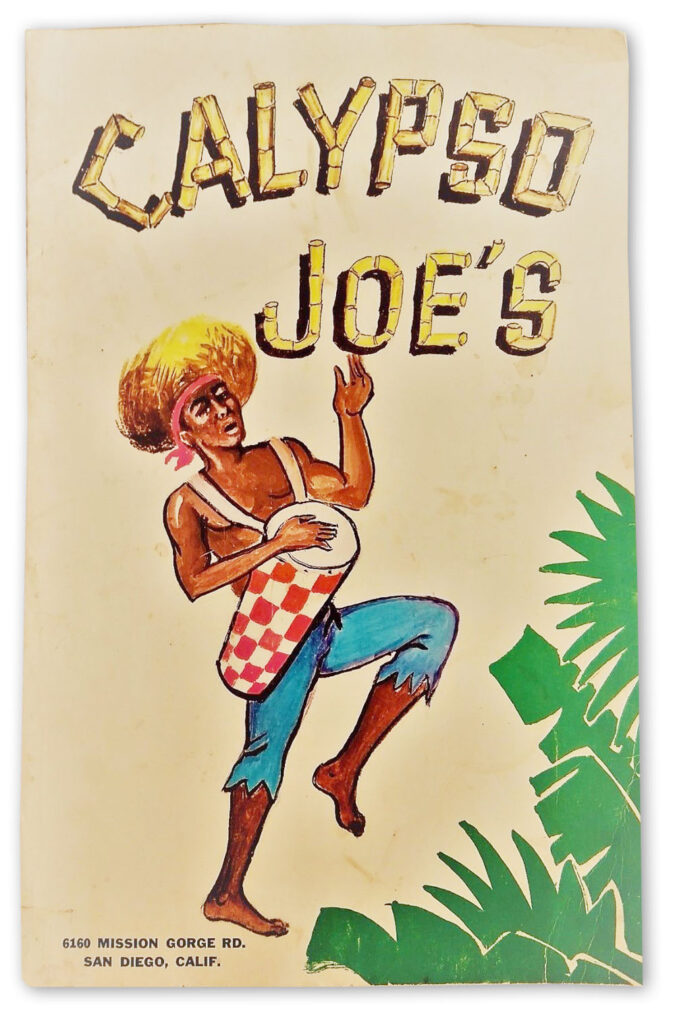 Calypso Joe's (1966-1967) was a short-lived Jamaican island-themed nightclub and restaurant located on Mission Gorge Road just north of Interstate 8 freeway. It was one of several go-go bars and stripclubs owned by 'nightclub king' Morty Zlotoff in the 1960s.
"The Caribbean, the Calypso, and all its fun!"
Morty had the Prospector's Club with topless cocktails and hula-hoop performers, the Booby Trap go-go cocktail lounge, and the Black Widow cocktail lounge ('thru our portals pass the most beautiful go-go dancers in San Diego').
In an expansion effort, Morty bought the bankrupt Stars of the 7 Nations restaurant in Grantville, and turned it into a Jamaican nightclub with tropical murals by Tijuana artist Eduardo Varga (not to be confused with Alberto Varga).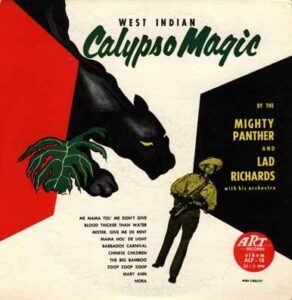 Calypso music and entertainment was provided by Trinidadian musician Mighty Panther and his Calypso Carnival. Caribbean buffet. Calypso Joe's extensive, but badly illustrated, cocktail menu featured 35 exotic rum drinks!
As 'Calypso Joe' said on their menu, "Complete informality is the order of the day. No one will be admitted to my place who is not in the mood for a care-free, fun-filled evening — just like in the Islands. Coats and ties are out – bright sport shirts and slacks for men. Women wear Mu-Mus or prints — no girdles…"
Calypso Joe's only lasted a year. Morty sold off his nightclubs to new owners with better management skills.