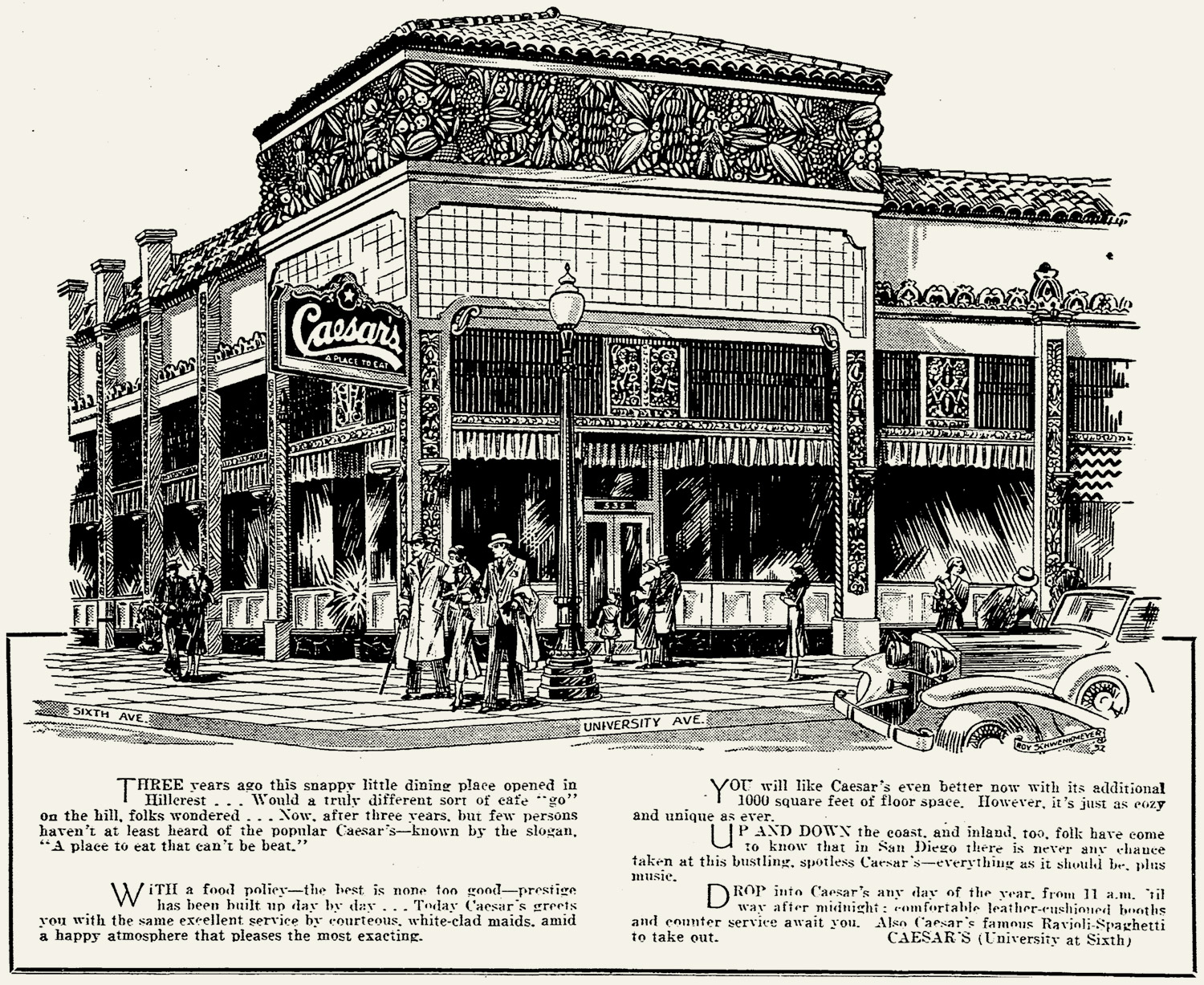 Caesar's Restaurant
Caesar's Hillcrest, one of San Diego's landmark Italian restaurants, was opened in 1928 by Cesare 'Caesar' Felix Pastore (1899-1967), and operated by the Pastore family for over forty years.
Caesar's father, Italian immigrant
Carlo Pastore
(1874-1932) and wife Maria established a San Diego ravioli shop in 1913 and a winery south of the border in Lower California. Over the years, Carlo enlisted the help of his sons
Caesar Pastore
,
Efisio 'Francis or Frank' Dominic Luigi Pastore
, and son-in-law
Carl Robert Anderson
(married to daughter
Giuseppina 'Josephine' Maria Olympia Pastore
) to run various outposts of the growing family empire of
Pastore's Ravioli
shops.
After his Baja winery burned, Carlo started up again in San Diego, anticipating the tourist traffic from the upcoming Panama-California International Exposition. By 1915, he operated Fior d'Italia restaurant in the Horton Hotel building at 328 F Street.
Son Frank was a partner in a grocery and meat market with Warren Weitzel. Caesar joined them after serving in the Navy. Later, the Volstead Act was passed outlawing the sale of alcohol, but that didn't stop the Pastores from trying to accommodate their guests — both Carlo and son Caesar were caught 'bootlegging.' Undercover prohibition agents found a still, barrels of mash and caches of alcohol at their Sunset Meat Market in Little Italy. Carlo got off easy, as they thought he didn't know anything about what son Caesar was doing. Both were merely fined — to the tune of nine hundred dollars!
"A Place to Eat"
Caesar Pastore broke off from the family business in 1928 and opened his own place in the Hillcrest neighborhood of San Diego. Caesar's restaurant featured his family's well-known ravioli dishes with brown mushroom sauce, homemade spaghetti and tagliarini. A popular specialty was the 'half and half' — equal portions of spaghetti and ravioli on the same plate. From the beginning they sold pasta to go, and were open past midnight, offering up 'wonderful treats when you want to enjoy FINE FOOD in your own home.' And of his people? Long-time Hillcrest manager Manny Sodano had a trademark — he always wore a mink bow tie. He had over eighty.
Before entering the Marine Corps in 1942, Caesar sold the business to his brother Frank and brother-in-law Carl Anderson. During World War II, Pastore served as a captain in charge of the commissioned officers' mess at the Marine Corps Recruit Depot. He retired as a major in 1946 and returned briefly to manage Caesar's Restaurant in Hillcrest.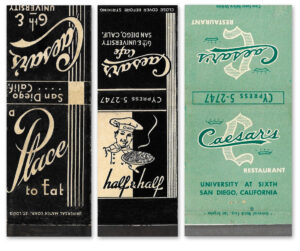 In the late 1940s, Pastore became a co-owner and major stockholder in the Padres baseball club.
In 1958, Carl Anderson was looking to sell. Frank wanted to keep it in the family, and convinced his son Robert Carl Pastore, fresh out of the Marines as a fighter pilot in Korea, to come onboard. The business flourished, and Frank retired. In 1961, Robert bought the lease from Georges Caesar de Vos' Valley Ho restaurant, and reopened it as Caesar's Mission Valley. The family also opened Caesar's Grossmont Center in La Mesa, and a small take-out restaurant named Little Caesar's in Point Loma.
The Kahn Building building at University and Sixth was built in 1919 during the American 'Egyptian Revival' craze. It was remodeled to its present facade after a fire to house the third branch of Piggly Wiggly grocery stores in 1924. At the time its ornately carved vegetable frieze was covered in gold leaf, to the tune of $3000. While the Pastores keep it at its most pristine, it's now painted over.
The building's owner, Dr. Roy M. Ledford, leased it out in 25-foot storefronts. Caesar's original restaurant took up two, at 50 feet. Over the years they expanded three times. The old wooden booths were replaced by swanky turquoise naugahyde and the original travertine floors were covered up.
Business was Booming
"On any given Friday night in the 1960s," relates Diane Pastore, "you would find the lobby loaded with customers waiting for takeout orders." Twenty-five percent of their sales were for takeout. For those dining in, there were lines out the door. People were given numbers for seating, even the movers and shakers. Morley Golden (Golden Construction), Ed Haimsohn (Lawrance Furniture), George Burnett (Burnett Furniture) and many others got takeout or sat down to enjoy the specials like liver and onions, sweetbreads, pastrami, stuffed cabbage, ox joints and shortribs.
Parking was bad in Hillcrest in those days — some things never change. Robert tells the story of Fred Rohr (Rohr Industries) haphazardly bumping into Tubal Claude Ryan (Ryan Aeronautical) in the lobby as they both waited for their to-go orders. Their wives were driving around the block for them.
Business was booming, so they opened a small takeout location in Point Loma, called Little Caesar's, at Rosecrans and Harbor Drive. That place lasted a few years, until owners of the Detroit-based pizza chain objected.
It was time to expand. Pastore designed and built a larger Grossmont Center location from the ground up, and remodeled the Valley Ho into Caesar's Mission Valley. After Caesar's Hillcrest was sold to a Pacific Beach restaurateur, the location hosted Cavalieri's (1972-1978) serving the same menu, then The Summer Place (1978-1984), City Delicatessen & Bakery (1984-2013) and Harvey Milk's American Diner (2013-2014).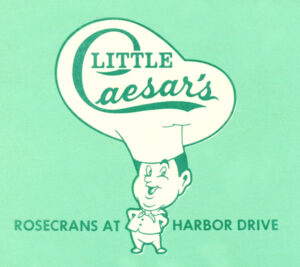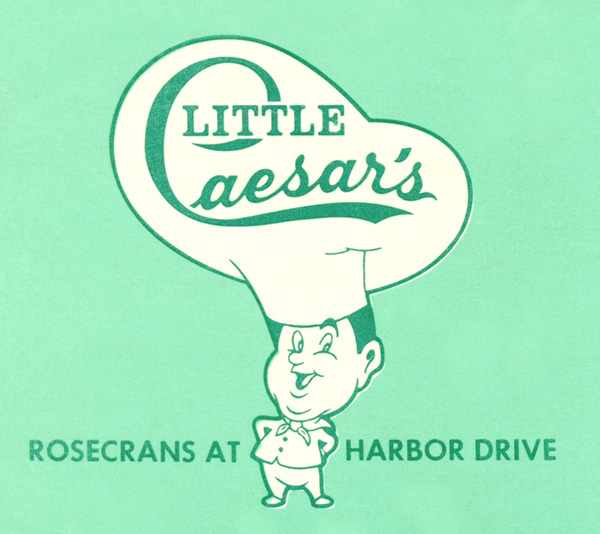 Today [2016], the Kahn building, along with Pernicano's Casa di Baffi just to the south, are both being eyed by groups looking to redevelop the parcels.
"The wonderful sauce that's true culinary poetry…"
Carlo Pastore created his ravioli sauce recipe in 1913. It resembles Escoffier's original recipe for sauce espagnole, one of the mother sauces in classic French cooking, but with dried Italian mushrooms and a tomato base. Caesar's brother Frank was trained as a butcher by trade, and developed the recipe using sides of beef ordered from Cudahy Meat Packing Company in Mission Valley. Not wasting a scrap, they saved and used the beef bones as a basis for their homemade beef stock. Frank's son Robert Pastore says they "always had simmering stockpots on the stove, 24-hours a day." It's signature red-brown color comes from caramelizing the onions.

Caesar's Mushroom Sauce
Recipe for Caesar's Mushroom Sauce, a brown pasta sauce, from Caesar's Restaurant, San Diego California. The recipe below is based on the original, provided by Robert Pastore from his restaurant's recipe book. It has been modernized and quantities have been adjusted for the home cook.
For the Beef Stock:
10 lbs beef bones, cut into 2-inch chunks
1 ham hock (knuckle of ham, optional)
4 gallons water
1 cup chopped onions
1/2 cup diced carrots
1/2 cup diced celery
1 small can tomato paste
1/2 ounce fresh thyme sprigs
3 bay leaves
1 clove garlic
Whole, black peppercorns
Have your local butcher cut up the beef bones into 2-inch chunks. This will allow their collagen to be extracted more efficiently during simmering phase. Rinse them off to cleanse the bones of any residual impurities, remnants from the butchers' saws, blood, or fat. Bake in an oven with the ham hock for 90 minutes (brings out the flavor a bit more than using raw bones). The less impurities, the clearer the final stock will be.
Place them in a large stockpot and cover with the water. Stir in the aromatics: onions, carrots, celery, tomato paste, thyme, bay leaves, garlic and peppercorns. Bring to a boil, then immediately turn down the heat to a slow simmer.
Simmer for twelve hours, skimming off the foam on top with a spoon or small strainer. By simmering at a low heat for hours, you extract the flavors from the bones. If you boil it hard, the stock will go cloudy.
You can then strain into a clean pot and reduce until you have about two quarts of rich, brown beef stock.
For the Mushroom Sauce:
11/2 ounces (42g) dried porcini mushrooms
2 cups warm water
2 cups sliced yellow onions
1/2 lb smoked picnic ham, ground
1 tablespoon olive oil
1 tablespoon dried rosemary
1 tablespoon dried sweet basil
1 lb finely ground beef
4 cups estouffade (brown stock) or beef stock, reserved from above
1 28-ounce can crushed tomatoes
1 28-ounce can tomato purée
1 tablespoon black pepper
1 tablespoon dried rosemary
6 dried bay leaves
2 teaspoons dried oregano
2 teaspoons dried sweet basil
2 teaspoons kosher salt
Cornstarch and beef stock to thicken
Soak the dried mushrooms in warm water, until they have reconstituted, about two hours. Remove, squeezing out as much liquid as possible, and finely dice. Reserve the soaking liquid.
In a sauté pan, very slowly cook the onions, ground picnic ham, garlic, 1 tablespoon rosemary and 1 tablespoon basil in oil until the onions brown. On low heat, you should take about 60-90 minutes. The color of this sauce comes from this caramelization of the onions, so take your time. If they get dry, add some water and continue to caramelize until they are a deep brown color, but not burned. Reserve to the side.
Brown the ground beef in a sauté pan. Blend together the diced mushrooms with the reserved mushroom liquid and combine with the browned meat. Simmer for 30 minutes, and reserve to the side.
In a large stock pot add onion mixture, beef stock, tomato sauces, 1 tablespoon each pepper, rosemary and bay leaves, 2 teaspoons each oregano, basil and salt. Bring to a boil, stirring to make sure the bottom of the pan doesn't burn. Reduce heat, and gently simmer for about 3-4 hours, scraping the bottom of the pot occasionally.
Thicken to gravy-like consistency by adding a mixture of cornstarch and beef stock or brown roux, and simmering for 30 minutes.
Strain into a clean pot, add the reserved beef-mushroom mixture, and bring to a simmer. Salt and pepper to taste. Serve over ravioli immediately, topped with freshly grated Parmesan cheese. Or place in plastic containers and reserve in the freezer.
The restaurant also cooked pot roasts in this sauce. Trim and tie a pot roast, brown in an oven, then drop the whole roast in your pot of simmering mushroom sauce for two hours, or until cooked medium or medium-well. Makes a great roast, and gives the sauce an additionally delicious meaty taste!
Updated 24 April 2016.
---
Notes
In the past, Caesar's Hillcrest has been mistakenly associated with the Caesar Cardini family. No connection has been found between Caesar Pastore's and Caesar Cardini's restaurants, other than their common first names. After he quit his Tijuana businesses, Cardini did indeed establish restaurants in San Diego — including Caesar Cardini Cafe (1936-1937), Tavern Hacienda (1937), the Beacon Inn in Cardiff (1938) and Caesar Cardini Villa in Chula Vista (1938-1939). Caesar Cardini relocated to Los Angeles around 1939.
Citation: Martin S. Lindsay. 'Caesar's Restaurant, Hillcrest.' Classic San Diego: tasty bites from the history of America's finest city. Web. <https://classicsandiego.com/restaurants/caesars-restaurant-hillcrest/>
"opened in 1928" 'Ravioli shop is remodeled.' San Diego Union, 2 Mar 1930. Irene M Clark. 'Raviolis lose mystery; San Diegan gains monopoly.' San Diego Union, 29 Mar 1931.
"San Diego ravioli shop" and "winery" Ibid.
"Fior d'Italia" Display ads. San Diego Union, San Diego Evening Tribune, 1918-1919. Forrest Warren. 'Half-minute interviews.' San Diego Union, 13 Nov 1932.
"bootlegging" 'Bootleg liquor plant discovered in heart of city.' San Diego Union, 21 Jul 1920. 'Federal court hands out severe sentences for liquor violations.' San Diego Evening Tribune, 18 Sep 1920.
"FINE FOOD in your own home" Matchbook covers, n.d. Display ads. San Diego Union, San Diego Evening Tribune, 1928-1971.
"retired as a major" Forrest Warren. 'Half-minute interviews.' San Diego Union, 13 Nov 1932.
"Marine Corps" and "Padres baseball club" 'Pastore services Friday; Sportsman.' Obituary, San Diego Union, 19 Apr 1967.
"leased in 25-foot sections" and "business was booming" Personal interview with Robert and Diane Pastore, 15 April 2016, Rancho Bernardo, San Diego, California.
"lines out the door," and "parking was bad" Pastore interview.
"Caesar's Mushroom Sauce" Recipe from Caesar's restaurant recipe book, 13 Mar 1963, in the collection of the Pastore family. 'Caesar's Corner,' display ad, San Diego Union, 13 Aug 1963. Also, recipe details and cooking methods from Robert C Pastore, interview, 15 April 2016.
Revised 2 Jul 2017