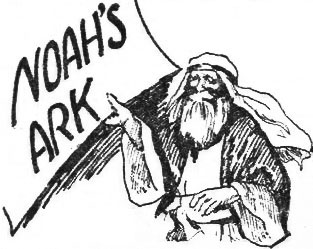 Noah's Ark was a roadside attraction and boat-shaped cafe on Highway 101 near Batiquitos Lagoon in Leucadia, California. The diner was built in 1946 by George H Herbert (1899-1950), and run Ed and Glenetta Barker, and others, from about 1946 until the 1960s, when it was demolished. Herbert also rented out spaces in a trailer park and beach cottages on the property.
On a slope overlooking the Ark grazed a 'zoo' of hand-painted wooden animals, adding to the vernacular biblical attraction. Two giraffes poked their heads out from the rooftop. The cafe provided counter service and tables outside on the boatdeck.
"The animals thrill the children and Mom and Dad want to come back for those delicious steaks, shrimp and home made pies."
Noah's Ark was designed by architect Herman Louis Bodmer (1898-1982) in 1946, and is a great example of programmatic architecture — built in unusual shapes for advertising or promotional purposes. The original Brown Derby in Los Angeles, Randy's Doughnuts, and even the Statue of Liberty are some examples.