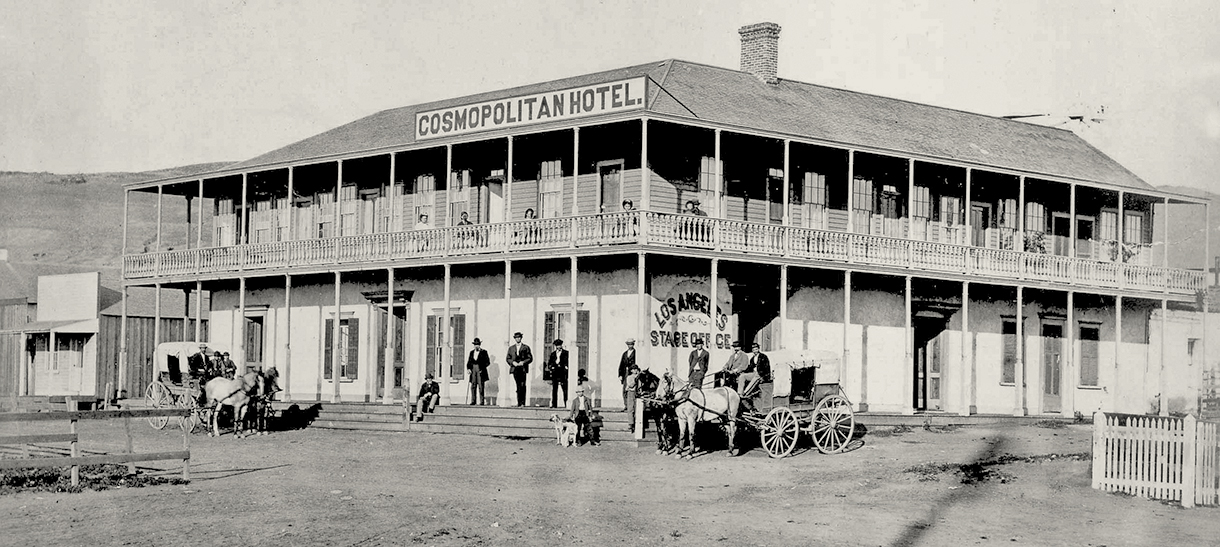 Casa de Bandini
(1829-
✔
), the Old Town San Diego historic home of Don Juan Bandini (1829) and hotel (1869) once housed restaurateur Diane Powers' popular
Casa de Bandini
Mexican restaurant (1971-2005), and now the
Cosmopolitan Hotel
.
Peruvian-born Juan Bandini, was one of the first to regularly entertain traveling guests in his own home in San Diego when it was still controlled by Spain. For his family's service to Spain, he was granted Rancho Tecate, then later Rancho Jurupa. Bandini's large adobe house became the social center of San Diego and visitors always paid their respects to Don Juan. Bandini often hosted fandangos, sometimes very elaborate and lasting for days.
He had a slight and elegant figure, moved gracefully, danced and waltzed beautifully, spoke the best of Castilian, with a pleasant and refined voice and accent, and had throughout the bearing of a man of high birth and figure.
It has been said that single dinners set Juan Bandini back as much as a thousand dollars. His sometimes extravagant lifestyle and hospitality ultimately led to financial troubles, requiring his children to 'bail him out' in later years.
A second story was added to the adobe home by Albert Lewis Seeley, and the building became the Cosmopolitan Hotel (1869).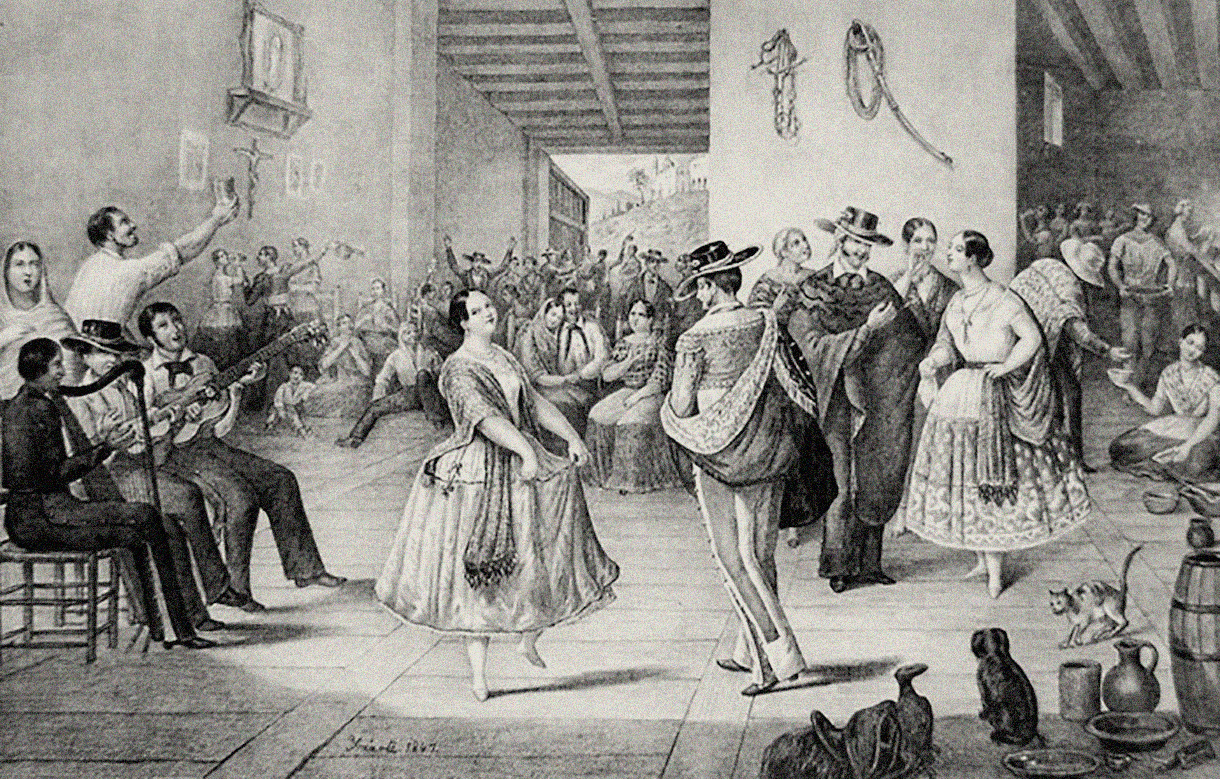 Hearkening back to the old days of Don Juan's Caifornio hospitality, designer Diane Powers opened Casa de Bandini Restaurant in the building as part of her 'Bazaar del Mundo' concept – traditional Mexican food, live mariachi music, handmade tortillas, margaritas — all served in an environment depicting Colonial Mexico. With the 33-year success of Bazaar del Mundo and her restaurants Casa de Bandini, Casa de Pico, Lino's and Hamburguesa, Old Town San Diego State Park became the number one most-visited state park in California.
It lasted on the spot until 2005 when the California State Parks revoked her concessions in a bid to rebrand Old Town as a 'more authentic' 1870s California Old West destination. More along the lines of the historically immersive experience of Colonial Williamsburg in Virginia. It was part of the larger state-wide Old Towns Initiative to unify California's old towns — their 25-year plan removed much of the lush foliage, gardens and flowers throughout the park and replaced them with dirt and dust. Think Westworld, with tacos.
They awarded the park concessions to billion-dollar stadium food corporation Delaware North, which promised higher profits. Decades old establishments were renamed — Bazaar del Mundo (Plaza del Pasado), Casa de Bandini (Cosmopolitan Hotel and Restaurant), Casa de Pico (Casa de Reyes), Rancho el Nopal (Jolly Boy Saloon). Remodeled to more historic looks, with new menus by executive chef Patrizio Sacchetto.
The Bandini house in Old Town was renovated back to its American period. Traditional mariachis and margaritas around the fountain were eighty-sixed. A green cactus Midori margarita was offered, but historic? Revisions to the old menu included organic chicken breast with fava beans, ceviche and tres leches cake. Bad moves — within one year income was down 66 percent.
Good news for Powers — she retained the business names and relocated Bazaar del Mundo to nearby its original location in Old Town, Casa de Pico to La Mesa, and Casa de Bandini to Carlsbad (2009).
"Painters were brought in to change the color scheme and hand-paint the wall borders, landscapers were hired to create a tropical garden in the restaurant's outdoor patio area, and all of the restaurant's original furnishings (which were in storage) have been installed, including the original stained-glass doors, antiques, folk art, chandeliers, an early 1900s cabinet for the bar, and a large outdoor Mexican fountain. New features include a hand-hammered copper hood in the tortilleria (where tortillas are made by hand all day, every day), hand-painted talavera tiles for the floors and wall accents, and Zapotec upholstery fabrics hand-woven and dyed in Oaxaca…"
Casa de Bandini Carlsbad once again serves all their regional Mexican favorites — tacos, tostadas, burritos de Bandini, carne asada a la tampiqueña, mole poblano, carnitas Michoacán, tamales, and margaritas.
The Old Town location now operates as the Cosmopolitan Hotel under new concessionaires. Its restaurant serves mostly American foods, with some Mexican dishes.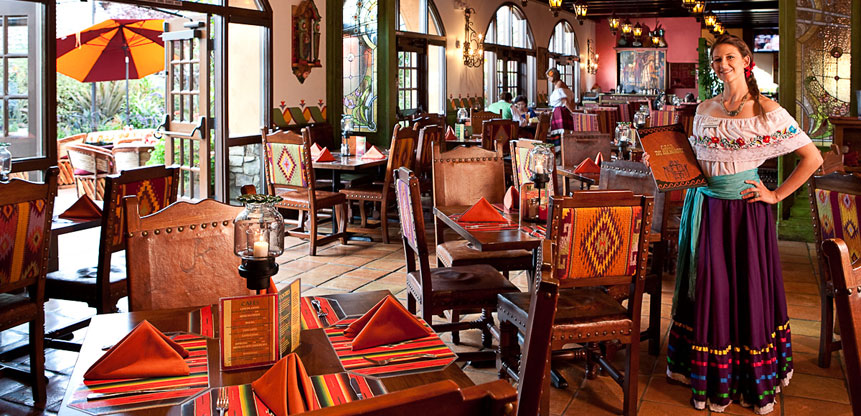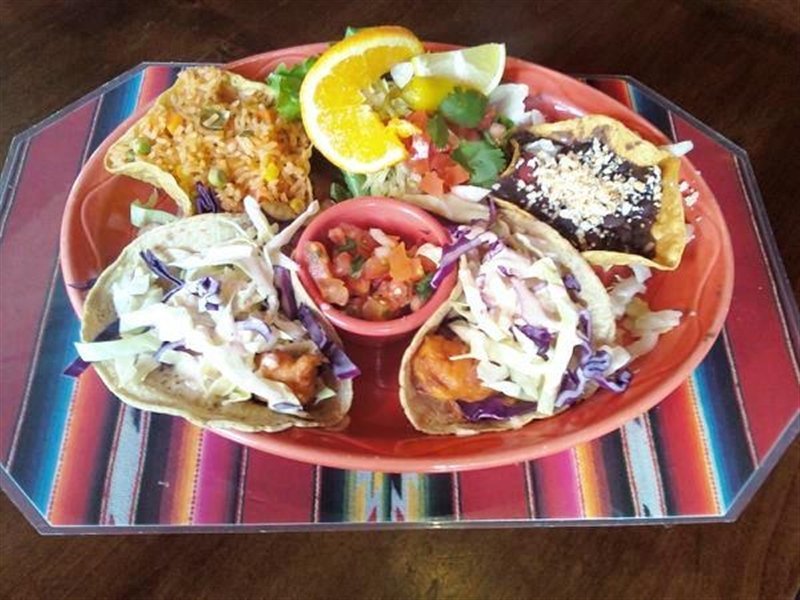 Bandini Home (1829)
2660 Calhoun Street
San Diego, CA 92110
Cosmopolitan Hotel (1869)
2660 Calhoun Street
San Diego, CA 92110
Casa de Bandini Old Town (1971-2005)
2660 Calhoun Street
San Diego, CA 92110
Casa de Bandini Carlsbad (2009-✔)
1901 Calle Barcelona
Carlsbad, CA 92009
Notes
Citation: Martin S. Lindsay. 'Casa de Bandini.' Classic San Diego: tasty bites from the history of America's finest city. Web. < https://classicsandiego.com/restaurants/casa-de-bandini/ >
Casa de Bandini photo by Mariuszc Jurgielewicz, Shutterstock.
"Albert Lewis Seeley" Victor A Walsh, 'If walls could speak: San Diego's historic Casa de Bandini,' California History, 88:4, 2011.
"Delaware North" James C. Kozlowski, 'Park concessionaire restaurant trademark,' Law Review, Dec 2008; Penny Crabtree, 'Old Town concession to change hands,' San Diego Union, 30 Dec 2008; John Patrick Ford, 'A bizarre turnover at the old Bazaar,' San Diego Daily Transcript, 8 Jan 2009; Ken Harrison, 'Delaware North to California: Drop dead,' San Diego Reader, 16 Jan 2016.

"replaced them with dirt" California's Park and Recreation department had a long-term general development plan for Old Town San Diego State Historic Park in 1977. It included syncing the entire park to an 'American period' of 1850-1870s. More historically accurate, but not as whimsical as the once popular, neo-mythical Spanish Colonial Californio or Mexican periods. Buildings that had been remodeled over the decades were stripped of any modern additions, including that of Casa de Bandini's by noted San Diego architect Richard Requa. Old Town San Diego State Historic Park resource management and general development plan, 1977; Don Bauder, 'Will Bazaar del Mundo become Squibob Square?' San Diego Union, 27 May 2004; Old Town San Diego State Historic Park strategic plan for interpretation, California State Parks, 2005.
"were eighty-sixed" is restaurant kitchen slang for being fired, or for an item no longer available on the menu.
"green cactus Midori margarita" is from Maria C Hunt, 'New town; Old Town brings in a new batch of restaurants,' San Diego Union, 21 Jul 2005.
"Painters were brought in" Pam Kragen, 'Now serving: Casa de Bandini springs back to life in Carlsbad,' San Diego Union, 15 Jul 2009.
Revised, 11 Oct 2017.