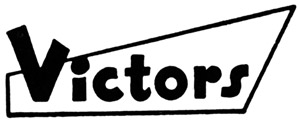 Restaurante Victor's
(1955-2000s), founded by stockbroker
Victor M Rubio
in Tijuana, was the first to introduce and popularize his version of the now-classic
carne asada al carbón
to San Diegans. He ultimately had three locations.
The first was his landmark restaurant on Boulevard Agua Caliente in the Marron area, topped with a large sombrero. You could order his tableside romaine salad and carne asada from a limited menu in the intimate 'Carne Asada Room,' which sat about a dozen tables. His downtown Tijuana restaurants were larger, cafeteria-style affairs that 'catered to rapid self-service.' They lasted until the 2000s.
Victor's Sombrero originally served a Caesar's Salad, but as inflation ran wild in Mexico, they changed the recipe up, using local ingredients. Before, Rubio had imported most of his staples from the U.S. Out of necessity, less expensive corn oil and queso cotija ('Cotija cheese') were substituted for olive oil and Parmesan. Anchovies were omitted altogether. Victor's ensaladero Efraim Montoya credits Jose Fimbres (founder of Calimax, just across the street), Rubio and Victor's chef Jose Guadalupe Moreno with the invention of the Victor's salad.
It then became Victor's Salad, which you can still enjoy today, served at Caesar's Restaurant in Tijuana.
Victor's Sombrero unfortunately burned down in 1980. Today, at the corner of Cuauhtémoc Sur Poniente and Blvd Agua Caliente is an auto garage. The only thing that survives of Victor's is a little bit of the restaurant's brick archway…
Do you have any information, menus or photos about these restaurants? Contact us here to share.
Victor's Sombrero (1955-1980)
200 Blvd Agua Caliente
Marrón, Tijuana, BC, México 22015
Victor's No. 2
Tijuana, BC, México
Victor's No. 3
Tijuana, BC, México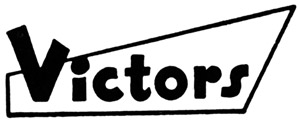 Victor's Salad
Recipe for the original Victor's Salad, from Restaurante Victor's, Tijuana. The recipe below is based on that published in a 1972 cookbook. It has been modernized and quantities have been adjusted for the home cook.
For the Salad
2 Cloves garlic, peeled and roughly chopped
1/2 cup olive oil
2 Heads Romaine lettuce
1 Tablespoon A.1. Steak Sauce
2 Teaspoons Lea & Perrins Worcestershire sauce
2 Dashes Tabasco sauce, or to taste
2 eggs, coddled for one minute
Juice of 1 fresh lemon
1 Teaspoon mayonnaise
1/2 Cup grated Cotija cheese
Salt and freshly ground black pepper, to taste
Crush garlic clove (or more than one if you like it really garlicky) a little and add to olive oil. Infuse overnight. Separate, wash and trim ends off Romaine leaves. Dry 'hearts' of Romaine with paper towels.
The 1972 recipe instructs you to separately pour ingredients over lettuce, then mix. That's a little iffy at best — you'll never get everything properly mixed. Whisk the ingredients in the bowl first, then toss in the lettuce to coat. You'll thank me later.
In a large salad bowl add the lemon juice, eggs, mayonnaise, steak sauce, Worcestershire, Tabasco and most of the cheese. The original salad was mixed in a cazuela ('clay pot'). Reserve a little to top off the salad later. Mix well. Then slowly drizzle in the oil while whisking constantly. This will emulsify the dressing. Toss in the hearts of Romaine, and coat all evenly with the dressing.
For the Croutons
1 clove garlic, peeled and sliced
2 Tablespoons corn oil
2 Tablespoons butter
1 small French baguette
2 Tablespoons Parmesan cheese
Paprika to garnish
Crush garlic clove (or more than one if you like it really garlicky) a little and add to olive oil. Infuse overnight. Preheat oven to 350ºF. Remove garlic slices from oil. Melt butter over low heat, then mix with garlic oil. Slice baguette into thick slices and coat each with garlic butter. Arrange on a cookie sheet or oven-safe tray. Sprinkle each with cheese and paprika. If topping the salad, bake until crispy. If serving on the side, bake for 3-4 minutes.
To Serve
Arrange portion of leaves on a salad plate, sprinkle with remaining cheese and top with a large crouton. Or, use a larger loaf of bread and serve on the side. Enjoy!
Caesar's Restaurant Version
The version served at Caesar's today is slightly different than the above, vinegar instead of lemon, more mayo and cheese. Try both!
1/2 Cup corn oil infused with 1 garlic clove
2 Heads Romaine lettuce
1 Teaspoon A.1. Steak Sauce
1 Tablespoon Lea & Perrins Worcestershire sauce
1/4 Teaspoon Tabasco sauce
1 Egg white, coddled 3 minutes
2 Tablespoons LA Cetto red wine vinegar
1/2 Cup Mexican mayonnaise
1 Cup grated Excelsior or Cacique Brand cotija cheese
Kosher salt and freshly ground black pepper to taste
---
Notes
Citation: Martin S. Lindsay. 'Victor's, Tijuana.' Classic San Diego: tasty bites from the history of America's finest city. Web. <https://classicsandiego.com/restaurants/victors-tijuana/>
"first to popularize" Carne asada is so engrained with San Diego's culinary identity today, it's hard to believe it was not mentioned in local English-language newspapers before 1955.
"stockbroker" June Crosby, San Diego fare: An insider's guide to San Diego area restaurants, La Jolla, CA: Crosstown Publications, 1972.
"original Victor's Salad" recipe comes from June Crosby's 1972 book, before the recipe was altered as a result of the Peso devaluation of the 1980s. Today's recipe from Caesar's differs slightly. See also Jay Porter, 'Just down the road: A taste of history,' Edible San Diego, Winter 2011; and W Scott Koenig, 'Gems of Baja: The Victor's Salad in Tijuana,' San Diego Red, 10 Dec 2015.