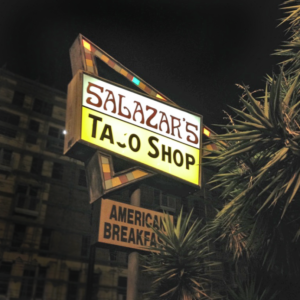 Salazar's Fine Mexican Food (1972-2017), with the East Village neighborhood being enveloped by new condominium buildings, it was reassuring to see Frank Salazar's old standby going strong for so many years. The legendary taco shop was sold to developers, and is set to close in July, 2017.
Added plus: the 1972 interior with it's orange counter stools and booths was intact until the end!
A favorite of law enforcement professionals for decades. Home-style Mexican food, specialties include fish tacos, caldo de pescado and camarrones al mojo de ajo.
East Village
1502 Market Street
San Diego, CA 92101
---
Notes
Citation: Martin S. Lindsay. 'Salazar's Fine Mexican Food.' Classic San Diego: tasty bites from the history of America's finest city. Web. <https://classicsandiego.com/restaurants/salazars-fine-mexican-food/>