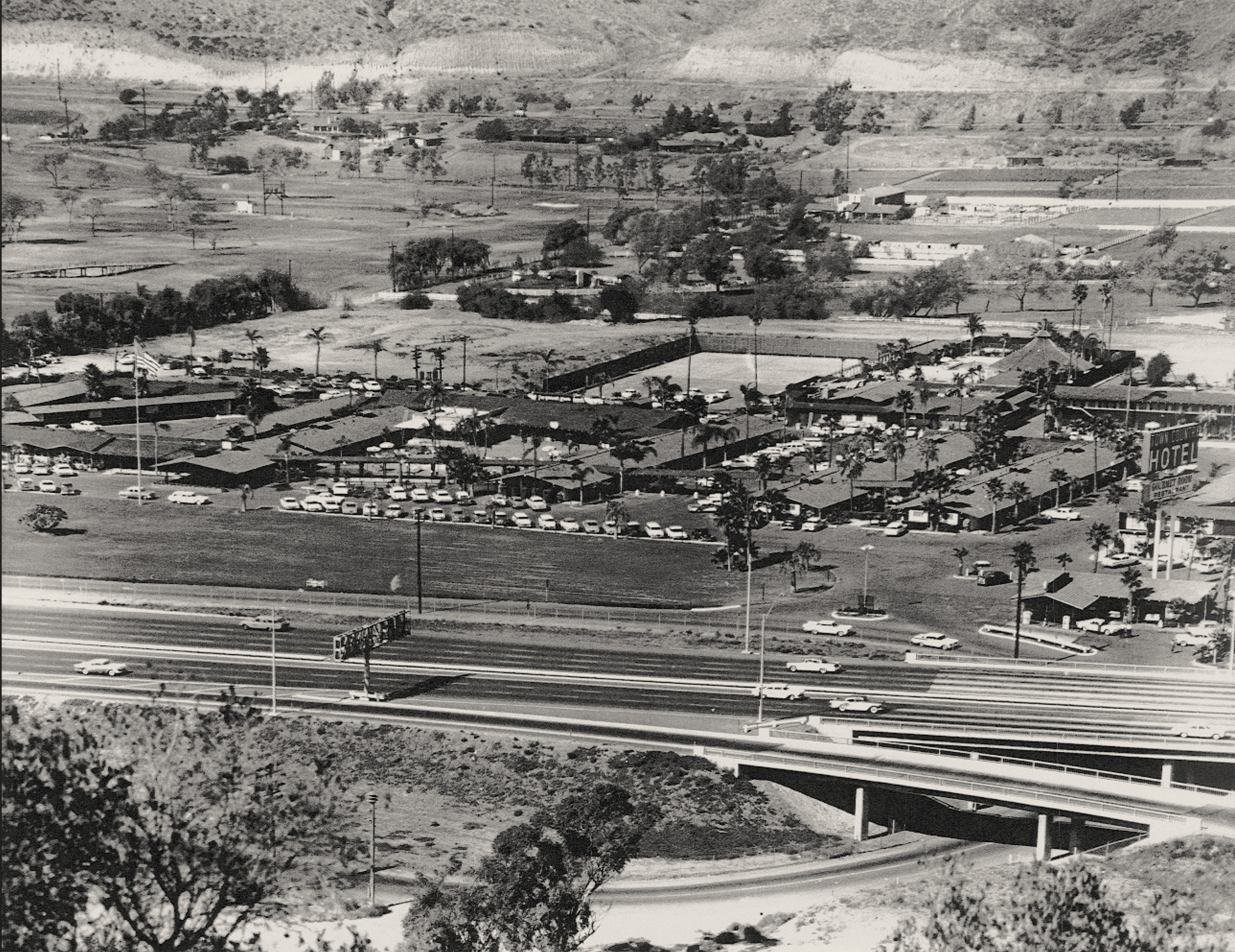 The Town and Country
The San Diego River valley, or Emat Kuseyaay, has been the home of the Kumeyaay people for millennia. Spanish explorers called it La Cañada de San Diego. We know it as Mission Valley, after Misión de Alcalá, established by the Franciscans in 1769.
Nearly two centuries later, the fertile San Diego River valley was home to barley farms, cattle ranches, and dairies. It was an agricultural oasis surrounded by the newly developed Mission Bay Aquatic Park to the west, San Diego Bay's Shelter Island to the south, and the communities of Linda Vista and Clairemont to the north.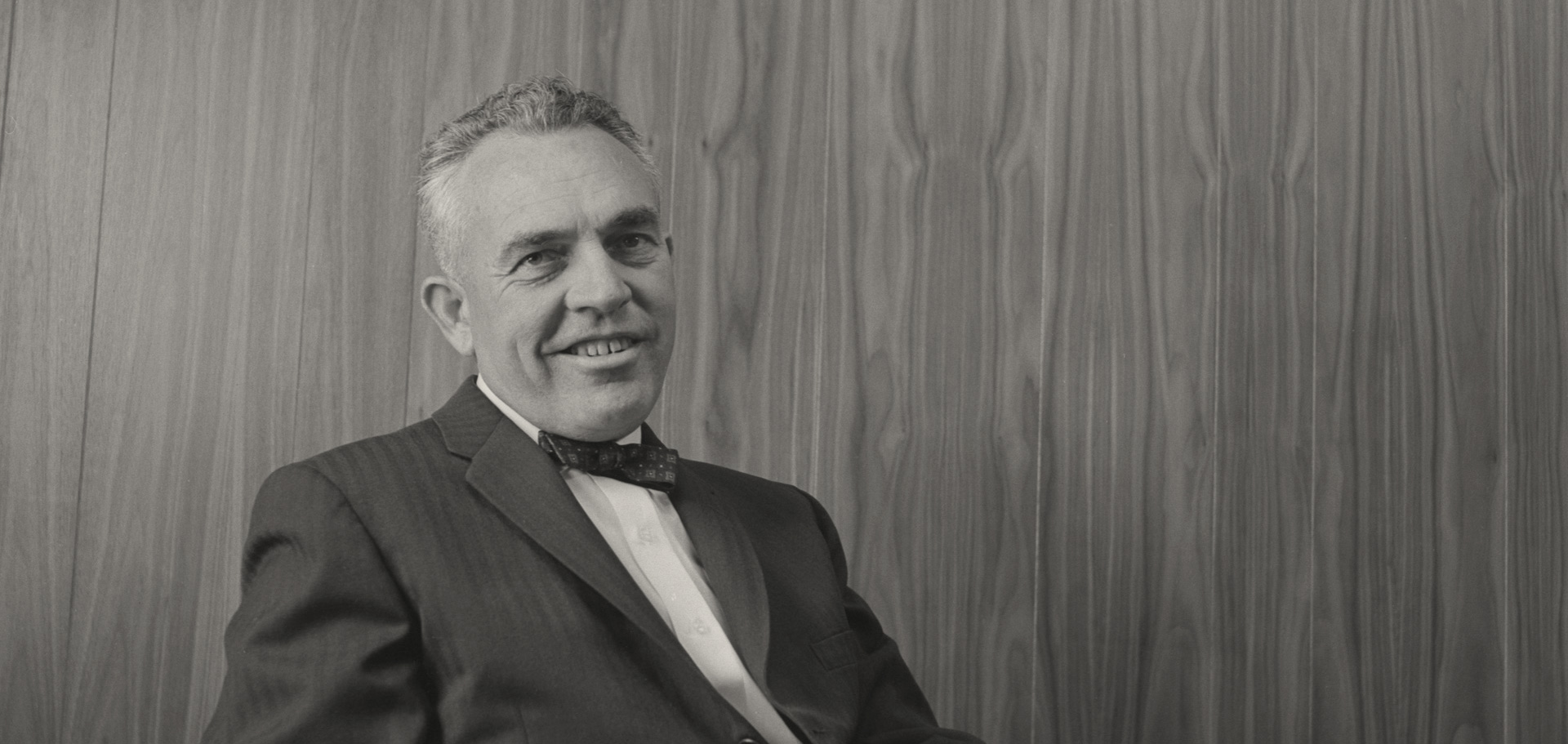 Mission Valley was the perfect spot for post-war midcentury growth in San Diego, or thought entrepreneur Charles Harry Brown (1917-1966). So he bought 221 acres for a new 46-unit Ranch style resort he called Town and Country Motor Hotel. Unlike his competitors' hotels in downtown San Diego, his new garden hotel was conveniently located at the cloverleaf of the Sixth Street extension and the new super-modern Highway 80 (now SR-163 and I-8). It had plenty of room for a restaurant, bar, pool, tennis, and shuffleboard courts. And expansion. Town and Country was the first hotel in Mission Valley, opening on December 25, 1953. It had all the amenities. Nearby were twenty miles of bridle trails and golfing at the Mission Valley Country Club. And the unique gimmick of "courtesy" coffeemakers in each room. What luxury!
Five years later, the city eased height and capacity restrictions within Mission Valley, and a building boom soon followed. Brown and a group of hoteliers named the area Hotel Circle.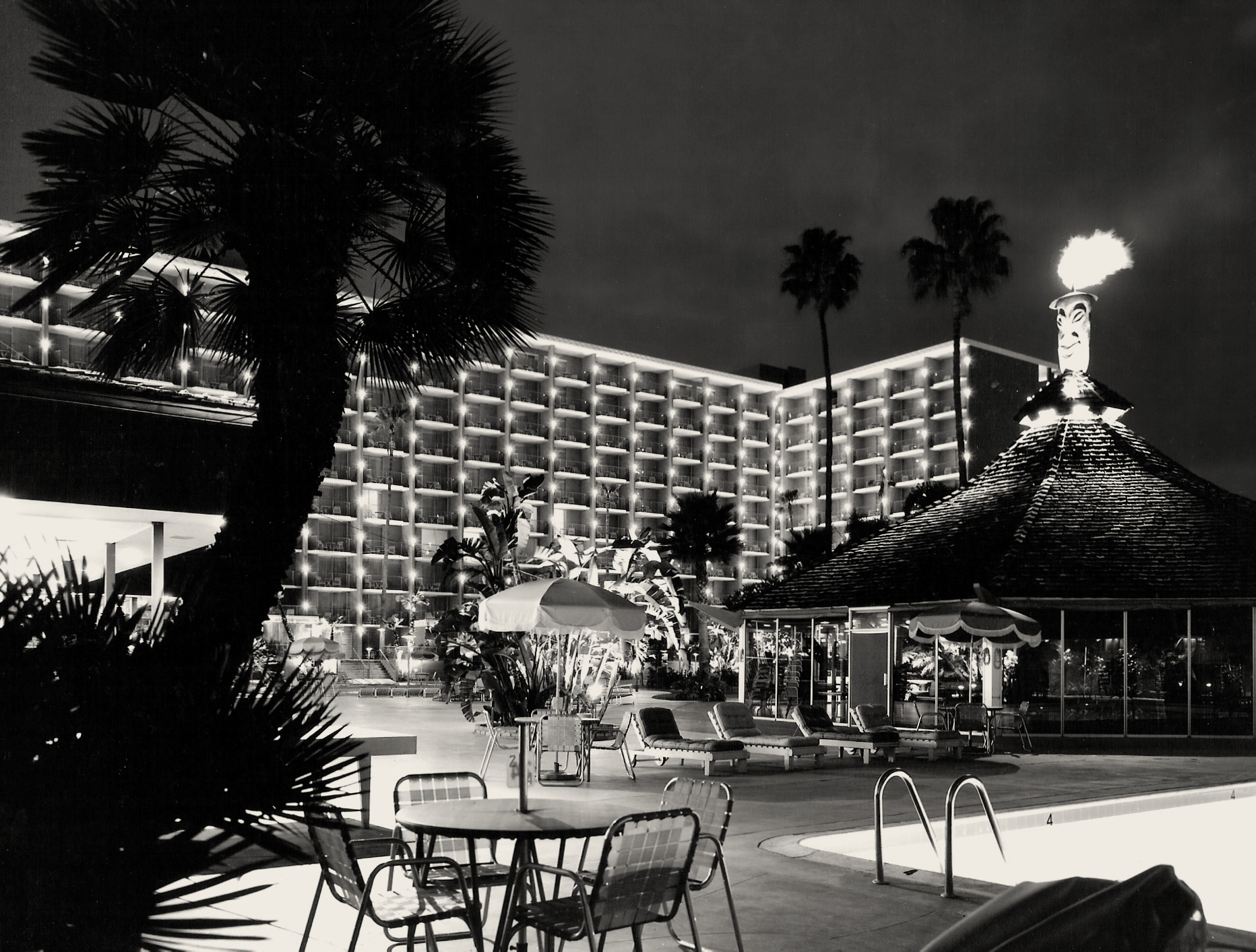 San Diego had become the mainland's answer to Hawaiian vacations with Polynesian-style resorts and restaurants on Shelter Island and Mission Bay. Brown loved Hawaii and actively planned hotels there, but focused on his properties in Hotel Circle. By 1961, he added 80 more rooms, a gas station, a coffee shop, event space, and the Tiki Hut meeting pavilion to the Town and Country. He'd go full-on Tiki with the Hanalei Hotel (designed by Hendrick and Mock) several years later.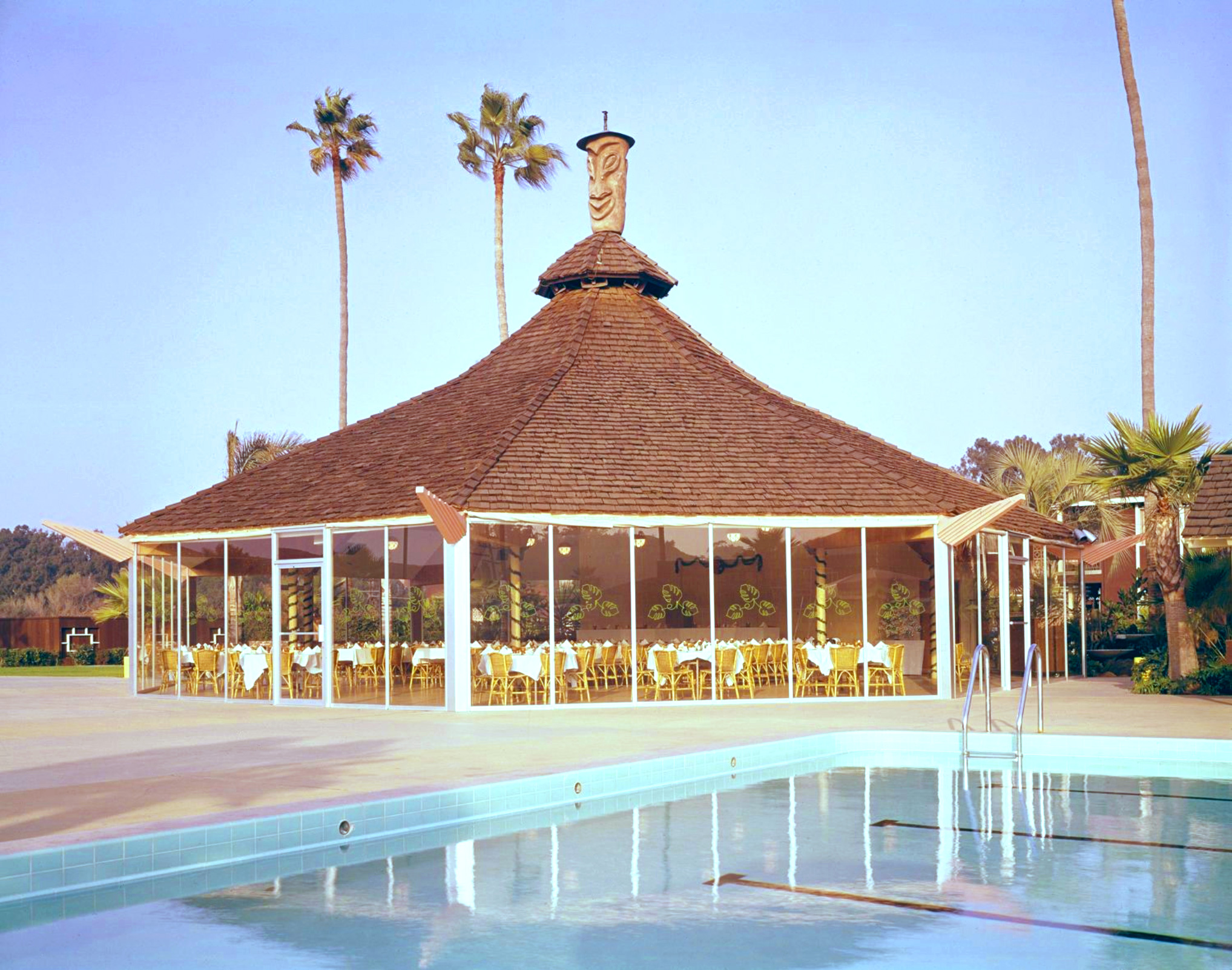 Over the years, the Tiki Hut was the venue for many meetings, fashion shows, and parties — including the 1968's Ho'olaule'a Polynesian Festival. The octagonal, shake-shingle pavilion accommodated large luncheon meetings or could be opened up for art shows. Removable glass walls allowed for poolside parties. A large carving named "Riki Tiki" topped the pavilion (in the style of Dale McGowan's Mainlander restaurant in St Louis). On special occasions, Tiki torch flames or fireworks were set off from his head.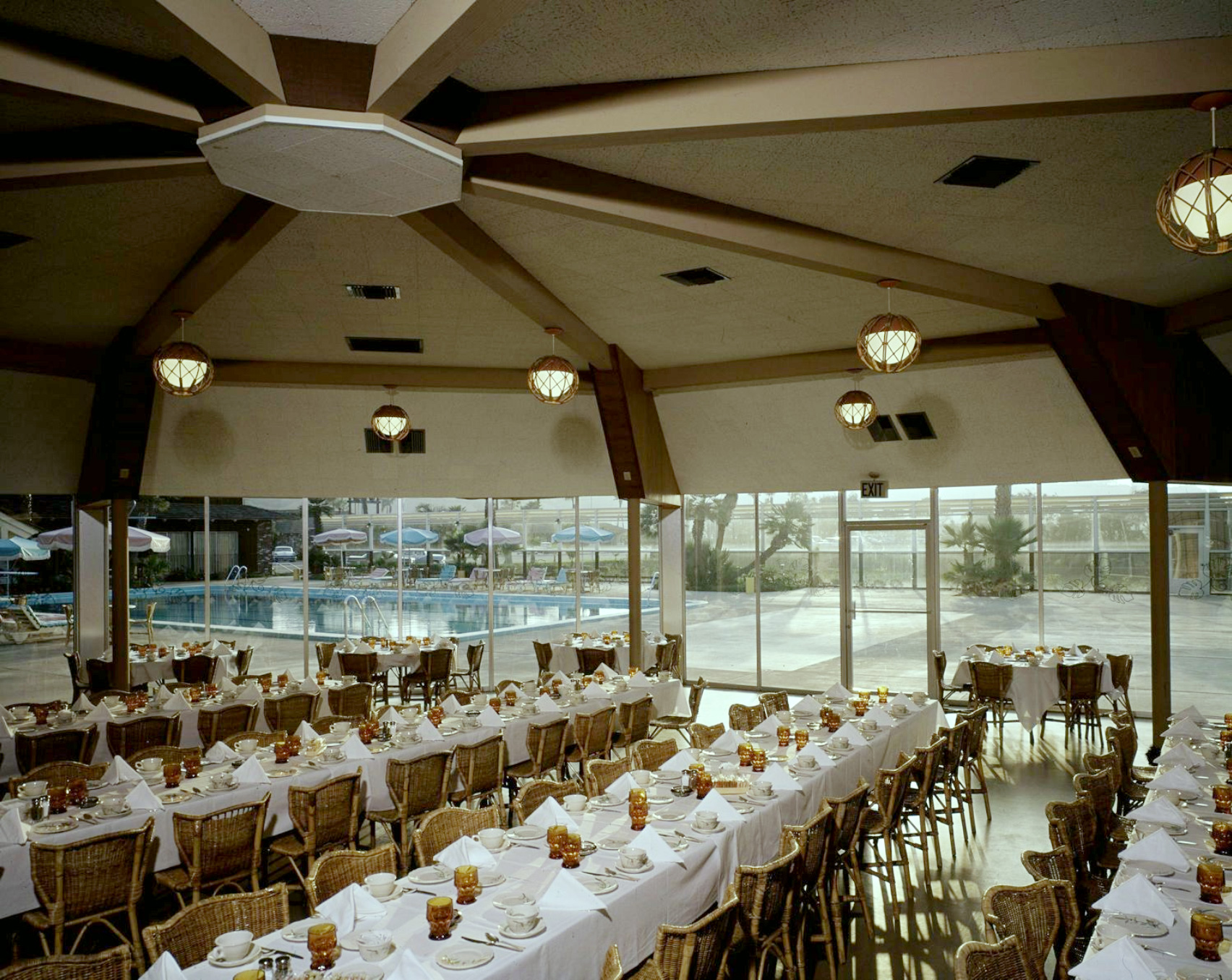 Unfortunately, Riki caught fire a couple of times even though he was protected from the heat and flames by an angled sheet metal cap. San Diego Fire Department officials soon stopped that, and Riki Tiki was relocated to good ol' terra firma.
Town and Country Hotel, Hanalei Hotel, Mission Valley Inn, and Kings Inn were consolidated under Atlas Hotels, Inc. After Brown's untimely death warming up on a tennis court in 1966 (he was only 49), his family continued managing the corporation.
In 1968 construction began on Hendrick and Mock's ten-story Royal Palm Towers. The load-bearing block buildings added more than 300 additional hotel units to the property. Also, a six-story parking garage, a large capacity convention hall (Atlas Ballroom) with commissary, trade show areas, coffee shop remodel (Terrace Café), the gourmet supper club Palais 500 were added. Over the years, the Bella Tosca Spa, Crystal T's Emporium, Le Baron Hotel, Jabberwocky nightclub, and other facilities were added to the resort.
Today, the once ranch-style Town and Country Hotel continues on with a revitalized midcentury vibe. And although the old Tiki Hut has made way for a new pool area, you might just find Riki Tiki resting comfortably nearby…